Hi there! Happy Monday!
I hope that you had a wonderful weekend! I love to wear liquid lipsticks, and liquid lipsticks can be very drying on the lips especially in the cold winter months so I have to be sure to take good care of my lips. I have shared before some of my favorite items from ChapStick® which you can read here, so I was thrilled when I was asked to review the ChapStick® Total Hydration products. This post has been sponsored by Pfizer Consumer Healthcare, and as always all opinions are my own. I would never exchange money in exchange for a positive review and share my honest opinions.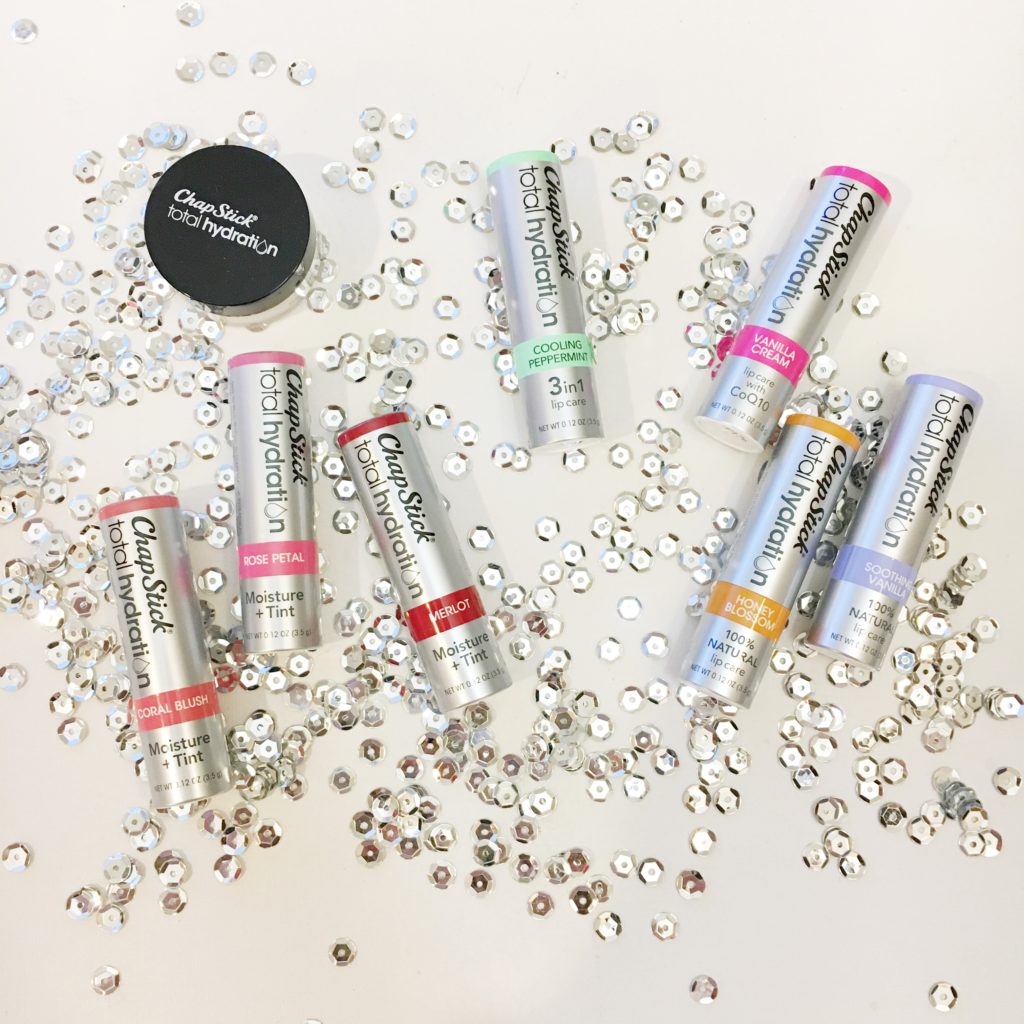 ChapStick® Total Hydration Moisture + Tint
These are formulated with a tint that enhances your natural lips and I love that because I can wear a chapstick but still have a little color, and that "your lips but better" look. These come out flat, not with a angle and point like most lipstick type products, so it was a little trickier to apply on the corners of my lips but because it is a tint of color as opposed to an opaque lipstick I didn't find this to be much of an issue. This tinted moisturizer features a formula with 100% naturally sourced ingredients that provide lasting moisture. These boast high-end ingredients like Rose Hip Oil, Jojoba Oil, and Avocado Butter and I love the way they smell.
Wearing ChapStick® Total Hydration Moisture + Tint in Rose Petal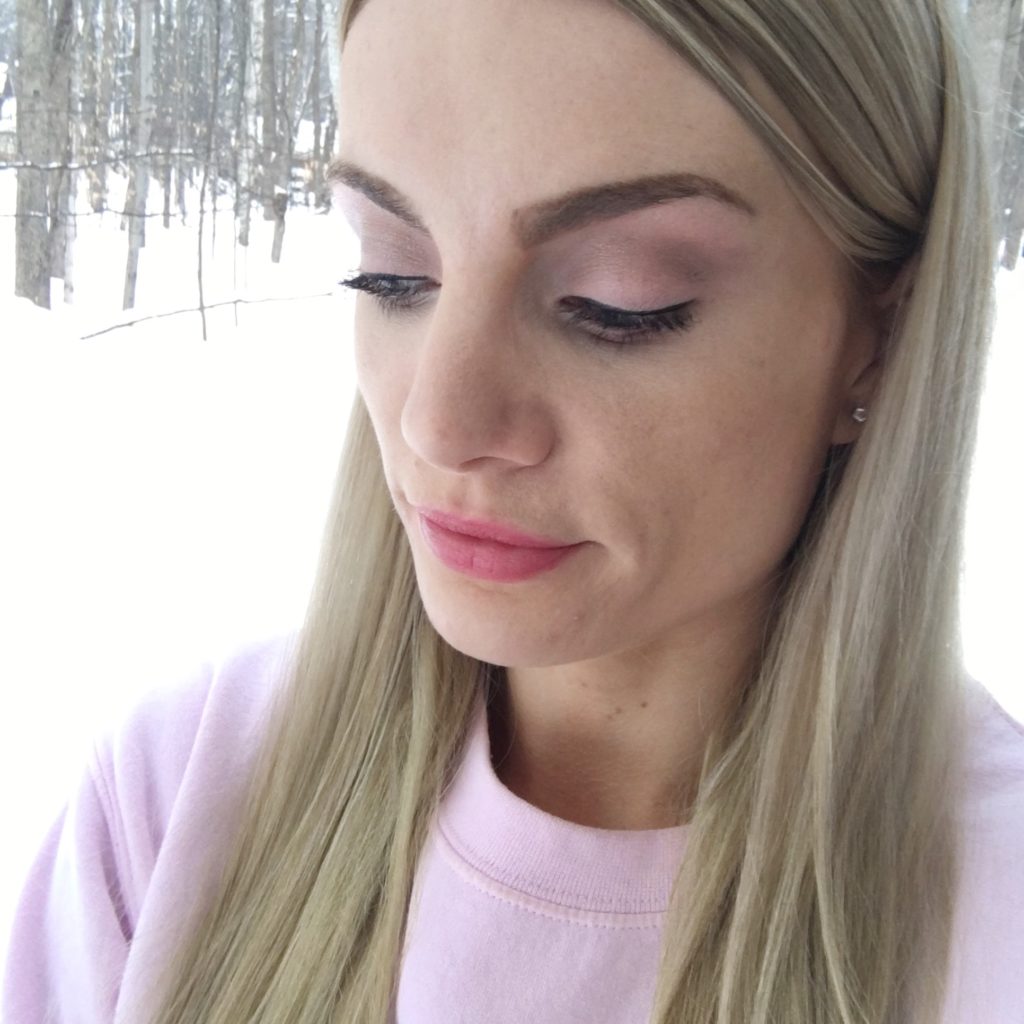 Swatches (left to right) Coral Blush, Rose Petal, and Merlot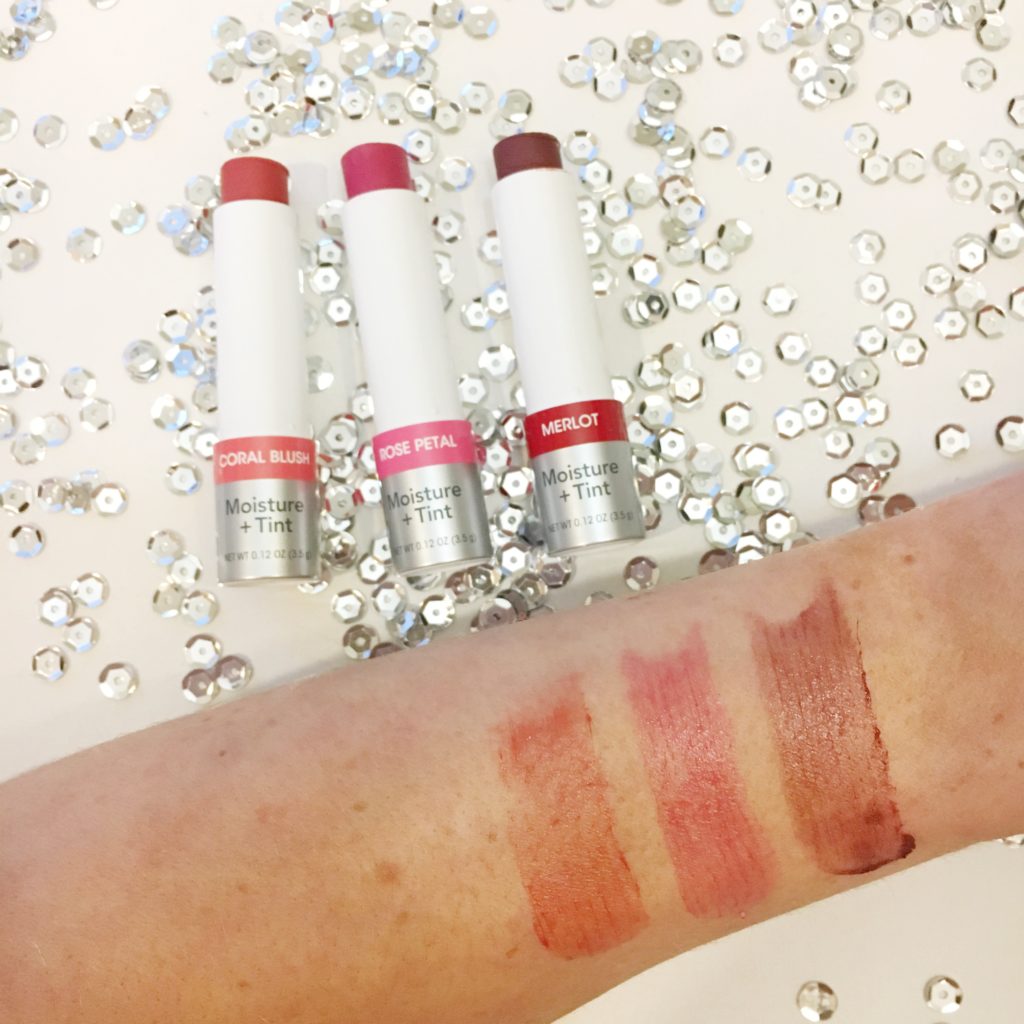 ChapStick® Total Hydration 100% Natural
These feel AMAZING on the lips! This formula is so soft and feel like butter going on your lips. I love that these are formulated with 100% naturally sourced ingredients such as Argan Oil, Avocado Butter, and Omega 6 & 9 that are supposed to give you healthier, more youthful looking lips. This formula is available in Fresh Citrus, Soothing Vanilla, and Honey Blossom which was my favorite of the two I received. I have one of these in my car and have been very grateful for it for myself and the kids, especially my oldest who spends her Sunday afternoons on the slopes at ski club!
ChapStick® Total Hydration 3in1
I was intrigued to try this product when I read that it was a Korean inspired formula because I know that Korean beauty is a huge trend right now, and I have loved some of the Korean skincare that I have tried. This 3 in 1 formula claims to moisturize, renew, and transform the lips and features ingredients like Madecassoside and botanical oils. I have been using mine at night before bed and so far I am really enjoying it. This formula is available in Coconut Hydration, Soothing Oasis, Sweet Peach, Wild Acai Berry, and Cooling Peppermint which is the one that I tried. This formula is available exclusively at Target stores and I was so excited to be able to find it in Target and take a "shelfie" with it ; ) I live an hour away from a Target, but whenever I get the chance I am going to be scoping out ChapStick® because I love these exclusive items! I think these would be perfect for my favorite kind of gift to give (and receive) where you package a bunch of your favorite goodies together in a cute way with a really pretty gift basket.
My Target "Shelfie"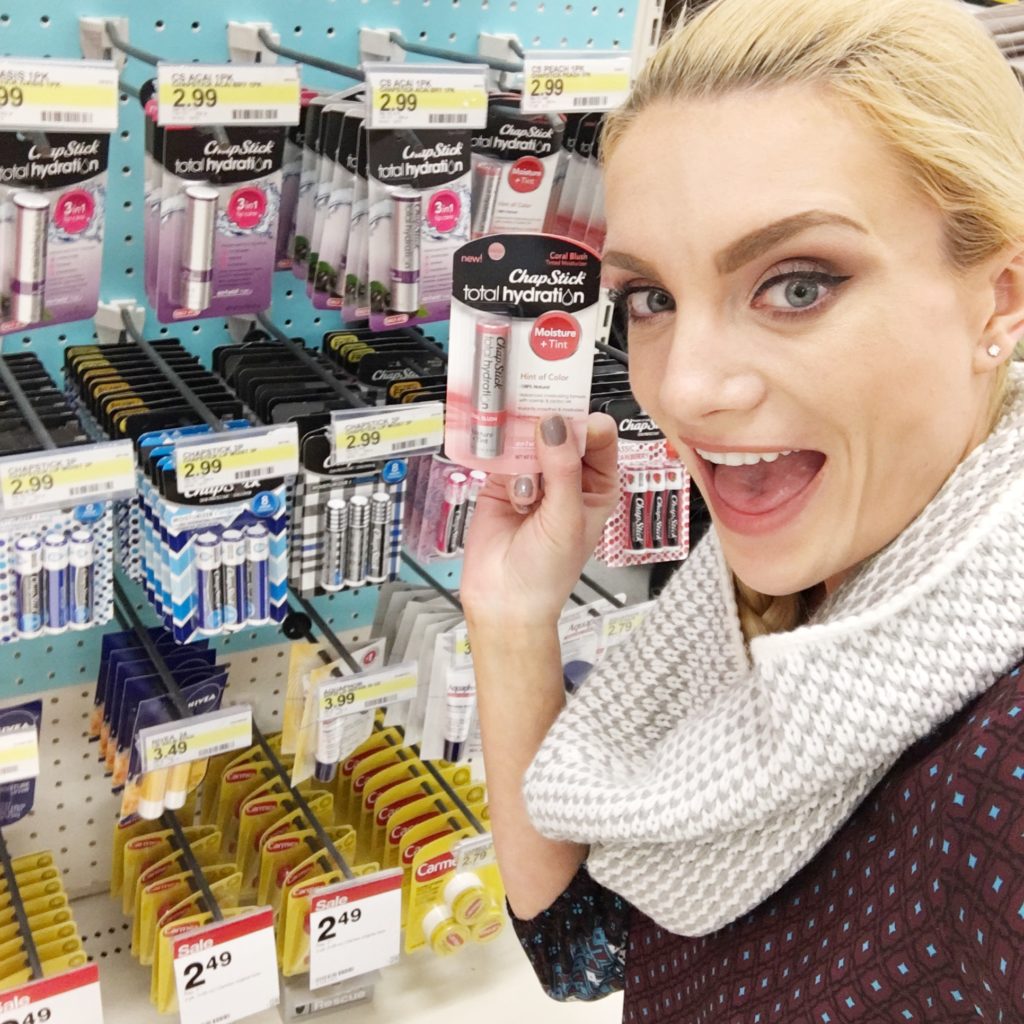 ChapStick® Total Hydration with CoQ10
This product is designed to instantly transform and smooth your lips. This formula is lightweight that provides long-lasting moisture, helps the lips stay hydrated for a full eight hours, and reduces the appearance of fine lines. I am really enjoy using this after using a lip scrub (mentioned below) before bedtime. I don't know yet if I've seen any difference in the fine lines, but just knowing that it helps makes me feel good about using it for that, too ; ) This formula is comprised of advanced skincare ingredients such as Antioxidant CoQ10, Vitamin E which is a wonderful moisturizer, and ultra-hydrating Hyaluronic Spheres for super soft, supple lips. This is available in Vanilla Cream flavor and I think it smells like baked goods, but the scent isn't overpowering.
ChapStick® Total Hydration Conditioning Lip Scrub
I have tried several lip scrubs, and I also make my own lip scrub quite often which you can see here, but I was very excited to have a new one to try out. This is the latest innovation from ChapStick® and it really is an awesome lip scrub! It's an interesting texture compared to most scrubs, because it has the grit that you find in all lip scrubs, but the base of it is a creamier, softer consistency that I really love. This scrub is formulated with naturally sourced ingredients including Sugar Crystals, Maracuja and Coconut Oil, Shea Butter, and Vitamin E and features a fresh peppermint flavor. This is super easy to use, and a little goes a very long way! I actually used way too much the first time, and have learned to just lightly scoop out a small amount onto my finger because the soft consistency doesn't require you to dig it out like some lip scrubs I have used in the past. To use this I massage a small amount onto wet lips in circular motions and then wipe it off with a damp wash cloth. After using this I like using the ChapStick® Total Hydration with CoQ10.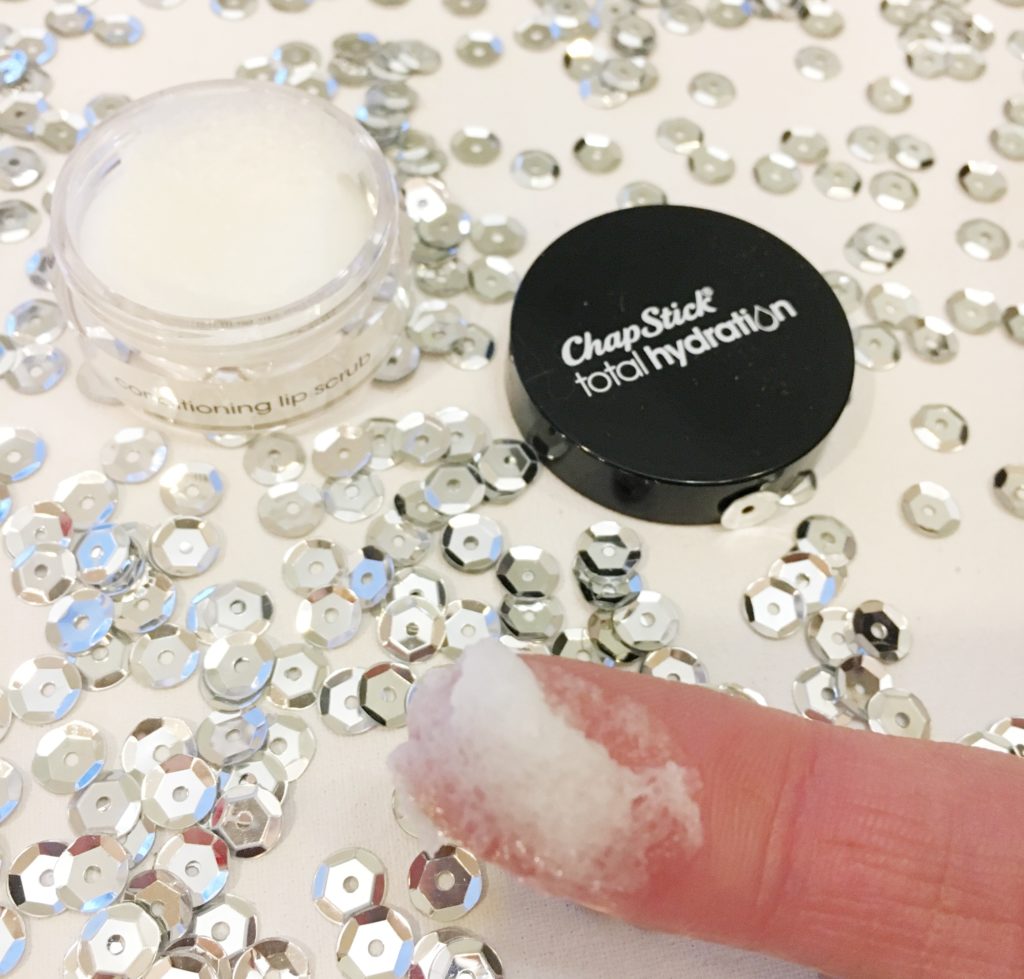 Shop Target Chapstick Items Mentioned
Find and Follow ChapStick® Here:
GIVEAWAY
If you would like to win ChapStick® goodies and a $25 Target gift card (um, who wouldn't?!) then please enter the giveaway!
GIVEAWAY Rules:
Must be 18 years old
Must be a United States Resident
Must SUBSCRIBE to this blog (it's easy, promise!)
Must comment on this post! Which item are you the most interested in?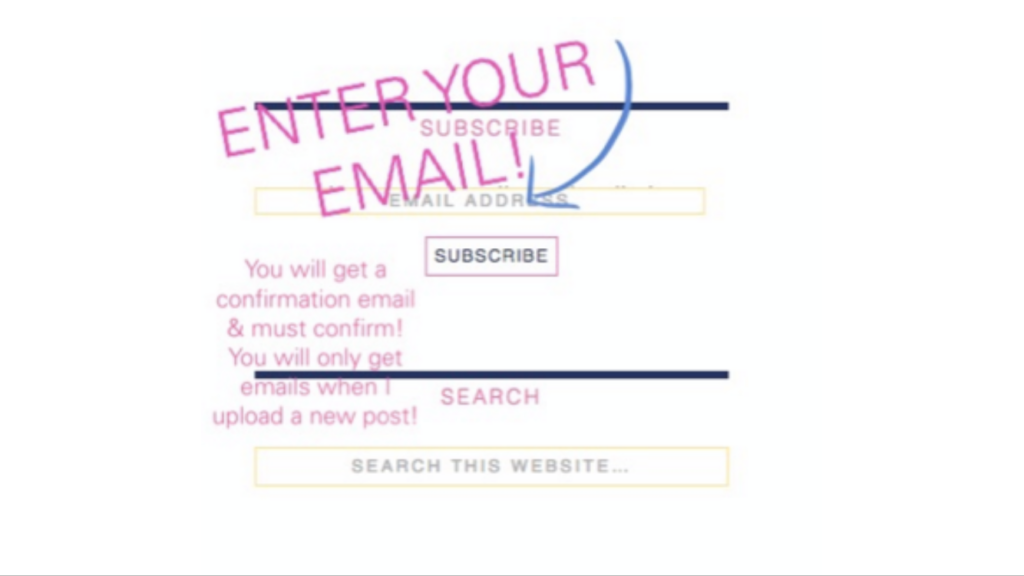 Giveaway ends on February 8th at 12:00p.m Eastern Standard Time! Giveaway winner will have 24 hours to respond to email before a new winner will be selected. All rules will be checked and enforced to ensure fairness to all those who enter.
If you have any questions or comments, as always please let me know! Thank you for reading! xx