Hi there! Happy Wednesday!
I typically wouldn't do two food posts right in row, but I decided to do a mini series: Hopping Into Spring.  This series will  feature  springtime treats just in time for some warmer weather and Easter! I was flipping through my Taste of Home Magazine and browsing some fun websites recently and became inspired by all the springtime yummy cuteness. The next three Wednesday posts will be part of the series, that way they will all go up before Easter so that you can make them for your families, friends, or coworkers. If you don't celebrate Easter, all of these treats are really just springtime goodies that can work for any occasion! If you like this post, please pin it to your Pinterest page, simply hover  over any of the pictures until a pink "pin" button appears, then click on that to pin to your Pinterest account.
EASTER BASKET CUPCAKES: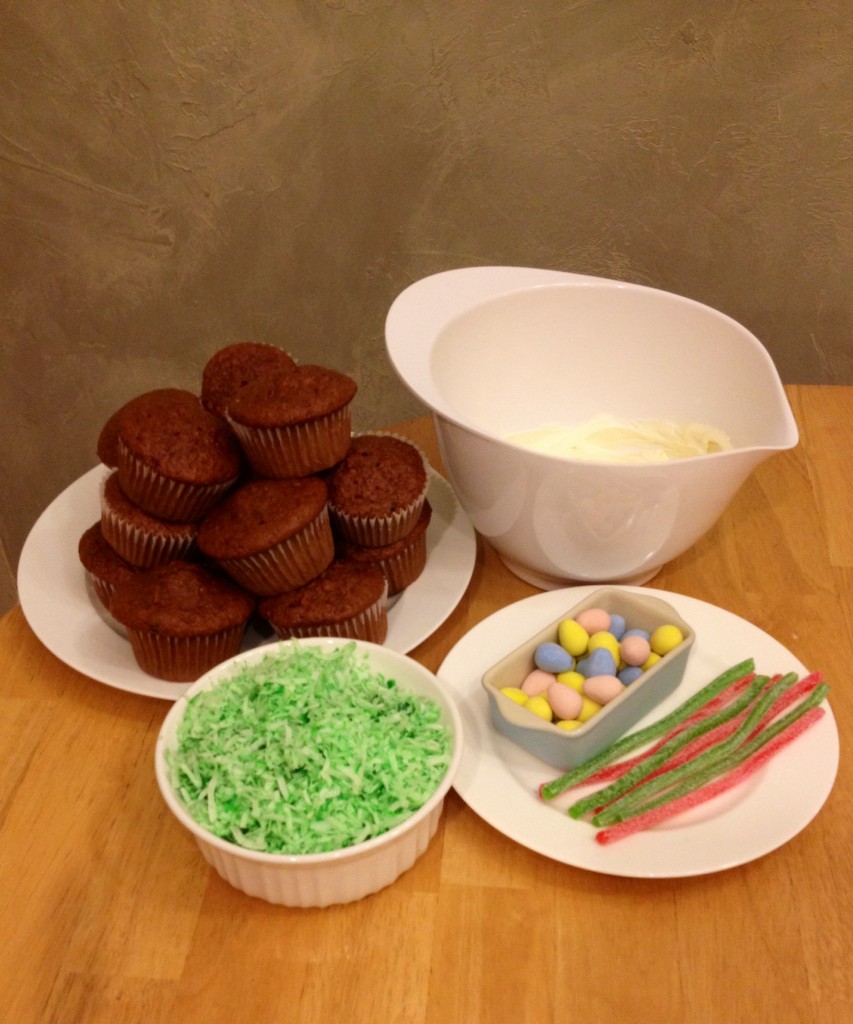 I found these Easter Basket Cupcakes in Taste of Home Magazine and knew right away that I had to recreate them! I really like Taste of Home because they offer a wide variety of recipes, but it is always with ingredients that are easily accessible and simple directions.  My daughter, Hailey, loved helping me stir and pour in the long list of ingredients for these! If you are pinched for time, you can buy a boxed cake mix or canned frosting but still decorate these sweet little baskets. This would also be a great opportunity to use my cupcake wrapper diy with a sweet springtime paper!
CARROT CAKE:
Ingredients:
4 eggs
1 cup sugar
1 cup packed brown sugar
1 cup canola oil
3 teaspoons vanilla extract
3 cups all-purpose flour
2 teaspoons baking powder
2 teaspoons ground cinnamon
1 teaspoon salt
1 teaspoon baking soda
1/2 teaspoon ground ginger
1/4  teaspoon ground nutmeg
3/4 cup buttermilk
1 lb carrots, grated
2 cups chopped walnuts, toasted
1 can (8 oz.) crushed pineapple, drained
1 cup flaked coconut
CREAM CHEESE FROSTING:
1 package (8oz.) cream cheese, softened
1/2 cup butter, softened
1 teaspoon grated orange peal
1 teaspoon vanilla extract
4 cups confectioners' sugar
DECORATIONS:
3 cups flaked coconut
1 teaspoon water
6-10 drops green food coloring
Candy Eggs (jelly beans or small chocolate eggs, whatever type you prefer)
Candy Straw (Sour Punch Straws worked well, licorice would also work. TIP: Do not use any really thin candy because you need something to stick into the cupcake so the "handle" of your basket stays up)
CARROT CAKE DIRECTIONS:
Preheat your oven to 350°. Line 25-30 muffin cups with paper liners. In a large bowl, beat eggs, sugars, canola oil and vanilla until well blended. In another bowl, whisk flour, baking powder, cinnamon, salt, baking soda, ground ginger and ground nutmeg.  Add your dry mixture and your buttermilk to your egg mixture, alternating and blending after each addition. Stir in the carrots, walnuts, pineapple and coconut until well blended. Do not over mix. Fill prepared baking cups about 3/4 full. Bake 20-25 minutes or until a toothpick inserted into the center of a cupcake comes out clean. Cool in pans for 10 minutes before removing and cooling completely on wire racks.
CREAM CHEESE FROSTING DIRECTIONS:
In a large bowl, beat cream cheese and butter until well blended. Beat in the orange peel and vanilla extract. Slowly beat in confectioners' sugar until smooth. Frost you cupcakes. Because you are going to be covering the frosting with coconut and then decorating them, the frosting doesn't have to be perfect and you can use a pretty thin layer. I was able to quickly frost the cupcakes I made using a butter knife.
DECORATING DIRECTIONS AND TIPS: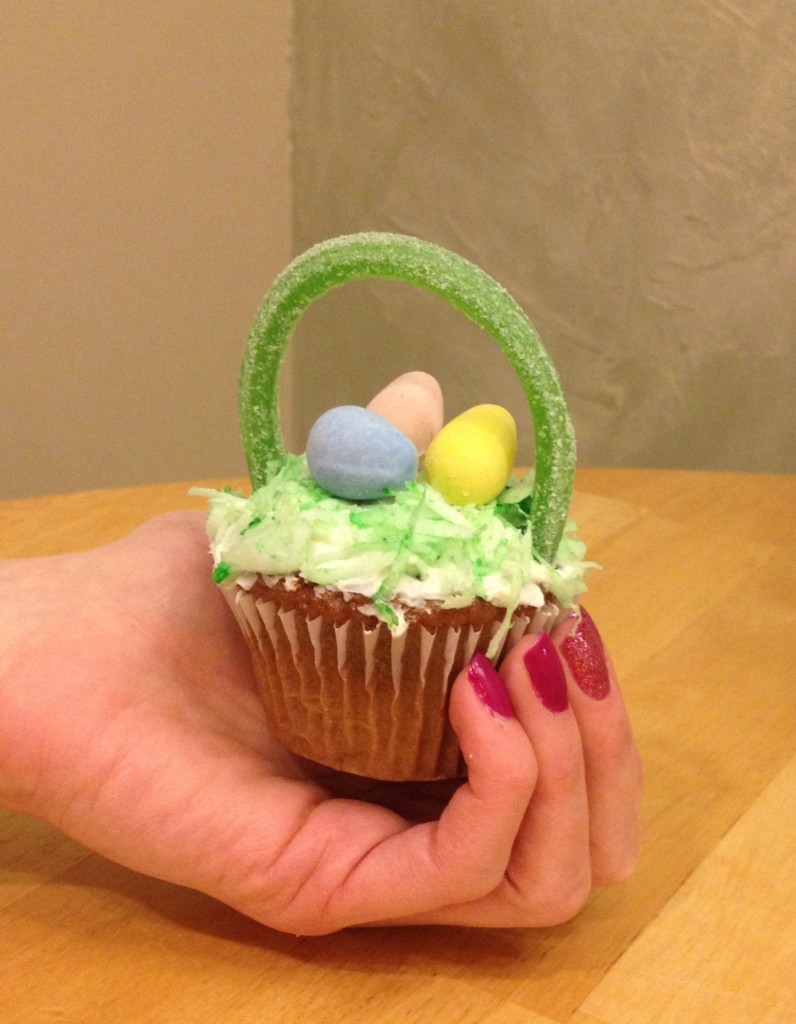 To make the Easter Basket grass, simply put your flaked coconut into a large resealable plastic bag and mix in the water and food coloring. Seal and shake until the coconut is evenly tinted. Do this a little bit at a time because you can always add more drops of food coloring if needed. I then dipped my cupcakes into the coconut to evenly coat the tops. TIP: Put your candy straw about 1/4 inch from the edge of the cupcake and push into the cake. I made the mistake at first of trying this too close to the edge and it didn't stay very well. Then decorate with your candy eggs. Ta-da! An adorable Easter or springtime cupcake!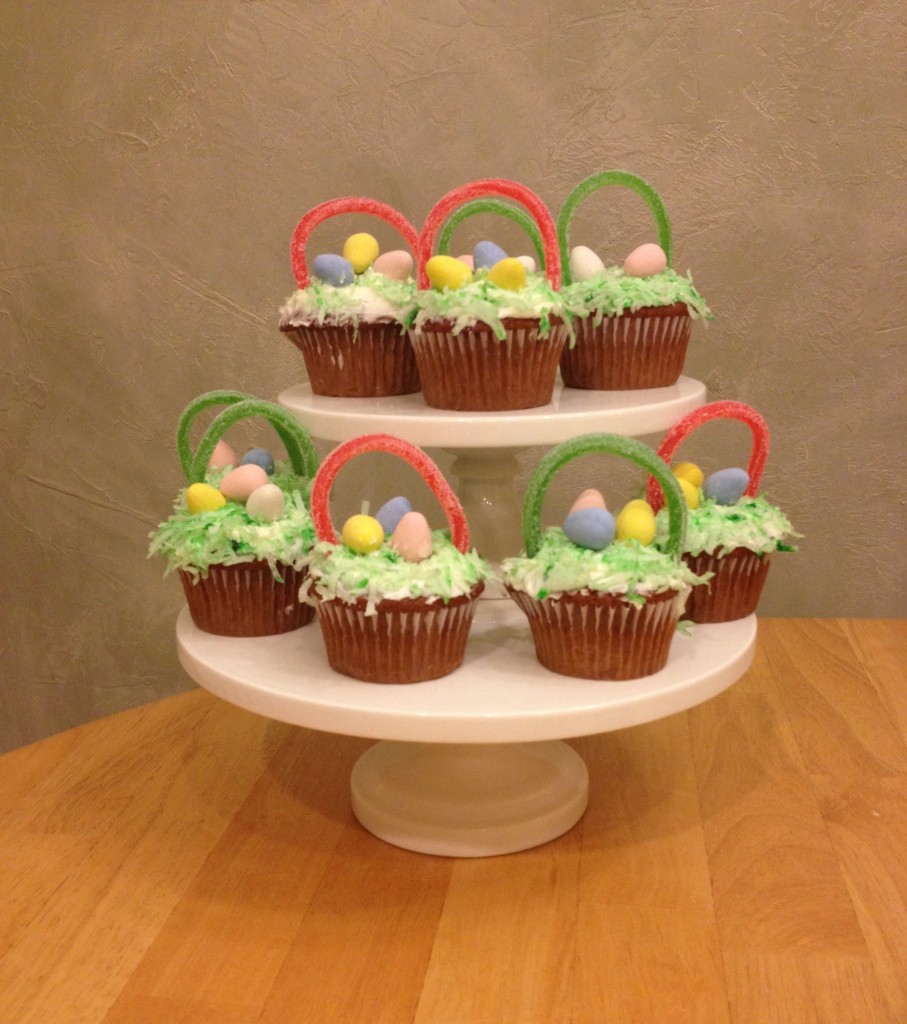 I hope you have enjoyed this post! What desserts do you like to make this time of year? Is there anything you'd like to see me make on www.leahtackles.com?  If you try this recipe, I want to hear about it! And if you have any questions or comments please let me know in the comments (click the link by the title of this post) or find me on Facebook, Twitter, or Instagram! I would love to hear from YOU! It's "LeahTackles" on all social media. Thank you very much for reading this, and if you like this post please subscribe by entering your email into the subscription box on the right hand side of this page to receive emails only when I post something new! Have a wonderful rest of your week!