Hi There! Happy Monday! I hope you had a wonderful weekend!
I got to eat cookie dough this weekend, safely, and it was so delicious! Today I'm going to share with all of you…I have a recipe for chocolate chip cookie dough cupcakes! I also have included a template for a cupcake wrapper that I first made for my sons first birthday party several months ago. They are very simple, and you can use any scrapbook paper you like! If you enjoy this post, please consider pinning it to Pinterest by hovering over any of the pictures & clicking the big "pin" button that appears.
I stumbled on Sweet Emelyne's videos and blog some time ago, and quickly came to love her sweet personality and baking expertise! She is a very talented cupcake baker and decorator, yet she shows things in an approachable and unintimidating way! This is nice, it is realistic for people like me who have no real cupcake decorating experience or skills. If you like to bake or are interesting in seeing lots of creative ideas for cupcakes for every occasion, I think you would love her videos and blog! And a huge thank you to Emelyne for being such a doll, and being so kind when I asked about sharing this recipe on my blog.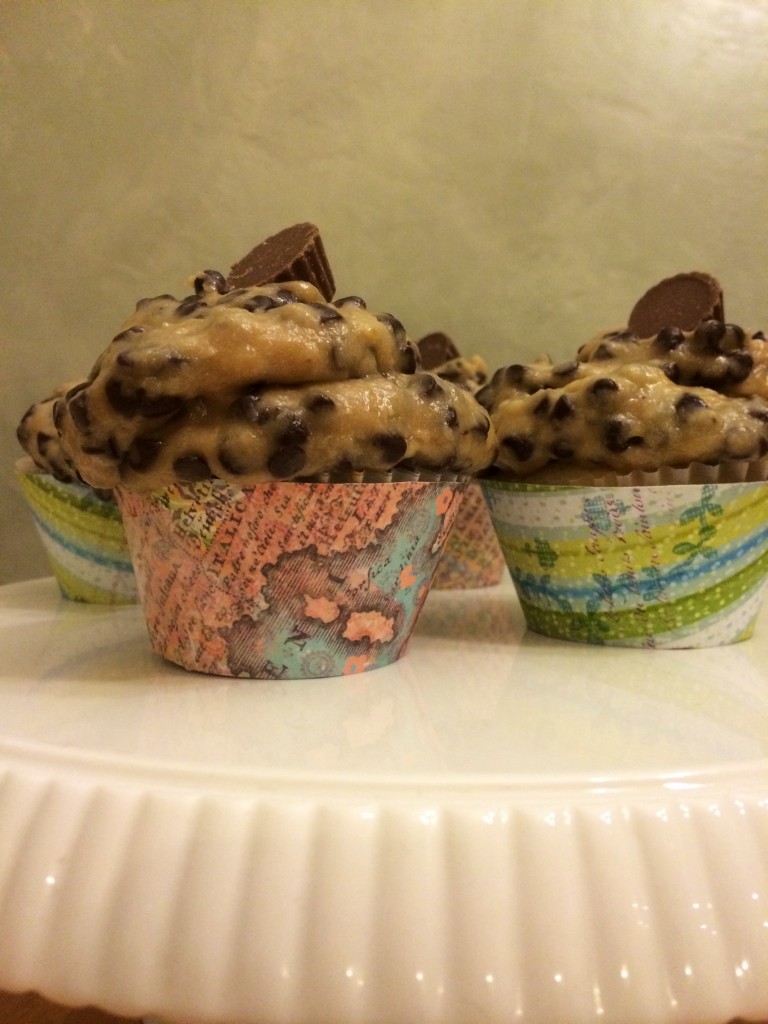 Vanilla Cupcake:
Leah's Note: You could use a boxed cake mix for this if you just want to get right to the cookie dough, but from scratch was definitely easy and tasty!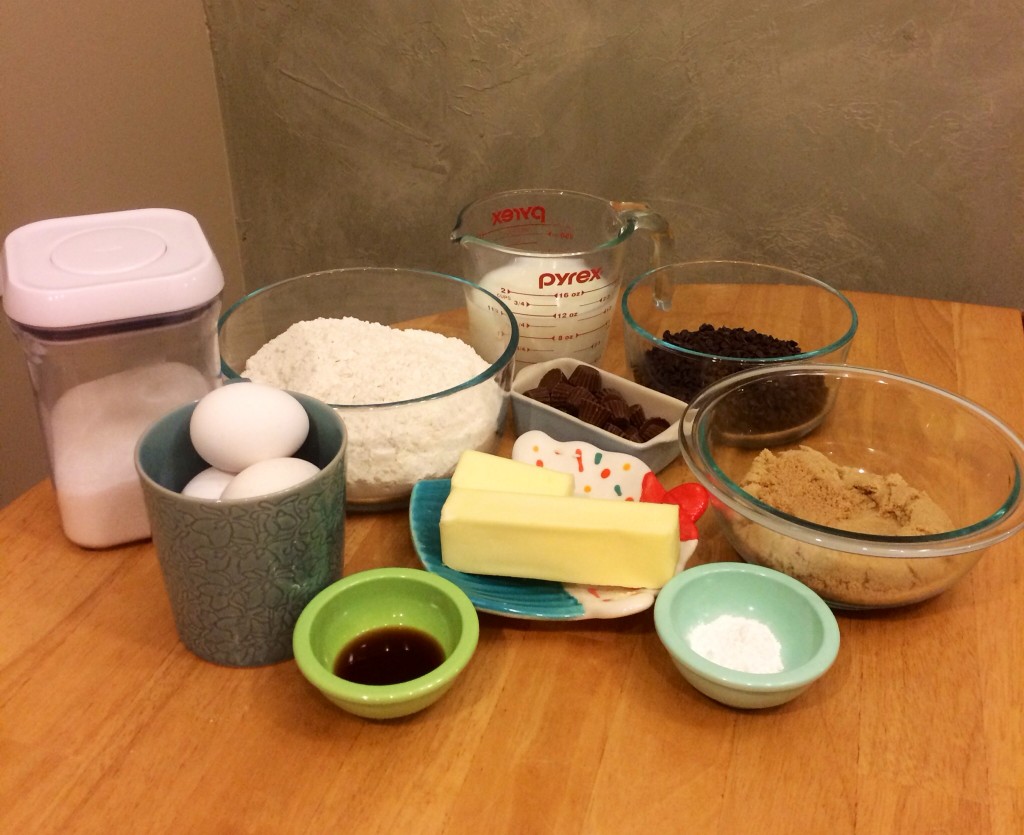 Ingredients:
3 cups all-purpose flour
1 1/2 teaspoons baking powder
1 1/2 sticks butter
1 1/2 cups sugar
4 large eggs
2 teaspoons pure vanilla extract
1 1/4 cups milk
Directions:
Preheat your oven to 350 degrees and line your cupcake pan with wrappers. Whisk together flour and baking powder. In a different mixing bowl cream together butter and sugar until light and fluffy. Add the eggs one at a time and beat in vanilla. Add flour mixture and milk alternately, starting and ending with flour. Use an ice cream scoop to place batter in liners. Bake for 18-20 minutes. To test the cupcakes place a toothpick in the center of the cupcake, if it comes out clean they are done.
COOKIE DOUGH FROSTING:
3/4 cup butter
1 cup + 1 tablespoon light brown sugar
2 teaspoons vanilla extract
1 and 1/4 cups all-purpose flour
7 tablespoons milk
1 and 1/2 cups mini chocolate chips
*Optional chocolate for garnish
Directions:
With an electric mixer cream together the butter and brown sugar, next add in the vanilla. Stir in the flour until doughy. Beat in the milk, now  fold in the chocolate chips. Pipe onto your cupcakes. ( Leah's Note: In her video Emelyne shows this being done with a simple large zip baggie with the end cut off. The frosting is thick, so the hole needs to be pretty large. Also, I added another small step by adding a small piece of chocolate to the top for garnish…not needed but I had some and figured more chocolate couldn't hurt!)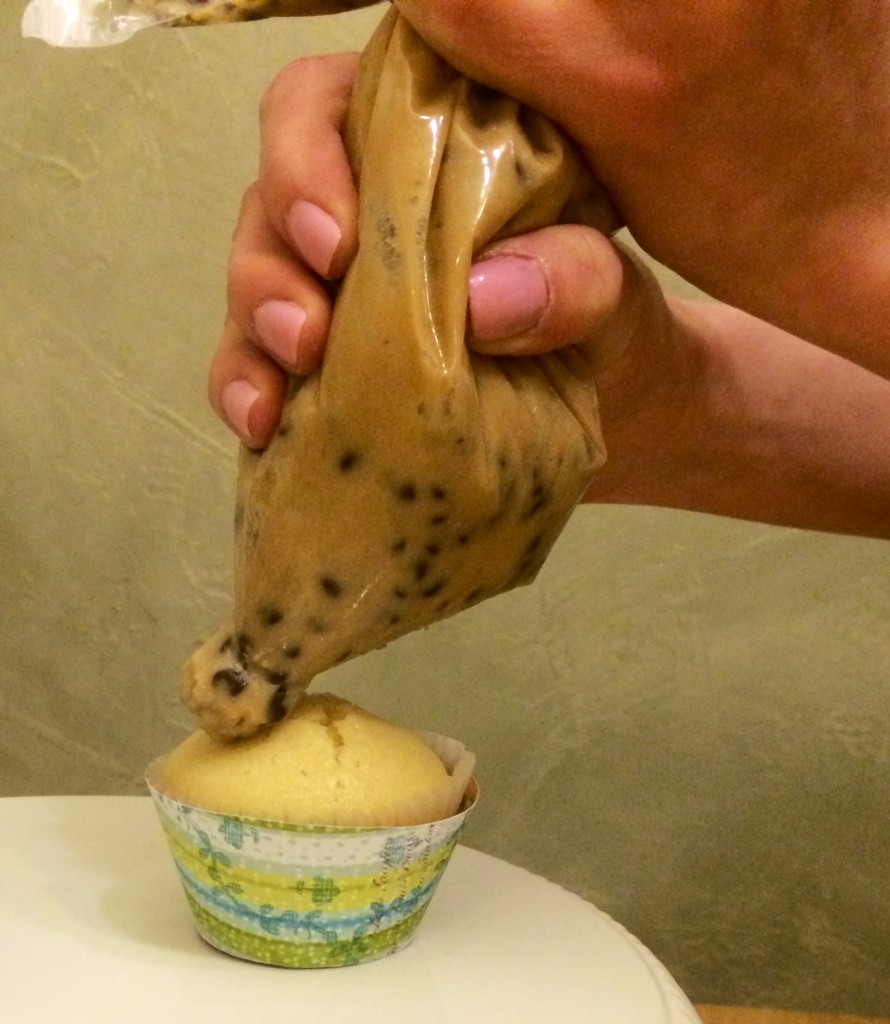 CUPCAKE WRAPPER:
Here is my free cupcake wrapper template that you simply can click and print!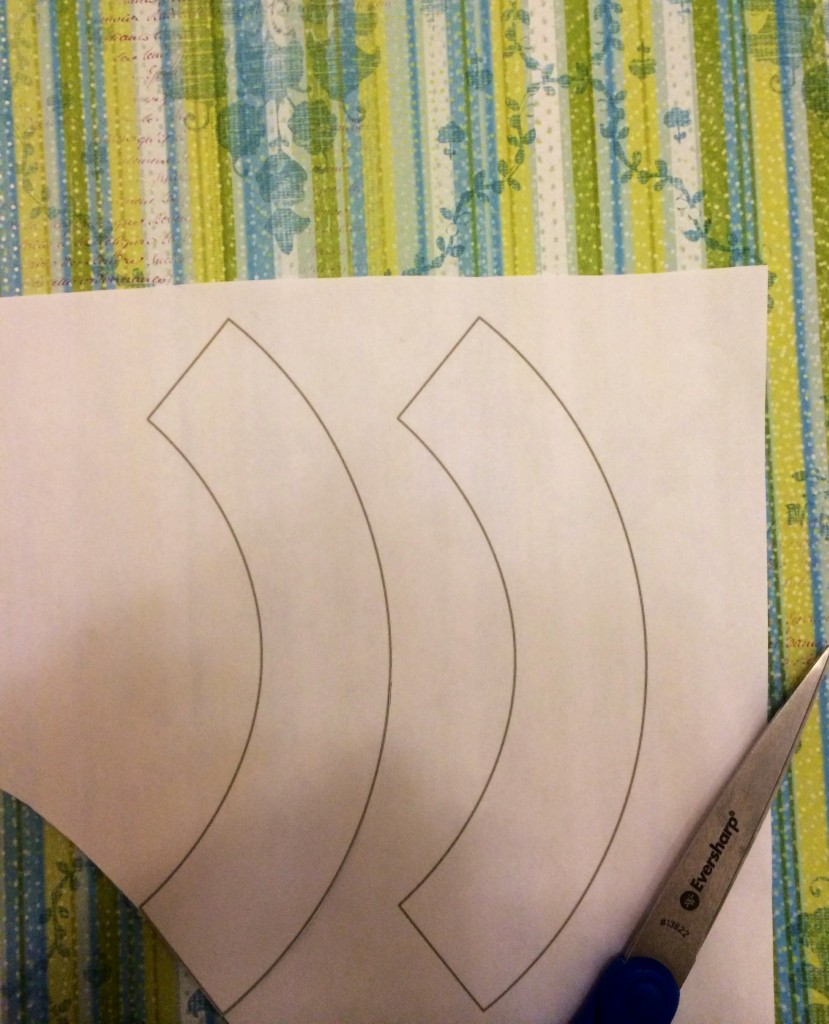 SUPPLIES:
Scissors
Scrapbook paper
Scotch tape, glue dots, scrapbook glue, or something similar to these
STEP 1:
Print the template (please make sure that your printer is printing in actual size).
STEP 2:
Cut out the templates.
STEP 3:
Trace the template onto the scrapbook paper you would like to use.
STEP 4:
Tape or glue the two ends of the wrapper together.
STEP 5:
Set you cooled and frosted cupcake into the liner.
STEP 6:
Admire your gorgeous, homemade cupcake wrapper!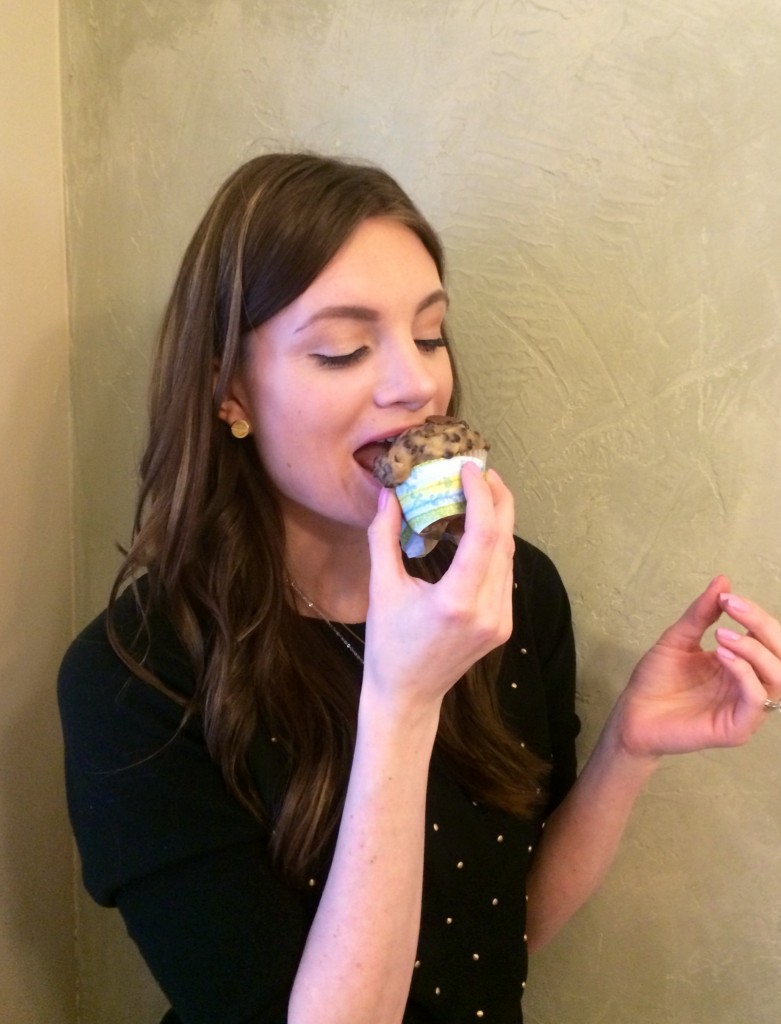 This bite was pure cookie dough frosting, and it was girlie night-in, tell-all-of-your-secrets, sleepover worthy! Sorry for the super close up of me eating, or about to eat! He-he!
Again, a BIG thank you to Emelyne for letting me share the delicious cupcake love! I really hope that you enjoy this post and if there is any other baked good you'd like to see, I would be happy to try! Let me know your questions or thoughts by commenting (click the comment link right next to the title of this post), or find me on Facebook, Twitter, or Instagram! I would love to hear from you! Also if you have enjoyed this post, please stay awhile and subscribe by entering your email into the subscribe box on the right of this page. You will only be emailed when a new post from my page goes up!