Hi There! Happy Friday!!
Today I am going to be showing you the Wet n' Wild Spring 2014 Limited Edition Collection "And The Style Award Goes To…" I FINALLY got my hands on the entire collection with the help of a dear friend. I want to share it with all of you while it is still available in stores if you are interested. If you enjoy seeing posts like this, please take a minute to subscribe (enter your email in the subscribe box on the right and you will get emails each time my posts go up! That's it!).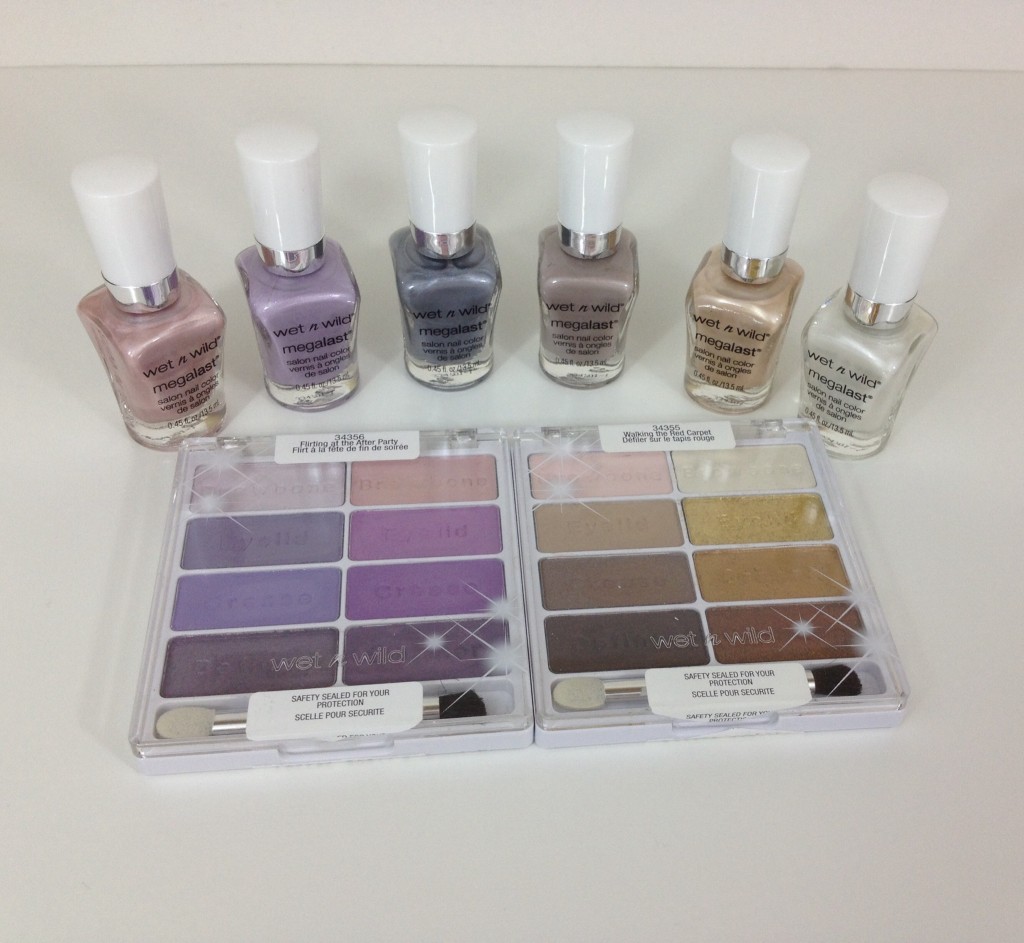 COLLECTION BASICS:
What's in the Collection:
6 New Limited Edition Megalast Nail Polishes
2 New Limited Edition Eight Pan Eye Shadow Palettes
Where to buy:
The Wet n' Wild Spring Collection is not at every drugstore so it can be a little hard to track down, but I suggest trying CVS Pharmacy, Walgreens Pharmacy or Big Kmart.
TIP: If you frequent a certain drugstore, it never hurts to befriend an associate in the cosmetics section.  It sounds silly but I always make small talk with my local Walgreens employees! It makes it a lot more likely that they'll actually want to help you find something, or mention your interest in certain brands to upper management. It can't hurt!
MEGALAST NAIL POLISH INFORMATION AND SWATCHES:
This is without a doubt one of my favorite lines of nail polish, and definitely my favorite drugstore line of nail polish. They have a large brush that makes application easy, and they stay on the nails really well. I was super excited when I saw these new spring colors because most of my Megalast colors are brighter or bold shades, so it will be nice to have some more neutral, pastel colors from the line. These polishes retail from $1.50-$2.00
Sophisticated Lady 34359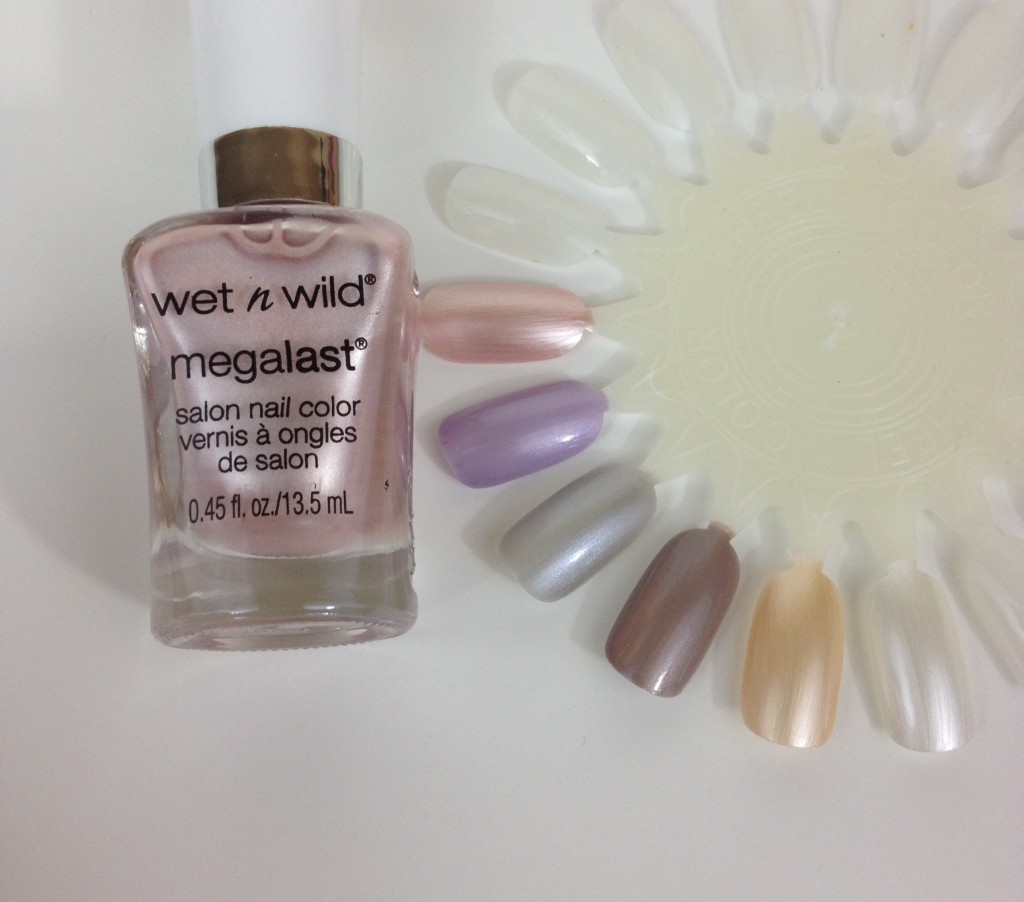 This is a very light pink pearly frost polish. At first I thought I might be disappointed in this color, but I don't have any other pinks like this in my collection and I ended up really liking this color on the nail. Frost polish can be hard to apply without getting brush strokes showing on the nail, but you can use a sponge tip eye shadow applicator to avoid this.  If you are interested in seeing the sponge nail polish technique let me know in the comments (comment by clicking on the link by the title of this post) or find me on Facebook, Twitter, or Instagram.  This color is shown with two coats of polish.
Candid Affair 34360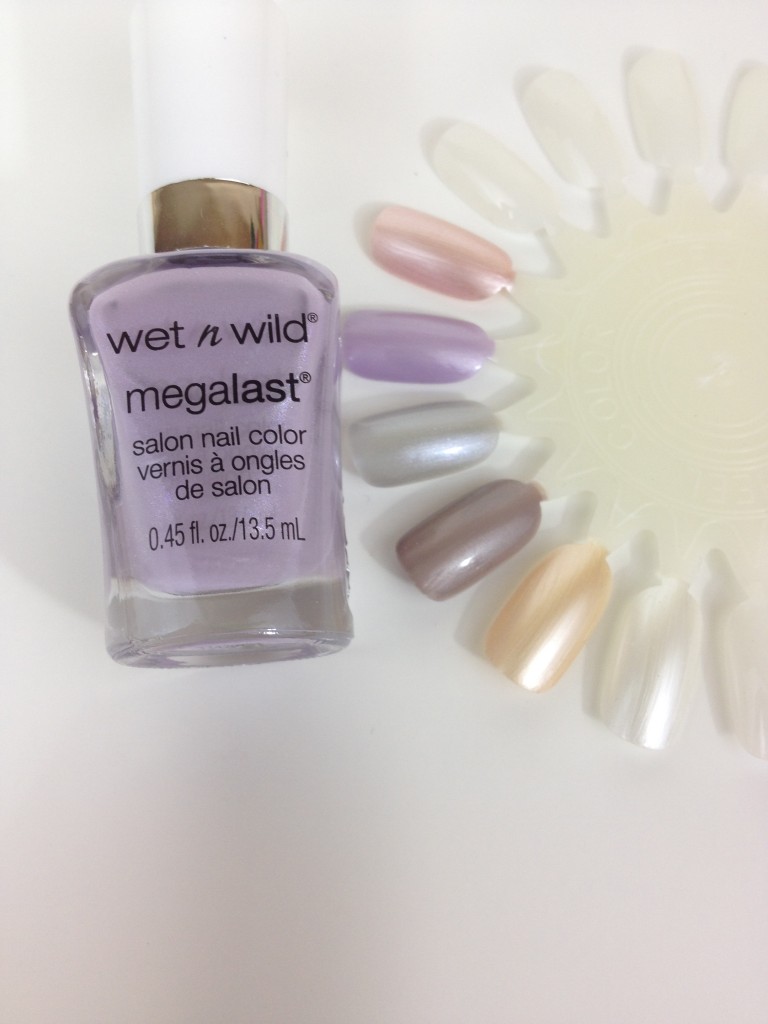 This is one of my favorites! It is a beauty with a cream base and lots of shimmer! I love lavender nails in the springtime. This color is shown with two coats of polish, but I will probably do three in the future.
Silver Lining 34358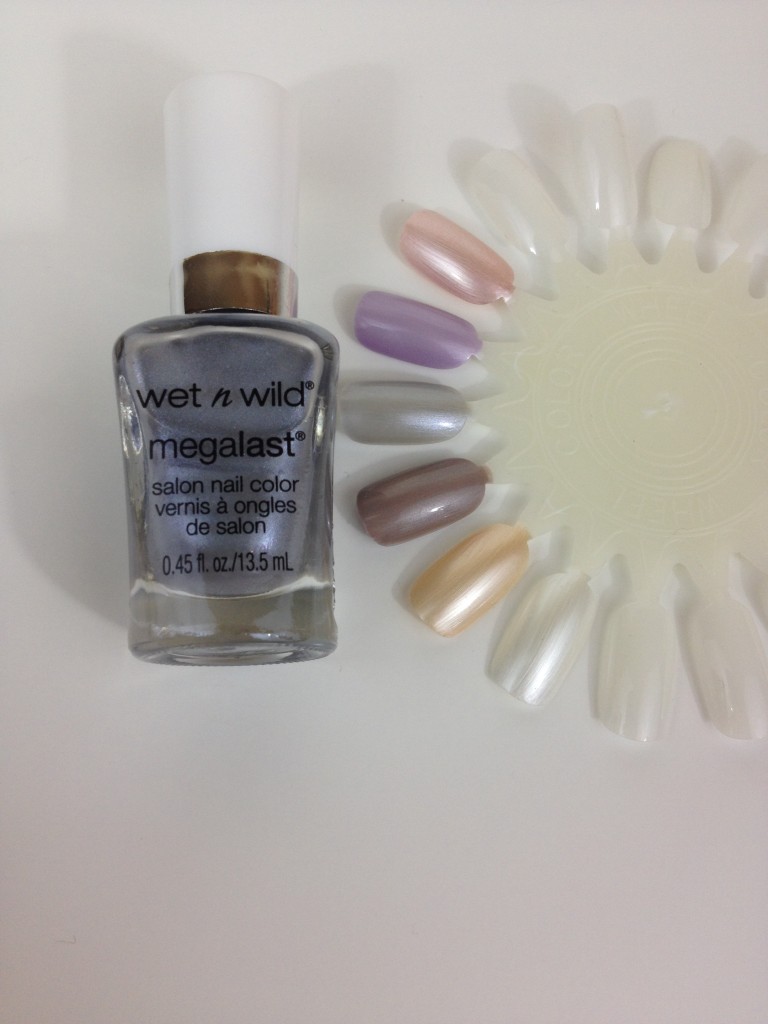 This color looks really nice in the bottle, a blueish gray color with a hint of shimmer. Unfortunately, it doesn't come off that way on the nail. It is very sheer and required three coats to get any sort of real pigmentation. With three coats it still isn't what I expect by looking at the bottle and still isn't opaque. I will still wear this, but don't let the bottle fool you! This is shown with three coats of polish.
Valet Tag 34361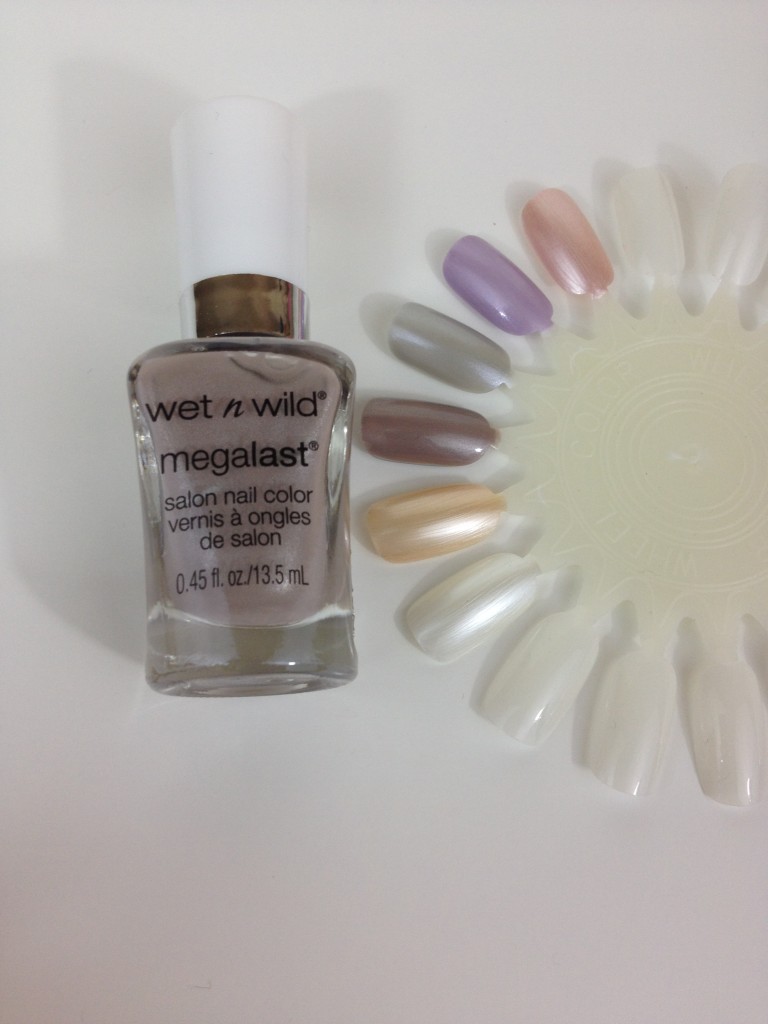 I love this color! It's a gorgeous taupe cream with just a hint the right amount of shimmer. It applied very easily and was opaque. This is shown with two coats of polish.
Champagne 34362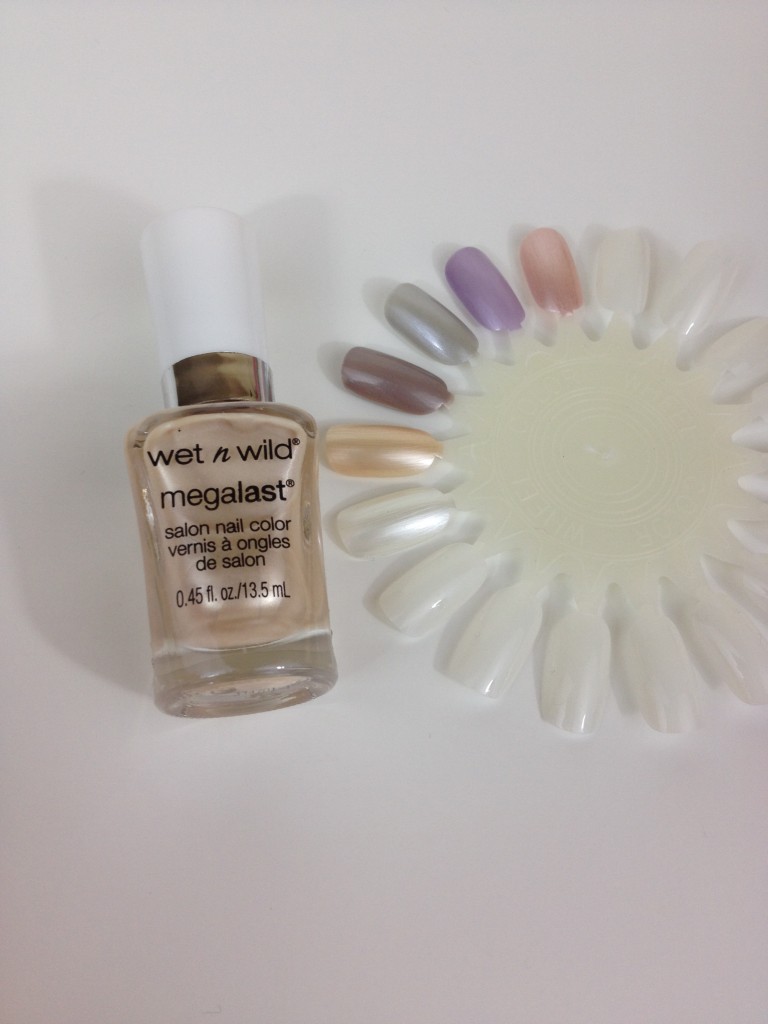 This is a beautiful champagne pearly frost. It is not opaque, but I don't mind that at all. I think this is a great neutral color that would look great with lots of different looks.
Elegance 34357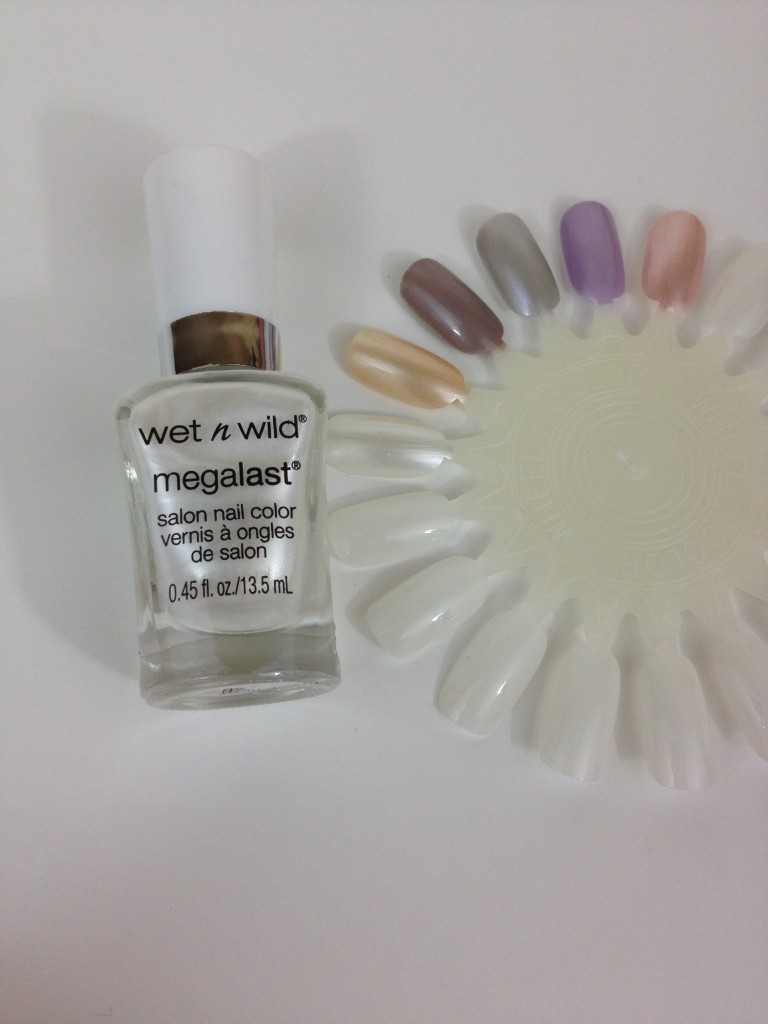 This is a white frost that is very pearly looking on the nail. I am happy to have this color because usually when you see true whites they are pretty plain.
Overall, all six of these colors are either shimmery or a frost, so be aware of that. I think they are very different for the Megalast line and I can't wait to wear them for spring!
8 PAN EYE SHADOW INFORMATION AND SWATCHES: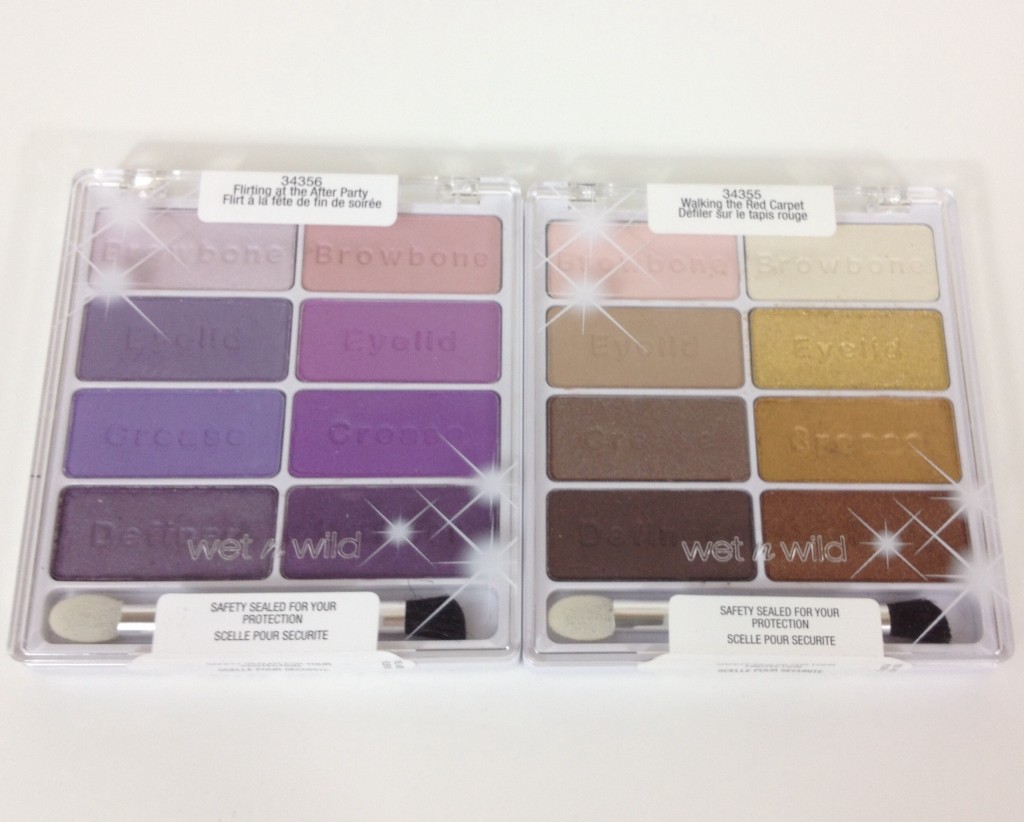 I love Wet n' Wild eye shadows because the prices really can't be beat, and they are very pigmented. These retail for about $5. All of my swatches are shown without an eye shadow primer to try to show exactly what you get, but I would highly suggest using one with these eye shadows.
Flirting at the Afterparty 34356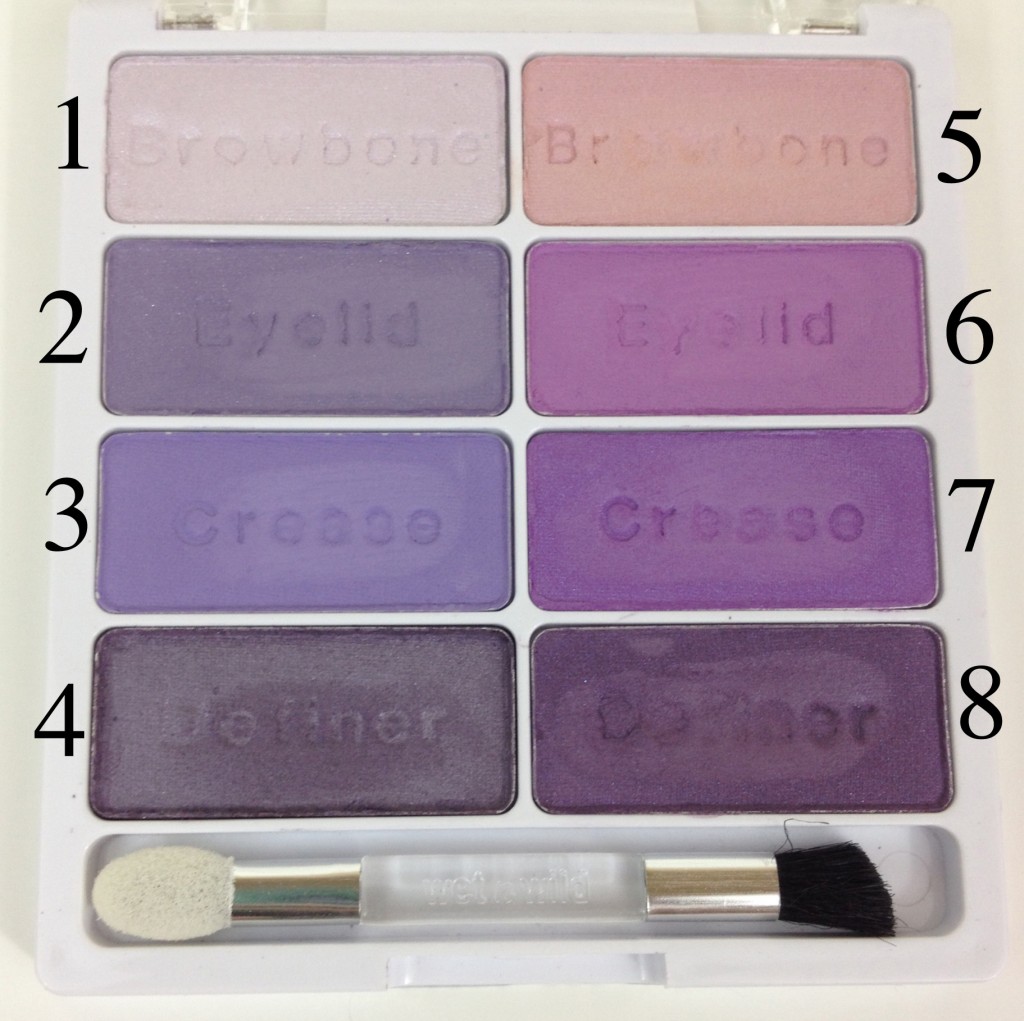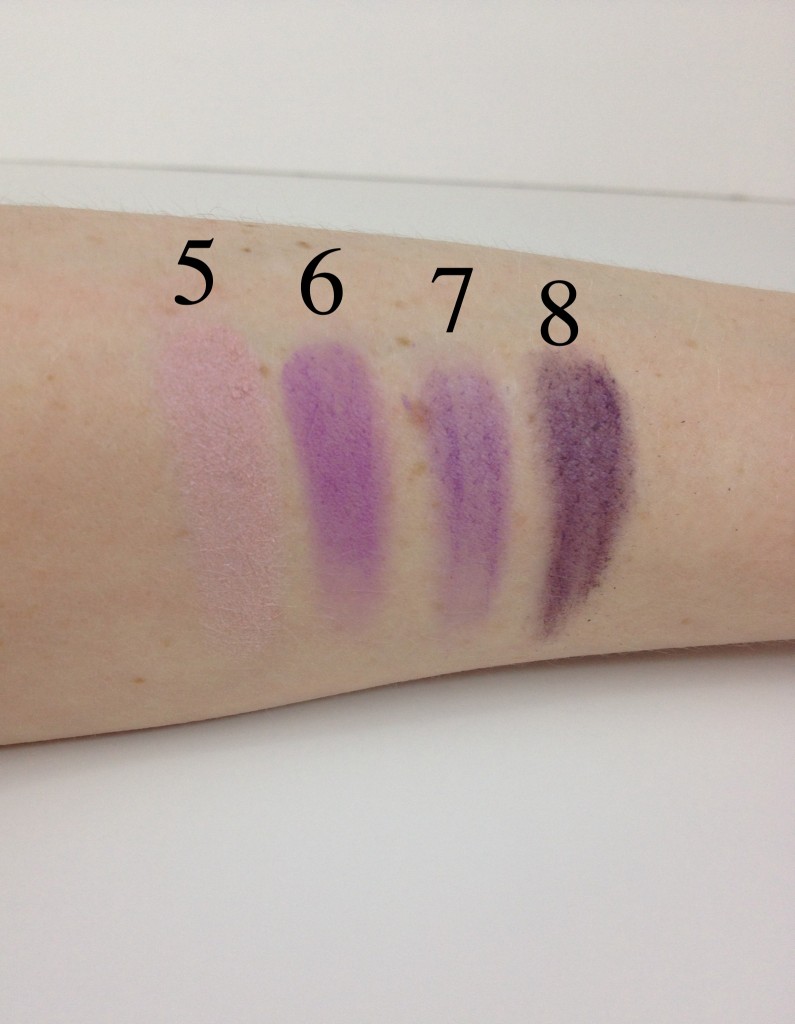 This is a purple palette that I think is very on trend with the Pantone Color of the Year: Radiant Orchid. I typically stick with neutrals, but I think that this will be a lot of fun to play around with.
Walking the Red Carpet 34355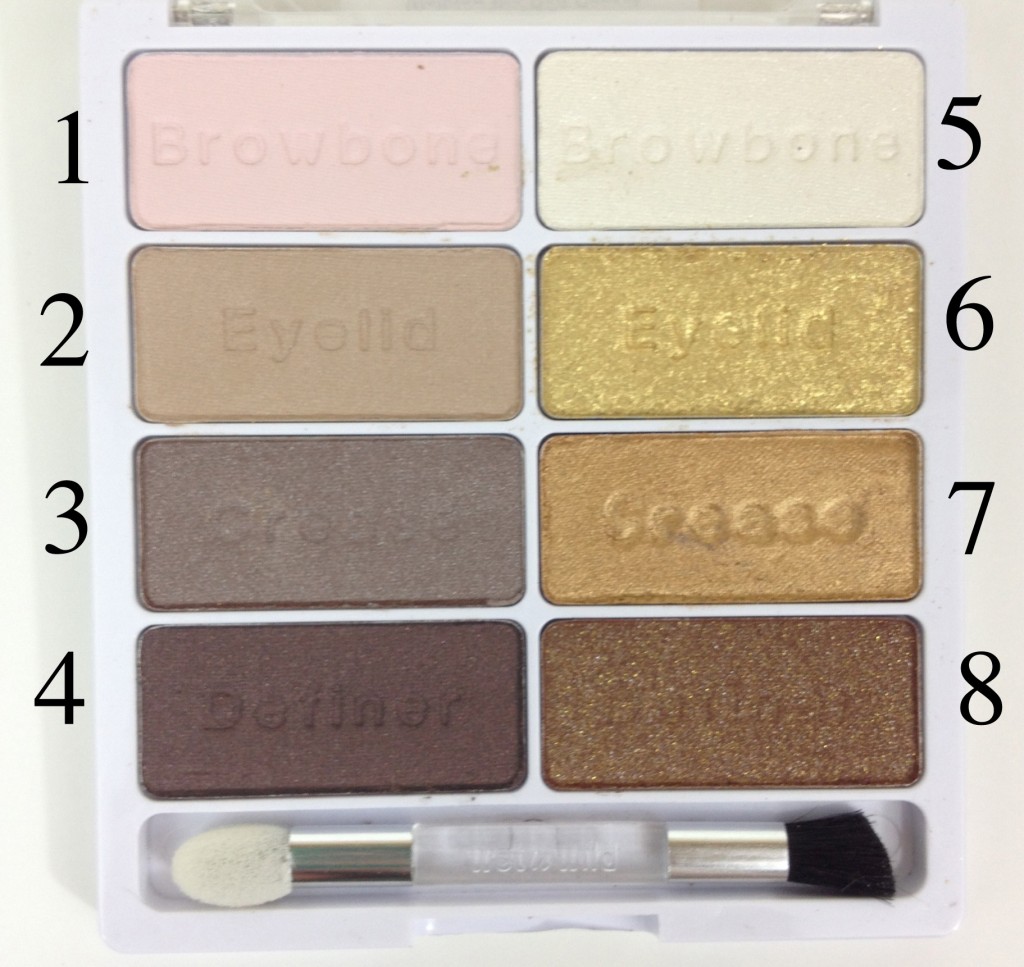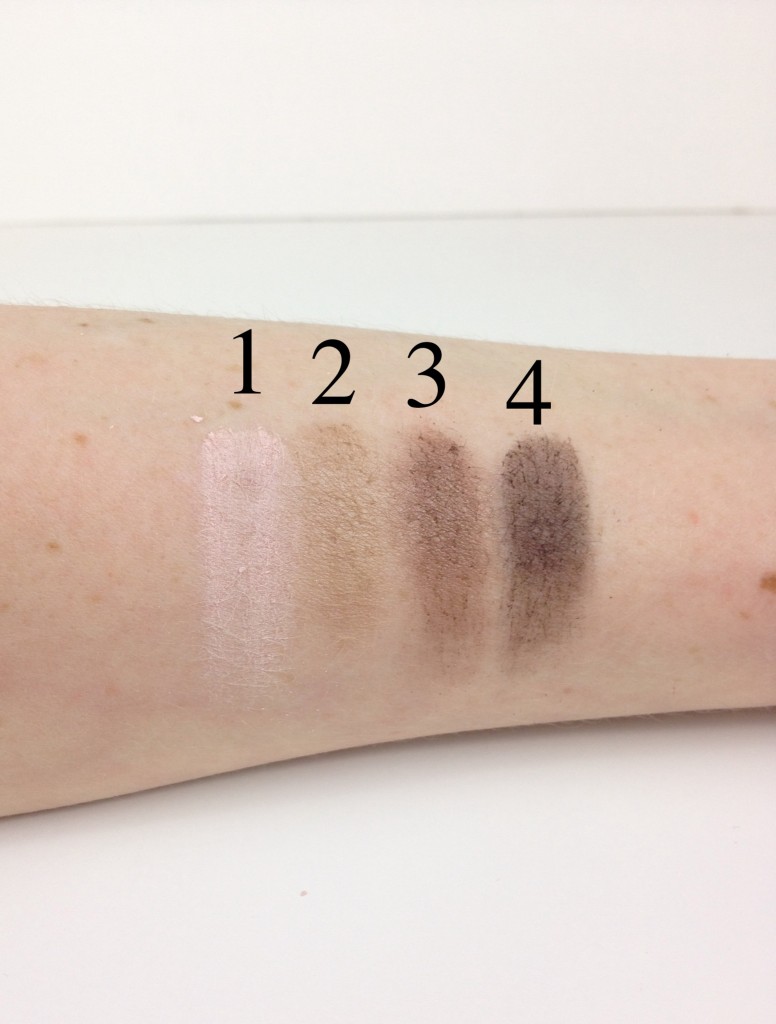 This is such a stunning neutral palette! This is perfect for everyday wear. The glittery gold shades were a little more sheer swatched than they look in pan, but if you packed the color on the lid I think you could still really build it up.
Do you like limited edition makeup collections? They kind of drive me nuts because they can be so hard to find, but I also love having new options out all the time.  Let me know your comments, questions, or thoughts in the comments (click the link by the title of this post to comment) or find me on Facebook, Twitter, or Instagram! I hope you have a fabulous weekend!