Hi there! Happy Monday!
I hope that all of you had a great weekend! I had a very busy, but very fun weekend! My very first post was on shower favorites-drugstore edition and today I decided to share a few of my drugstore staples that I will always repurchase. Please let me know some of your holy grail favorites from the drugstore in the comments : )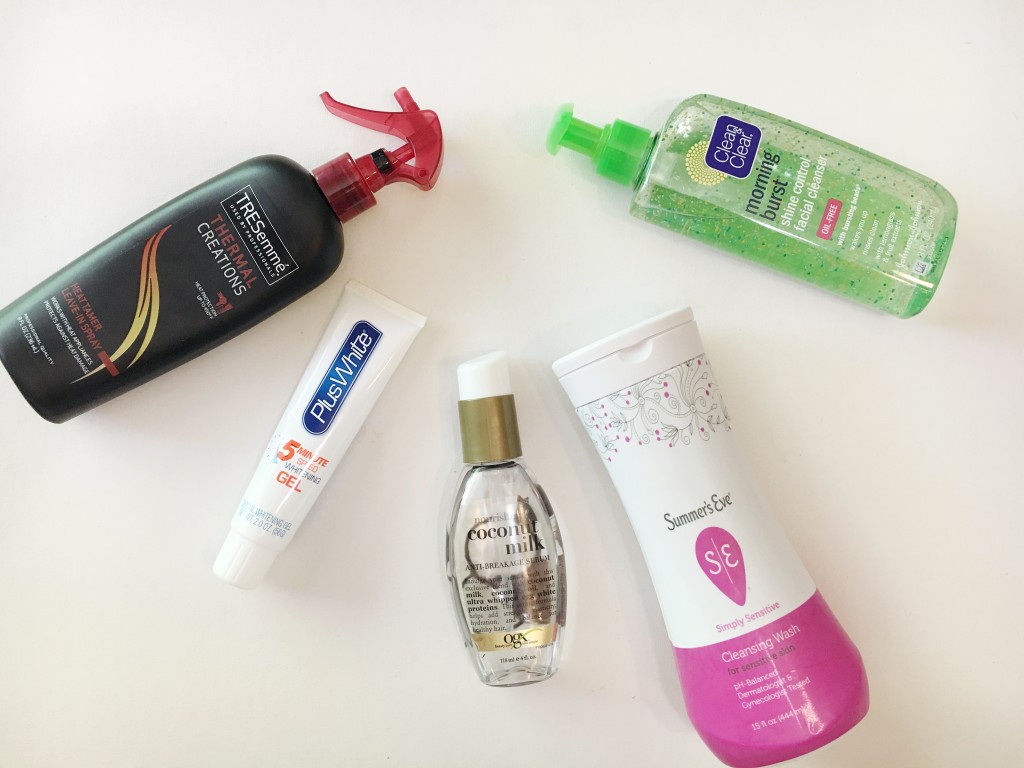 TRESemmé Thermal Creations Heat Tamer Leave-In Spray:
This is a great heat protectant that I always have on hand. I buy a pretty equal mix of drugstore and high-end hair products, but this is my go-to thing to spray on my hair before curling or straightening.
Plus White 5 Minute Whitening Gel:
I do like doing more intense whitening kits from time to time, but on an almost daily basis I will use a Q-Tip to apply a little bit of this gel to my teeth after showering and I'll just leave it on while I finish my nighttime routine and then I'll rinse it off. I don't notice a super huge difference, but I do think that it helps them stay white and avoid staining from every day things like coffee or tea. I find this at Walmart for about $5 or you can buy a kit with trays for $20.
OGX Nourishing Coconut Milk Anti-Breakage Serum:
I mentioned this in my April Beauty Favorites post, and it still remains something I use all the time! I love this for working into the ends of my damp hair, but I actually like it even more for apply to the dry ends of my hair after heat styling to help the ends from looking too dry.
Summer's Eve Simply Sensitive Cleansing Wash:
This has been a favorite of mine for a long time, and maybe it's T.M.I but I love this stuff! I don't use it daily because you need to be careful with your p-H levels, but I do like having a wash that's appropriate for your lady bits. You should NOT use regular body wash down there! They have scented options too, but this is my go-to.
Clean & Clear Morning Burst Shine Control Facial Cleanser:
I love Purity by Philosophy, but this is my favorite drugstore cleanser and I usually use this one in the morning and the Purity by Philosophy at nighttime.
Have a wonderful Monday! Thank you for reading! Be sure to subscribe so that you can be notified whenever I post something new!