Hi there! Happy Wednesday!
I haven't shared beauty favorites in awhile, but I found myself reaching for these things a lot last month and am so excited to share them with you! If you have any questions, ask in the comments and I will definitely get back to you!!
April Favorites: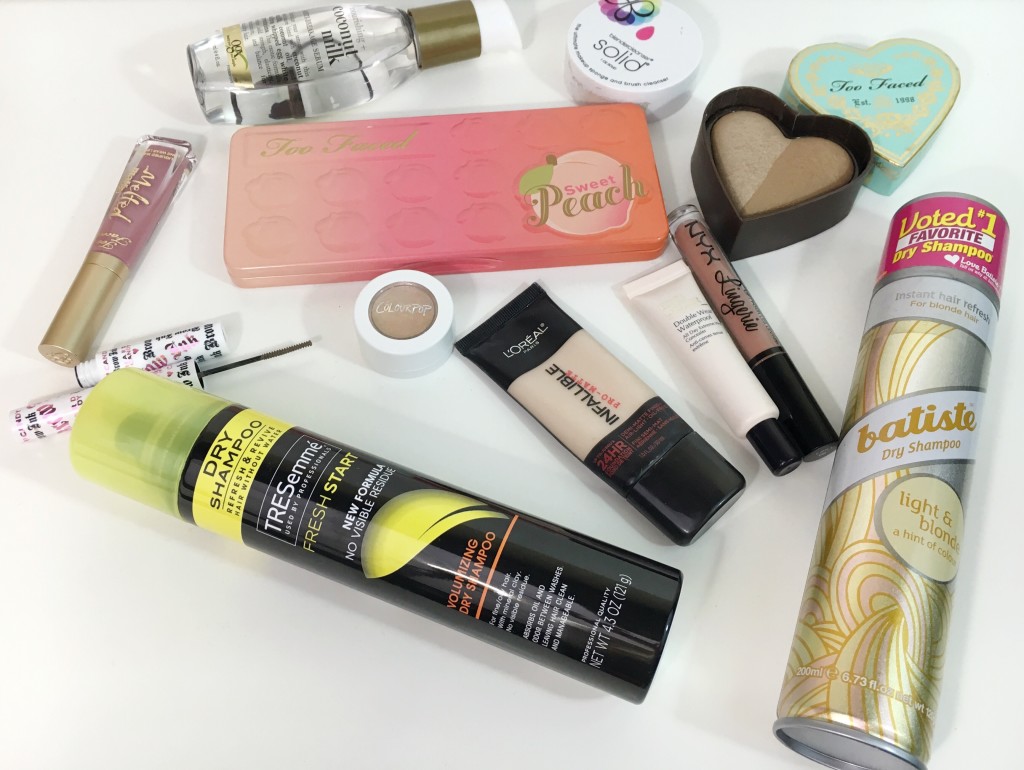 Hair Care:
OGX Nourishing Coconut Milk Anti-Breakage Serum:
This can be used on damp towel dried hair and to add strength and hydration to your hair. I do use this in the ends of my hair before brushing it out after showering, but my favorite way to use it is on the ends of my dry hair to to hide any dry looking ends and add shine to my hair! I especially love to add this to my ends after I curl my hair.
TRESemmé Fresh Start Volumizing Dry Shampoo:
This is my go-to dry shampoo because it's affordable and works well! I like to use this on nights when I don't wash my hair and apply it liberally to my roots and then work it in with my fingers. If needed when I wake up I use a little more, but usually using it the night before works well for me.
Batise Dry Shampoo in Light & Blonde:
I don't usually splurge on dry shampoo, but I have to say I really did enjoy this one! Now I do understand what the Batiste hype is about! This one had a blonde tint that I did like for a bit of help concealing roots, too.
Makeup:
Beauty Blender Cleanser Solid:
This looks like a little round bar of soap when you open it up, but I swear it is magic!! You can use a gentle anti-bacterial soap or shampoo to wash your brushes, but this rinses clean so fast that I save so much time when I use it! I also like that it comes with a tiny little cleaning mat to scrub your brushes on. *Tip: You can buy brush cleaning mats, but you can also use a rubber textured cutting board which is usually much cheaper : )
L'Oreal Infallible Pro-Matte Foundation in 101 Classic Ivory:
This has taken the place of Revlon ColorStay for my favorite drugstore foundation! Even though this is drugstore, it's fairly expensive at about $13, but I really think it's worth it! I like that it comes in a tube, it's sanitary and easy to get every last drop out. I was a bit hesitate because it says it is a demi-matte finish, but it lasts all day on my oily/combo skin. I do use oil blotting sheets on my nose, but I have to do that midday with any foundation. I am hooked! I like apply this with a stippling brush like the Sigma F50. You can see my favorite ways to apply liquid foundation here.
Esteé Lauder Double Wear Waterproof All Day Extreme Wear Concealer in 1C Light:
I am obsessed with this! I use this on any discoloration and a little goes a long way! It blends out well with a makeup sponge or with my fingers. I also use this on my under eye area and I've been very impressed because it doesn't settle in my fine lines.
Too Faced Sweethearts Baked Luminous Glow Bronzer in Sweat Tea:
Okay, first of all, THE PACKAGING!! It is everything! I love the mint with the brown! Too Faced always knocks it out of the park when it comes to packaging. I love this cool toned bronzer because you can use the colors on their own or mixed together and it's the perfect bronzer for those like me who try to avoid ones that are too orange or warm toned. It does have shimmer, but it's subtle and not chunks of glitter.
Too Faced Sweethearts Perfect Flush Blush in Sparkling Bellini:
This is my first blush from this line, but I already want more. I love that it has a bit of shimmer so you can skip a highlight but the shimmer isn't overpowering. I like to wear the three colors swirled together, but the strips of color are wide enough that you could focus on just one or two of the colors if you wanted to. I think this is perfect for glowy summery cheeks!
Too Faced Sweet Peach Palette:
I couldn't not include this! Clearly, this was a big month for Too Faced and I ; ) But this is incredible! I hate to mention it because it has been near impossible to get your hands on this palette, but I had to give it a mention because I've been loving it! I like that it has some very nice peachy shades (duh!) but also has neutrals, purples, and even a green so that you're not limited as much in the looks you can create. It smells like peaches, quite strongly, when you apply it but the scent doesn't last. If you can find it, I say grab it! Plus, THE PACKAGING!
ColourPop Super Shock Shadow in Alchemy 6D01:
I recently hauled my first ever purchase from ColourPop and this is one of the shadows I picked up. I love this for days when I'm rushing but want to throw something beautiful on my lids! I love applying this with my fingers all over the lid.
Hard Candy Brow Ink in Light Medium:
I can really feel the hold of this and the tip is so tiny that I can use it to lightly dot any spots on my brows that seems sparse. I like starting in the middle of my brow and working my way out before lightly apply a bit to the start of my brow.  *Note: You can find Hard Candy exclusively at Walmart.
NYX Lingerie Liquid Lipstick in Push Up:
I got this in my Swap Box with Stephanie Alexandra and I love it! I want to grab a few more colors from this line because it's an affordable liquid lipstick that wears very well on me. It is drying, but not so much so that I can't wear it. I do notice that it breaks down with things like salad dressing (nothing breaks down a lip product faster than something with oil!) but otherwise this lasts through meals for me.
Be sure to tell me what items you have been loving in the comments! I loved doing this post and if you enjoyed it I will definitely try to keep the monthly favorites monthly ; ) Have a wonderful weekend! Please don't forget to subscribe!!