Hi there! Happy Monday!! Annnnd Happy PopSugar time!! This is one of my favorite posts of the month to share with all of you!!
Before we get started: Don't forget to check out my column Leah's Friday Five on the Pearls and Pastries Shop Blog! This past Friday was all about my favorite fall boots and where I shop for them!!
Today I am  reviewing the PopSugar Must Have Box for August 2014!! The box contains full size items in all different categories:food, beauty, fashion, home, and sometimes an extra goodie too! The PopSugar box usually arrives between the 10th-15th of every month for me…it ships from California via FedEx Smart Post, which means it goes out FedEx but arrives to my P.O Box. I am really enjoing this months box so far, so let's jump into it!
August 2014 Must Have Box: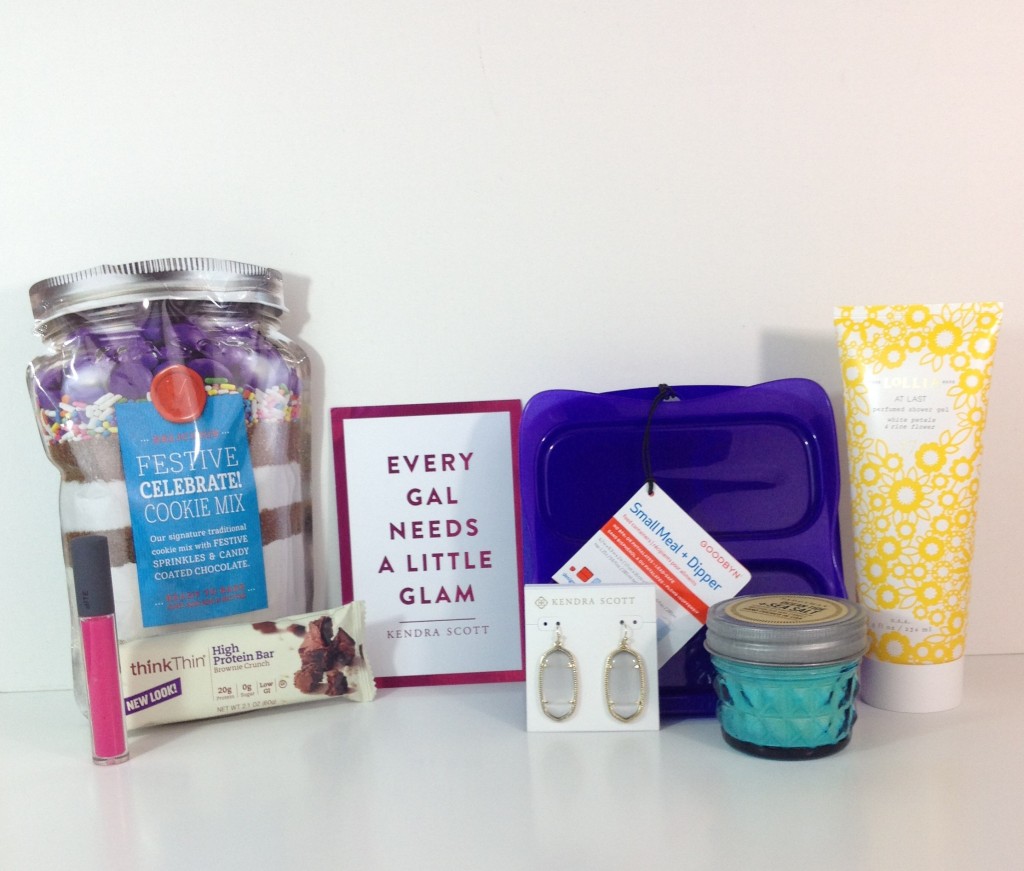 I want to mention that I did think that the packaging was not done very well this month : / And I have heard from others that there boxes also were not packed very securely. I thought for sure one item that is made of glass would be broken, and the most delicate thing in the box had slipped out of it's packaging and was loose : ( I have only ever had 2 boxes with a damaged item in the 20 months that I have had the subscription, and PopSugar is always great about replacing things, but I hope the packaging is back to normal next month!
Celebrate Cookie Mix from The Mason Jar Cookie Company: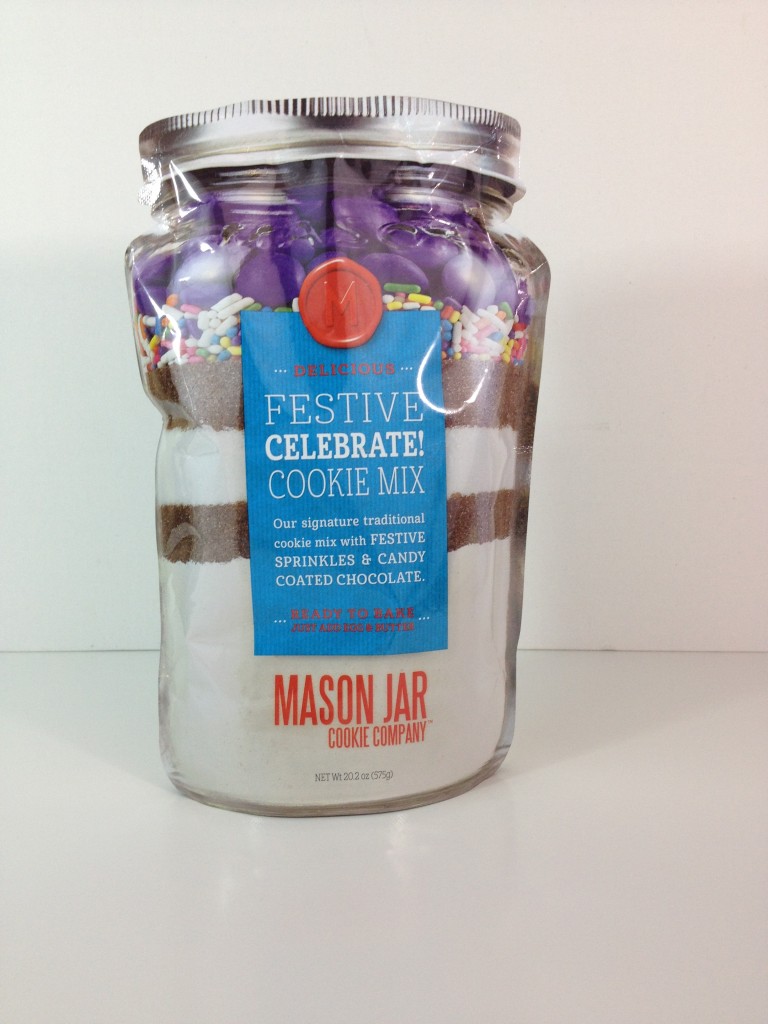 $12
My 3 year old LOVES to bake in the kitchen with me, and sometimes it is so nice to have the mix pre-made so that I save some clean up and time!! My daughter still gets the joy of mixing and working in the kitchen, so it's a win-win! We haven't tried this one yet, but I love the packaging and with sprinkles and chocolate what's not to love?!
Lush Fruit Lip from Bite Beauty: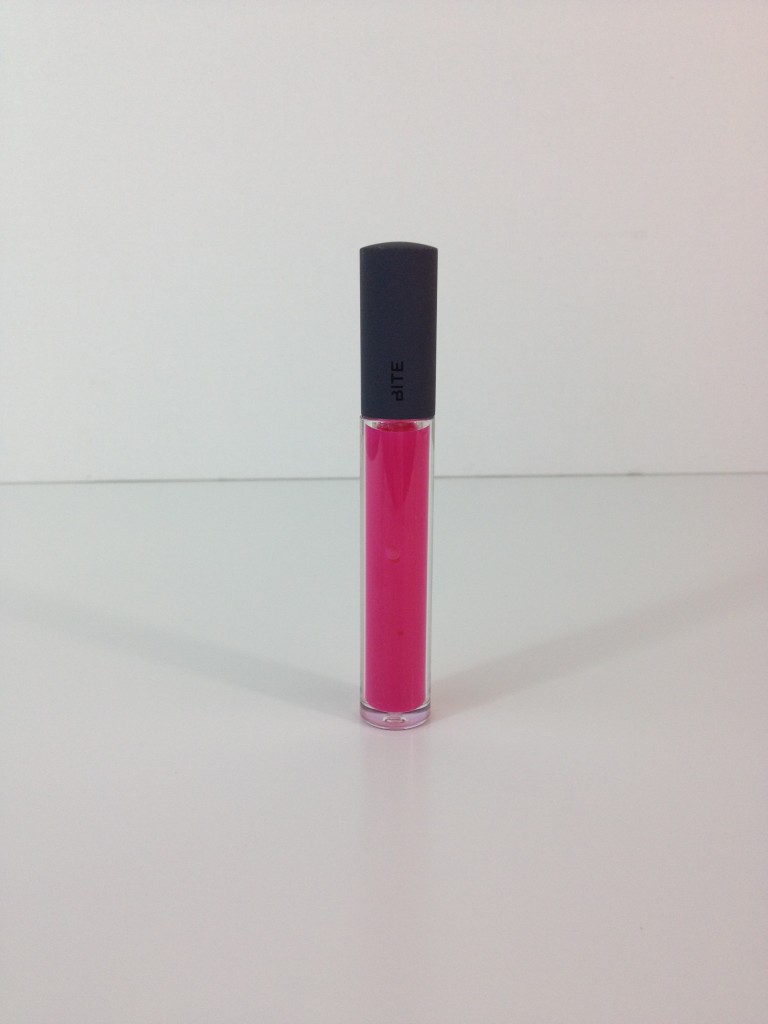 $22
I have been swooning over the Lush lipsticks for months now, so I was super excited to find this lip gloss in my box! The color was created especially for PopSugar subscribers for the 2 year anniversary of the Must Have Box. It is a nice hint of color, and it is a bit sticky but I actually like that to a point because it stays on the lips longer. I love that this lip gloss is naturally nourishing with strawberry, coconut, and avocado oils.
Purple Meal and Dipper Set from Goodbyn: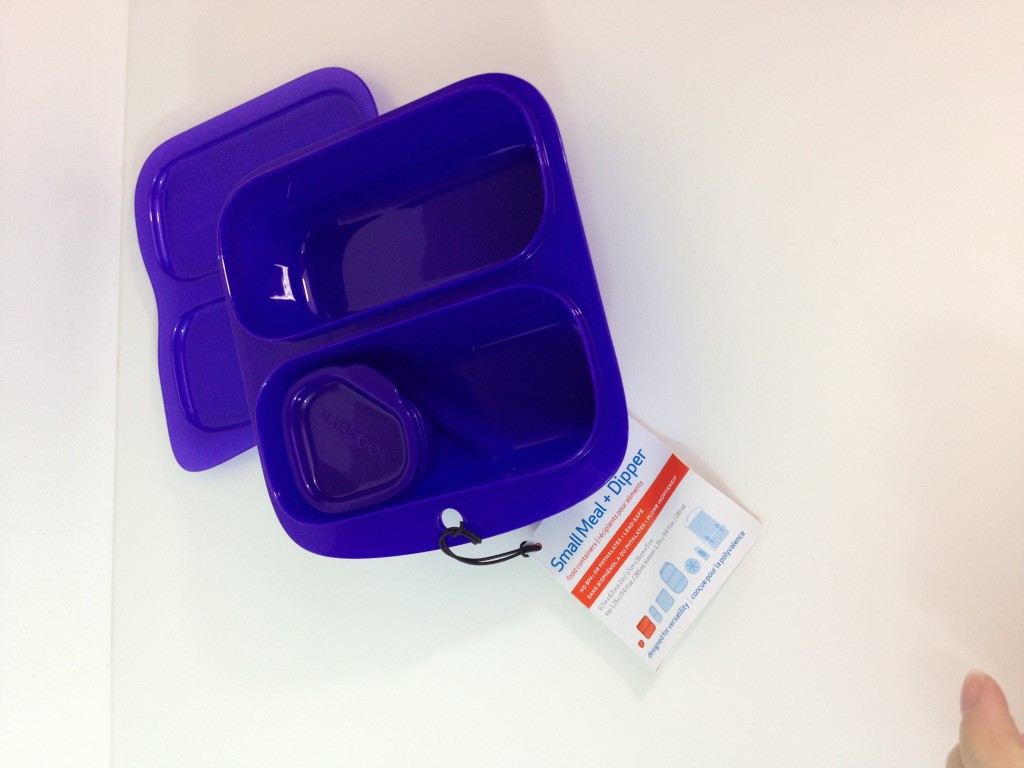 $8
We already have one of these bento style boxes, but it gets tons of use, and with my daughter starting pre-school (ah!!) soon we are happy to have another. This is dishwasher safe, and I love the seperate little compartments.
Ocean Tide + Sea Salt Mini Jar Candle from Paddywax:
$10
I have burned this several times already and I am really impressed!! I usually gravitate towards 3 wick candles exclusively because I want a candle that will have a throw that will really fill the room, but this is a powerful little thing! It smells SO good, it's hard to find a beachy scented candle that doesn't overwhelm you with suncreen or coconut, and this candle is able to with the nice sea salt scent.
At Last Perfumed Shower Gel from Lollia: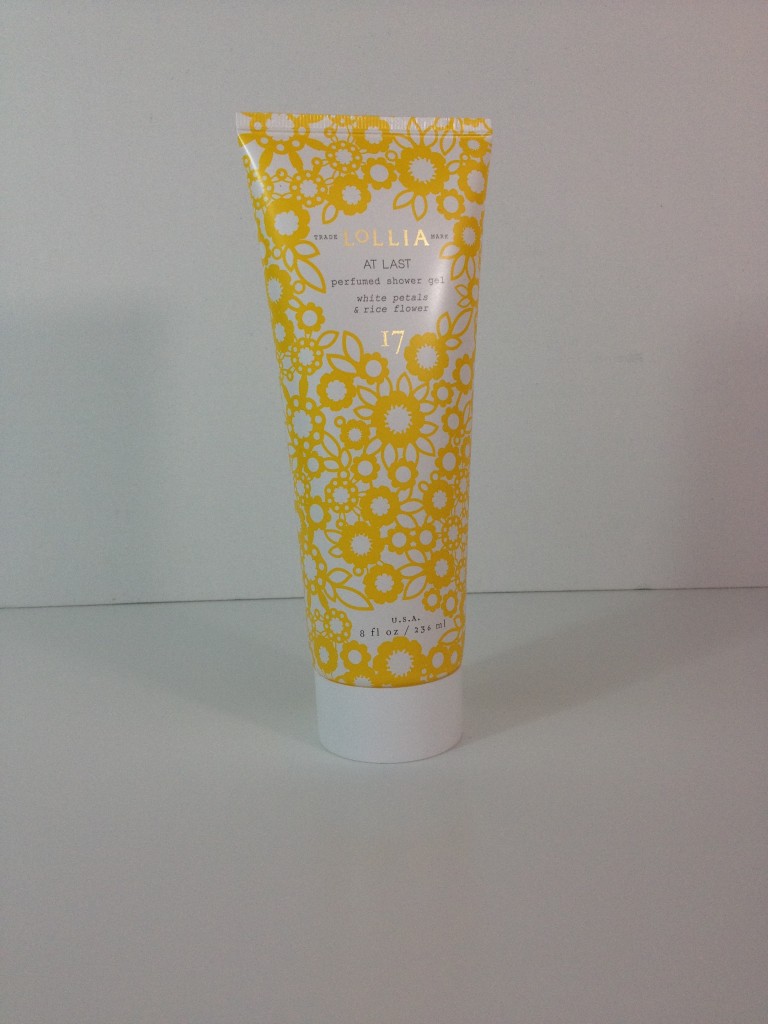 $22
I haven't tried this yet, but I always love getting fancy bath products in my box : ) This smells nice and I am excited to try it out.
Elle Earrings in Slate from Kendra Scott: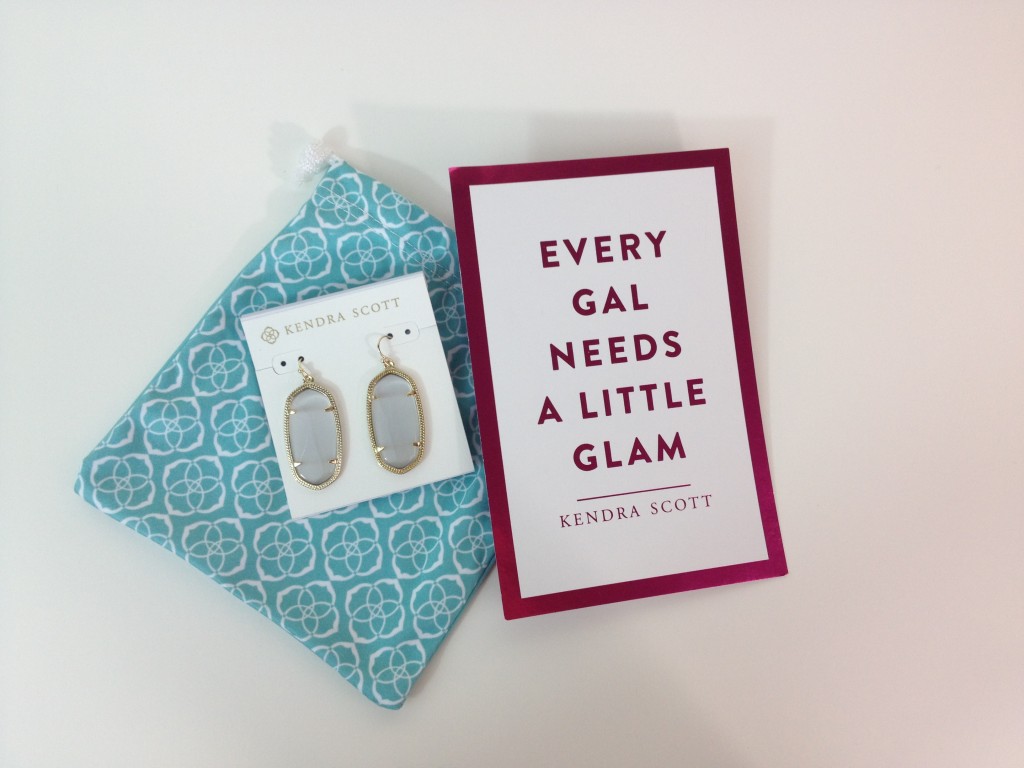 $52
This are easily my favorite item in the box which is really saying something since I rarely wear dangly earrings (2 little kiddos and another on the way…so maybe in 3-4 years I can wear them more!) but these are stunning! I think they'll look great with so many things and can't wait to wear them for a date night with Stephan : )
Special Extra:
Brownie Crunch High Protein Bar from thinkThin: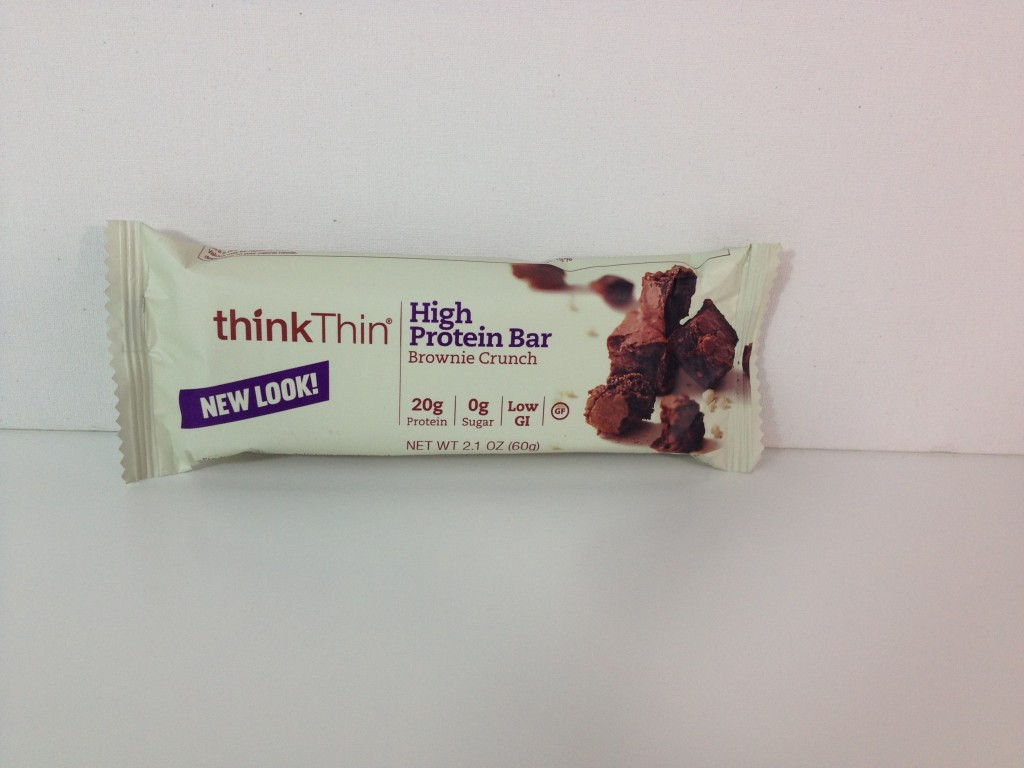 I originally tried a thinkThin bar because of Pop Sugar back in February of 2013, and they are a great option for a high protein bar. I haven't tried this one yet, but I love tossing these in my bags for those "I-need-energy/food-now!" moments! Having a healthier option stops me from making a bad decision (ahhhhm candy bars!).
Overall I am really excited about this months box! I am so excited for fall this year, so I am hoping that next month has some fun things as well that are more fall geared. I was disapointed by the packaging, but the items made up for it! And as always, this box is WELL worth the $39 price point! This box totals $126 not counting the special extra.
Do you subscribe to PopSugar? What other subscription boxes do you enjoy? I love hearing what other people subscribe to and what they are loving!!
Before you go, don't forget to enter the TWO giveaways that are currently running on the blog!!
I hope you have a wonderful start to your week!! Thank you so much for taking the time to read my blog : ) XOXO