Hi there! Happy Wednesday!
ANNOUNCEMENT: I have been posting every Monday, Wednesday, and Friday but will now be changing to a Monday and Wednesday schedule. I will still be blogging on the Pearls and Pastries Shop Blog biweekly on Friday's. I want to focus on quality while still bringing you blog posts on a very dependable and consistent basis. I really appreciate all of your support as I work to improve my blog with every post, so please subscribe if you haven't already!! Every one of you who has subscribed I am so grateful for! : )
Okay….onto today's post!
I have been hearing little bits about Arbonne  products more and more lately, but just a couple of weeks ago I was finally able to try something from the company. I am SO excited to share it with you!!
Arboone is all pure, safe, and maybe best of all, benefitial. All of the products are vegan, plant based, soy free, paraben free, and dairy free. One thing I found really awesome is that the products are formulated in Switzerland and are held to Swiss standards which are some of the highest, but made in the United States.
NOTE:****Be sure to read to the bottom of this post for your chance to win a full size of the Awaken Sea Salt Scrub!! Details are at the end of this post!!! : )****
Aromaessentials Awaken Sea Salt Scrub:
My Arbonne consultant, Kim, introduced me to this and I am in love! Before using this my go-to body scrub was the Tree Hut Shea Sugar Scrub in Coconut Lime, but the Awaken Scrub blows that out of the water!! I was a little apprehensive about whether or not this would be anything different from scrubs I had used in the past, but the exfoliation combined with the oil is a total game-changer. I know having "me time" is important, but with two toddlers, work, appointments, life…..it is really low on my to-do survival list! I almost didn't use this scrub when I first got it because I was in a rush (per usual!) and didn't think I should spend the time, but I ended up using it anyways. Ahhhh! SO glad I did! It sounds so cheesy, but the smell was seriously uplifting!! I immediately felt relaxed, happy…that feeling you get after hours in the chair at the hair salon or after a fresh mani/pedi. I want to try some of the "unwind" products now because the "awaken" works wonderfully.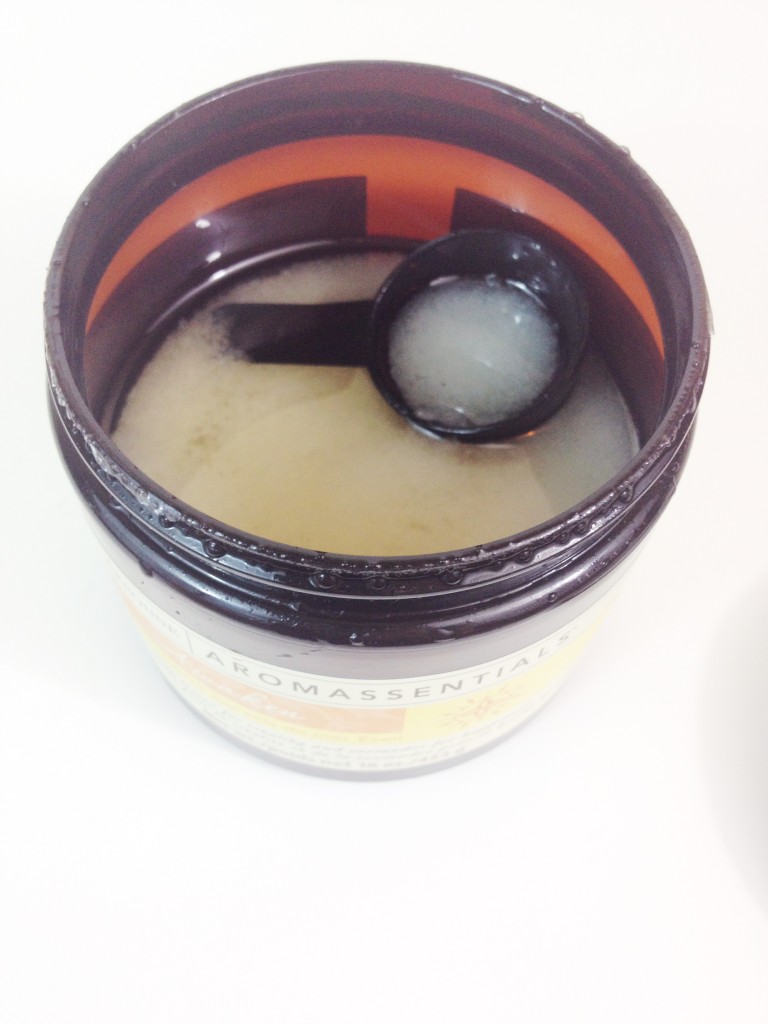 Kim shared two of her favorite uses and I want to share them with you as well to give you some ideas!
1) Foot Soak and Scrub
Soak your tootsies in warm water and once they are soft, scrub your feet with one scoop of the scrub! My feet were SO soft after doing this method (but a tad slippery!).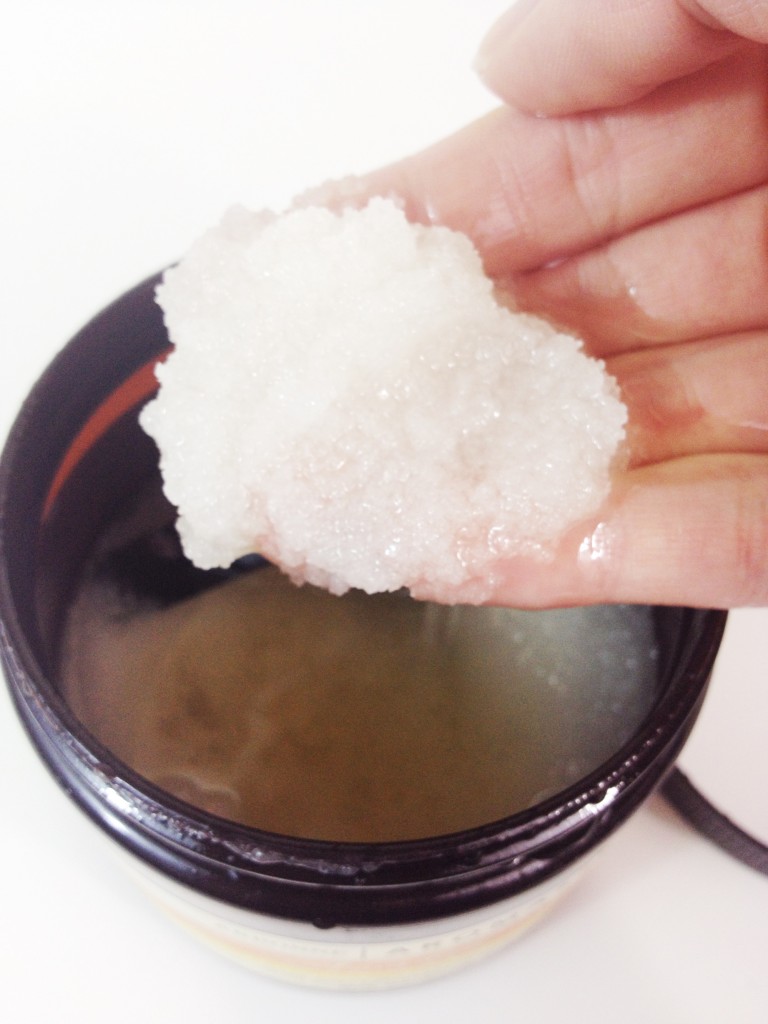 2) Scrub Legs *Before* Shaving:
This way is my favorite use for this product so far! As much as I love the foot soak, finding the time just isn't always going to happen, but using a scoop of this scrub in the shower on my legs and feet is easy to work into my routine. Simply scrub your legs with the scrub and then shave while the oil from the scrub is still fresh on your legs! SO luxurious and my legs looked amazing after doing this. It was way less of a hassle then shaving cream, and also much more relaxing.
I wanted to have other suggestions for you since the Arboone website is AWESOME but there is so much that it was a little daunting, so I picked Kim's brain a bit and found some other great ideas.
FALL/WINTER ARBONNE PRODUCT FAVORITES:
An Arbonne favorite in a pump bottle and great for all skin types!
2) FC5 Ultra-Hydrating Hand Creme
Kim told me that her husband carries this around with him in the winter, and to me if a guy is carrying around a prodcut like that it MUST be good! I hate dry winter hands, and I will definitely be trying this out asap because fall is approaching fast!
3) Baby Care Body Lotion and Baby Care Body Oil
This is for the little one's in your life!! My little man has severe eczema and I love the idea of a natural product line to try out this winter. You can mix the two and apply to dry areas on your little lovess….again, can't wait to try this!
4) Made in the Shade Self-Tanner Broad Spectrum SPF 15
I love the idea of a more natural, botanicaly based self-tanner to try to keep up a warm glow in the cooler months!! And you all know, I am ANTI-TANNING so wear your sunscreen and rock a sunless tanner, please ; )
OTHER FAVORITES:
1) Lip Saver Broad Spectrum SPF 30 Sunscreen
I mentioned this in my July Favorites post. It is awesome and I have used it daily since I got it!!
2) Vanila Protein Shake Mix (Powder)
Kim suggested these, and I love that they are whey free, soy free, dairy free, and vegan! The protein is sourced from rice, pea plants, and cranberries. Awesome! I want to try this in my smoothies!!
If you are interested in any of these products mentioned above or any on the Arbonne website, you can email Kim: kim.porta3@gmail.com or enter the ID 13107319 at checkout on Arbonne.com!
Now, onto the giveaway : )
HOW TO WIN THE ARBONNE AWAKEN SEA SALT SCRUB: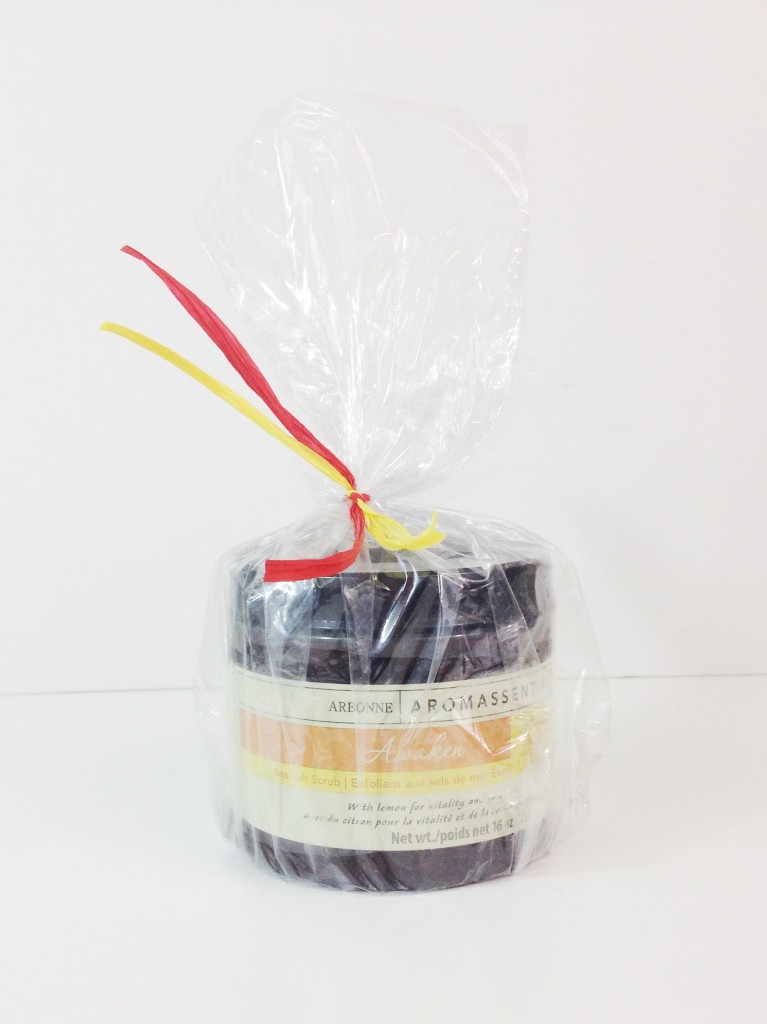 1) Comment on this blog post and tell me your favorite way to pamper yourself!! Commenting is *easy* promise! Just click the link by the title of this post and you enter your first name, email, and comment : )
2) You *MUST* be subscribed to my blog! To subscribe enter your email into the subscription box on the right side of the page! You will then get an email that asks you to confirm that you subscribed and that's it! You'll just get emails when I post something new.
EXTRA ENTRY OPPORTUNITY:
If you'd like to gain extra enteries you can 1) Share this post on your Facebook, 2) Share this post on yourTwitter, or 3) Follow me on a social media platform you are not yet following me on and you will get an entry for each new like or follow (Instagram, Facebook, Twitter, Luvocracy, Pinterest).
RULES:
1) This giveaway is limited to those in the United States and Canada, but eventually giveaways will be opening up to subscribers everywhere!
2) If you are under 18 years old just ask permission from your parents to enter the giveaway!
3) A random selection website will determine the winner to keep things fair.
4) Once the winner is contacted by email they will have 48 hours to respond and after that I will select another winner.
5) This giveaway will end in two weeks!!
Good luck to all of you entering and I hope that this post was helpful! Have a wonderful rest of your week!!