Hi there! Happy Wednesday!
First things first, thank you all *so* much for the sweet comments from my announcement post! It means so much to both my husband and myself!! We are THRILLED and can't wait to share our journey with you : )
Today I am soooooo excited to share my thoughts on my first (but certainly not last) Chloe + Isabel piece, and share one in a giveaway!!
When Leslie contacted me about collaborating and doing this review for my blog I was so excited! The pieces that Chloe + Isabel offer are stunning!! Plus, I love that the company is powered by ambitious young women.
MEDINA AMETHYST + TURQUOISE CUFF: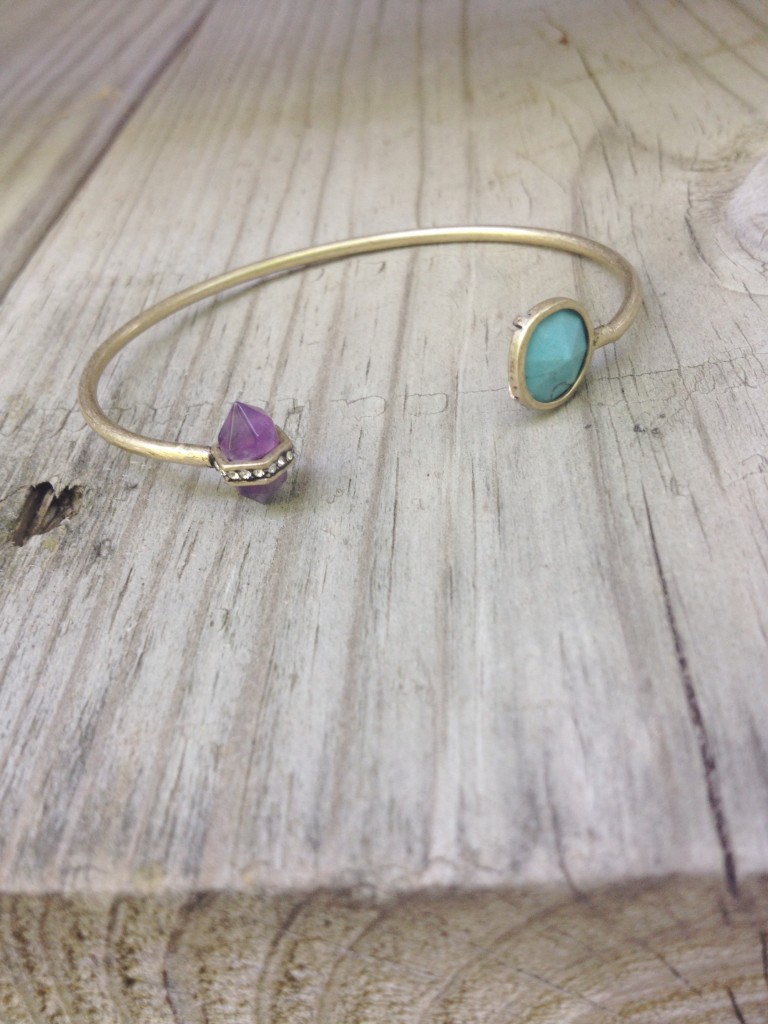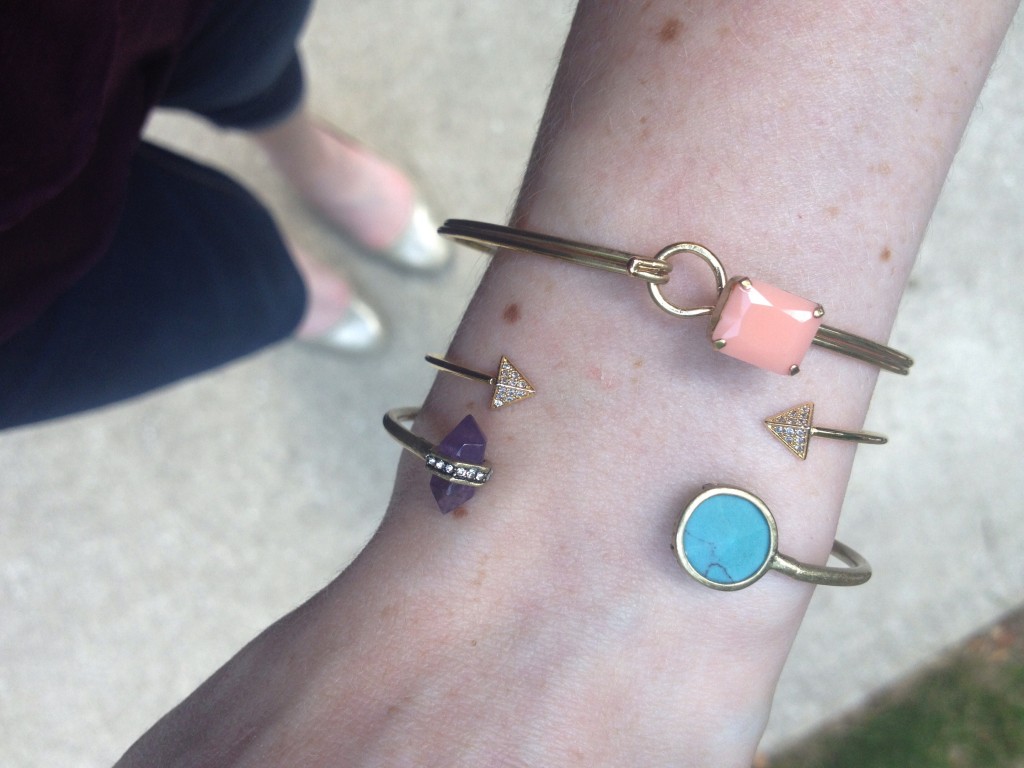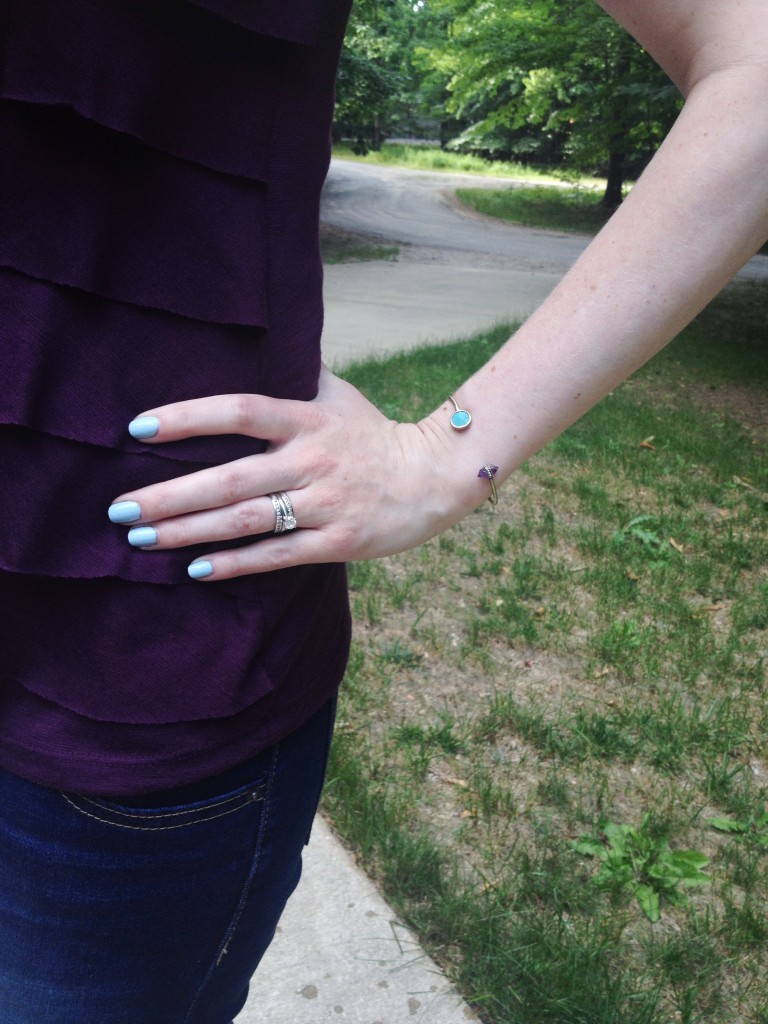 When I was looking at the website I had a hard time picking because there were SOMANYPRETTIES!! But this cuff was just calling my name…and I have no regrets! This bracelet is a beautiful gold color that is brass plated and has semi precious amethyst points that have a pretty pavé crystals seperating the two on one side, and a turquoise stone on the other side. I have been wearing this a ton lately, and think that it will also be a great transition piece into the cooler months coming up. I like wearing this both alone and stacked with other arm candy.
OTHER BEAUTIFUL CHLOE + ISABEL JEWELRY: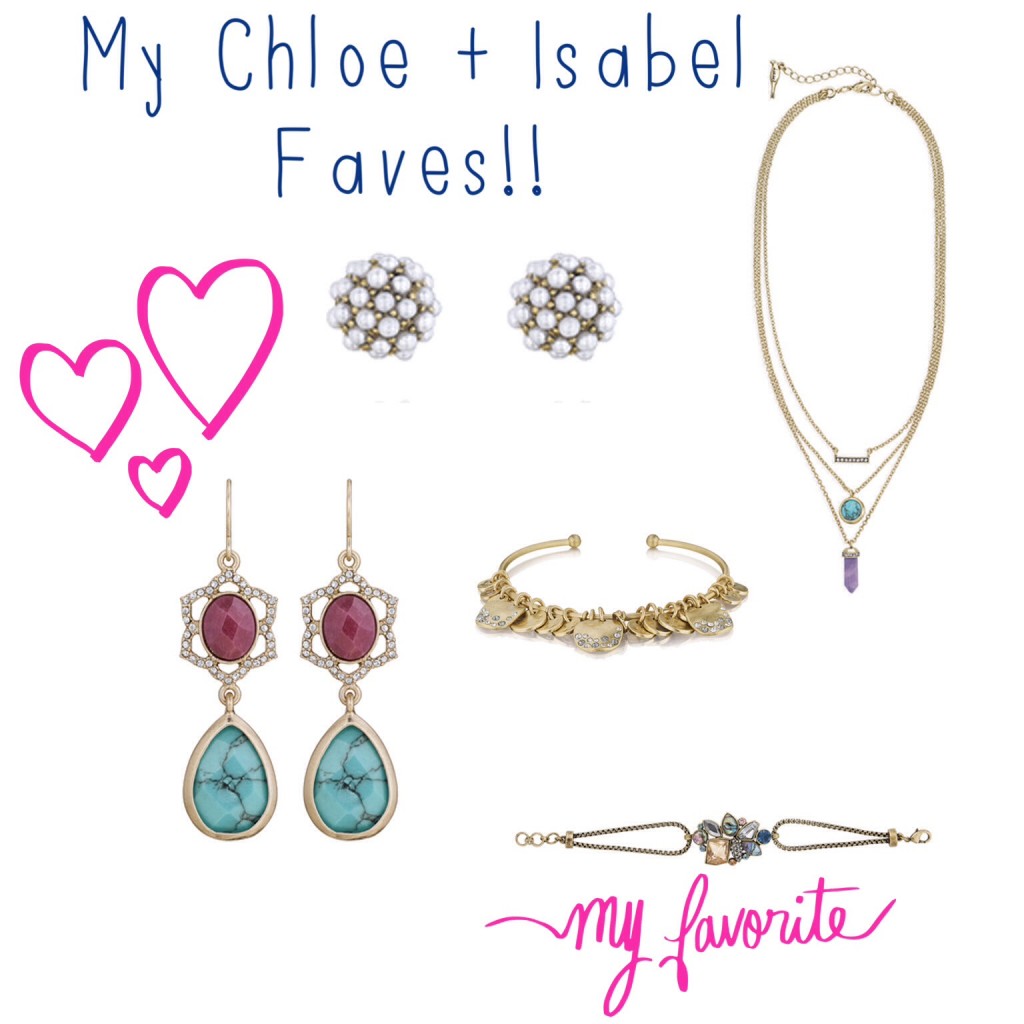 If you are interested in looking at any other pieces or want to purchase, please go to www.savvistar.com and enter "Leah Tackles" for the hostess/pop-up right before checkout! I have included a picture below so you know exactly where to enter "Leah Tackles" because if you spend over $75 you will also recieve a FREE pair of studs earrings (*if you shop under the "Leah Tackles" pop-up)!!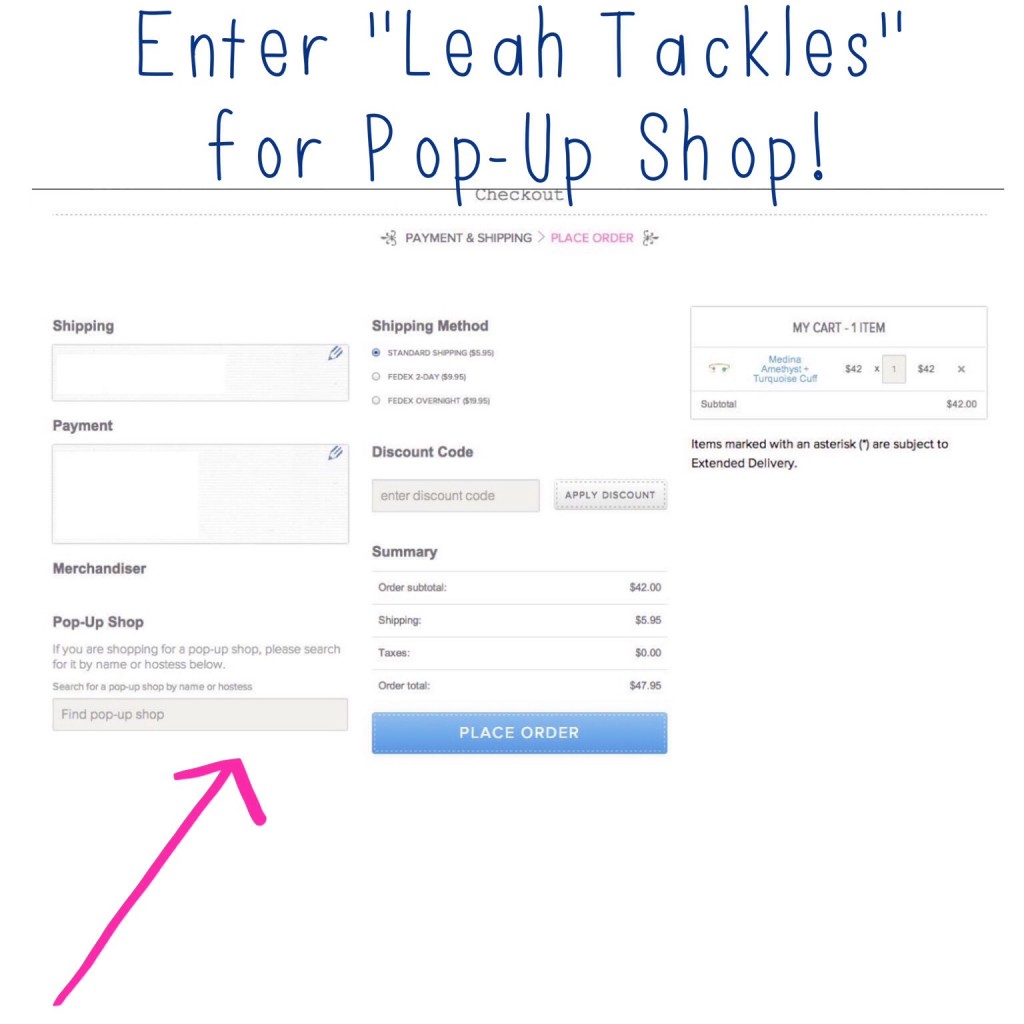 GIVEAWAY:
1) Comment on this blog post and tell me your favorite jewelry item of the moment!! Commenting is *easy* promise! Just click the link by the title of this post and you enter your first name, email, and comment : )
2) You *MUST* be subscribed to my blog! To subscribe enter your email into the subscription box on the right side of the page! You will then get an email that asks you to confirm that you subscribed and that's it! You'll just get emails when I post something new.
EXTRA ENTRY OPPORTUNITY:
If you purchase anything from the website www.savvistar.com using "Leah Tackles" as the hostess/pop-up right before checkout (this is explained and shown in a picture above) you will automatically get *TWO(!!)* extra entries into the giveaway!!
If you'd like to gain extra enteries you can 1) Share this post on your Facebook, 2) Share this post on your Twitter, 3) Follow me on a social media platform you are not yet following me on and you will get an entry for each new like or follow (Instagram, Facebook, Twitter, Luvocracy, Pinterest), and 4) "Like" Leslie "Savvi Star" on Facebook!
The support means a lot to us and it'll get you extra entries : ) That is up to 7 extra entries for participating on social media, and 9 if you also buy something from www.savvistar.com using "Leah Tackles" as the pop-up! Good luck!!

RULES:
1) This giveaway is limited to those in the United States and Canada, but eventually giveaways will be opening up to subscribers everywhere!
2) If you are under 18 years old just ask permission from your parents to enter the giveaway!
3) A random selection website will determine the winner to keep things fair.
4) Once the winner is contacted by email they will have 48 hours to respond and after that I will select another winner.
5) This giveaway will end in two weeks!!
If you have any questions please reach out to me and I would be happy to help!! I hope that you are having a wonderful week so far : )