Hi there! Happy Monday!
Summer is right around the corner and as you're shopping for your summer essentials SPF should definitely be on that list. Now, I love a great multitasking beauty product as much as the next gal, but what about sunscreens? You see SPF listed on lotions, makeup setting sprays, lip balms, and of course, sunscreen lotions themselves on the shelves but which do you need? Can you get away with using just a foundation with SPF and calling it good? Let's take a look…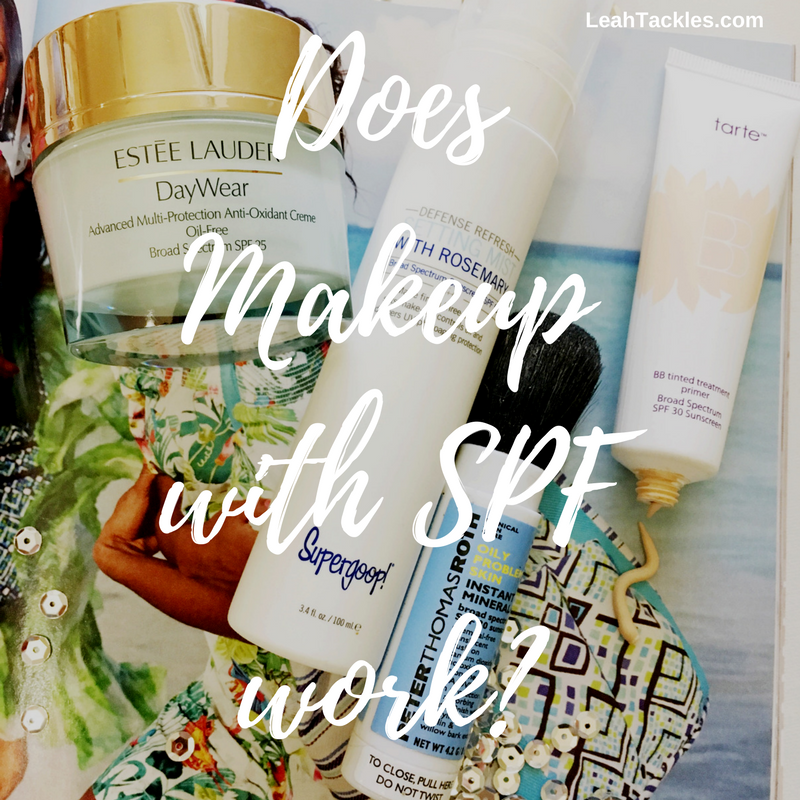 SPF: THE BASICS
WHAT DO THE NUMBERS MEAN FOLLOWING SPF (i.e SPF 15 vs. SPF 50)
Say that your skin normally begins to burn after 10 minutes in full sun without any protection (definitely my situation as a very fair skin toned lady) if you use 30 SPF sunscreen that would provide 30 times the protection of using no sunscreen. In other words, 30 times longer before you start to burn, or 300 minutes.
WHAT ARE UVA and UVB RAYS?
UVA rays penetrate deep into the dermis which is the skin's thickest layer. Exposure of unprotected skin to UVA rays can lead to premature skin aging and wrinkling, and even suppression of the immune system! UVB rays will usually burn the superficial layers of your skin and plays a major role in the development of skin cancer.
IS SUNSCREEN IN MAKEUP ENOUGH? WHAT SHOULD YOU SLATHER ON BEFORE HEADING OUT?
Sunscreen is added to so many products these days, and in my opinion that is a great thing because we need all the protection we can get from the harmful rays. Foundation with sunscreen is definitely a great added bit of security, but unfortunately you would need to use as much as SEVEN times the regular amount of liquid foundation you normally would to get the SPF protection stated on the package and about 14 times the normal amount of a powder makeup product, so don't use this as your only shield from Mr. Sun.
HOW OFTEN SHOULD I REAPPLY? 
I know that reapplying is a huge pain, and applying BEFORE you actually hit the beach is also hard to manage, but here is what you should aim for in a perfect #sunscreengoals world; Sunscreens should be applied 30 minutes before sun exposure to allow the ingredients to completely mind with your skin. Reapplication of sunscreen is as important as that initial application, and should be done every two hours!
MY ROUTINE
I use a moisturizer with SPF in it such as the Estée Lauder DayWear SPF 25 after cleansing and toning my face each morning. I then apply my foundation, a recent favorite is the Tarte BB Treatment with SPF 30 (read my thoughts on it here). On days when I am planning to be spending significant time outside I like to finish with a setting spray with SPF like the SuperGoop! Defense Refresh Setting Mist Broad Spectrum SPF 50 . Because my skin is combo/oily I do need to touch up quite often anyways, let alone in the summer heat, so I go minimal with my makeup when I will be outside and use Peter Thomas Roth Oily Problem Skin Powder SPF 30 which is MUST-HAVE for me! Both my husband and I used this at Walt Disney World and it's perfect because it controls oil and adds back some protection as the day goes on. For my body I use an SPF 50 spray or lotion such as the Sun Bum SPF 50 Continuous Spray Sunscreen.
SHOP
Thank you, as always, for watching this post! Please share this, it helps me out and I think this post is so important with summer coming (hopefully) fast! xx