Hi there! Happy Wednesday!
A couple of weeks ago I did a post on how to get the most out of your Sephora Beauty Insider Membership, and today I want to share how I take advantage of Ulta's points system. First things first, I *LOVE* Ulta's points system because there are so many ways to get free $$, and who doesn't want that? But I will say that it took me a lot longer to understand Ulta's point system because they do offer so many promotions so how many points you can earn in always changing, so you really have to pay attention. With that said, you can get such amazing deals!!!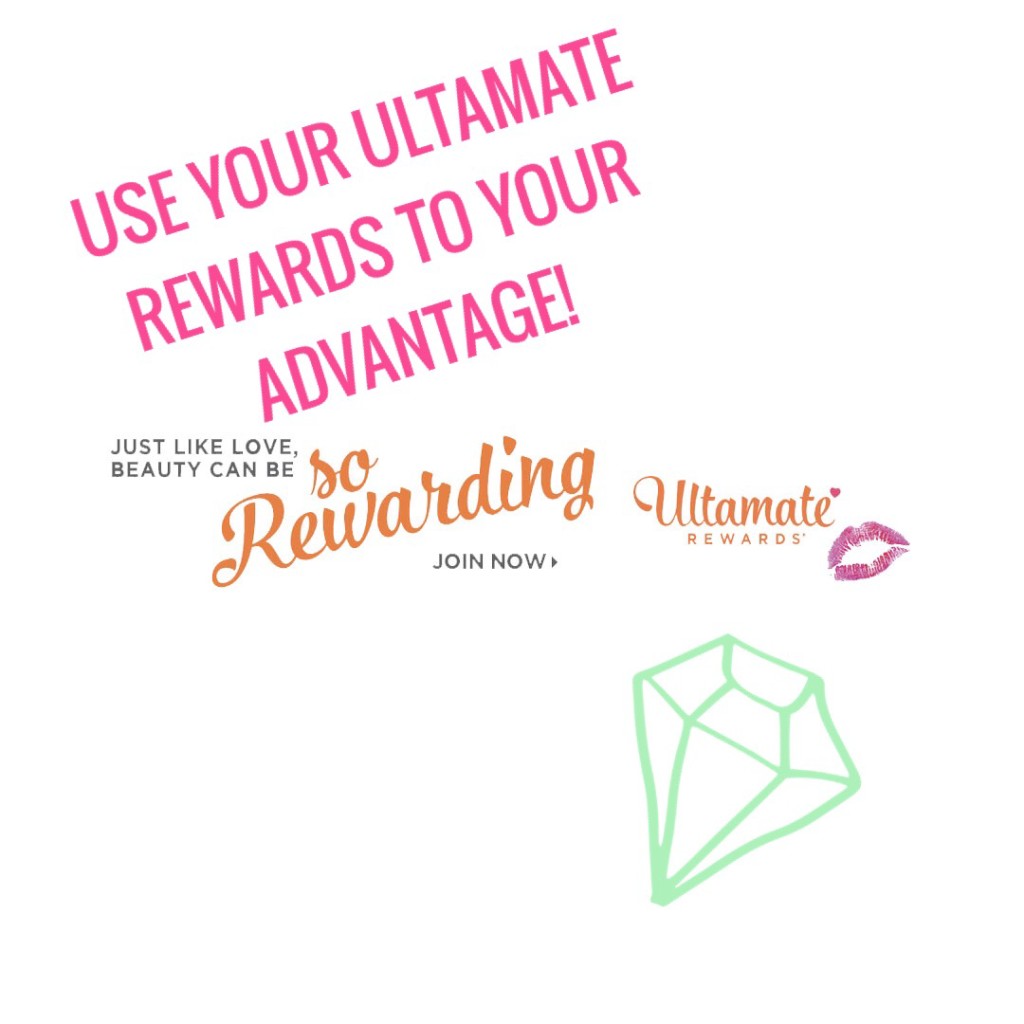 1. SIGN UP FOR ULTAMATE REWARDS!
You have to sign up to earn points. Even if you don't get into shopping when you'll get the most points or special extras, you'll still earn points that can be redeemed in products. Once you earn 100 points, you can start redeeming them. You earn 1 point for ever dollar spent in their store, INCLUDING the salon (this is a huuuge bonus for me!) and sometimes they offer additional points. You reach platinum status when you spend $400 which is very easy to do, especially if you use the Ulta salon, and once you're a platinum member your points never expire.
2. SIGN UP FOR THE EMAILS, DON'T IGNORE THEM, AND CHECK THE WEBSITE
You get offers like 2x the points or 3x the points for platinum members! Sometimes you have to activate the promotion by logging into your account and clicking "activate" when you're looking at your rewards page.
3. BUY STUFF DURING YOUR BIRTHDAY MONTH
You get 2x the points for the entire month of your birthday, so this is an awesome time to treat yourself while earning extra points.
4. CHECK THE MAILERS, EMAILS, AND WEBSITE FOR SPECIAL PROMOTIONS
Sometimes they will offer 2, 3,4 or even 5x the points on a certain product or brand! So, if it's something you would use this is amazing! If you wouldn't, it may be a great time to get someone a gift if you can think of someone in your life who would use it.
5. BUY STUFF WHEN YOU GET SOMETHING EXTRA. PERIOD.
It sounds so simple, but spend money when you're getting extra points to get the most bang for your buck. Also keep an eye out for gifts with purchase. I am not perfect about this, but if I have my eye on an expensive item I wait until I'm going to be getting extra points before buying it whenever possible. Also, if you have a holy grail foundation or eye liner, stock up when you'll be getting extra points! Points at Ulta are awesome becasue that is money towards new products!! I have even been able to get items completely free by saving my points up!! I don't ever use the points for a small amount like $5 (unless I'm extra broke that month, hah) because I am a points collector!! I love being able to get things like high-end makeup free.
If you would like more information on the Ulta Ultamate Rewards Program you can find it here.
Ulta is offering 2x the points and 3x for platinum members until 8/22/15…happy shopping ; )
I hope that you found this helpful! If you did, please subscribe, and share! Let me know how you like to use your Ulta points in the comments. Don't forget to stop by my LeahTackles YouTube Channel and my Daily Vlog Channel : ) I hope you have a great weekend!!