Hi there! Happy Wednesday!
As most of you know, high-end makeup from Sephora is expensive, BUT there are a few very simple ways to reduce your spending without kissing your $50 eye shadow palette goodbye. And PSSSST! Sephora is doing 2x, 3x, and 4x points right now!!! Go ladies go!!!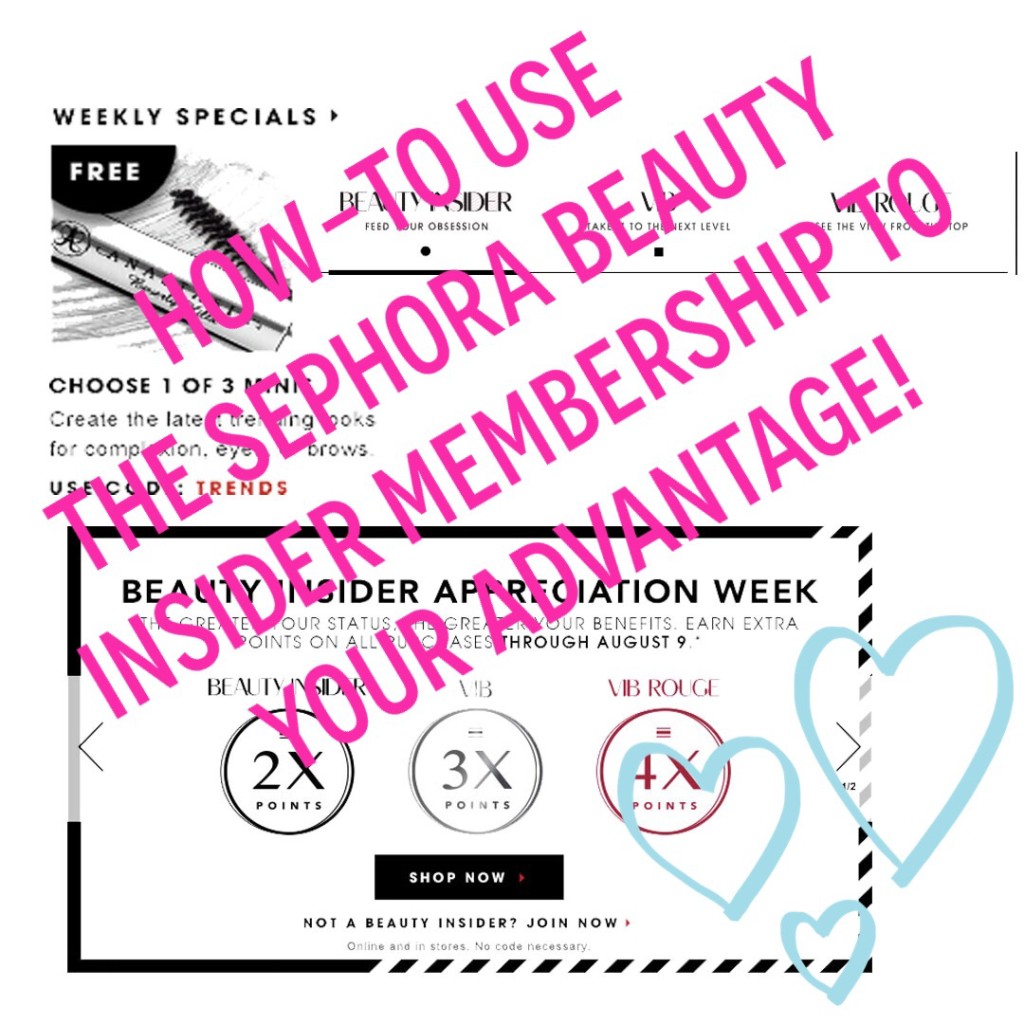 1. JOIN THE BEAUTY INSIDER MEMBERSHIP!
The first step is of course…JOINING ; ) You know when you're checking out and they ask if you are a "Beauty Insider"? Instead of brushing them off, take a minute or two to sign up, because it is worth it! At the very least you will get a free birthday gift and be able to redeem your points for products.
2. CHECK THE WEBSITE WEEKLY
This may sound a little bit crazy, but often times Sephora will offer double points, triple, or even quadruple points per purchase! This is a huge advantage as far as getting you more points for free products and moving up to a higher membership level. They also offer promo codes for free deluxe size samples on the website that change weekly. Right now they have a Dr. Brandt primer and an Urban Decay mini lipstick!! Um, yes please!
3. BUY YOUR GIFTS AT SEPHORA
If you have a lady (or hey, they have guy stuff too!) in your life, try to get her gift at Sephora! Even if she isn't into makeup, they have amazing skincare, bath products, hair tools, and perfumes. If you buy your gifts here, you can add up points faster to become a V.I.B (level 2) or V.I.B ROUGE (level 3) beauty insider which means exlusive 20% off sales, events, makeovers, and even special edition makeup exclusive to you.
4. BUY YOUR ESSENTIALS AT SEPHORA
There are a few items that I will buy on Q.V.C or Amazon because they are far less expensive, but for the most part if it's avaliable at Sephora I will try to get things like my Clarisonic brush heads, favorite foundations, or my beloved Anastasia Beverly Hills Brow Wiz from Sephora so that I can get the points.
5. WAIT FOR A SALE
It's really hard, but I try to not buy things from Sephora unless I have some sort of promo code from my Beauty Insider membership or a friends and family discount. I make exceptions for limited edition palettes or things that I must replace, but definitely try to save up some money so that during the sales I can stock up so that I end up saving money in the long run. They offer sales of 20% off and with expensive makeup or skincare items, that adds up! I just "love" all of the items that I want, or even add some to my cart, and when a sale pops up I am ready!!
What tricks do you have for taking advantage your membership? If you liked this post please share! I will be doing a similar post for Ulta because I love the ULTAmate rewards points too, but use it a bit differently with a different strategy ; ) Who knew makeup shopping was so strategic?! Be sure to follow me on Twitter @LeahTackles for tweets about sales!! XO