Hi there! Happy Wednesday!
If you're a regular reader, you know that I *love* makeup! I'm obsessed with reading other blogs, watching other YouTube channels, and browsing Sephora and Ulta's websites. HOWEVER, I know that not everyone has the same crazy passion, but you still want to rock some amazing products! Or, maybe you love makeup but get overwhelmed walking into Sephora (understandable!!) and need to be pointed in the right direction. Today I want to share with you the 5 items that I would take in a desserted island situation if I was limited to 5 products. Every item I am sharing today is considered a "high-end" makeup item, but I plan to do a drugstore version of this if you'd like to see it : )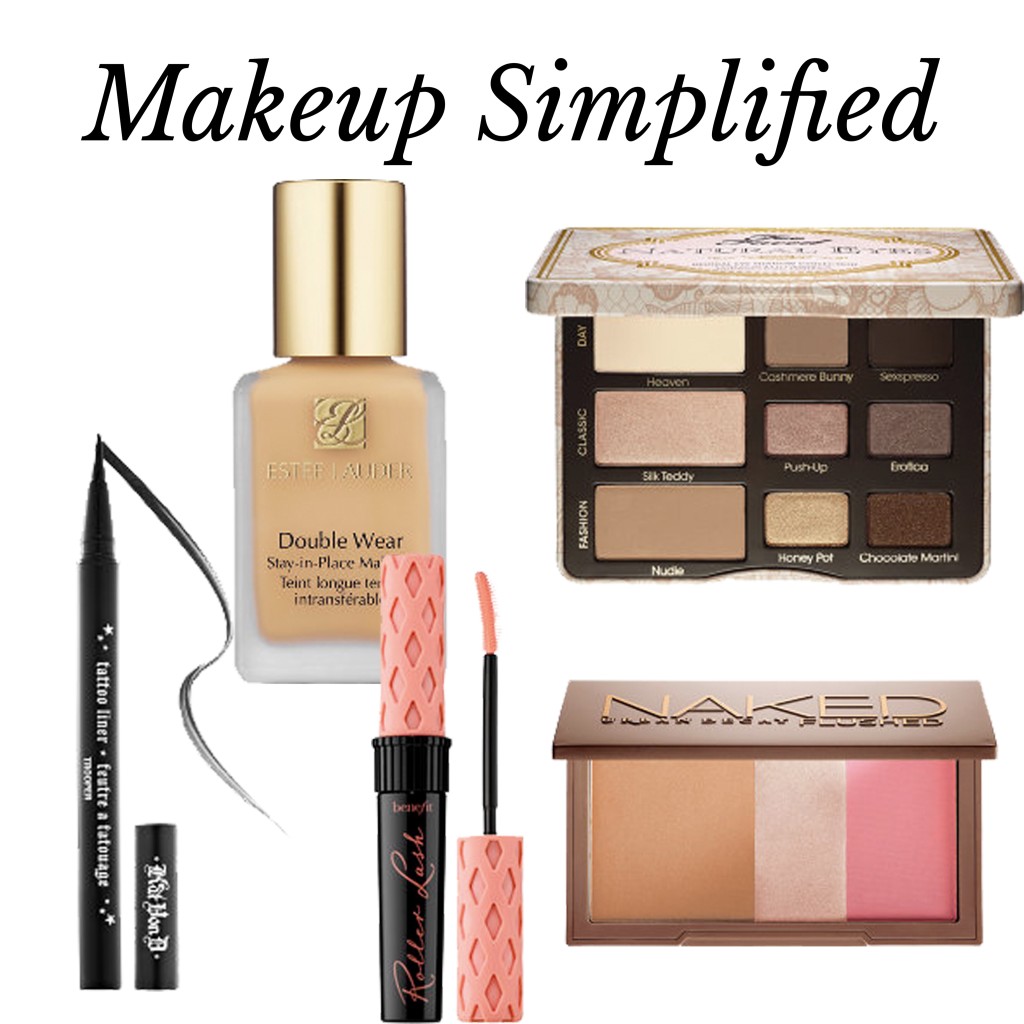 1. Esteé Lauder Double Wear Foundation
This is my favorite foundation for days when I need my oily/combination skin to hold onto makeup ALL day. This is my holy grail foundation. It also has SPF 15 or 25, which is also a big plus for me. If you're interested in other high-end foundation reviews, let me know, but this is far and away my favorite for my skin type.
Now, as I recommend this I have to admit that I do not own it!! I know, I know! But, my mom does and I've had samples of it before. My reasoning for including this item is that it comes with a nice quality browzer, highlight, AND blush! I love that it's all in one, and something that you could buy for about the same price as a high end blush or bronzer or highlight but you're getting ALL three together.
3. Too Faced Natural Eyes Palette
This is SO stunning! Whether you want a single color, super minimalistic look or a darker nighttime look, this baby can handle it. This is a favorite for me for travel. This palette is now also avaliable in a matte version (which I , of course, want!).
This liner is the bomb DOT com! Even if you don't want a big wing, this looks amazing, is super dark, and lasts all day for a thin line to make your eyes pop.
This is my new favorite high-end mascara! This makes my lashes look like falsies if I do a few layers without making it look spidery which is a huuuuge pet peeve of mine as far as my own lashes.
I hope that this was helpful! Feel free to let me know your favorite high-end staples in the comments! In mid October these brands all have amazing holiday limited edition sets that are often great values, so keep that in mind as we head into fall (ahhh noooo!).
Thank you for reading! Have a BEAUTIFUL weekend! I've had a lull in new subscribers here recently, so if you're not subscribed yet please do so! And if you are, thank you so much, and please share with my links provided at the bottom of every post. I love you all!