Hi there! Happy Monday!
I got a positive response from last Wednesday's post, Can't Keep Up? 5 Ways to Simplify Your Makeup (High-End Edition), and so today I am sharing my drugstore picks. So, here are the drugstore items I would pick if limited to 5 to get an amazing look!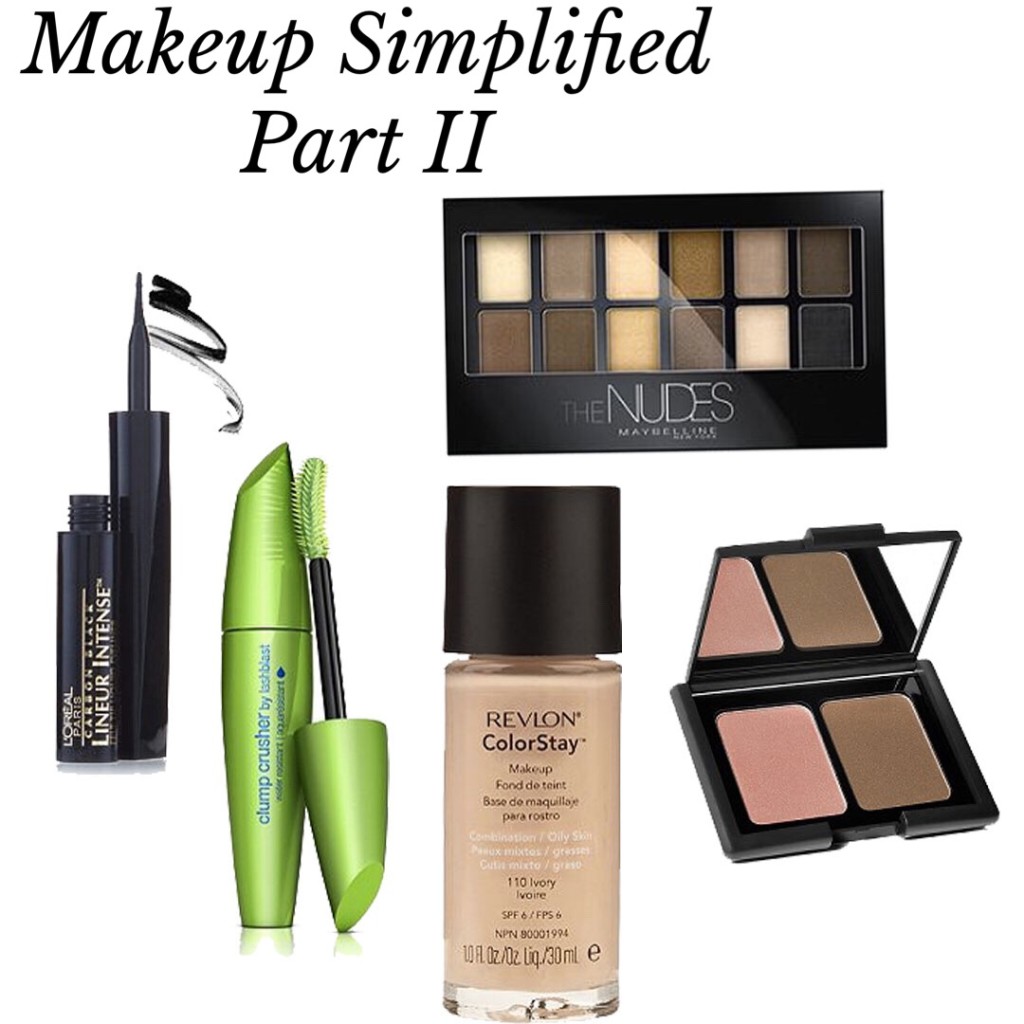 1. Revlon ColorStay Makeup For Oily/Combo Skin
This is my favorite drugstore foundation for days when I want a full coverage, flawless look that will not budge. A little goes a very long way, and I like to stipple it on, but a beauty blender or fingers work fine, too. They do have a dry skin version of this, as well as a whipped version.
2.  E.L.F Contouring Blush & Bronzer in St. Lucia
I love this set for traveling because the blush is gorgeous, the bronzer is beautiful and although it is a tad orange, is still usable as a contour color on my fair skin if I use a light hand. This also has a huge mirror, which I think is so handy.
3. Maybelline The Nudes Palette
This is an awesome value, and if you can't justify an expensive neutrals palette, this is the way to go. I also have The Blushed Nudes Palette from Maybelline which I do love, but this I feel is overall better quality and you can get a bigger range of looks out of this.
4. L'Oréal Lineur Intense Brush Tip Liquid Eye Liner
This is a great liquid liner for everything from a fine line to a big wing. I love the brush tip because it is easy to control, and the color is very dark black.
5. CoverGirl Clump Crusher Mascara
I absolutely always have this mascara on hand! I personally like the water resistant formula. I use this daily! It is always on my bottom lashes, and I like to use this on my top lashes after curling to keep the curl. For more nautral days, I wear this alone, and for more dramtic looks this is a great layering mascara.
Please let me know what your favorite items from the drugstore are in the comments! Commenting is easy (just click by link under the title of each post!) AND it makes my day!! ; )
Have a beautiful week! I will see you Wednesday!