Hi there! Happy Wednesday!
I have been saving all of my empty beauty and tolietries in a basket in my closet again so that I could share an empties post with you! I will have another empties post coming soon where I share a ton of makeup and haircare empties…so stay tuned for that! I love reading these types of post and watching these types of videos because 1) It's helpful to hear if people would repurchase or not and a quick mini review, and 2) Let's be honest, isn't everyone just a *tiny* bit nosy?! I know I absolutely am ; ) It's fun to see!
February Empties: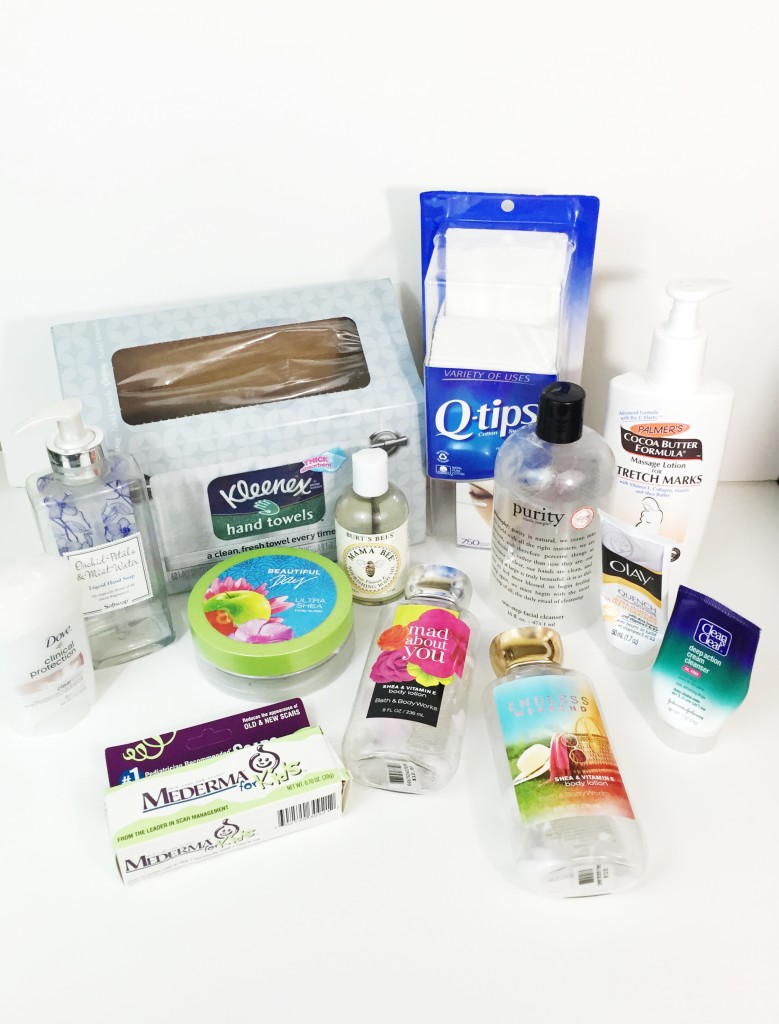 Dove Clinical Protection Deoderant in Clear Tone:
I purchase this over and over! I love the peace of mind of the clinical strength in the warmer months, and while I probably don't *need* it in the winter, I still really like it.
Soft Soap Orchid Petals & Mint Water Liquid Hand Soap:
This is a new line of liquid hand soaps from Soft Soap and I bought it solely because of the more attractive bottle! Yes, I know that you can buy refillable bottles which I've done in the past, but I also like these. Nothing magical, but served its purpose and I would repurchase.
I use these to dry off my face after cleansing because it is more sanitary than using your towel. If you don't want to use something like this, you can also use a clean washcloth, but you shouldn't just use your regular bath towel! These come in packs of 60 which is nice because it lasts about a month if you use one in the morning and one at night.
This is a funny one to include but I am going to because Stephan and I are picky about our cotton swabs! We have purchased other brands where the stick inbetween is flimsy and you just don't get as good of a clean, so now I just use those for eye makeup fixes! Don't mess with our Q-tips! ; )
Philosophy Purity One-Step Facial Cleanser:
This is without a doubt my favorite cleanser!! I only need the tiniest dab, and it works perfectly with just my fingers or with my Clairsonic. I will buy this over and over again! You can find large sizes on QVC for a great price.
Palmer's Cocoa Butter Formula Massage Lotion for Stretch Marks:
I liked this for my baby bump, but I prefered a Burt's Bees Oil that I will talk about next…
Burt's Bees Mama Oil Nourishing Body Oil:
I love this stuff! Typically an oil wouldn't sound appealing to me over a lotion, but this rubbed in quickly and I could slather it in all of the stretch mark prone areas FAST which I loved! It also has a really nice small and absorbed fairly quickly.
Olay Quench Body Lotion Ultra Moisture with Shea Butter:
This was just a small travel size that I had in my hospital bag when Logan was born. I didn't use enough to know if it was something special, but my skin didn't dry out during our hospital stay, which could be thanks to this lotion.
Clean & Clear Deep Action Cream Cleanser:
This was also purchased just for the hospital bag, but I LOVED it! I am not sure if it was because I hadn't used a strong/acne fighting face wash during my pregnancy and that made it feel more fantastic, but I was sad when this little guy ran out! I would definitely purchase again! My skin felt *super* clean after using it, but it didn't feel uncomfortably tight or dry like some acne face washes can make my face feel.
This isn't a "true empty" because this is just the box and we are still using the cream, but I wanted to include it because we love this stuff! As you know I have 3 kids 3 1/2 and under…so bumps & bruises are bound to happen! In September I had my first ER experience as a mom and it was because Connor had cut his forehead open! It was a nasty cut, but this has helped the scar SO MUCH! We have used this faithfully and I can tell such a huge difference. I would absolutely buy this again.
Bath and Body Works Body Lotion in Mad About You:
I like the Bath and Body Works lotions only as much as I'd like any lotion from the drugstore…I just don't think they're that fabulous minus the great fragrance. I *do* love the Bath and Body works body butters and body creams. This scent is very spring-y and floral but has a slight vanilla musk that keeps it from being too much. I used this completely and enjoyed it, but it wouldn't be my first scent choice.
Bath and Body Works Body Lotion in Endless Weekend:
I love this scent!! It is a mix of floral, fruit, coconut….yum! I realy enjoyed using this scent in the dreary winter months! I would purchase this scent again.
Bath and Body Works Body Butter in Beautiful Day:
I absolutely LOVE these body butters! A little bit goes a really long way and they feel awesome on the skin! This has a very fruity and floral combo that makes me think spring and I do like this scent.
What products will you purchase over and over again? Let me know in the commens! Thank you as always for reading and please subscribe if you're new! I post every Monday and Wednesday, and throw in the occasional "Bonus Post" : )