Hi there! Happy Monday!
I hope that you had a wonderful weekend! And as always, thank you so much for being here!
In mid February I shared an empties post with you, and that was only half of what I had been collecting in my closet for you all to see! Today I will share the rest : ) I love reading these posts because it's a great way to get a quick idea about a persons thoughts on a product and if they would repurchase.
February/March Empties: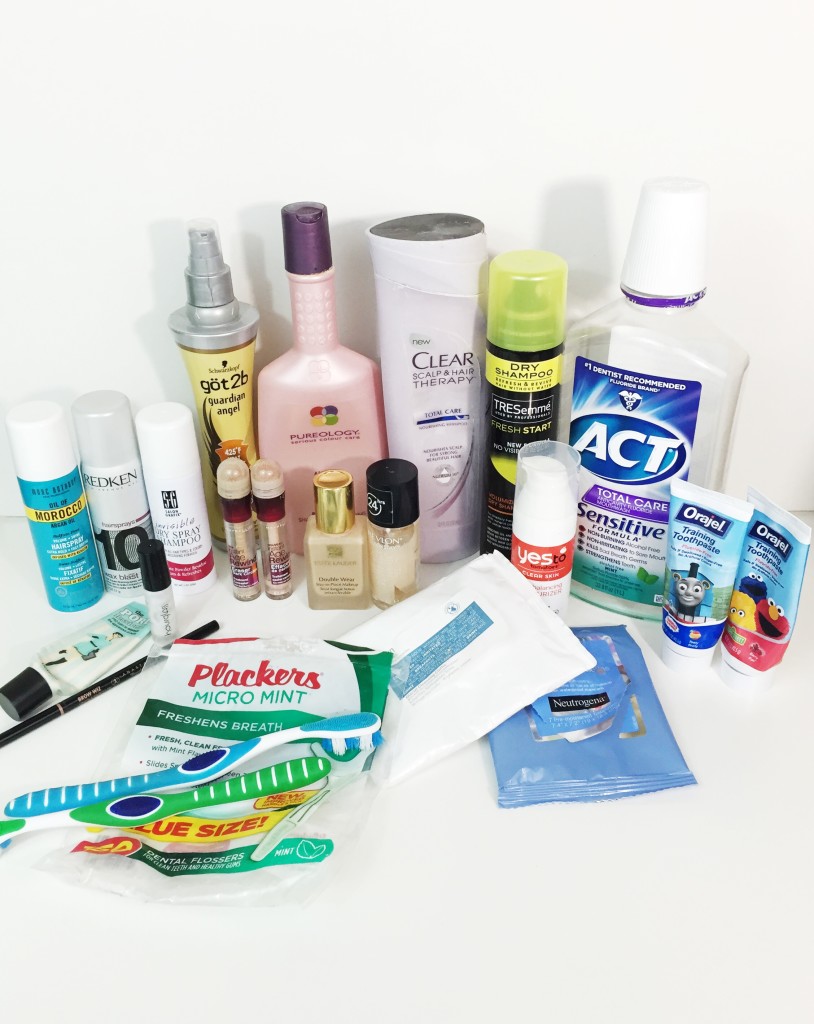 Maybelline Age Rewind Dark Circles Eraser Concealer in Light:
I love these under eye concealers! I have had Light, Fair, and the Brightener shade is the one I now repurchase.
Maybelline Age Rewind Dark Circles Eraser Concealer in Brightener:
I love love love this! I have REALLY bad dark circles and this salmon-y pink really helps combat them! On days when I really want to hide them I use this first and then another under eye concealer on top of this. I put this under my eyes in a large triangle and then pat it in with my Sigma F-86.
Revlon Colorstay Foundation in 110 Ivory:
This is one of my favorites, if not my absolute favorite, drugstore foundations! This is a medium to full coverage foundation that doesn't feel heavy on the skin but stays in place all day on my combo/oily skin! I need to repurchase this becaue I love it on days when I want a flawless look but don't want to use my more expensive foundations.
Esteé Lauder Double Wear Stay-in-Place Foundation:
This is my favorite foundation of all time! This was repurcahsed before I ran out. THE BEST. And, there is a huge color range so there should be a color out there for everybody which is fantastic!
Hourglass Mineral Veil Primer:
This is just an itty bitty sample that came with my Hourglass Ambient Lighting Powder Palette but it lasted me quite a long time. I really enjoyed this and would definitely consider buying it in the future, but it is quite pricy. I love that it has SPF in it.
Benefit Cosmetics Pore Fessional Primer:
I love this primer! I already have another one.
Anastasia Beverly Hills Brow Wiz in Soft Brown:
This is my favorite brow product and I continue to repurchase!
Neutrogena Make-Up Remover Cleansing Towelettes:
This is just a mini travel sized one but I love these! I remove my eye make-up and then use these to remove my other make up before cleansing at night. I repurchase these all the time!
Skyn Iceland Glacial Cleansing Cloths:
I got these in my Ipsy Glam Bag and I did enjoy them. I like these because they were very wet and removed my make-up well, but will not go out of my way to get these again.
Pureology Serious Colour Care Pure Volume Shampoo:
I love Pureology shampoo and condioner! I have had this FOREVER and am sad to see it go! I would purchase Pureology shampoo in the future.
Clear Scalp & Hair Therapy Total Care Nourishing Shampoo:
I think the Clear Scalp & Hair Therapy Shampoo is such an amazing drugstore find! I love this stuff and will buy it again.
TRESemmé Volumizing Dry Shampoo:
This is my go-to drugstore dry shampoo! I buy this over and over.
Salon Grafix Invisible Dry Shampoo Spray:
This was just a small travel size that I used while at the hospital when Logan was born. I finished this up and it was nice but I wouldn't go out of my way to repurchase this over my other dry shampoo favorites.
Redkin Wax Blast 10 Hairspray:
This was Stephan's and he used this when his hair was a bit longer. He said he liked it and it smelled good and he would consider repurchasing it.
Oil of Morocco Argan Oil Volume Shine Hairspray:
I *love* this hairspray SOMUCH! This was a sample size from my Ipsy Glam Bag, but I will definitely be picking up a full size! I loved using this when I curled my hair especially!
Got2b Guardian Angel Gloss Finish Flat Iron Balm Heat Protectant:
I really like this and would repurchase it! This lasted me a long time because I don't straighen my hair too often but it worked perfectly! And, such a great price point!
Yes to Tomatoes Clear Skin Daily Balancing Moisturizer:
I love this moisturizer! It is a gentle but really does keep my skin clear and calm. This costs about $13 and I have bought this several times.
ACT Total Care Mouthwash Sensitive Formula:
I love ACT Total Care mouthwash and always repurchase. I don't always buy the sensitive formula, but did so while I was pregnant.
Plackers Micro Mint Dental Flossers:
I love these! I floss my teeth two, sometimes three times a day and these are my favorite floss picks. I have heard that this is less clean than using a string of floss because you are putting the same piece in and out of all of your teeth, but this is what works for me as far as flossing!
We use these for Connor, who just turned 2, but have moved Hailey to regular kids toothpaste with fluoride because she can now reliably spit it out.
These are the only toothbrushes I buy! Stephan and I both love them, and until I find my perfect electric toothbrush (please leave suggestions in the comments if you have a favorite!) I will keep buying these.
What products have you been using lately? What things do you buy over and over? Have you had any major product flops lately? I would love to hear about them!
I hope that you have a wonderful week! Don't forget to pop in Wednesday for another post from me : ) LeahTackles.com is almost 1 year old and I would love to have you share this if you've found it helpful, interesting, fun, or enjoyable! The links below make it super easy to share, and you can subscribe by entering your email in the box on the right!! THANK YOU! XX