Hi there! Happy Wednesday!
Our little Logan is already 17 days old (not that I'm counting…) and he is growing FAST! He has already outgrown newborn diapers and clothes! My parents had gifted us with 12 20-count packs of Pampers Newborn Swaddlers but we have 7 unopened packs left over! These diapers are only avaliable online, so I cannot exchange them for the next size up, so I have decided to hold a giveaway! For reference, these diaper packs are the size that most hospitals supply you with when your baby is born.
Today I will share a few pictures from the past couple of weeks settling in at home, and then below I will have information for the diaper giveaway.
 Diaper Giveaway Info: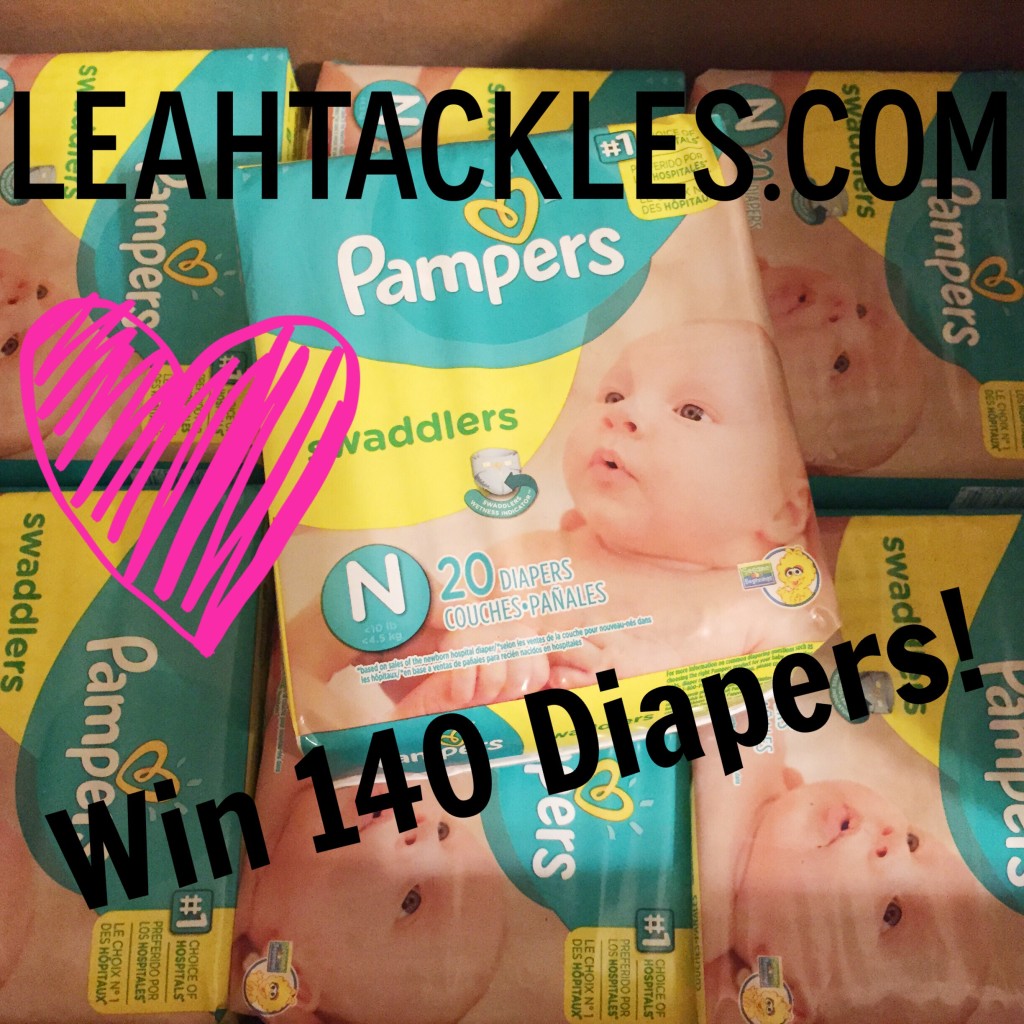 So would you, or someone you know, like to win 140 newborn pampers swaddlers? Here is how!
1) You MUST be a subscriber of www.leahtackles.com! To subscribe simply enter your email in the "subscribe" box on the right side of this screen! You will get an email and you must then confirm your subscription.
2) Share this post on Facebook using the hashtag #LeahTacklesDiaperGiveaway. To share you can use the button links at the bottom of this post. You can also write on the LeahTackles Facebook Page to let me know that you shared this post.
3) Leave me a comment telling me why you would like to win 140 newborn diapers! To comment you can click by the top of this post. I love hearing from my subscribers through comments!!
Bonus Entry Opportunities:
1) You may tweet this post and use the hashtag #LeahTacklesDiaperGiveaway for 1 addtional entry.
2) You may take a screen shot of this post and share it on Instagam using the hashtag #LeahTacklesDiaperGiveaway for 2 additional entries.
3) If you get a friend to subscribe to www.leahtackles.com you can get 3 addtional entries!! Your friend must confirm the subscription in order for this to count…they have to want to subscribe ; ) You can direct message me on Instagram, Facebook, or tell me by emailing me at LeahTackles@gmail.com with the subject "Diaper Giveaway" that you got me a new subscriber. If you get 2 friends you will get 6 extra entries, 3 friends, you will get 9 extra entries, and so on.
RULES:
1) This giveaway is limited to those in the United States and Canada, but eventually giveaways will be opening up to subscribers everywhere!
2) If you are under 18 years old just ask permission from your parents to enter the giveaway!
3) A random selection website will determine the winner to keep things fair.
4) Once the winner is contacted by email they will have 48 hours to respond and after that I will select another winner.
5) This giveaway will end in ONE MONTH on February 28th, 2015! You may only enter once, but please feel free to do any or all of the addtional entry opportunities!