Hi there! Happy Monday!
About a month ago I got my hands on the "Kiss & Belle Lipsurgence Lip Set" from Tarte Cosmetics and because Sephora is offering FREE shipping on this until Thursday 12/18 with the code "GIFTSHIP" in the U.S, I thought it would be a great time to show you some swatches and give you a short review.
*NOTE: I am in no way affiliated with Sephora or Tarte, I just saw the deal was going on and wanted to share because (review spoiler!) I think it's absolutely worth the money!
What You Get: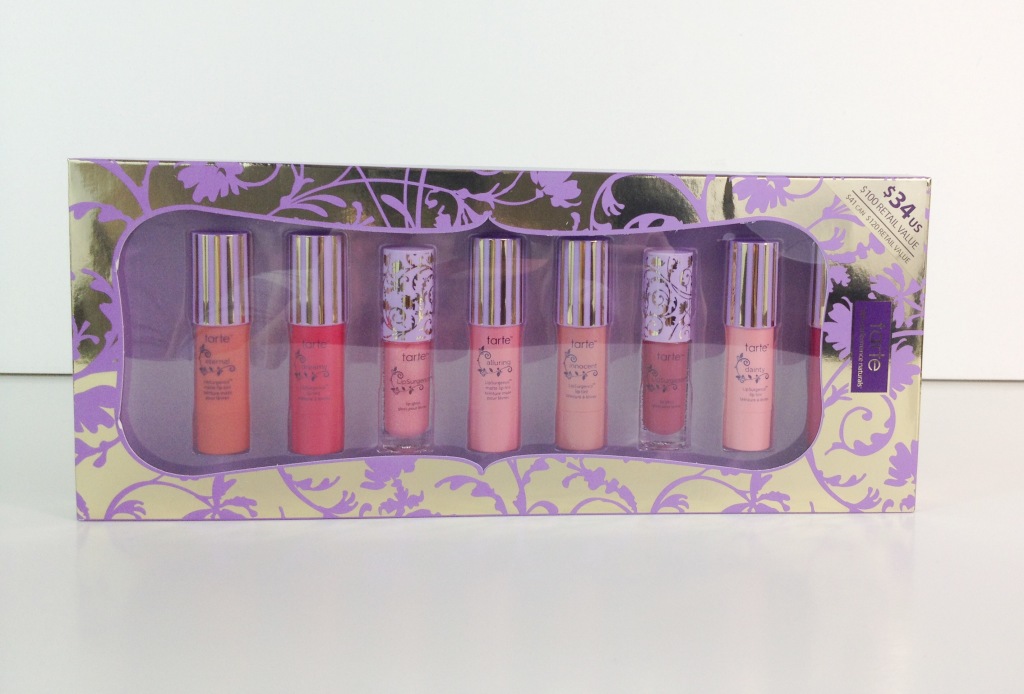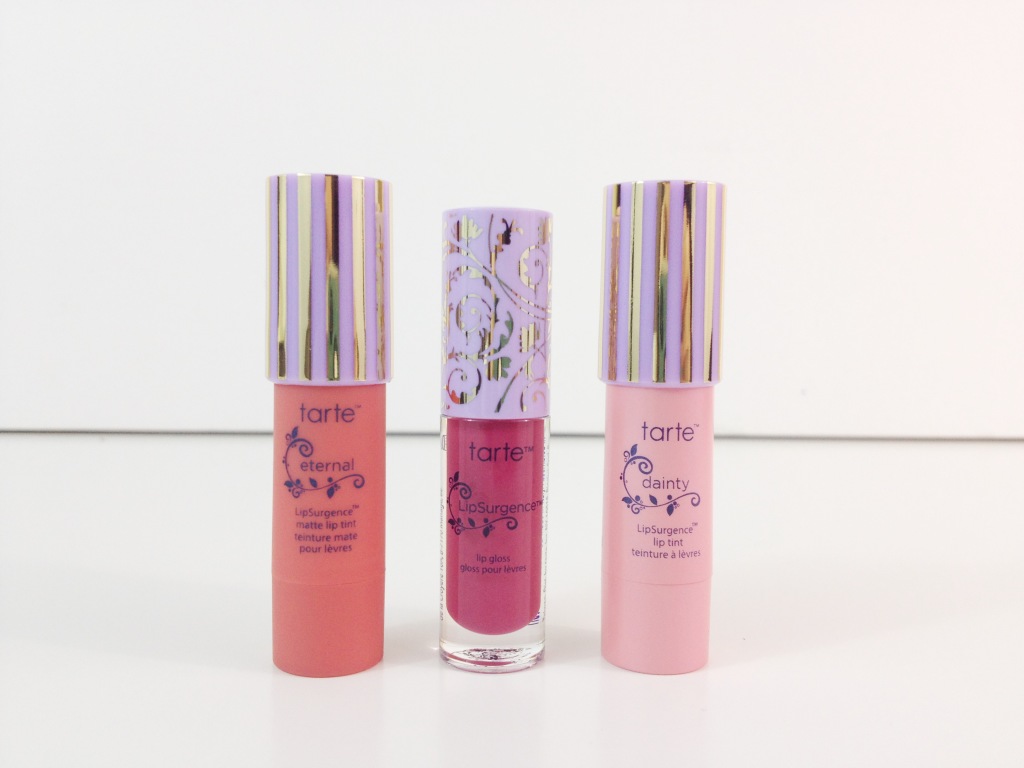 This kit containsn a total of 8 deluxe mini sized lipsurgence lip tints and lip glosses:
4 LipSurgence lip tints in Dreamy (raspberry), Alluring (very pretty mauve), Innocent (a nude), Dainty (pale pink)
2 LipSurgence matte lip tints in Eternal (pink nude), Fancy (berry)
2 LipSurgence lip glosses in Kiss (pale pink), Belle (a raspberry)
My Thoughts:
I absolutely LOVE this set! They are small, but perfect to throw in your purse, and still plenty of product. I love lip products, so it is pretty rare that I go through something completely (unless you're talking my EOS lipbalms!), so I don't mind the smaller size. The lipsurgence tints twist up and are like the many other jumbo crayon style balms out on the market. The lipsurgence tints have a very minty smell and a cool feel on the lips, I like this but it is something to be aware of if you aren't a fan of that in your lip products. The lip glosses in this set have a very nice vanilla scent. The matte tints wore for a long time, and didn't seem drying on my lips which is really saying something since my lips have been *SO DRY* this pregnancy! It has been a problem because I have had to avoid a lot of my favorite lipsticks, especially my mattes. The regular tints don't last quite as long as the mattes, and the color is more varied in opacity and pigmentation depending on which of the regular tints I reach for. These glosses are a little bit sticky, which I actually like because it means they'll have a better staying power! The glosses are not so sticky that they are uncomfortable on the lips. I think that the color and finish variety in this set make it a fabulous gift for any makeup lover out there, and it's also very affordable compared to other holiday makeup exclusives! You could also split this up and they'd make great stocking stuffers!! I have been reaching for these almost daily lately, and am very pleased!
Swatches: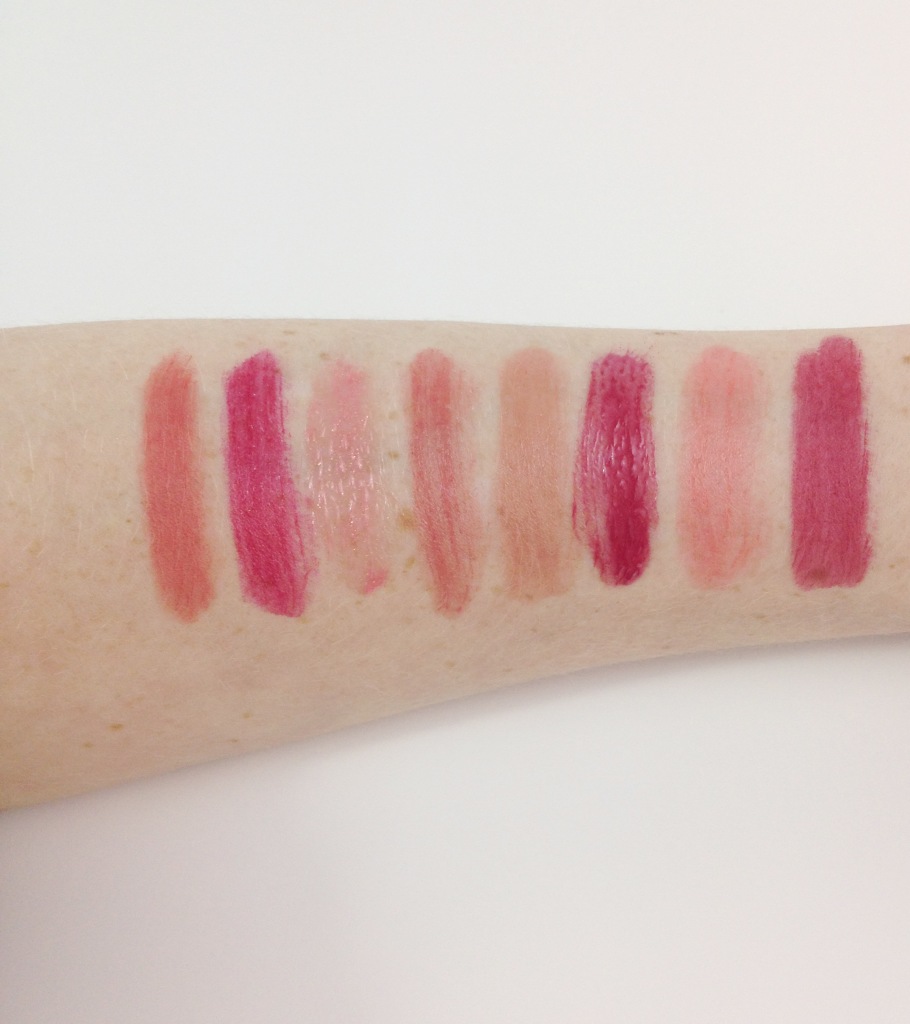 Thank you for reading my post! Be ready for my review of the Ipsy Glam Bag for December on Wednesday! Also, can you BELIEVE we are only 10 days away from Christmas?!