Hi there! Happy Monday!
I hope you all had a great weekend! One of my good friends visited, and we had a wonderful time with beautiful weather! And my alma mater won big at our homecoming game : ) I am combining my beauty favorites and lifestyle favorites into one post this month. Let's get right into it…
September Favorites: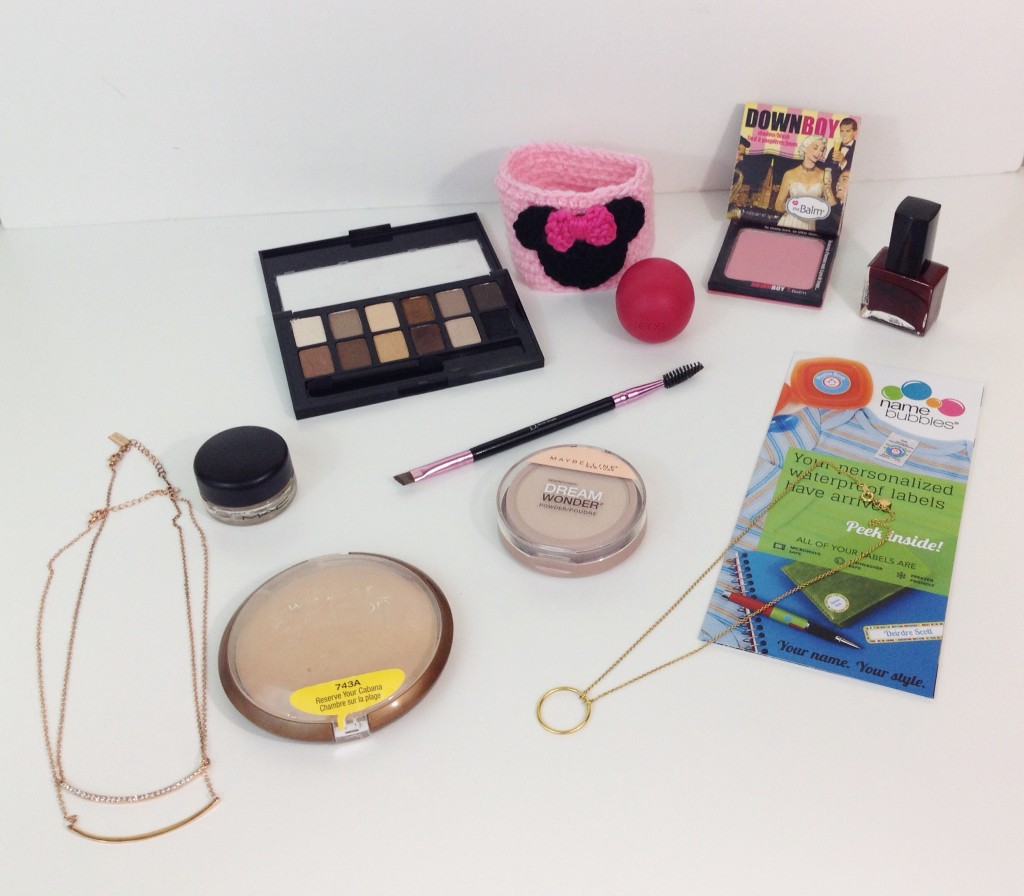 1) M.A.C Paint Pot in Bare Study
This isn't new to my collection, but I have been using it a lot lately and have fallen back in love. I love this as an eye shadow base or on days when I want a super natural look, alone.
2) Wet n' Wild Coloricon Bronzer in Reserve Your Cabana
This is definitely NOT a bronzer, but it is part of the Coloricon Bronzer collection from Wet n' Wild, and what it is is a *OMG* gorgeous highlighter. The price cannot be beat, and it comes with a huuuge amount of product. Love it!
3) Maybelline "The Nudes" Palette
I had been holding off buying this because I have so many neutral palettes…but when I saw it was buy one get one 50% off at Walgreens, I went for it because I needed some other Maybelline products. If you do not have this yet and you love neutral eye makeup, or if you have been holding off getting the Naked palettes by Urban Decay or other neutral palettes from high-end brands, YOU NEED THIS! It has had some mixed reviews, but I absolutely love it! I have worn it more than any of my other eye shadows this past month, and think it is definitely worth the $10-12. On the back it shows how you can break it up into quads, trios, and duos which is super helpful for people who maybe don't know where to start with an eye look, and I find the quads especially to be fantastic! The pigmentation overall is good, although I will say that they wear and swatch much better with an eye shadow primer used first. The packaging is simple, not bulky, and very sleek for drugstore, but my one complaint is that there is no mirror.  I could gush on and on about this, and if you'd like more information please let me know because this palette really could have its own post!
4) The Balm Shadow/Blush in Down Boy
This is a perfect baby pink blush! I love this because it looks great with so many eye shadow and lip combos! You can't go wrong with it, but it is HIGHLY pigmented, so you only need a tiny bit!
5) Maybelline Dream Wonder Powder in Porecelain Ivory
This is my go-to everyday pressed setting powder ever since the Dream Wonder line replaced the Dream Matte line. I like that it gives an ever so slight coverage in addition to any foundation or BB cream you might have on.
6) EOS Lip Balm in Pomegranate Raspberry
I love the EOS lipbalms! And so does my 3 year old ; ) I like to apply these while I'm doing my makeup so that my lipsticks have a nice base…and this lipbalm is even thin enough that my matte lipsticks still appear matte but have a little moisture underneath.
7) Dual Ended Brow Brush with Spooli
Brand really doesn't matter too much here, there are great low cost options as well as more high-end brushes, but I have been using powder for my brows lately and loving a dual ended brow brush with spooli.
8) NCLA Los Angeles Nail Polish in Rodeo Drive Royalty
I adore this nail polish! I mentioned it in my "Leah's Friday Five" on the Pearls and Pastries Shop Blog, and it has been on my nails almost all month! I keep re-applying it because I can't get enough of this gorgeous color!
9)  Bauble Bar Arc Pendant Necklaces in Rose Gold
I have been loving my plain rose gold arc necklace layered with my pavé rose gold arc necklace! So simple and beautiful! This necklace from Bauble Bar is similar.
10) Gorjana Viceroy Necklace in Yellow Gold
This is such a beautiful simple piece! It goes well with everything!
I found this adorable crochet Minnie Mouse coffee cozy from LNRCrochetDesigns on Etsy! The seller is super helpful and shipping was very fast. How cuuuute is this?! Seriously! Cute!
12) Name Bubbles Small Contact Clothing Labels
This is mostly for all the moms out there! Or maybe if someone is stealing your jacket off your chair at the office or your food out of the fridge at work, you too ; ) These labels are WASHER AND DRYER SAFE! And just STICK ON! Amazing. And they come in really cute designs, too. I was able to use a coupon code "B2SNB" for 10% off as well.
13) "Peaceful Parent, Happy Kids" by Laura Markham on Audible.com
This book is amazing! Stephan and I are only halfway through listening to this book, and it has changed our relationship with our kids (and eachother!!) for the better. I don't think you need to be struggling or think there is a problem at all to gain a great deal from this book! I really think this book would be benefital to anyone, with grown kids, or without kids at all! We plan to pick up a paper copy as well to highlight our favorite parts. Seriously, READ THIS IF YOU HAVE KIDS!
 Phew! That was pretty long! If you read all that, thank you so much! What things have you been reaching for and loving this past month? I would love to know! I hope that you have a great start to your week, and don't forget to subscribe!! : )