Hi there! Happy Friday!!
Yay! It's Friday!! I am so glad it's the weekend! For those of you without weekends, I sympathize! Both my husband and myself had jobs post-college where weekends didn't exist! No fun! But no matter what you do, I hope you're having a lovely Friday afternoon! Because of my excitement for Friday, I want to do a fun favorites post where I share all of the stuff I've been loving lately! Eventually, I plan to do a monthly beauty favorites post, and also a "lifestyle" favorites post where I show you all the other random things I love that aren't beauty related. But today, these favorites are all going to be packed into one post! I made Luvocracy collection with the items listed below if you want more information or want to shop online!
Let's get started!
LEAH'S FAVORITES: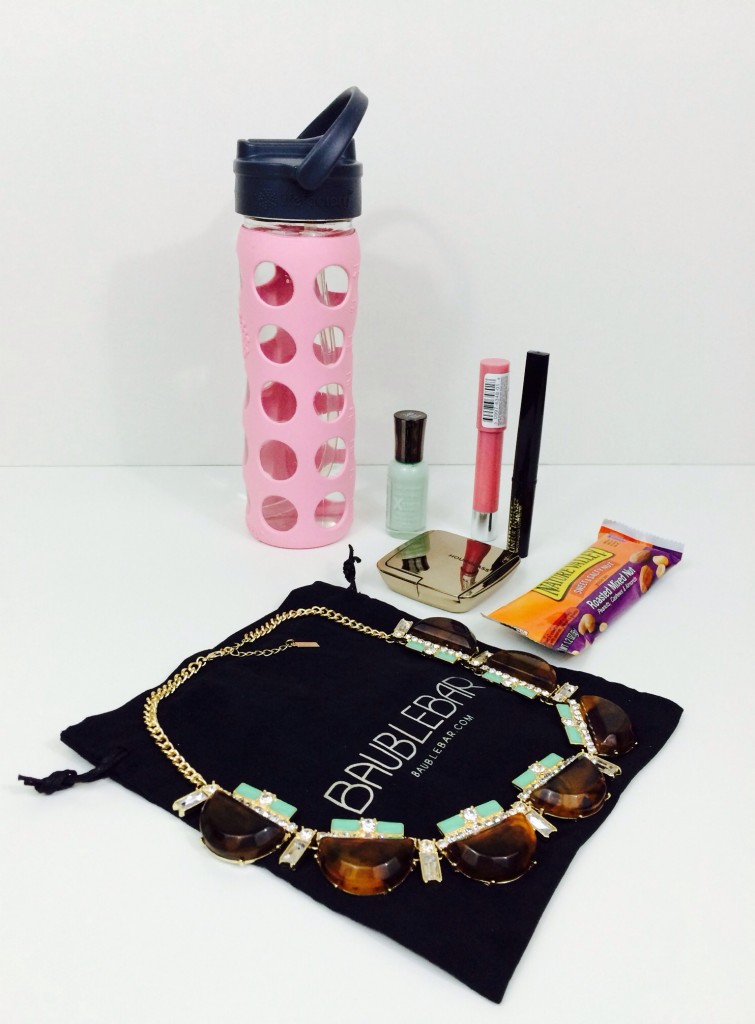 Beauty Favorites:
Revlon Just Bitten Kissable Balm Stain in 001 Honey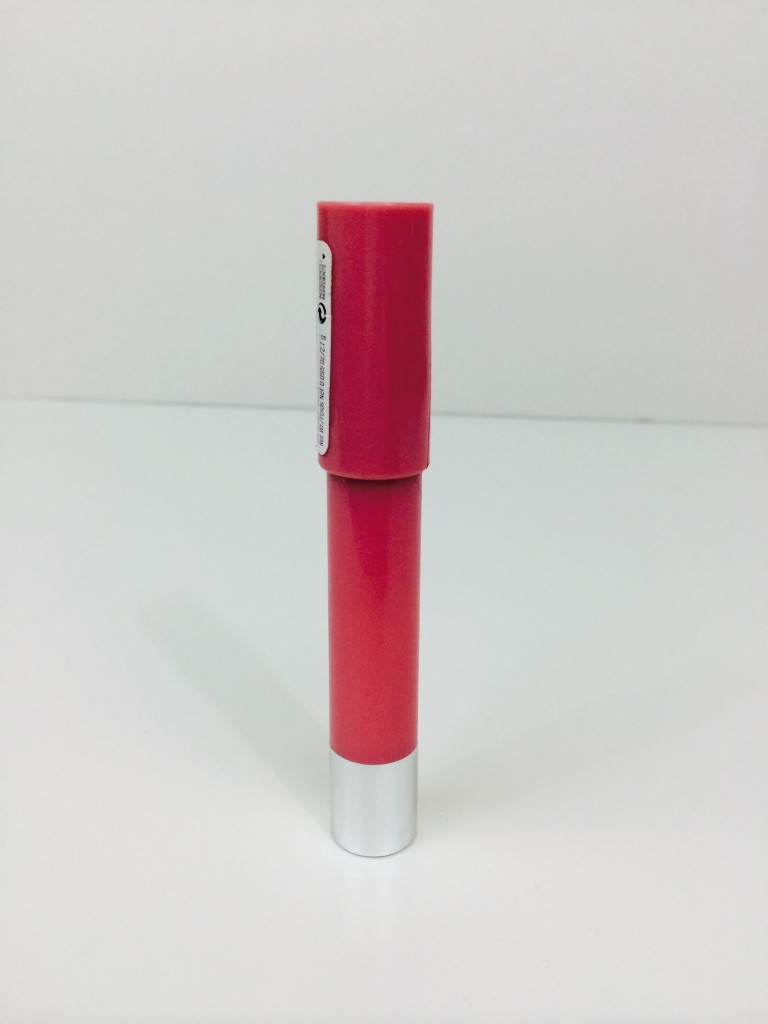 These jumbo crayon lip products are everywhere right now, and this is a great basic to have. It is one of my favorite lip products of all time! I have been using it for about a year and half, I still find myself wearing it at least once a week! Sometimes I just don't feel like fussing with a lipstick or gloss, and on those days this is an amazing thing to be able to reach for. I need to pick up a new one, mine has a crack in the cap and the writing it all rubbed off…and that's because this has gone everywhere with me! It's a beautiful "your lips but better" pink. I find that the color ends up getting a bit brighter after the "stain" part starts coming through, but it's still just as beautiful. When I use this I only touch up a couple of times a day to keep the slightly glossy look. If you don't have this yet, I really suggest picking it up if you're in the market for an easy everyday lipcolor.
This next picture shows the Revlon Kissable Balm Stain in Honey and the next item I talk about, the Lóréal Lineur Intense in Carbon Black: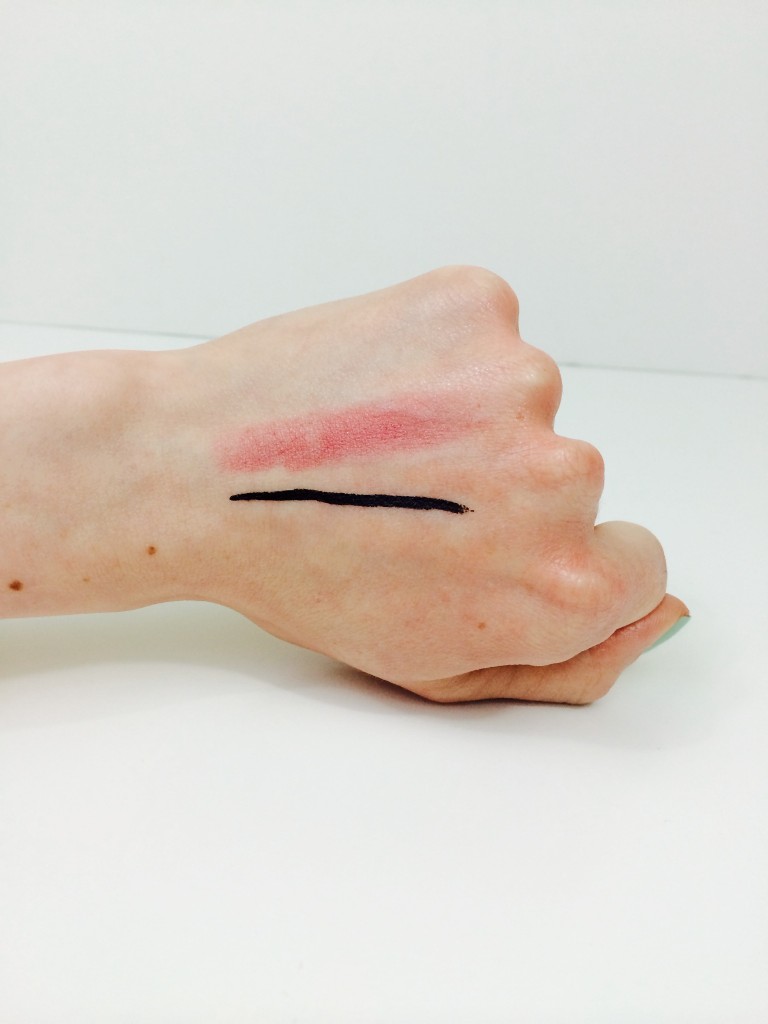 Lóréal Lineur Intense in Carbon Black
This is a felt tip black eyeliner that can create thin lines to very thick bold lines. I am no expert at winged eyeliner, but I definitely have success when I use this eyeliner. It is very black and stays all day. I haven't had issues with the pen drying out too quickly. What is your favorite staple eyeliner? Do you prefer liquid eyeliner over pencil? Let me know by commenting (click the link next to the title of this post) or find me on Facebook, Twitter, or Instagram!
Hourglass Ambient Lighting Blush in Dim Infusion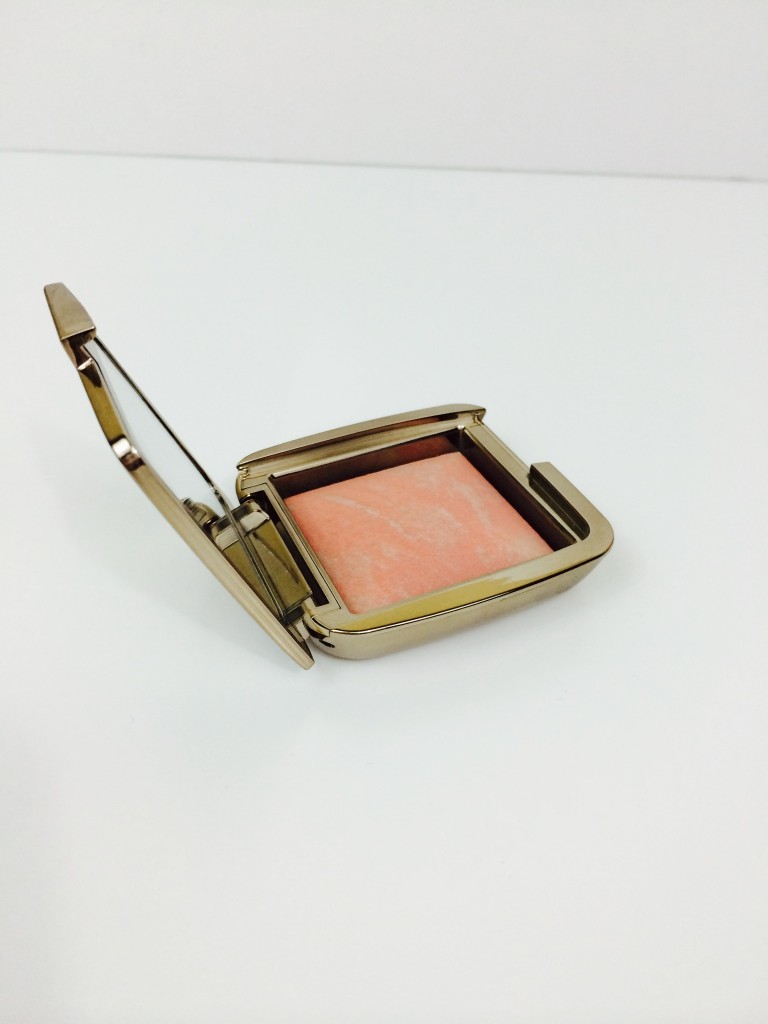 I just hauled this in my March 2014 Collective Beauty Haul, so I won't spend too much time on it but I had to include it! This color is BEAUTIFUL! It gives such a lovely flush to the cheeks and I don't have to wear a highlight when I have this on (but let's be real, I usually still do! I love a good glow!).  This is gorgeous, and if you can get your booty to Sephora to swatch these for yourself, I highly recommend it!
Sally Hansen Hard As Nails Xtreme Wear Nail Color in Mint Sorbet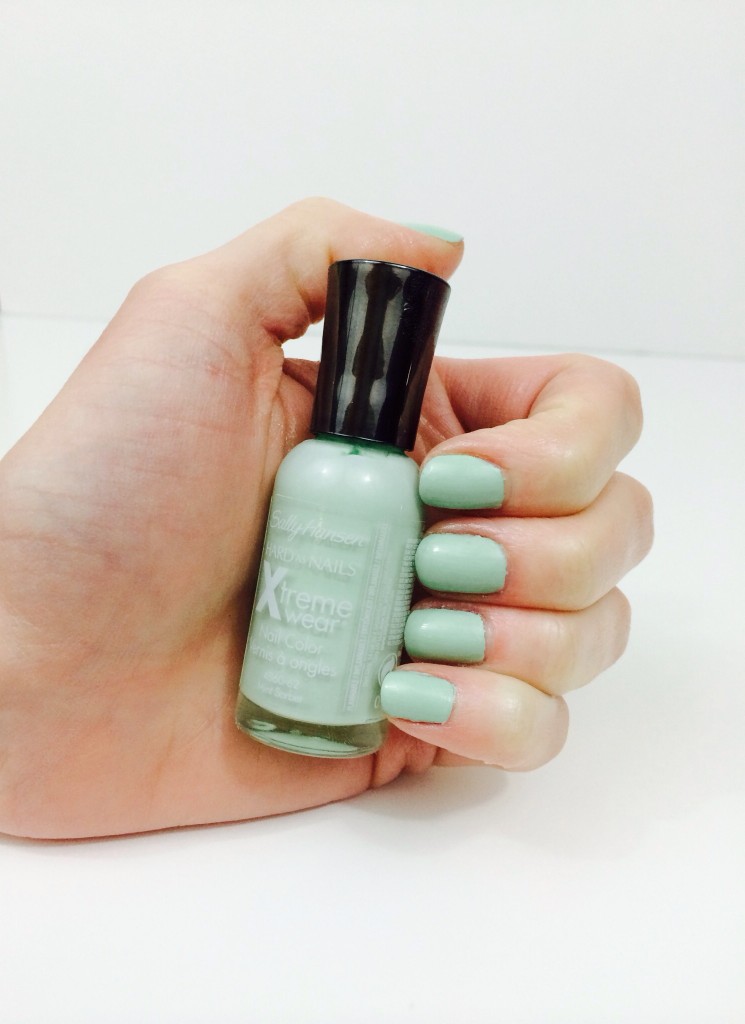 I really like the Xtreme Wear line from Sally Hansen because it is very inexpensive and usually wears well for several days without chips. My good friend and fellow nail polish lover (sorry for getting you hooked and enabling you!! You know who you are!) gave me this color and it is just the perfect mint polish! I love the color mint green anytime, but springtime is the perfect time to rock a mint mani.
Jewelry Favorite:
Bauble Bar Deco Strand in Mint Tortoise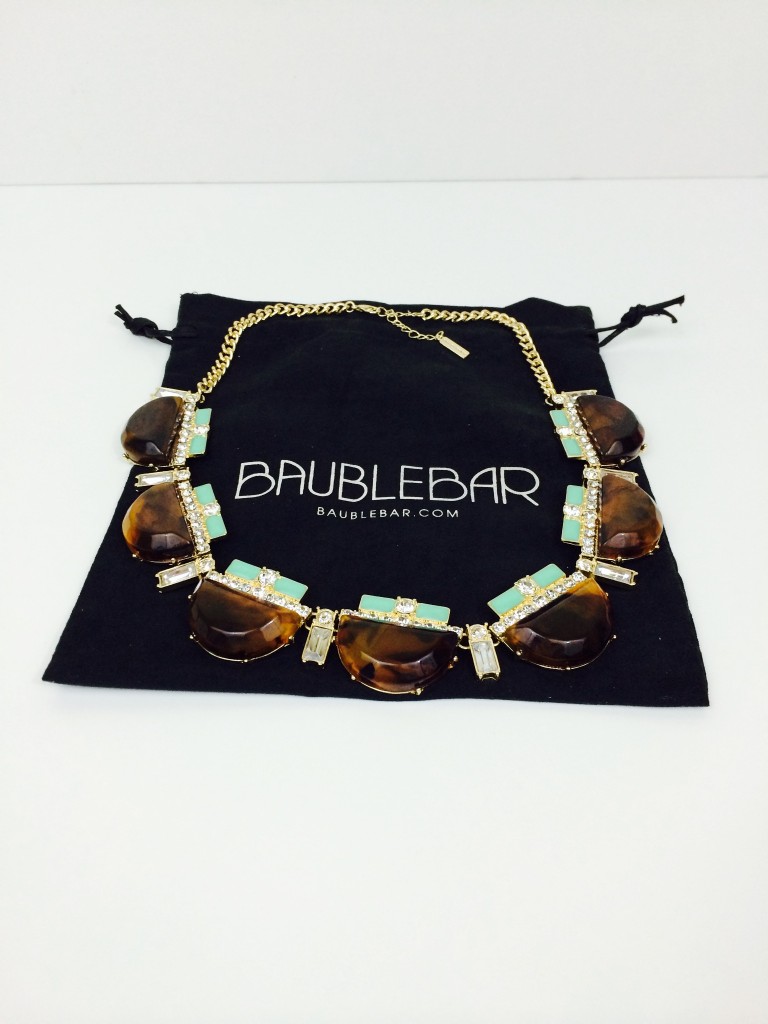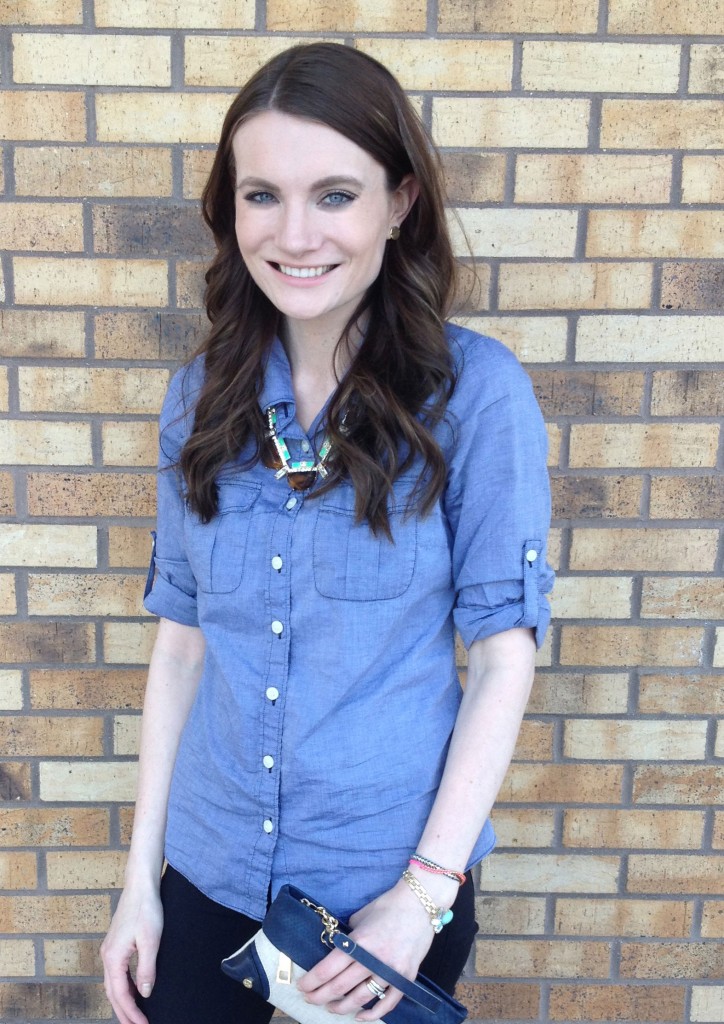 I have loved tortoise since I was a really little kid. Once before we left for a vacation my mom and I went shopping and she ended up buying me a pair of tortoise sunglasses…I must have been 7 or 8 years old, and I've been loving tortoise ever since! So this necklace fulfills my love of tortoise, a pop of spring color with the mint, and a little bling thrown in for good measure. It looks cute with so many things: A basic tee, a  dress, or a great collared shirt. I wore it this past weekend with a casual outfit shown above. It is a bit expensive, but I was able to use  Bauble Bar Vault Points to get it for less. Keep you eyes peeled for discount codes and sign up for vault points
Food Favorite:
Nature Valley Sweet & Salty Nut Bar in Roasted Mixed Nut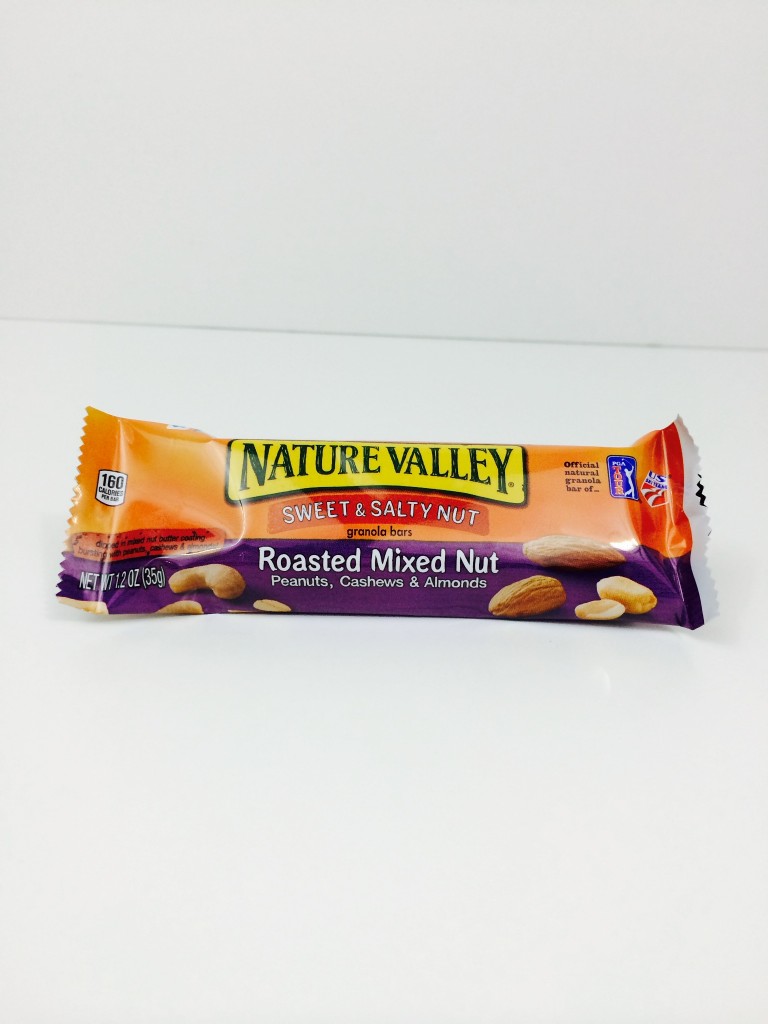 I like to have granola or protein bars in my bag in case I get hungry or "something" happens! Maybe it's the mom in me! These are a great mix of salty and sweet with lots of nuts and nutty butter on the bottom of the bar.
Exercise/ Wellness Favorite:
Life Factory 16 oz. Glass Bottle with Straw Cap and Silicone Sleeve in Peony
I got this while I was shopping in a small local children's boutique for my kiddos. I drink lots of water and wanted a bottle that I can take everywhere without spilling. It's a bit heavy, because it is made of glass but it is free of chemicals and easy to clean. I really like the silicone around the glass because it gives a great grip. It is pricy, but if you consider cost per use, it has stayed in perfect shape and I use it all day, everyday.
Website Favorite AND Book Favorite:
"Seriously…I'm Kidding" by Ellen Degeneres read by the author 
My hubster has been using audible.com for about a year, but I just didn't know if I would like it or when I would find the time. I finally decided to listen while I was doing random household chores one evening recently and I chose Ellen's book for something lighthearted to begin my audio book journey. And I loved it! It didn't hurt that I listened to this straight after Ellen rocked The Oscars, but she is just so charming. I felt  warm and fuzzy after listening. I finished the about three hour long book in two days and it made my chores a lot more fun. We have an Amazon Prime account which makes it very affordable as well.  I loved the book and I loved listening to it instead of finding the time to read it.
Girl Power Favorite:
NOTE: I thought this would be a fun way to share some props when I do a favorites post to any girl I think is doing great stuff and should be recognized. I am all about girl power, more than ever now that I have a daughter of my own! I think it should be encouraged and supported!
Carrie Rad has Youtube channel   I found recently that I think is just lovely! She's got whatever it is (okay, now I can't stop singing that country song…), something about her is so fresh, and she is a joy to watch. I found her and then binge watched every single one of her videos. She has beauty, fashion, and more in her videos.  I just want to grab a coffee with her and hang out. She has great ideas, shows such passion, and I just know she will do big things! Carrie Rad is rad!
Song Favorite:
This song is SO beautiful! I love it each time it comes on the radio and avoid talking too much until it's over. LOVE!
Okay, I don't want this to go on forever because I'm in a rambling mood today, and that could get dangerous! But I really hope that you've enjoyed this post! As always, if you have any comments or questions please comment (click the link next to the title of this post) or find me on Facebook, Twitter, or Instagram! Please let me know what type of posts you would like to see on www.leahtackles.com. Let me know what your favorites items of the moment are! I would love to hear about them! And if you like what you've read, please share and subscribe by entering you email into the box on the right of this page! You will only get emails when a new post from me goes up! Super easy! Thank you to all of you who have already subscribed!! I hope you have a beautiful weekend!!