Hi there! Happy Wednesday!
If you're a regular LeahTackles reader or if you watch my YouTube videos, then I don't even have to say that I own and buy A LOT of makeup! But, lately I've been trying to use some of the makeup that I haven't been giving as much love to lately. It's fun to rediscover old favorites, or try out things that you might have not given a big chance to when you first used it. I would like to challenge you to dig through your makeup and pull out some of the gems that you already own!! If you really don't like something, or if it's really old you can always de-stash it or if it's in good condition pass it on to a friend.
SHOPPING MY STASH!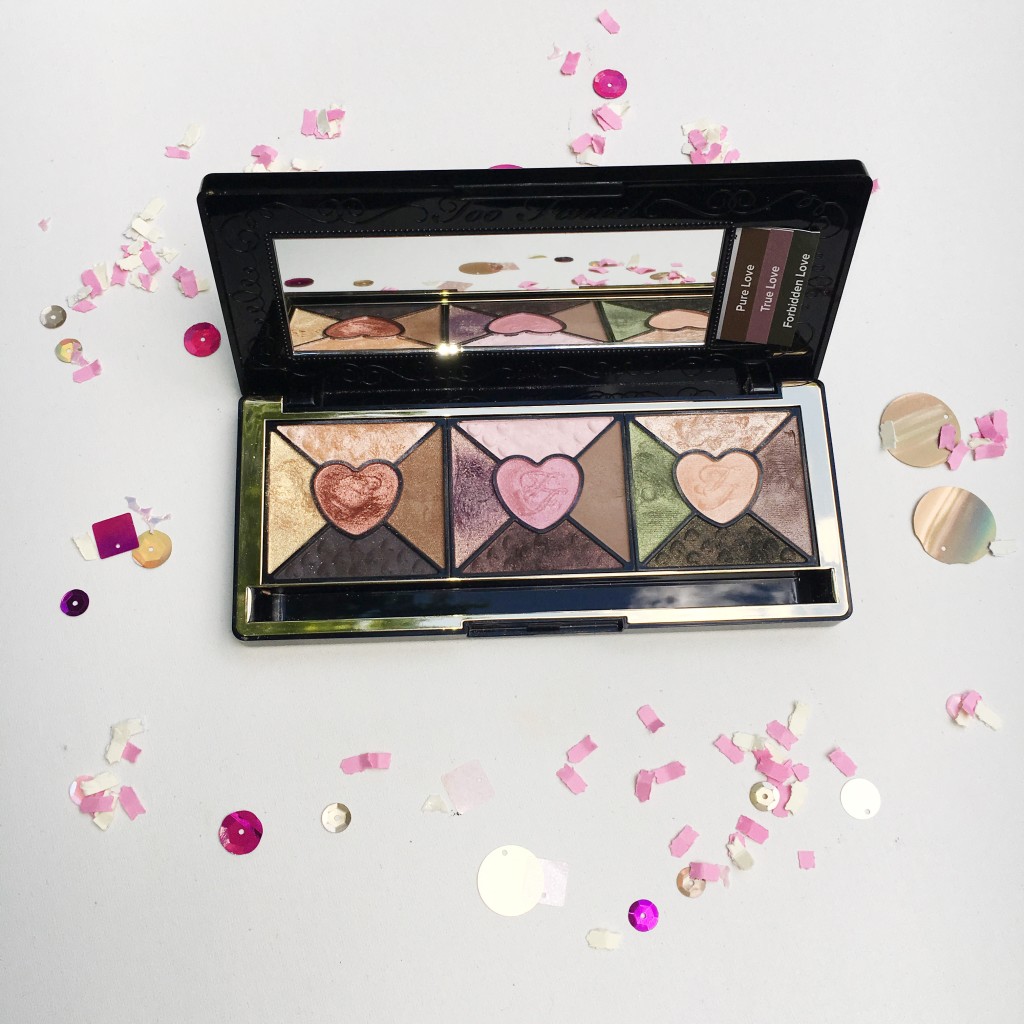 I actually did a blog post on the Too Faced Love Palette when it first came out about a year ago and I was OBSESSED with this for weeks! Not only is this a beautiful palette, but I can do full on five color look with it if I want to or I can use just one or two shadows for a super fast look that still looks like I really tried. This palette is definitely a shimmery palette, so you may want to use some mattes along with it, because it really only has a couple of matte shades. However, I do find that I can get looks that I love without having to use any other eye shadows. Because these eye shadows are shimmery, there is fallout and kickback when you put your brush into some of the shades, but they blend beautifully and the pigmentation is excellent. What I love the most about this palette is that the 15 shadows are separated into three sections of five eye shadows each, so it's not intimidating to put together a look. I also think it's a great way to enjoy some shimmery eye shadows without having to jump between a bunch of single shadows or palettes to have what you want. This palette also has adorable packaging and comes with example step-by-step look ideas. The palette comes with a full size of the Perfect Eyes Water proof eyeliner. The Perfect Eyes liner is very creamy and comfortable to wear so I find myself reaching for it quite often, but definitely NOT water proof and doesn't last that long on my waterline. This palette is GORGEOUS for a date night or evening look, and looks stunning in low lighting (i.e: candlelight!) so the "Love" name definitely suits this beauty. This retails for $49 and it's one of my more unique palettes that I don't have anything else like it.
If you try this challenge out, let me know what you find and if you rekindle an old makeup love flame or find something new ; ) Have a wonderful weekend!