Hi there! Happy Monday!
This morning I was thrilled to be volunteering in my 4 year olds classroom for a few hours, and her sweet teacher asked me about under eye concealer suggestions. First of all, thank you for asking! I absolutely love getting questions from all of you, and every time I take it as a compliment! So, ask away! I am also a huge fan of this topic, because I have (BAD) dark circles! I've talked about it before, but the combo of three kids under five and genetics (love ya mom and dad!) makes my dark circles situation rough most days. I also think it's a super important topic because if you don't apply or set your under eye concealer correctly it can cause the makeup to set into your fine lines making the lines and dark circles more visible! Let's be real, none of us have time for that!
What I Do For My Under Eye Make Up and Dark Circles: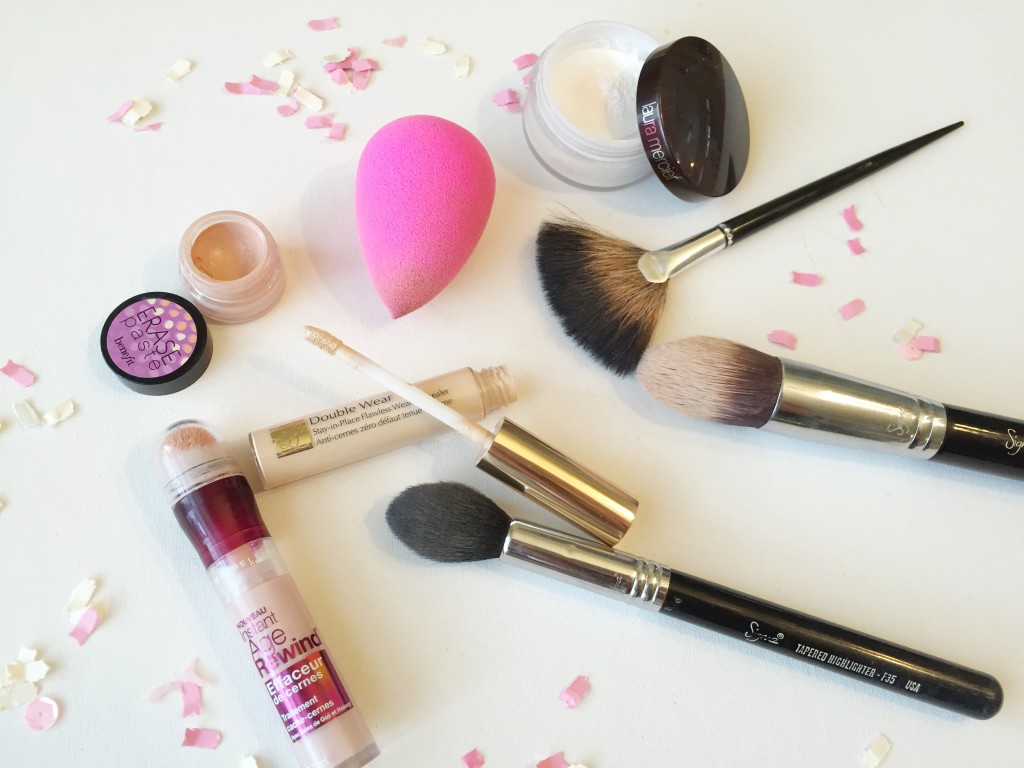 1. If you're not using an eye cream, you should be! I really love using the Benefit It's Potent Eye Cream which you can find at Ulta or Sephora. It's a little pricy, but I really like this and it has helped my dark circles to appear less drastic. I also like this because it doesn't take forever to absorb into the skin, and it doesn't feel heavy at all.
2. I always use some sort of pinky/salmon concealer to brighten up the dark circles under my eyes. My go-to favorite is a drugstore concealer! I use the Maybelline Instant Age Rewind Eraser Dark Circles in Brightener! Make sure you get the one that actually says "Dark Circles" because they also have a regular concealer that isn't specific to the under eye area. I also really like the Benefit Erase Paste, it works so well on days when I want maximum concealing power, but it's thicker and harder to work with when I'm in a real hurry.
3. I then use a concealer (Tip: Look for one that is one shade lighter than your skin tone for extra brightening power! But I am very fair so I just get the lightest shade offered) over the brightening concealer from step 2. I really love the Estée Lauder Double Wear Concealer or the It Cosmetics Bye Bye Under Eye! I like to make a triangle under each eye and then use either a damp Beauty Blender, or my Sigma F86 Tapered Kabuki Brush (any makeup sponge similar to this or tapered kabuki brush will work) to pat and lightly press the concealer into the skin. Don't drag the brush in a painting motion! You want that product to stay there!!
*Note: Sometimes I go from step 2 to step 4 and skip this step altogether, but most days I include this in my routine.
4. I then ALWAYS set my under eye concealer with a loose setting powder, preferably a brightening setting powder, with my Sigma F35 Tapered Highlighter (or a fan brush works wonderfully too!).  By setting your under eye concealer with a powder you are helping it to stay put, and also avoiding the risk of the product settling into your fine lines or wrinkles. I love the Laura Mercier Secret Brightening Powder or for a much less expensive route, the E.L.F High Definition Under Eye Setting Powder is also fantastic! Who can beat $3?!
If You Enjoyed This Post You May Also Enjoy:
My Top 3 Ways To Apply Liquid Foundation
I hope that this was helpful! If it was please subscribe, share, or "pin" onto your Pinterest account! I have share buttons for social media at the bottom of each post : ) Have a wonderful week! Let's chat again on Wednesday! xo