Hi there! Happy Wednesday! Or, Merry Christmas Eve Eve ; )
We have been home from Disney World for about 10 days, and my husband and I sat down recently (okay, we tried to talk over the kids while folding laundry, let's be real) to chat about what worked and what didn't for us for our three kids under five on our trip. So, today I thought I would share 5 quick tips that might help you if you're planning to take your young kids to Disney.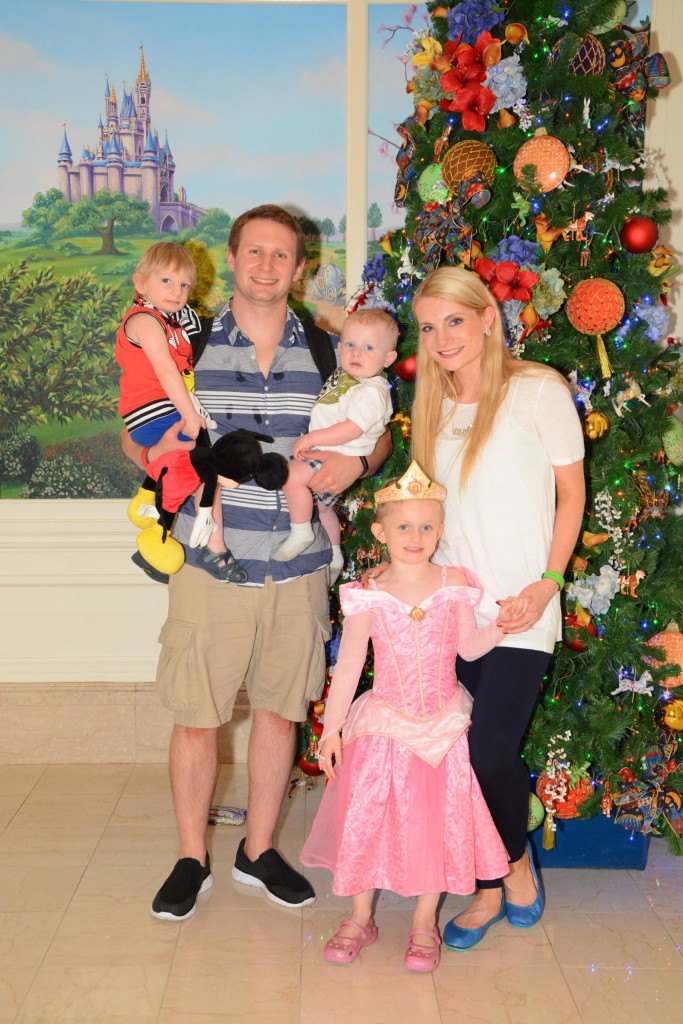 1. Use a Backpack
Take a backpack! I am a cute purse or diaper bag kind of girl, but at Disney you want to be hands-free! We took a plain black backpack and my husband and I took turns wearing it. It is SO MUCH EASIER. You won't be sorry!
2. Wear the Baby/Toddler
We took both a front facing carrier that we borrowed from a friend and our Ergo. We wore Logan, our 11 month old, most of the trip. Even if you have a stroller, pack a carrier.
3. Don't Rent a Disney Stroller but Rent a Stroller
Disney has strollers for rent, but the prices aren't cheap and you have to return them to the parks each day. We opted to rent from an outside company, Kingdom Strollers, that is a Disney featured stroller provider. We picked the stroller up at our resort and returned it at our resort! Super easy! Plus we could take it out of the parks instead of wasting time in line every day to rent one and return it. All, the kids could ride from our room to the parks! It was only $70 for the week for a steam cleaned, City Mini Double stroller. We were able to fold it easily for the bus (we grabbed our bags before doing so), and leave it open on the monorail and boats (the boats have signs that say to fold it, but they always said we could leave it open). Also, decorate your stroller with ribbon and a sign so it's easy to spot in the sea of strollers!
4. Take LOTS of Wet Ones
I bought two packages of Disney character antibacterial wipes at the Dollar Tree and we had regular Wet Ones also. I wiped down as much as possible, and they're great for sticky hands, too.
5. Take Fruit Snacks and Magic Ink Books
Both of these saved us at restaurants, in line, on the plane…you name it! If your kids are like mine, they'll fly through the Magic Ink Books, so buy lots! If you check the Target Dollar Section you should be able to find them for $3, but they sell out fast.
I hope that you enjoyed this post! I have several Disney videos coming up on my YouTube Channel, and we have our Disney Daily Vlogs on our Daily Vlog Channel! I hope that you have a very Merry Christmas if you celebrate! And a happy holiday season!