Hi there! Happy Wednesday!
Lately I've been doing first impression unboxing videos on my YouTube channel, but because I have so many videos that that need to be edited right now I decided to do this months box as a blog post. The PopSugar Must Have Box is a monthly lifestyle subscription box that has food, fashion, beauty, home decor, and exercise goodies for $39 per box.  that If you like seeing PopSugar this way as opposed or in addition to the videos, let me know in the comments.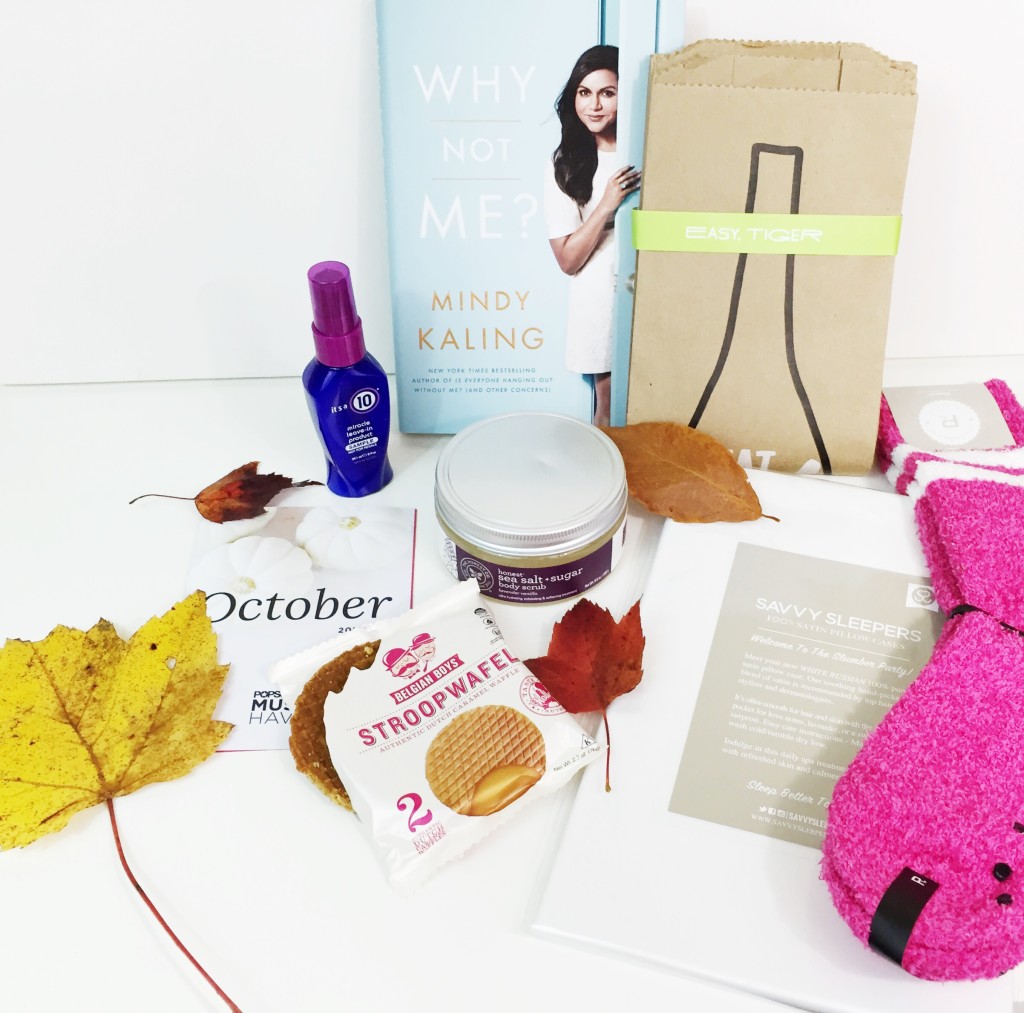 POPSUGAR MUST HAVE OCTOBER 2015:
$25
I absolutely love Mindy Kaling's first book, Is Everyone Hanging Out Without Me, and have listened it to on Audible.com more than once. I hate to admit that I already stored this in our basement, because realistically I don't have time to read this right now, but I'm happy to have it!
Savvy Sleepers Luxury Satin Pillowcase
$36
I think changing your pillowcase often, and using a satin pillow case are two great ways to keep your skin free from breakouts, and the one I already have isn't as nice as this one. I am very excited about this, and had just been thinking it was about time for a new one.
Easy, Tiger Brown Paper Liquor Bag Set
$8
I wish I could say I was attending parties where I was bringing alone a nice bottle of wine, but realistically I'm not, however these are adorable and they'll be saved with my other hostess and housewarming kitchen gear.
$1.59
This was such a fancy, fun little treat! I shared these with my husband, Stephan, with some tea over the weekend. I love that the waffle sits perfectly over a mug of coffee or tea.
The Honest Company Sea Salt + Sugar Body Scrub
$17
 I used this the day that I got it and so far I'm loving it! It's a great scrub to use before sunless tanning, too. I followed it up with my regular body wash and my skin was super soft!
Richer Poorer Hope Slipper Socks
$15
I absolutely love fuzzy socks, and can always use a new pair. I haven't worn these yet, but they seem super cozy. It's nice that some of the proceeds go to support women with breast cancer and that's a great item for the October box.
Special Extras:
Danielle Stevens Monogram $40 Gift Card
I don't count this because you have to spend more than it's worth, but it's still nice if that was something you were interested in. I do *LOVE* monogrammed jewelry, but I probably won't use this.
It's a 10 Miracle Leave-In Product Sample
This is the perfect size for traveling and I already use this product every time I wash my hair! I am very happy to have this for (get ready broken record:) Disney : )
TOTAL VALUE: $102.59 not counting the special extras …cutting that "At least $100 value" a tad close this month, but I do think it's a fun box. I am the most excited about the pillowcase, slipper socks, and body scrub.
Do you subscribe to PopSugar? You can click here to subscribe to PopSugar or find out more. If there are any other subscriptions you are interested in seeing on my blog, please let me know so I can check them out for you! Have a great weekend!!