Hi there! Happy Wednesday!
It is September! And even though this week still feels like summer, I know that once Hailey goes back to school next week it will really feel like fall. I am absolutely ready for darker lips, and today I want to share some of my favorite drugstore fall lip colors. If you're interested in some of my high-end favorites I can definitely share those as well. I am also sharing my favorite tip for giving your lips more of a pout!!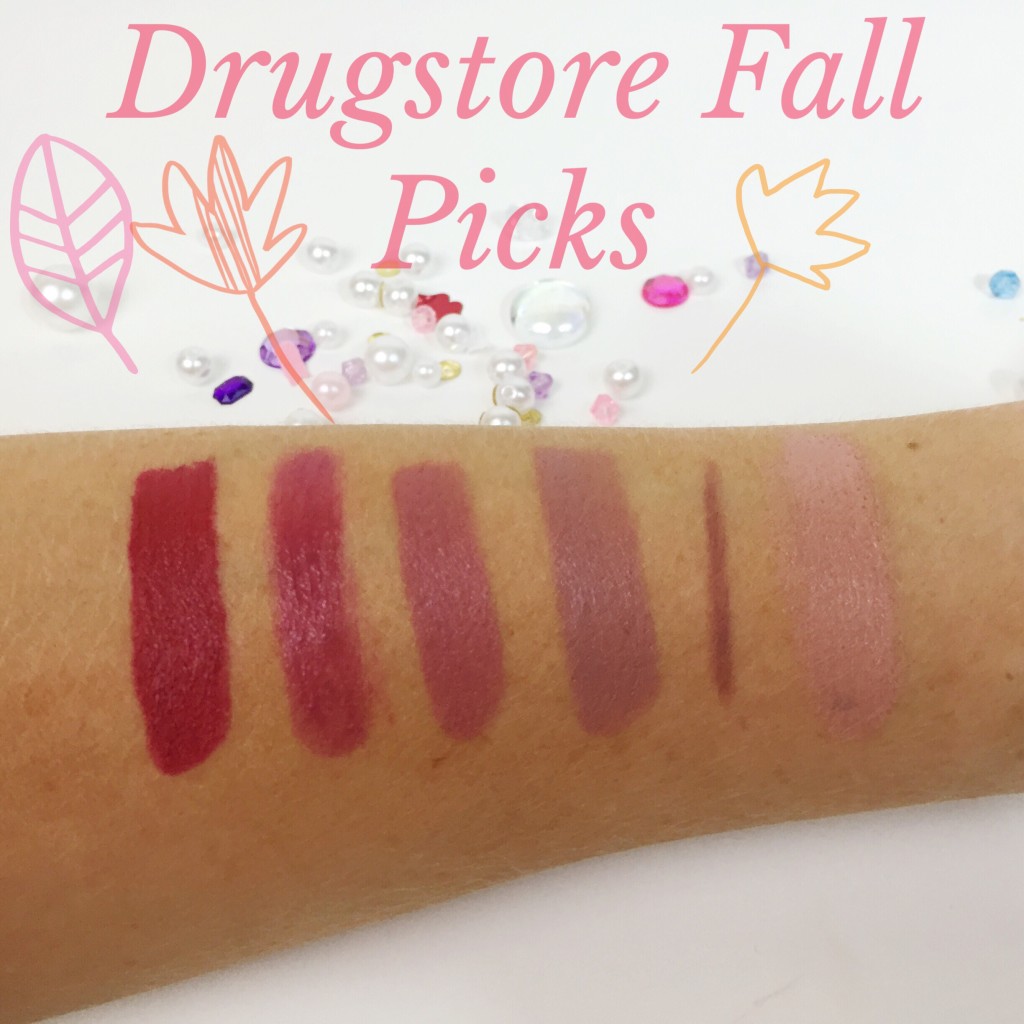 NYX EXTRA CREAMY ROUND LIPSTICK IN CHAOS
This gorgeous blue toned red cream formula lipstick is seriously pigmented and wears comfortably on my lips. I love this for days when I want a lighter eye (or let's be real, I'm rushing!) and want my lips to be the focus of my makeup. You can put this on and it instantly looks like you spent time geting ready.
JORDANA TWIST & SHINE MOISTURIZING LIP BALM STAIN IN CRANBERRY CRUSH
I love the dark, bold, and matte lip colors that come with the cooler months, but some days my lips can't take it! I love this because it's just enough color, and feels amazing on my lips.
RIMMEL LASTING FINISH BY KATE LIPSTICK IN 08
This is the perfect "Kylie Jenner lip color" that became so hugely popular last fall. This color is a nod to the 90's lip, but doesn't wash out my very fair skin. This also feels really nice on the lips! I love the Rimmel Kate lipsticks.
RIMMEL LASTING FINISH BY KATE LIPSTICK IN 14
This color is very similar to 08 metioned above but a tad lighter and more nude. I love this lipstick and wear it a lot as a nude in the fall.
JORDANA EASY LINER FOR LIPS IN ROCK N' ROSE
This is one of my favorite lipliners in my entire collection! It is PERFECT for a nude 90's lip.
MAYBELLINE COLOR SESATIONAL LIPSTICK IN BLUSHING BEIGE (NUDES COLLECTION)
This is the most flattering nude for my fair, cool toned skin. The Maybelline Color Sensational lipsticks are one of my favorite, if not my absolute favorite range of lipsticks.
TIP FOR FULLER LIPS:
1. Find a lipliner that is 1-2 shades deeper than your natural lip color and *slightly* overdraw your cupids bow.
2. Use a matte lipstick or lipstick that doesn't have too much shimmer because shimmer or sparkle can make the overdraw obvious.
3. Put a dab of gloss or highlighter in the center of your lips.
Have you gotten your first pumpkin flavored item yet? Do you even like pumpkin flavored things? I am ready to pull out some fall candles, paint my nails a little darker, and rock some perfect fall lips!! As always, I would love to hear from you! And please subscribe!