Hi there! Happy Monday!
I hope that you had a great weekend! First things first, MICHIGAN readers have you entered to win the LivnFresh Detroit D shirt I'm giving away? It's perfect for any Tiger fan! You have a few hours left to enter. You can enter on the LeahTackles Facebook page, and entering is easy : )
Now, I decided to talk about 5 makeup mistakes that are VERY common! Now, I am not claiming that I don't make plenty of makeup mistakes, but I know that I make a lot less than I used to. So, today I am sharing 5 things that you should make sure you're not guilty of.
*Note: These are *my* opinions and of course if you really enjoy what you're doing or one of these makeup "mistakes" then please understand that I mean no offense to you and you should do whatever makes YOU feel beautiful! xx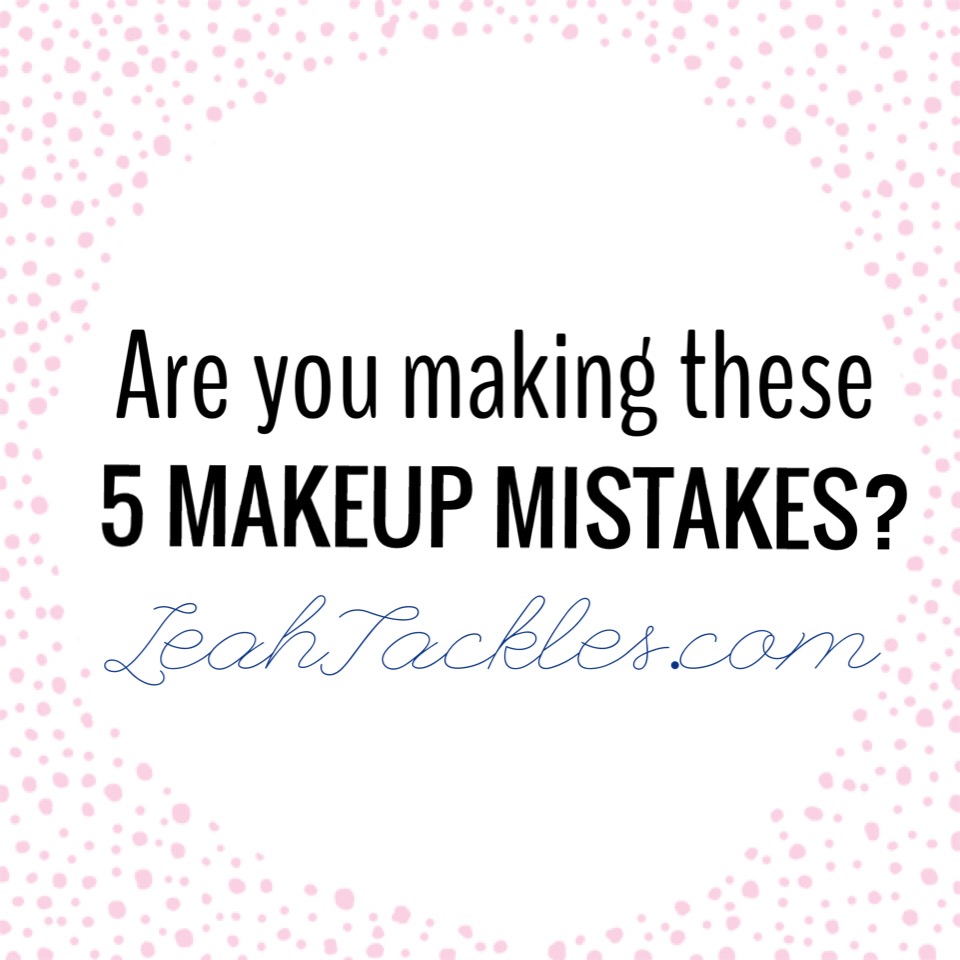 #1 Using Expensive Makeup With Cheap Brushes
It took me YEARS to invest in nice makeup brushes. I didn't own any brushes, except for the brushes that came in kits or that I found in tiny cheap kits at the drugstore, until after college. FOR SHAME : ( Using good brushes helps for your makeup to look better, period. I suggest starting with a kit, Sephora has some basic but get-the-job-done kits, and I love the sets from Sigma Beauty.
#2 Not Blending Your Eye Shadow
Just because you know to put a brow bone highlight, lid color, and crease color doesn't mean your look is compelte, girl! BLENDING is your bff! Use a clean blending brush, and it will turn your amature eye makeup skills into art. My favorite blending brush is the E25 from Sigma.
#3 Too Much Dark Eye Liner On Lower Lash Line
Just. Say. No. This should not be an everyday look. Or at least please smudge it out. I did my fair share of this in high school, but seriously just try skipping it, or just doing your top lashline and waterline, because the difference is HUGE! It will open up your eyes and make your eyes look bigger.
#4  Ignoring Your Eyebrows
Yay for beautiful, groomed but not over plucked, filled in brows!!! I am so glad brows are back! On days where I wear no other makeup, I still like to fill in my brows and throw on some lipstick. Even if you just use a tinted brow gel, do not ignore your brows! Also, do not overpluck or let someone do too much waxing on your brows.
#5 Sleeping in Your Makeup
I did this all through college multiple days a week (days I went to a party or the bar, let's be honest) and my skin was beautiful. Well guess what? Now I'm in my late 20's and I want to keep my skin as beautiful as possible for as long as possible, so washing off your makeup is essential.  At the VERY LEAST use a makeup removing wipe ( I like these ones from Neutrogena). I have timed it, I can use a makeup remover, wash my face, use a toner, moisturizer, and eye cream in about 3 minutes. And it just FEELS clean.
Do you agree with these makeup mistakes? What makeup mistakes do you admit to making or have you made in the past? If you like these types of posts, please let me know in the comments and don't forget to share! Thank you so much!!