Hi there! Happy Wednesday!
Today I will be continuing my post from Monday, Products I've Used Up?! January Empties! Part 1, and sharing if I would repurchase, and a mini review.
Empties Part 2: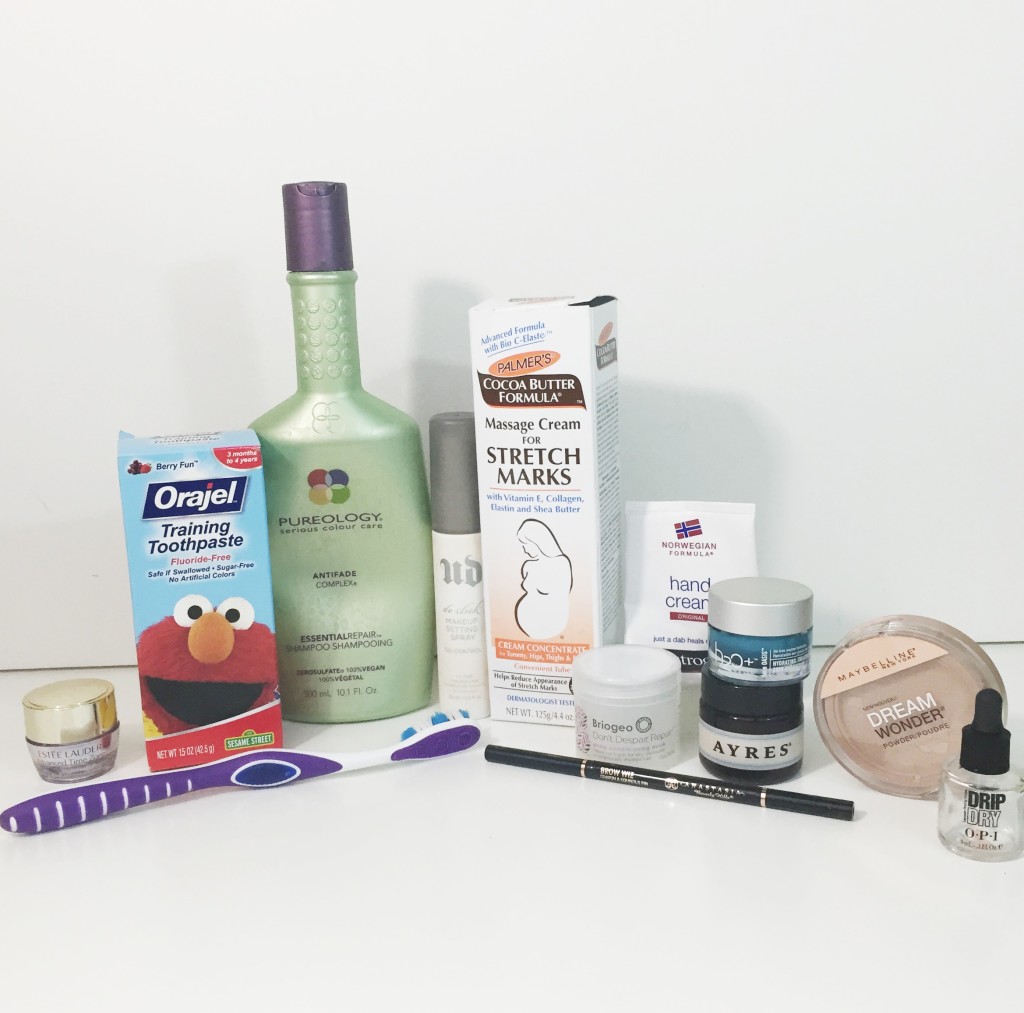 Urban Decay De-Slick Makeup Setting Spray:
I love the Urban Decay makeup setting sprays, I have already repurchased one but I picked up All-Nighter this time instead of De-Slick.
Maybelline Dream Wonder Powder in 10 Porcelain Ivory:
I love this powder! It is fantastic for setting my foundation, and adds a little extra coverage. I have already repurchased this.
Orajel Training Toothpaste Fluoride-Free in Berry Fun:
This is for the kiddos, and we have already repurchased it! We are getting Hailey ready for "big girl" toothpaste but continue to use this for Connor.
I ran out of these so long ago and seriously need to repurchase them! These drops help dry your nails SUPER fast when you're rushing! I don't use them every time I paint my nails, I do find they dull the shine just ever ever ever so slightly, but they're amazing for when you don't have forever to sit around waiting for your nails to dry!!
Pureology Serious Colour Care Antifade Complex Shampoo:
I love these shampoos! I have not repurchased, but have a different Pureology shampoo in my shower.
Palmer's Cocoa Butter Formula Massage Cream for Stretch Marks:
I used this during this pregnancy and I do like it for my belly, breasts, and buns! But I did not repurchase it because I opted to use an oil by Burt's Bees.
These are my favorite toothbrushes! For 2015 I would like to get us some nice electric toothbrushes, but these are my standbys for sure! Any suggestions for a great electric toothbrush would be apprecaited! Let me know in the comments if you have a favorite!
Neutrogena Norwegian Formula Hand Cream:
I really like this hand cream in the winter months. I didn't like it at first because I was using too much, but if you use just a pea sized dab works beautifully! I will repurchase!
Briogeo Don't Despair, Repair Deep Conditioning Hair Mask:
I only had a small sample of this, so I only got a couple of uses out of it, but I did enjoy it! I don't plan to repurchase it because there are lots of other hair marks I have on my "to try" list, but this did seem nice.
Estée Lauder Advanced Time Zone Age Reversing Line/Wrinkle Eye Cream:
I got a sample the last time I went to purchase my Estée Lauder staples and I did enjoy this eye cream, but I have not repurchased it.
H2o+ Face Oasis Hydrating Treatment:
This was a small sample from my Ipsy Glam Bag but I got quite a few uses out of it. It is a gel consistency, it felt hydrating, and did not break me out. I would consider purchasing this in the future, I think it would feel great in the summer!
Patagonia Ayres Body Butter with Essential Oils Jasmine and Rosemary:
This was another small sample, but I did enjoy the rich formula and the scent was very relaxing.
Anastasia of Beverly Hills Brow Wiz in Medium Ash:
I adore this and it has already been repurchased this! This will help you make sure that your brows are on fleek (on point!) : )
Thank you SO much for being here, reading, and for the continued support! Please be sure to subscribe! It's easy, just enter your email in the box that says "subscribe" and you will get an email to confirm your subscription! Thank you!!