Hi there! Happy Wednesday!
A couple weekends ago my mom came to spend a few days with us and we got to do one of our favorite things to do together: shop! My mom has, and always has had, this knack for picking out an outfit that ends up being perfect for me. I remember in high school I would think NO WAY she could pick something I would like, and then I would try it on and usually end up buying it. We found some great things, some good sales, and had a fun time : ) I *do* feel bad that my poor hubster didn't get anything! However, the holidays are coming and I know some of the things I want to pick up for him! And babe, if some of your old jeans accidently catch fire and new ones replace them? You're welcome ; )
MOM/MATERNITY HAUL:
MOTHERHOOD MATERNITY:
Bump In the Night Henley Nursing 3 Piece Set:
I have never had a set by Bump In the Night, but I have had two PJ sets from A Pea in the Pod that I have LOVED both during late pregnancy and definitely in the first few months after baby comes especially! I picked this set because I thought the legging style pants would be great in the winter months, the tank will be easy for nursing, and the long sleeve cardigan is great to throw on when I'm chilly or when I want to cover up a little bit more. This set is no longer on the website, but there are many that are similar.
Long Sleeve Printed Thermal Henley Tee: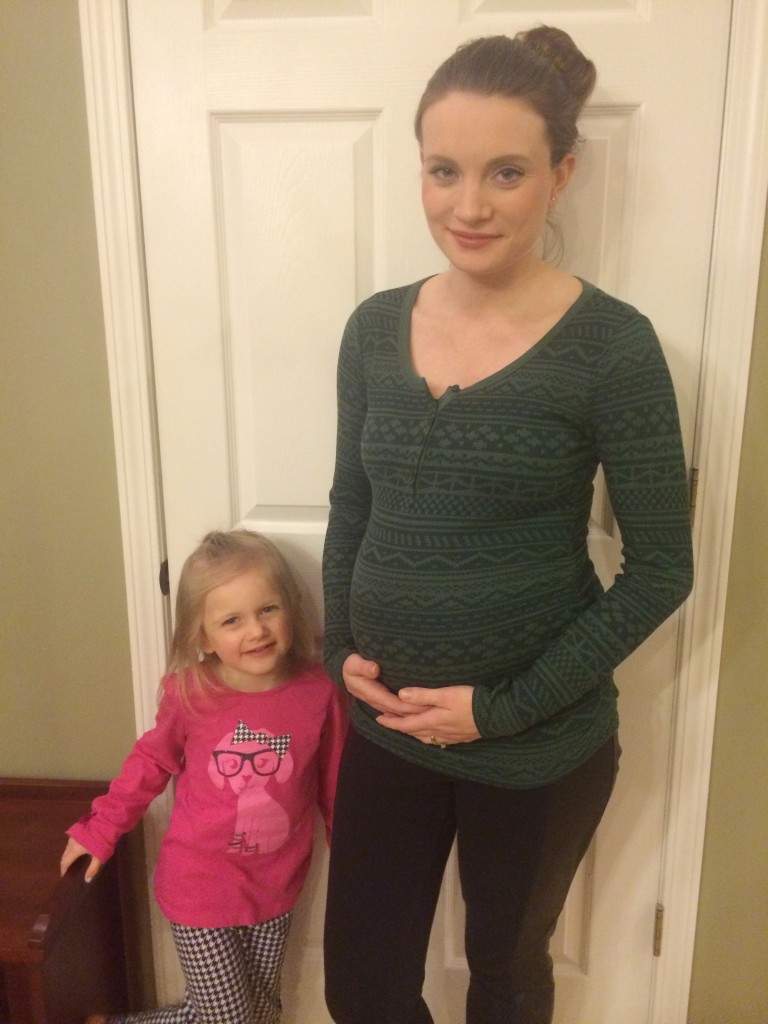 This isn't something I would normally pick out, but it is SO comfy! I think this will be adorable during the holiday season for getting cozy with a cup of cocoa or making Christmas cookies with my family. I already wore this once on a rainy day, and it's so perfect for days like that!
TARGET:
Liz Lange Maternity Long Sleeve Casual Tee: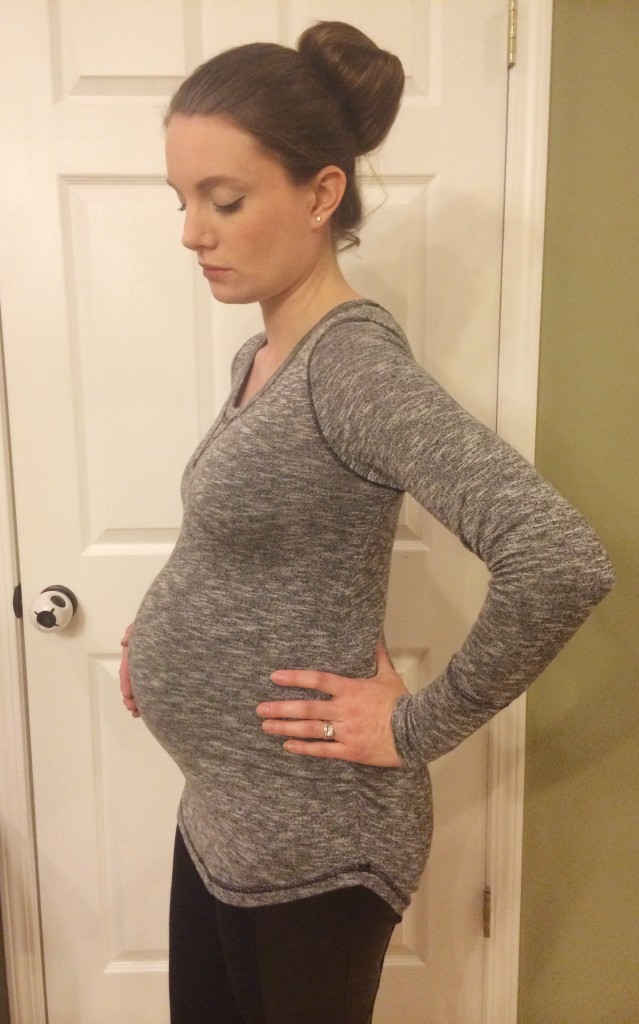 I love this! I think it's much cuter on and in person than it appears online. I love the longer length, it juuuust covers my bum and I am about 5'6 or 5'7. I think this looks adorable with leggings and a big statement necklace or scraf to dress it up a little.
Liz Lange Maternity Long Sleeve Tee Shirt Dress: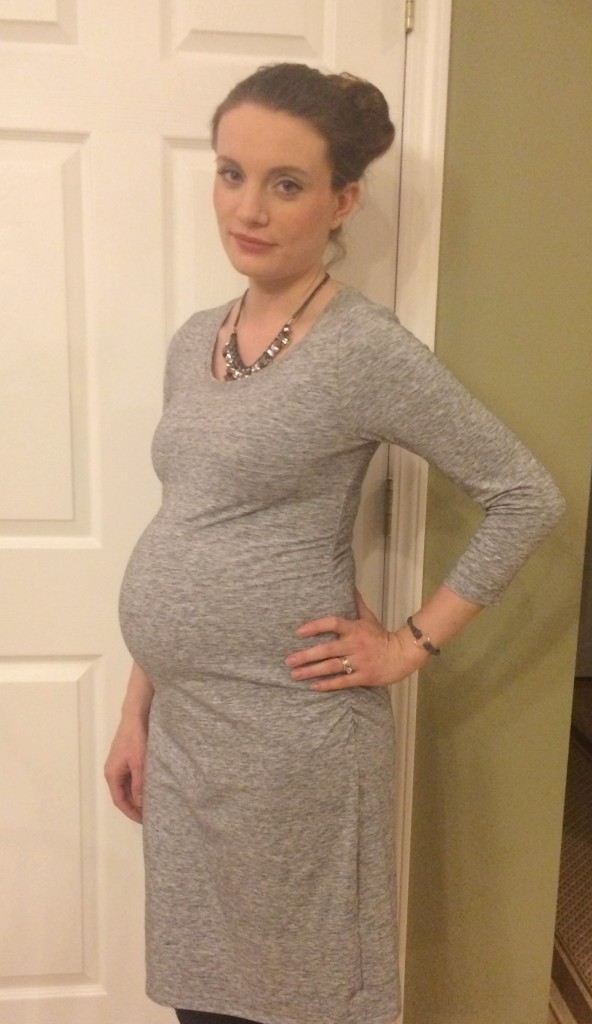 I would have never picked this up if it hadn't been for the marketing showing the adorable (probably not actually pregnant) model, but I'm so glad I did because it's really nice on. I think that I will get a lot of use out of this during the holiday season and love that it can be dressed up or down so easily!
Mossimo Open Layering Sweater: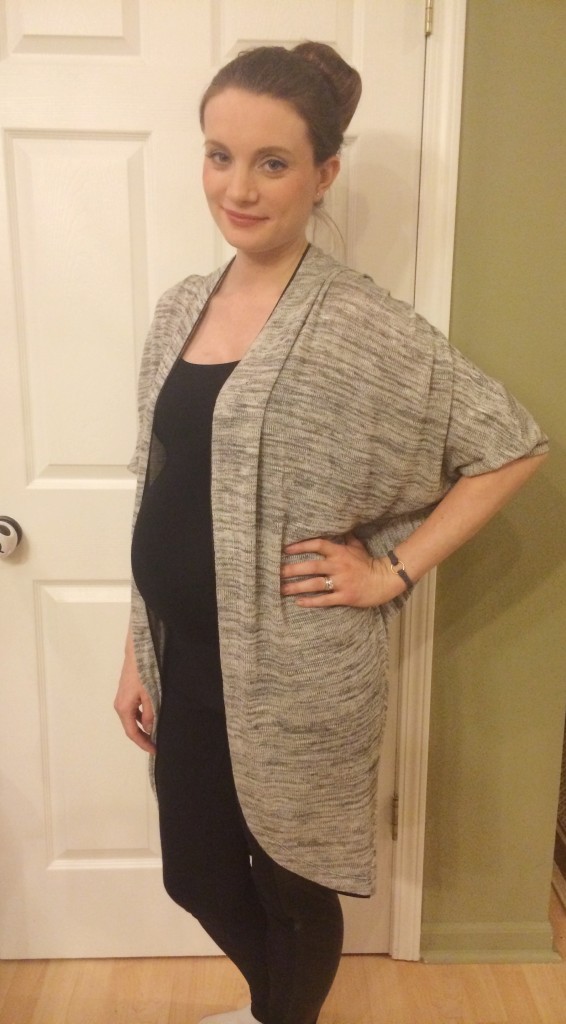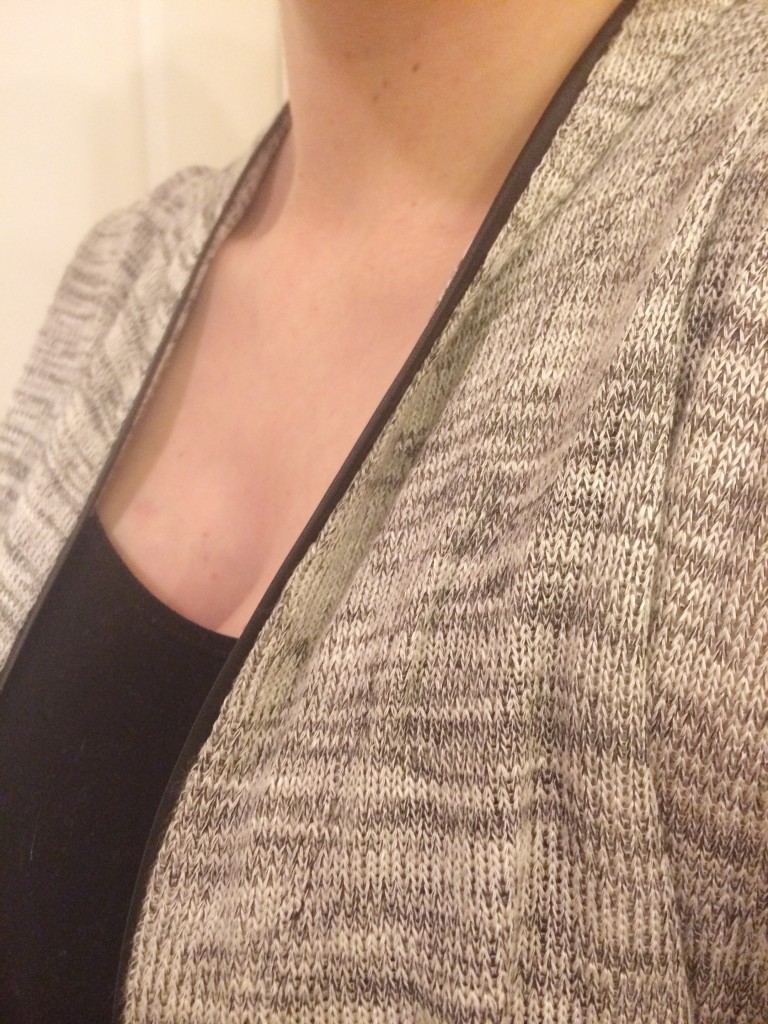 This isn't maternity, but it works perfectly for me now and I think it will also work beautifully for breastfeeding. The constrast edge looks a little bit like leather trim and I love that! I think that the way to make this work is to layer, layer, layer! I like pairing this with faux leather trimmed leggings, a tunic length tank, a wool peacoat, great boots…the more things layered the better and it will stop you from looking frumpy.
This isn't maternity but I love long tanks like this for layering! Target is great because they are very affordable. I want to get this in black also!
HAILEY'S HAUL:
Eiskristalle Skate Dress by Tea:
Hailey LOVES to wear dresses and this style of dress is perfect for fall and winter! I love that she can wear these with leggings because leggings are much easier than tights for her to do by herself.
Twinkle Stripe Leggings by Tea:
I don't usually like to pick white, especially bottoms, for the kiddos but these looked too cute with the dress above to pass up.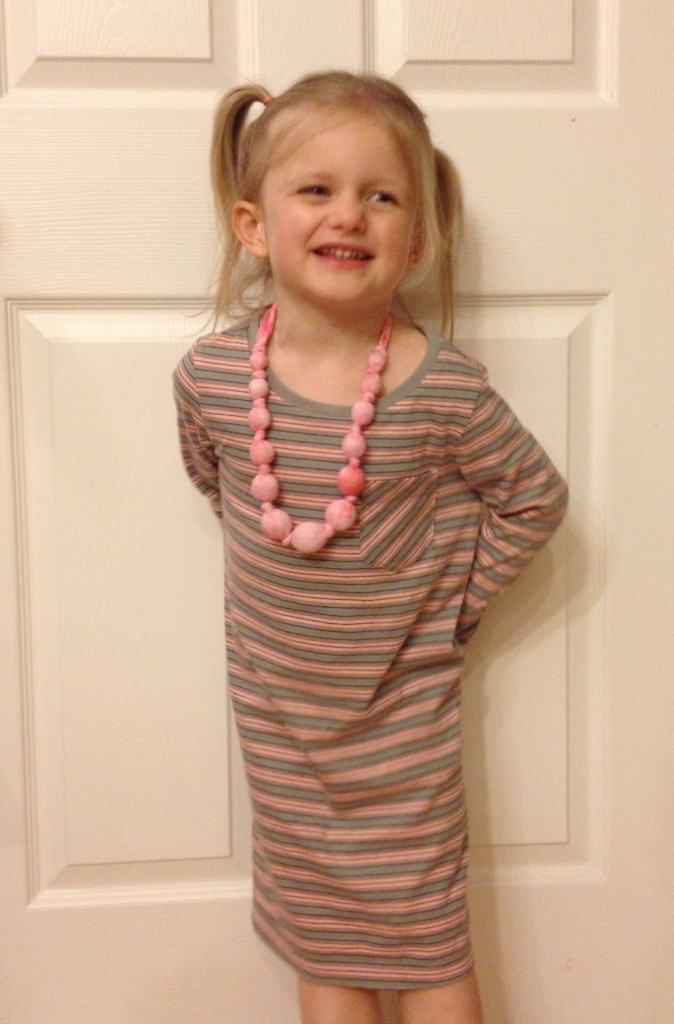 Hailey looks sooo sweet in this and she ended up wearing this for her *first ever* picture day! I love the soft pink with the gray and again it is perfect for this time of year.
These polka dot leggings paired with the striped dress mentioned above is pattern mixing perfection! These are such nice quality, really hold up well, and thankfully these should fit her for quite awhile.
The Elf on the Shelf Festive Nightgown and Doll Gown Set from Kohl's:
Hailey LOVES our elf, McJingle Toes, and is super excited about Christmas (nooo idea where she gets that!!) this year. She also loves that her teddy bear can wear the matching doll gown.
CONNOR'S HAUL:
Rocky Cozie Baby Combo Top by Zutano:
I love the fleece on this top, it just adds a cozy little touch and how sweet does this look on him?! Zutano is a fairly expensive brand, but everything we have purchased from them has been very high quality.
Chocolate Candy Stripe Baby Pants by Zutano:
I *adore* these pants! We have owned several pairs and they are comfortable, durable, and oh so sweet!
Infant Toddler Boys' Plaid Puffer Jacket from Target: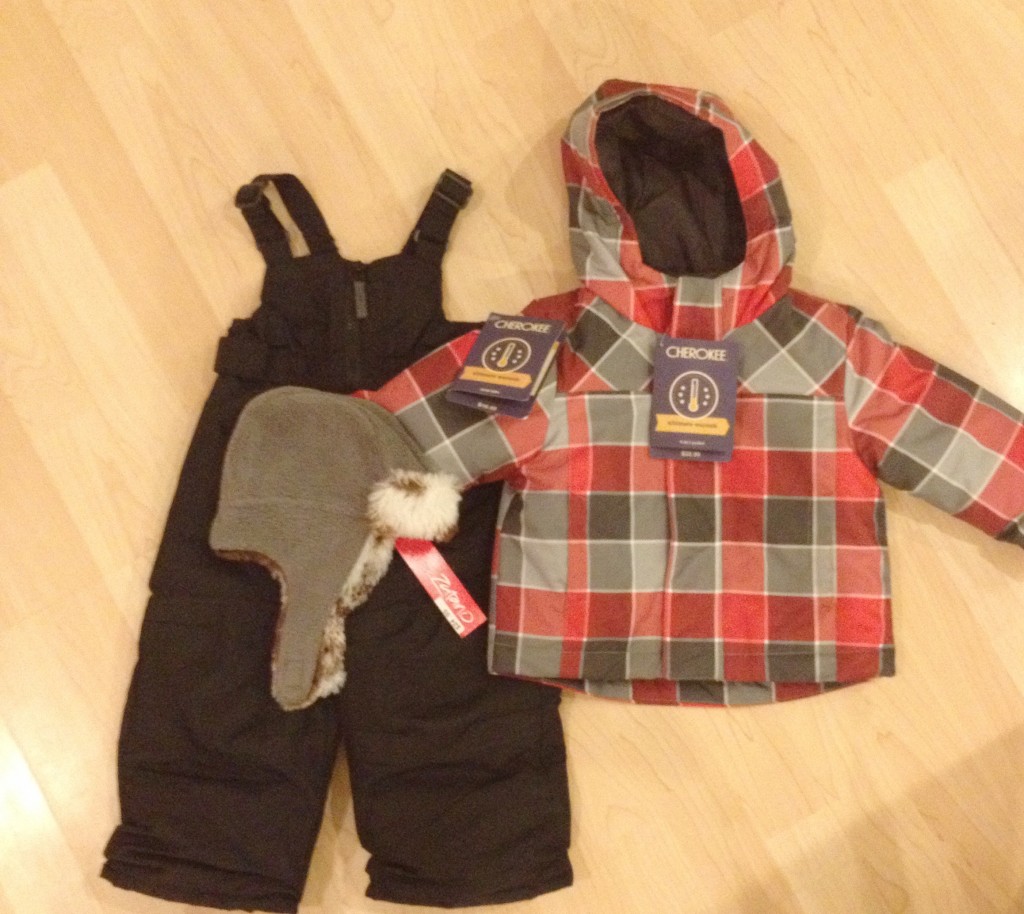 This jacket reminds me of a snowboarding jacket and our sweet little man looks soooooo cute in it! This is his first "real" winter coat, and I was pleasantly surprised to find it at Target.
Infant Toddler Boys' Snow Overalls from Target:
These are a FANTASTIC deal! Definitely warm enough for playing outside, basic, and easy to get on and off.
Infant Toddler Boys' Long Sleeve Striped Henley Tee: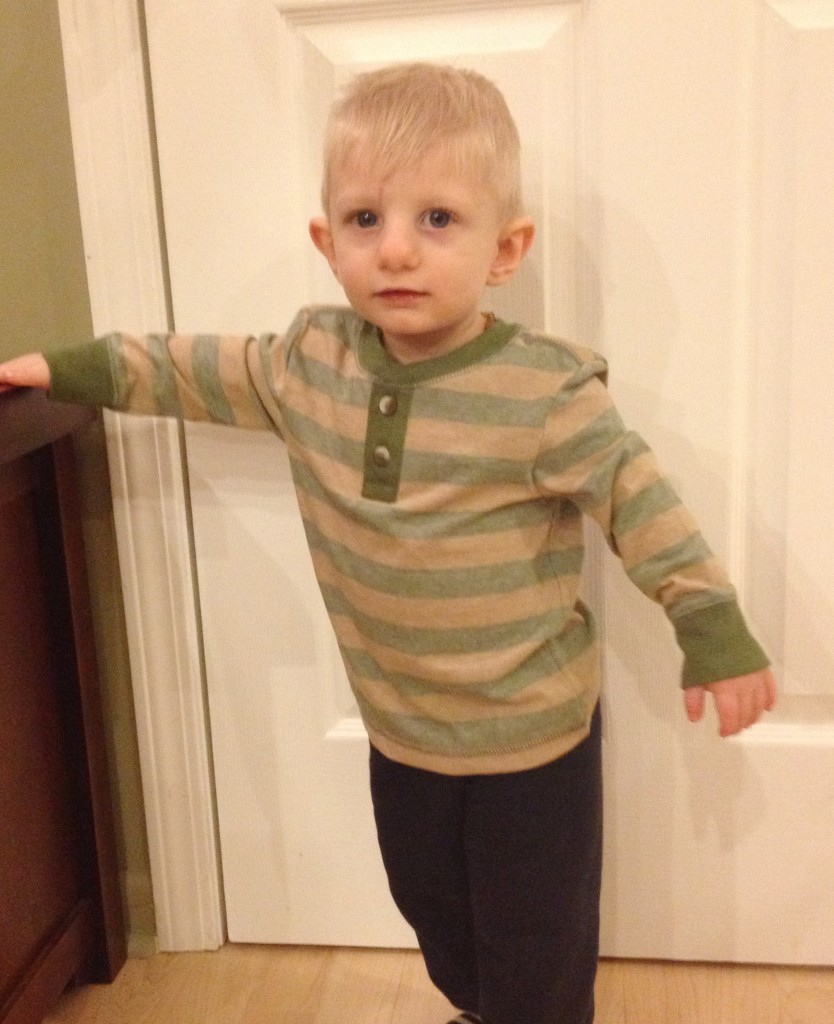 Adorable, soft, and basic! I really need to shop Target more often for the kiddos clothing.
"Santa's Helper" Pajama Set by Carter's: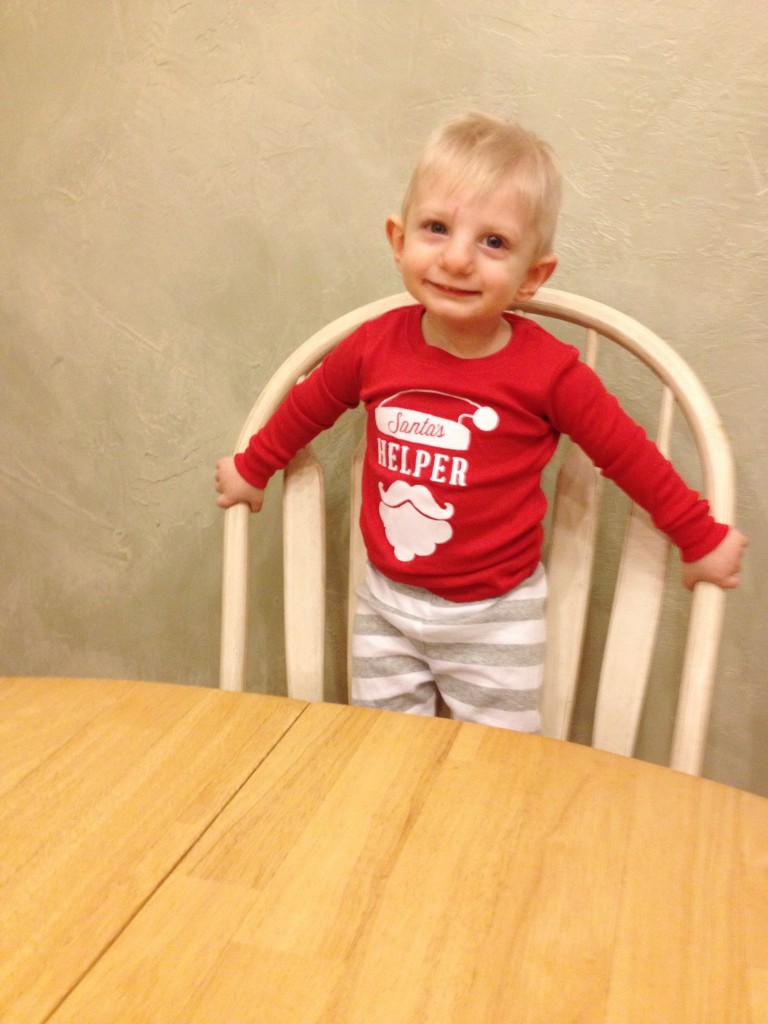 Connor's blonde hair looks so cute with this little red set. I love Christmas jammies : )
Phew! If you got through all of that, thank you : ) I hope that you enjoyed this haul! To those who are subscribed, thank you so much you are amazing and if you haven't yet, please do!! It's easy and harmless, promise : )