Hi there! Happy Wednesday!
Okay ladies, it is that time again, the holiday makeup sets are now avaliable in-store and online!! I am swooning over them, of course, and want to share 5 of my favorites here with you today! I will also be sharing 5 of the sets that I think are the best value and should be scooped up first on Leah's Friday Five on the Pearls and Pastries Shop Blog this Friday! So be sure to check that out for my thoughts on 5 more limited edition holiday sets as well : ) I would LOVE to have an excuse to get my hands on some of these, so please let me know which sets you would like to see first impressions, swatches, and reviews on!!
Holiday Sets for 2014: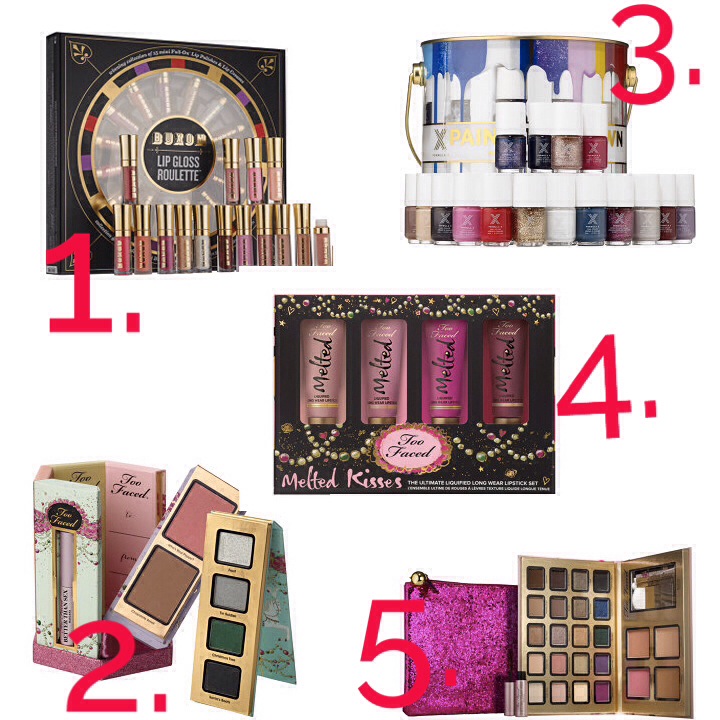 #1 Lip Gloss Roulette by Buxom
I love Buxom glosses, but I only have one full size gloss from the brand, and this kit is an amazing way to try 15 mini glosses! The full size glosses cost $19 each for a .15 oz and the mini glosses are .07 oz…so getting to try 15 is a GREAT value! This set contains both cream and polish finish glosses in a wide range of colors.
#2 La Belle Carousel by Too Faced
This set is STUNNING! Thank you to the wonderfully talented YouTuber Melissa Parada I am in love with this set! It contains little mini palettes that you can seperate and give as gifts or keep all for yourself ; ) You get 3 mini palettes with 4 eye shadows, 2 mini palettes with a blush and bronzer, and a deluxe sample of the Better Than Sex mascara. I love that you could pack these easily for travel, and think they would fit easily into makeup storage because of the slim and seperate palettes.
#3 Paint the Town by Formula X
First of all, HOW CUTE IS THIS?!?! If you're a regular reader of my blog, you know that I love nail polish!  I have been wanting to try the Formula X nail polish for long time now and this set would be a fantastic way to try the line.
I still do not own any of the Melted lipsticks even after months and months of hearing about them. I was hoping that Too Faced would have a holiday set featuring them because Too Faced always impresses with adorable packaging and beautifully put together sets. For $25 I think 4 dexlue samples is a great value! And how cute would these be in a stocking?! Or for a girlie gift swap!
#5 Everything Nice Set by Too Faced
Okay, so I know that I have mentioned several things by Too Faced…but like I said above, they are the bomb.com at putting together awesome bang for your buck with the cutest packaging to boot. This set scares me a little, I am after all a neautrals girl when it comes to my eye shadow, but the sparkle in this just SCREAMS holiday makeup!! I do wonder how I could store it, I have seen large palettes stored using desk accessories meant for folders,  but I would love to try this beauty out!! It comes with 20(!) eye shadows, 2 blushes, 2 bronzers, a mini mascarra, and 3 makeup brushes. I don't tend to like the makeup brushes that come in these types of sets, but I do have to say that they look adorable and the bag that this palette comes in is sooo glittery and girly…tons of fun sparkle with this set!
Thank you as always for reading! I apprecaite each and every one of you!! I hope that you have a fabulous weekend and can't wait to hear what makeup sets you are most excited about for holiday 2014!!!