Hi there! Happy Monday!
Last week was our first of several trips this summer where we are taking our 18 month old and three year old on long car rides…yikes! This trip was just over 200 miles, which isn't bad, but 200 miles with diaper changes, feeding, a new-ish potty trained kid, naps, entertainment, fits….ohhh, it can be bad without being prepared!! The other trips we have coming up are even longer, so this was a great trial run for us. Today I wanted to share some links to products that helped us on our trip and products that I will absolutely be taking with us next time! I hope that this is helpful and please feel free to comment with your own suggestions as well : )
Travel Potty Seat:
We have this Primo Folding Potty With Handles. This is so much more sanitary for little ones to hold onto and also a lot less scary! Also, they won't fall in ; )
iPad (or other device to play movies):
We FINALLY caved and bought this iPad Car Headrest Mount Holder for our oldest for long trips.
Snacks:
The best thing I did for the trip was to seperate out snacks ahead of time so we could just grab a bag when we needed one. I really like these Munchkin Snack Catchers.
Insulated Bottle and Snack Carriers:
We use these for bottles, food that needs to be kept cold, and sippy cups. I like this one by Dwell Studio, this one by Skip-Hop works for everything, and a bottle bag like this is a must-have for us!
Dish Soap for Bottles and Sippy Cups:
I figured out pretty quickly after not packing this essential the first few overnights post-kids that this is a MUST HAVE! Just a little travel size bottle of dish soap like this or pouring some soap into a travel container for the hotel room to rinse out sippy cups and bottles easily! Also a dish towel or two is nice to have on hand.
Small Toys and Loveys:
I like to bring a few small toys that easily fit into my purse or diaper bag just incase the kids need some quick entertainment! I also always bring their loveys/any comfort item they may want. And while on the subject of the lovey, buy a backup! I am ashamed to admit how much we paid on eBay to buy a backup of our daughters "Baby" (of course she picked a limited edition 2011 small Christmas bear! hehe) but we have had so many times when we have been thisclose to loosing it….that money was well spent for our sanity!
Toddler Travel Bed:
Our youngest is still in a pack-n-play like this one and it works great for us. Sometimes hotels will provide you witha pack-n-play, but use your own judgement on if they'll have up-to-date and safe ones. I also always take our own pack-n-play sheets. Our oldest now uses this amazing self-inflating travel toddler bed. It is AWESOME!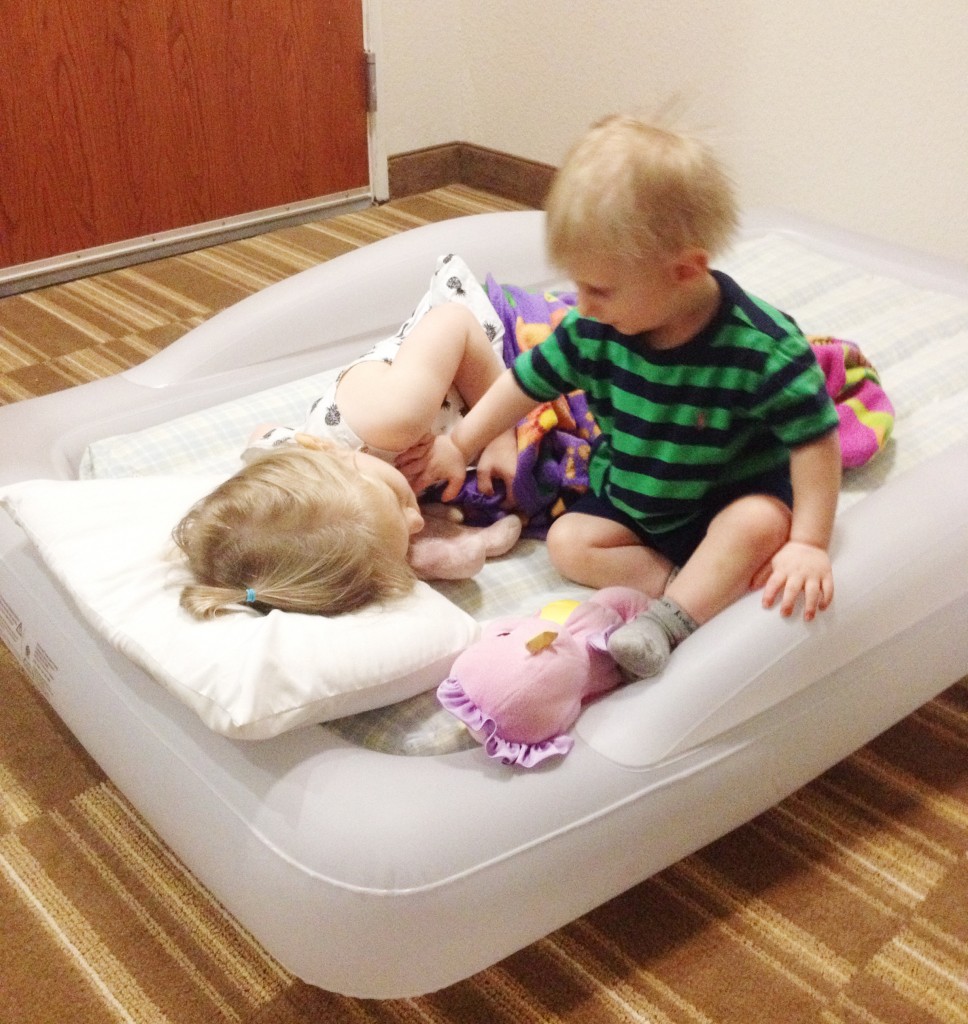 I hope that this post was helpful to anyone out there who is planning a trip with their little ones soon! I think the biggest thing that works for us is trying to keep the routine as normal as possible (especially naps and nighttime!)…and lots of snacks! Don't forget to let me know what you're favorite tips and tricks are for traveling with little ones by commenting!! Have a wonderful day!