Hi There! Happy Monday!!
I hope you're having a wonderful start to your week! If you want to make my day, be sure to follow me on social media! The pink button links are at the top of this page! It's LeahTackles everywhere!
Today I am very excited to be reviewing the April 2014 PopSugar Must Have Box! I have been receiving this subscription service since December 2012 and it is like Christmas every month! I personally love being surprised by what's in the box, so I steer clear of spoilers! If your April box hasn't come yet and you want spoilers, keep reading! Here is a little bit about Pop Sugar: The box contains full size items in all different categories…food, beauty, fashion, home, and usually an extra goodie of some kind, too.  The PopSugar box usually arrives between the 10th-15th of every month for me…it ships via FedEx Smart Post, which means it goes out FedEx but arrives to my P.O Box. Today I will quickly go over the March items so you know what I loved and what was maybe so-so for me.  When I go over the May box in a post next month I will do a mini review of the items from this month and talk about what I used, didn't use, liked, or maybe didn't like as much.
Product titles are also links for more information or to buy online.
Okay, here we go…
MARCH 2014 POPSUGAR MUST HAVE BOX OVERVIEW:
Must Have Food:
Snapea Crisps from Harvest Snaps
$3 Value
Verdict:
I ate these up quickly and really liked them! I was happy to find them shortly after receiving them in my box at my local grocery store. The listed value is $3, but I found them for less than $2, so keep your eyes peeled!
Must Have Beauty:
Herbal Recovery Advanced Serum from Jurlique
$30
Verdict:
I really like this serum! It is a very thin consistency, but I find that only 1-2 pumps is enough to cover my face, neck and décolleté. I have only been using it every few days at night, but I think I am going to be brave and test it during the day on my combination/oily skin to see how it goes! The serum seems to absorb into the skin quickly, so maybe it would work on me for daytime as well.
Must Have Fashion:
Lucky Horseshoe Necklace from Dogeared (*Similar)
$28
Verdict:
I love it! Very cute! I need to remember to wear it more often.
Must Have Fashion:
$72
Verdict:
This is such a fabulous scarf! I have been reaching for it a lot lately, and it's a great transition piece for spring!
Must Have Fitness:
Mini Stability Exercise Ball from Fusion Pilates (*Similar)
$9.95
Verdict:
I used this only once, right before writing this post so that I could tell you all at least a little something about it. The workouts for this Mini Stability Ball were fairly basic, but as most workouts not quite as easy as they looked! Now that I know how to use it, I need to grab this and give it a try with my exercise routine! I tend to get in exercise slumps where I do the same type of work out over and over! Time to change it up!
Must Have Home:
Elephant Ring Tree Holder from Bauble Bar
$12
Verdict:
I love this still! It looks so cute sitting on top of my jewelry box, and I have two little rings sitting on it looking pretty.
Special Extra:
Whole Wheat Fig Bar from Nature's Bakery
$1
Verdict:
This was yummy and came in handy when I needed a snack on the go! Would I run out and hunt down this exact bar? No, but it was tasty and I would consider grabbing again if I saw it at the store.
Okay, now onto the good stuff!! This months box!!
APRIL 2014 POPSUGAR MUST HAVE BOX: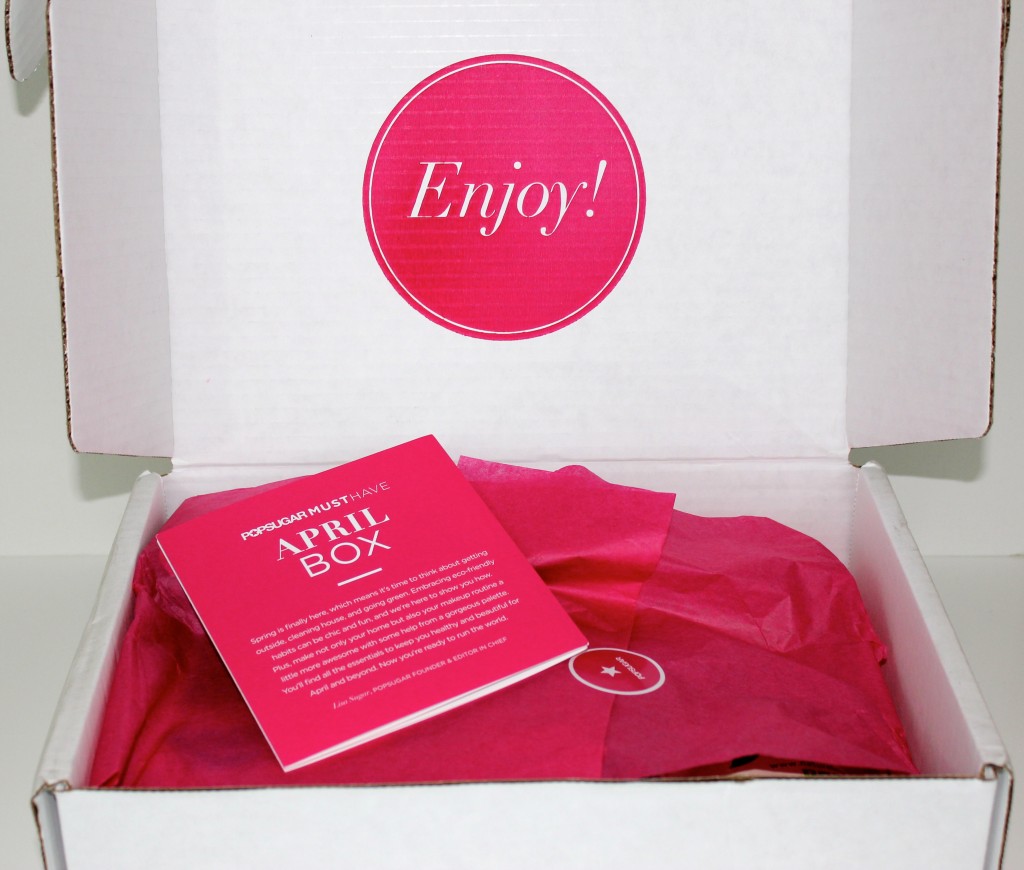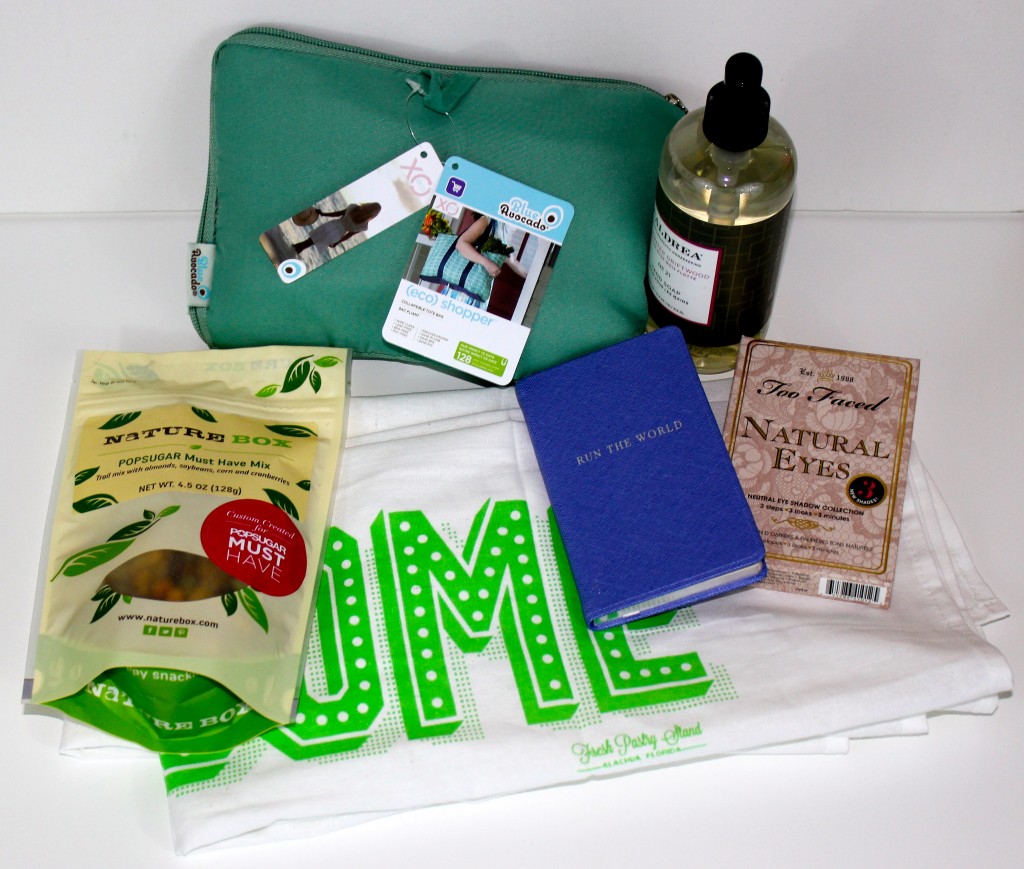 Must Have Food:
Pop Sugar Must Have Mix from Nature Box
$5 Value
I have been curious about Nature Box for quite awhile now and was really excited to see something in this PopSugar Must Have Box to try from them. The mix is dried cranberries, corn, soybeans and almonds in it, and it wasn't something I would have reached for myself, but I really liked it! I almost always have a snack while watching our favorite TV shows with my husband after our kids go to bed, and having healthy snacks like this around keep me from wanting chocolate or other not-so-healthy treats! The fat content is pretty high, it is a trail mix/energy snack after all, but otherwise it's definitely a healthy option. They also included a coupon for a $9.95  trail month of 5 items, and I am definitely tempted! If you subscribe to Nature Box, do you like it? I would love to hear your thoughts! Let me know by commenting (click the link on the title of this post! Super easy!) or find me on Facebook, Twitter, or Instagram!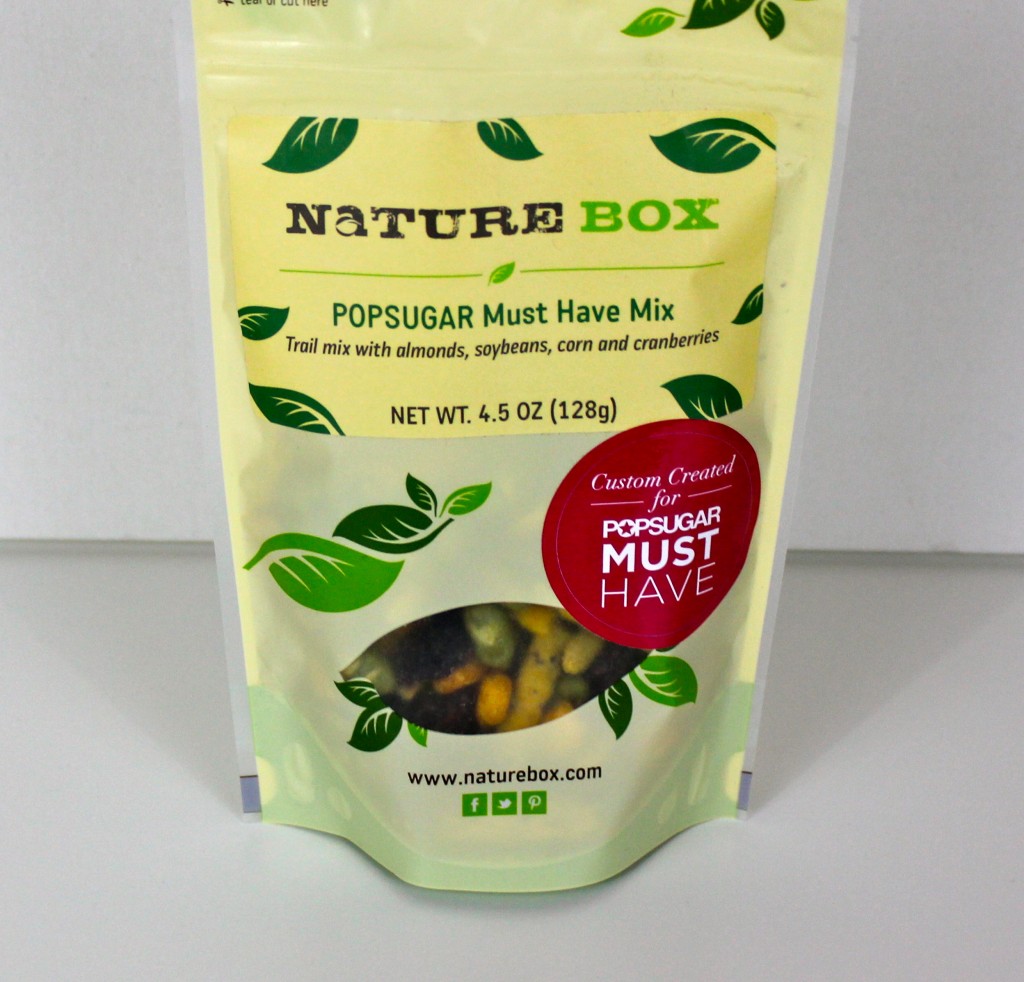 Must Have Home:
Caldrea Rosewater Driftwood Liquid Hand Soap
$10.50 value
I love seeing things like this in the box! I would feel guilty spending too much on hand soap, it's a spot where I can cut corners or at least get the deals at Bath and Body Works, but I LOVE the little luxury of using them! It is a very nice rose smell, not too overpowering and not at all a fake floral smell that some soaps have.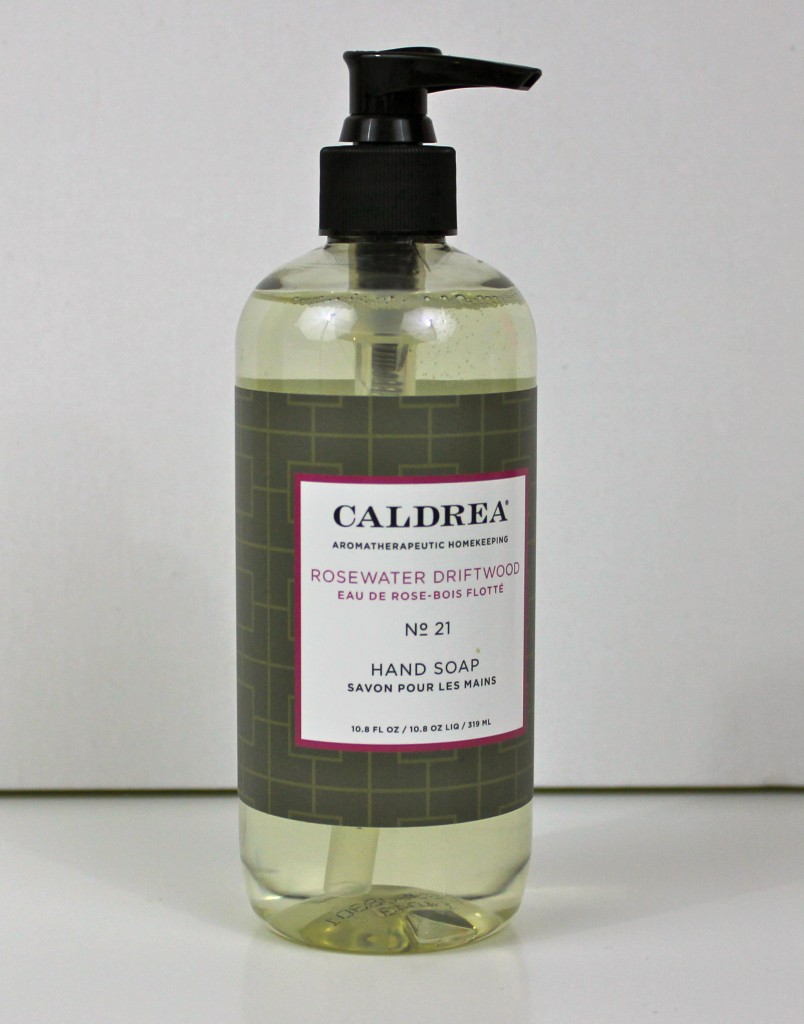 Must Have Beauty:
Too Faced Natural Eyes Palette
$36 Value
I was SO excited when I saw this in the box!! I love Too Faced bronzers, lip products, and mascara but I have never tried the eye shadows! Speaking of their eye shadows, I am currently lusting over the Chocolate Bar Palette and know that eventually that must be added to my collection! Has anyone tried either of these palettes? Let me know by leaving a comment (click the link by the title of this post) or find me on Facebook, Twitter, or Instagram ! Anyways, I love neutral eye shadows and was super excited until I noticed powder covering the box while I was opening it : ( One of the eye shadows broke! I know I could try to repair it, but I also sent PopSugar an email to see about sending it back and getting a replacement. It wasn't wrapped at all sadly, which I was surprised about because I haven't had that issue in the past. I have only had one other issue in the 17 different boxes I have had since December 2012, so as long as it's replaced I am not concerned about it, and PopSugar has always had great customer service.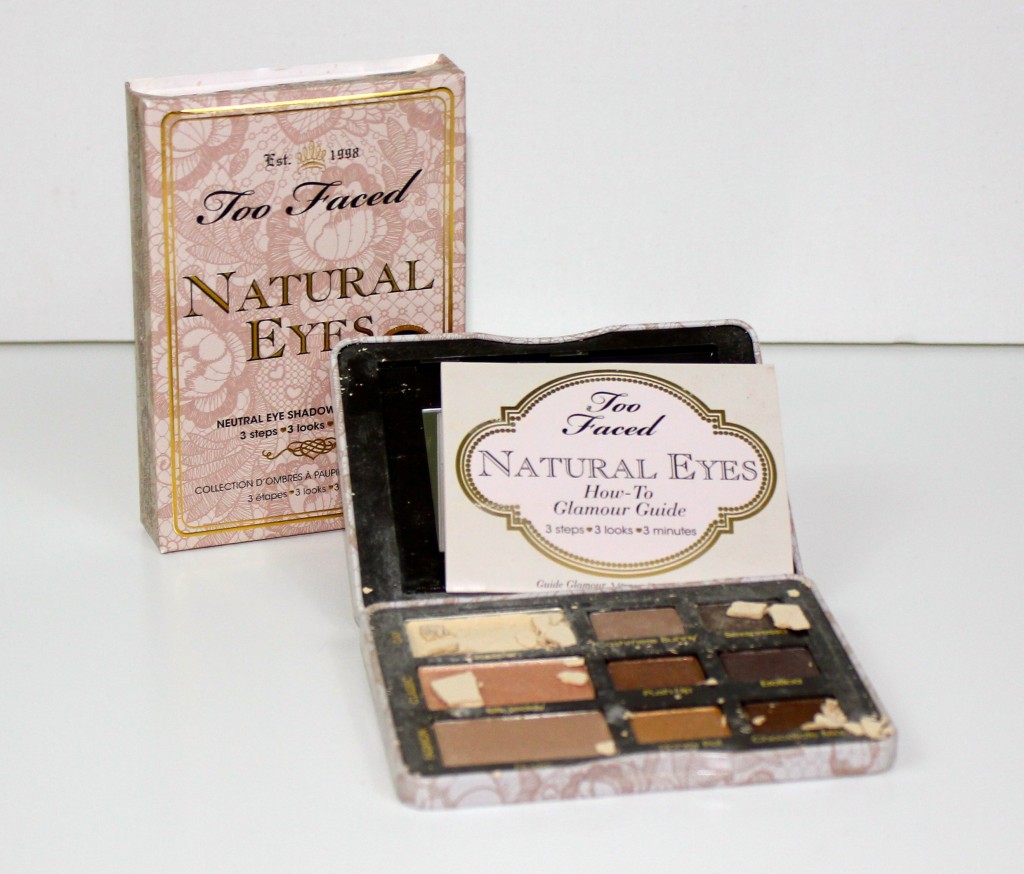 Must Have Fashion:
(XO) Eco Shopper Collapsible Tote Bag from Lauren Conrad for Blue Avocado 
I wasn't thrilled initially with this bag because I figured it would just be another bag that wasn't any different than others that I have. However, upon further inspection it's simple to use and an adorable print! This bag makes me so excited for warmer weather and hopefully heading to some farmer's markets with my family! So many bags advertise that they fold up "easily", but this one really does fold up without a struggle.  I think it will be functional for so many things, for day trips or barbeques I always have extra stuff I want to bring along and this is a great way to look stylish while doing it. The company Blue Avocado works with other companies and they upcycle by using plastic bottles to make the Blue Avocado products. The Lauren Conrad line from Blue Avocado also has lots of beauty and travel items that are just adorable! She can seriously do no wrong!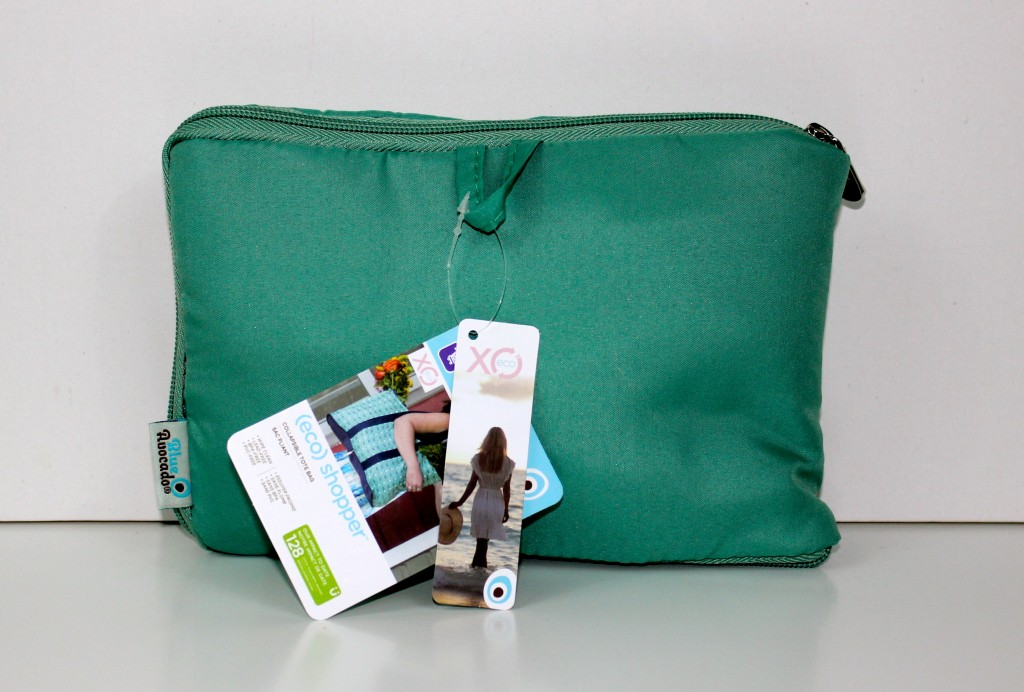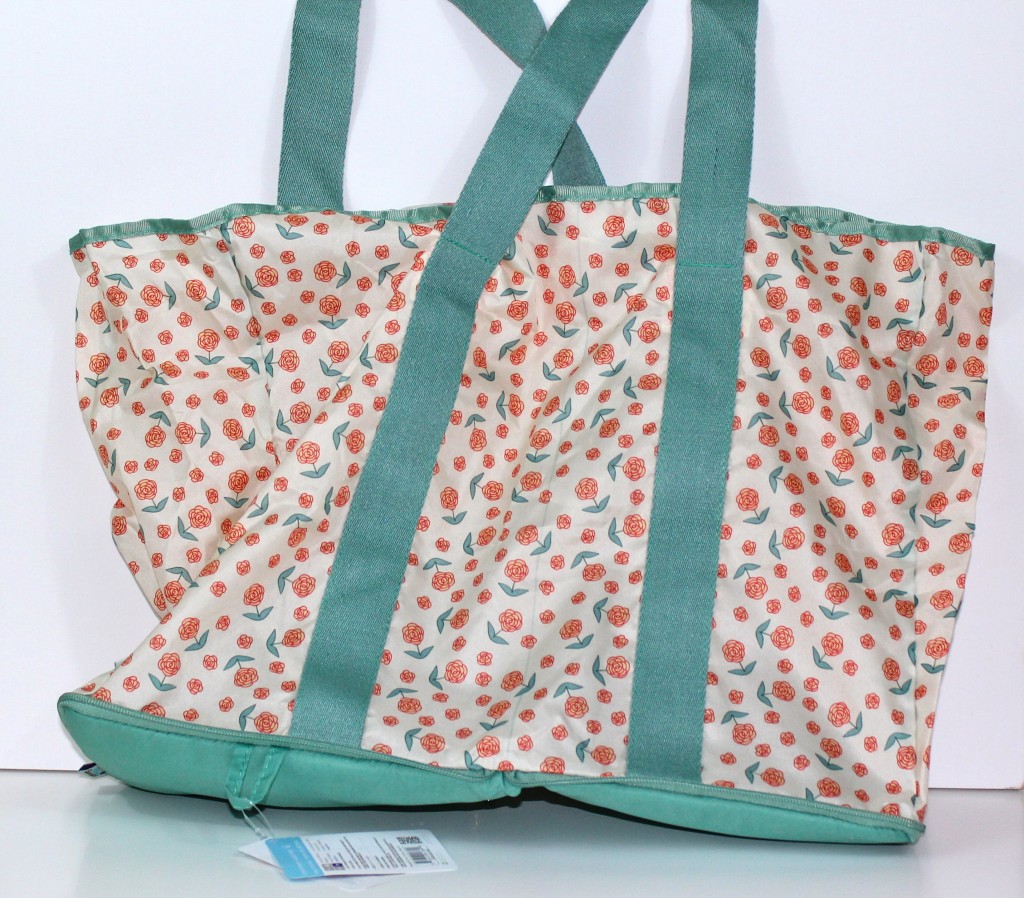 Must Have Home:
Pocket Notes from Graphic Image (*Similar)
$20 Value
I LOVE this so much! It says "Run The World" (how CUTE!) on a small periwinkle leather notebook with silver glit edged pages and a little ribbon bookmark. I am already using this, and it's a perfect addition to toss into my bag or have displayed on my desk.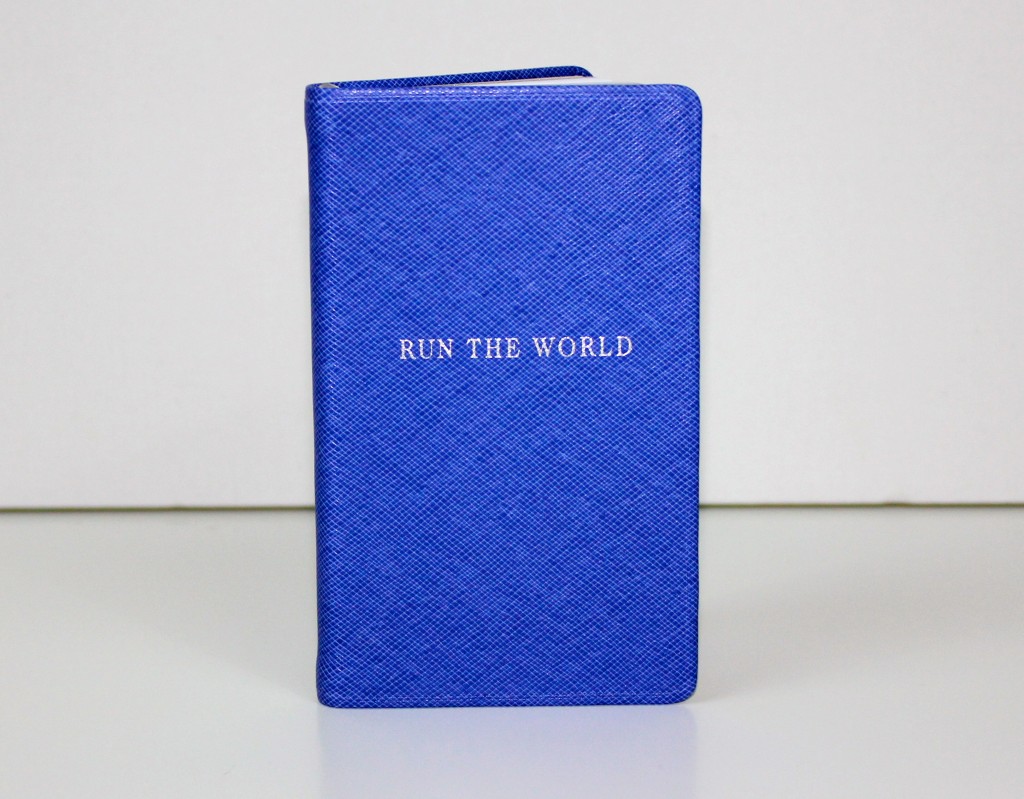 Must Have Home:
TOTALLY AWESOME: 80's Sayings Tea Towel Set by Fresh Pastry Stand (an Etsy.com site)

$18 Value
These are cute, and I will definitely use them a lot this summer in the kitchen. They are big enough unfolded that they can be very multi-functional, which I love! I think they're a fun way to liven up and lighten up the kitchen for spring.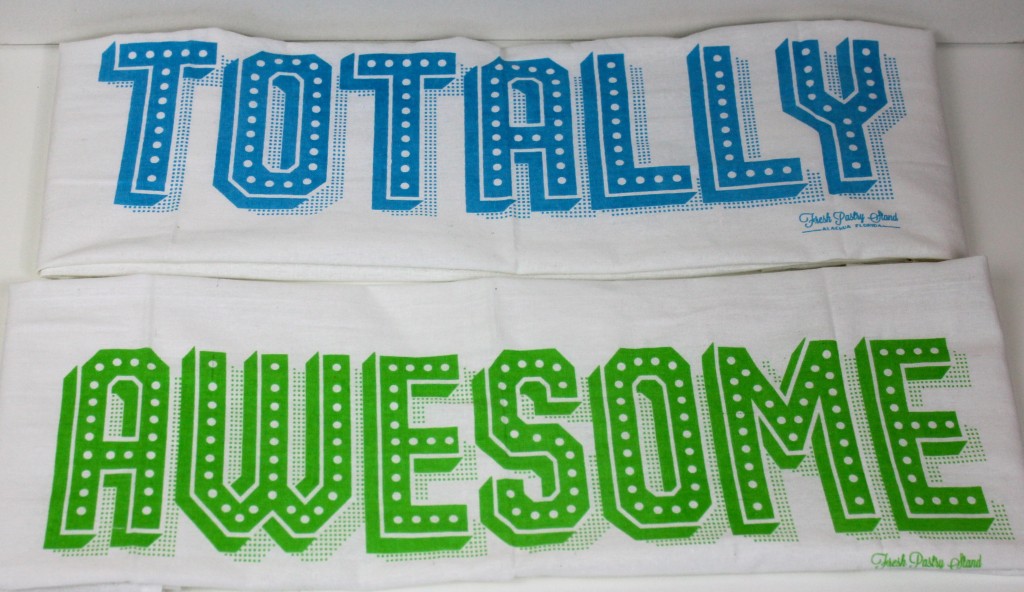 All in all it is another great box from PopSugar! The total value was about $115 (each month $100 value or more is promised!) and for $39 it is well worth it since I will use the products.  I am not as excited as I was about last months box (I LOVED last months box, so pretty stiff competition), but I still think I will enjoy and use all of the products in the box! I will keep you posted and put a note at the bottom of this post when I hear from PopSugar about my broken Too Faced palette. If you liked what you saw here, you can subscribe to PopSugar Must Have Box and join in the fun too! It's the only subscription box I have tried so far, but I am *SOCLOSE* to trying more! Everybody loves fun mail, right?! If you subscribe to any subscription boxes that you love, tell me about it commenting (click the link next to the title of this post), or find me on Facebook, Twitter, or Instagram! As always, thank you so much for reading this and please subscribe! It's easy, just enter you email and receive emails only when I upload a new post, and it'll make my day!
***UPDATE*** PopSugar has emailed me back and are replacing my Too Faced palette! I am SO happy with the customer service and once I have my palette in my hands I think this will bump up to being one of my top boxes so far!! Makeup? Eeek! Too Faced makeup? EEEEEEK!
***ANOTHER UPDATE*** PopSugar sent my replacement and it arrived carefully packaged this time! So excited : )