Hi there! Happy Wednesday!
I hope that you are ready to spend tomorrow with your loved ones this weekend! After Thursday, we will all be in full-on shopping mode before the holidays, and so today I wanted to share affordable stocking stuffer ideas for yourself or any lady on your list. I, of course, picked beauty items but also included some other things that I think will be fantastic in a stocking. I think stockings are such a fun thing to shop for, because who doesn't love opening up little goodies hand selected just for you? I think everyone should get a stocking, or two, each year! I also love these ideas because you can purchase them all in your pajamas from your laptop.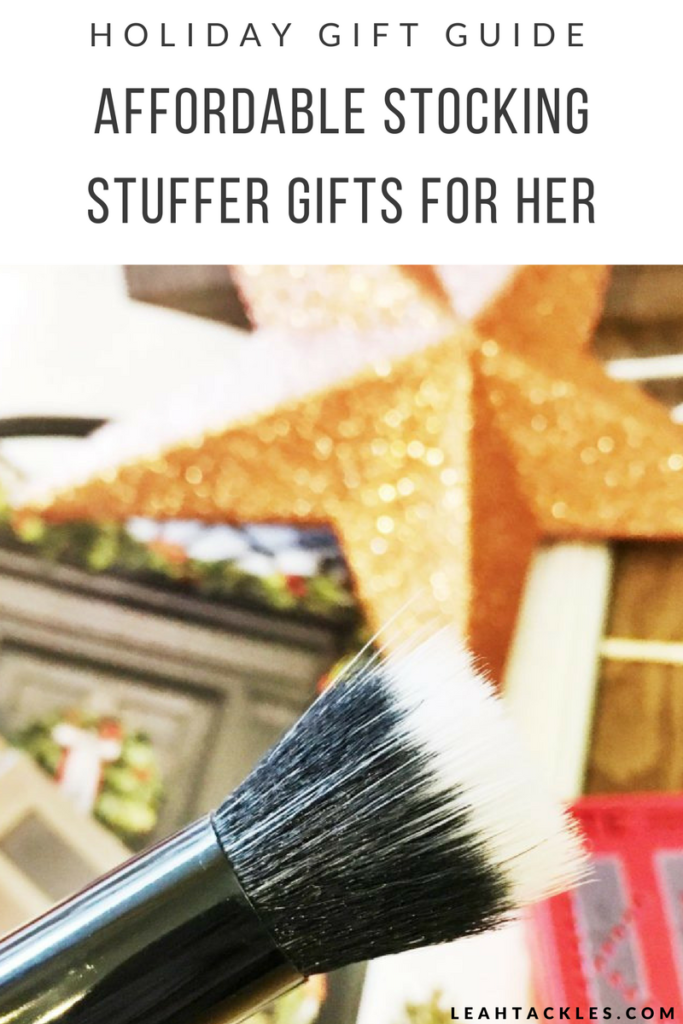 Bite Beauty Amuse Bouche Liquified Lip Set
I love Bit Beauty lipsticks, and this set of four of their liquid lipsticks is so tiny it can rest in the palm of your hand, and is oh-so adorable! These liquid lipsticks are a satin finish that gives the lips a pretty fullness. These do not dry down completely. This is a fantastic way to try out the formula and several shades.
Naked Basics Palette
The Naked Basics and Naked Basics 2 are both palettes that I reach for a lot and think are perfect are a very giftable makeup item because these neutral matte shades flatter any age and most skin tones.
e.l.f. Small Stipple Brush
This brush is a MUST-HAVE for me! This is perfect for liquid or cream bronzer, highlighters, or blushes. I like this inexpensive brush more than higher end stipple brushes for cream face products because it is the perfect size and doesn't shed.
Roller Ball Fragrance
I love having roller ball perfumes for tossing into my handbag and for traveling.
Hask Monoi Oil Nourishing Deep Conditioner Packs
Haircare is so important but splurging on deep conditioners is something that people skip because it isn't a "need", so getting a high-quality deep conditioner is a great idea for a stocking stuffer that any woman would love.
Glass Nail File
After using a glass nail file I will NEVER go back to a regular nail file! Glass nail files are wonderful because the grit is perfect for getting super smooth nails, and you can use them in a back and forth motion for faster nail care. I also love that these are sanitary, easy to clean, and I have used the same one for years without needing to replace it.
Pop Socket
This is such a handy thing to have, and it makes it so much easier to film with your phone, take selfies, and watch videos without having to awkwardly prop up your phone.
Tempered Glass Screen Protector
I swear by these! I have cracked these because of dropping my phone (don't tell my husband, but I drop my phone a lot…) but have  avoided cracking the phone glass because I use these.
Tech Gloves
Have you ever been standing outside and wanted to check your email or wanted to snap a picture but had to pull off your glove? Me too, and these gloves make it so much easier because you can keep you glove on. No gloves will be as easy as using your phone or device without gloves, but these make it possible to do a few things on your touch-screen without having your hand bare in the elements.
Viva Sol Mini Bean Bag Game
I can't resist a great novelty item at Christmas time, and I just picture this being great for laughs with family and friends at Christmastime.
Christmas Novelty Socks
I think Christmas socks are a fun thing to tuck inside stockings, and something that even the most straight-laced gal can enjoy at least at home on Christmas morning. I LOVE fun socks!
Fine Chocolates
I love good chocolate, and a stocking isn't complete without a treat! I don't think I would share these chocolate covered oreos 😉
Gourmet Gummies
I got the idea to include gourmet or "adult gummies" if you will from the YouTube channel Pretty Neat Living and I think it is genius! Champagne flavored candy? Sign me up!
Do you get a stocking every year? Have you put together stockings for your loved ones? Stockings shouldn't be just for little ones, I think everyone deserves a little Christmas wonder!
Thank you, as always, for reading! Have a wonderful Thanksgiving and a successful start to your holiday shopping! xx
Watch My Latest YouTube Video