Hi there! Happy Monday!
I hope that you had a wonderful weekend! Today I wanted to share my thoughts on the Stretch Mark Reducing Cream from Navan Skincare. If you follow me on Snapchat (@LeahTackles) you may have seen me speak about this when I was gifted it from Navan Skincare for my consideration for review.
Stretch Mark Reducing Cream from Navan Skincare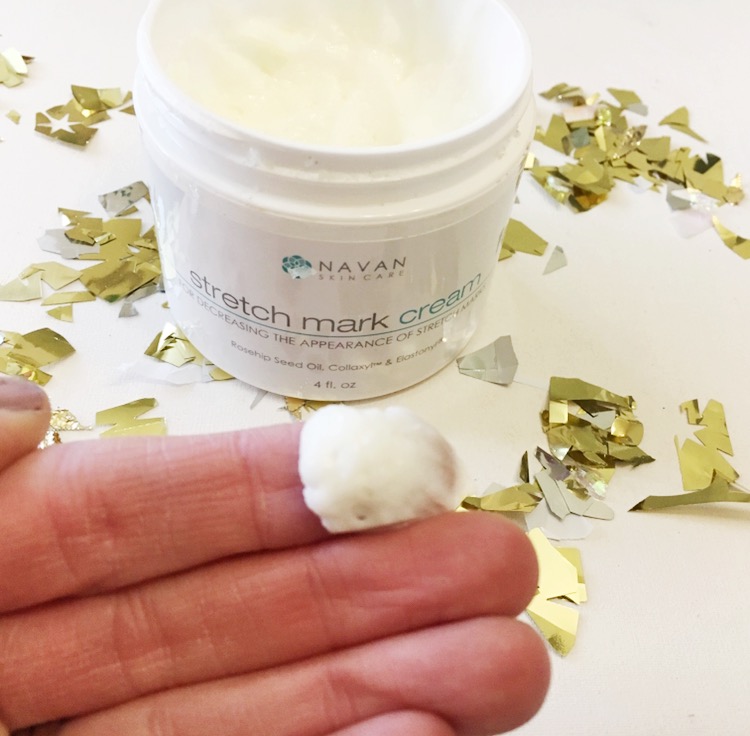 This cream claims to work to reduce the appearance of stretch marks by combining three scientifically back ingredients (Collaxyl™, Elastonyl®, Retinyl) and six natural oils (Jojoba Oil, Rosehip Seed Oil, Rosemary leaf oil, Sweet Almond Oil, Peppermint Oil, Lavender Oil), that work to diminish the appearance of stretch marks caused by pregnancy or extreme weight gain or loss on the belly, hips, bum, thighs, breasts and arms.
My Initial Thoughts
I was a little unsure of this product because stretch marks aren't a huge problem area for me and I have tried other creams in the past. I do have three children, so I had one stretch mark on my stomach that I really wanted to fade, as well as on my inner thigh. During all of my pregnancies and in the first few postpartum months I drank a ton of water, and also slathered myself in body oils and lotions to hopefully reduce my chances for stretch marks. I decided to try using the Navan Stretch Mark Reducing Cream twice daily and see if I noticed a difference.
Why I Love It
I really like that this cream has a refreshing and not overpowering smell, sinks into the skin quickly which is important because you are not supposed to get dressed until it has absorbed into the skin, and also comes in a container where I can (and did!) scrape out every last bit. It is a thick, creamy consistency so that it feel substantial not watery or oily, which I enjoy. I definitely noticed a significant difference in the appearance of my stretch marks. I like this because it wasn't oily, sticky, or a pain to use.
Would I Purchase This Product and Will I Continue Using It?
I really loved this product, and it has peaked my interest in the rest of the Navan Skincare line because I found this to work better than other brands products with similar claims and price points. I do think that this product helps to reduce the appearance of stretch marks, and is worth a try.
Discount Code
Navan Skincare has kindly given me a discount code to share with you. Use the code Leah15 to save 15% off of your order. *Note: I am not paid if you purchase using this code, it is just a discount for you to try the product if you'd like.
Shop
Thank you, as always, for reading! Have a beautiful week! xx