Hi there! Happy Monday!
I have a lot of hair and I tend to get a lot of questions (on my YouTube channel especially) about how I style my hair. I have long, color treated, hair. I have a lot of hair, but my hair is very fine and naturally straight. A lot of days I will curl my hair with either a 1 1/2 inch Hot Tools Curling Iron or a Nume Wand which adds a lot of volume. I also do the regular tricks like blow drying my hair upside down or spraying my hair with a hairspray like L'Oreal Elnett which I've blogged about before here. However, I have a confession, I *hate* teasing my hair! I am really bad at backcombing, and almost never do it. I remember my sorority sister teasing my hair before going out to a party when "the bump" was in (circa 2007) because I couldn't do it myself. Today I want to share two of my favorite products that I use to add lift and volume to my fine hair and help me avoid backcombing.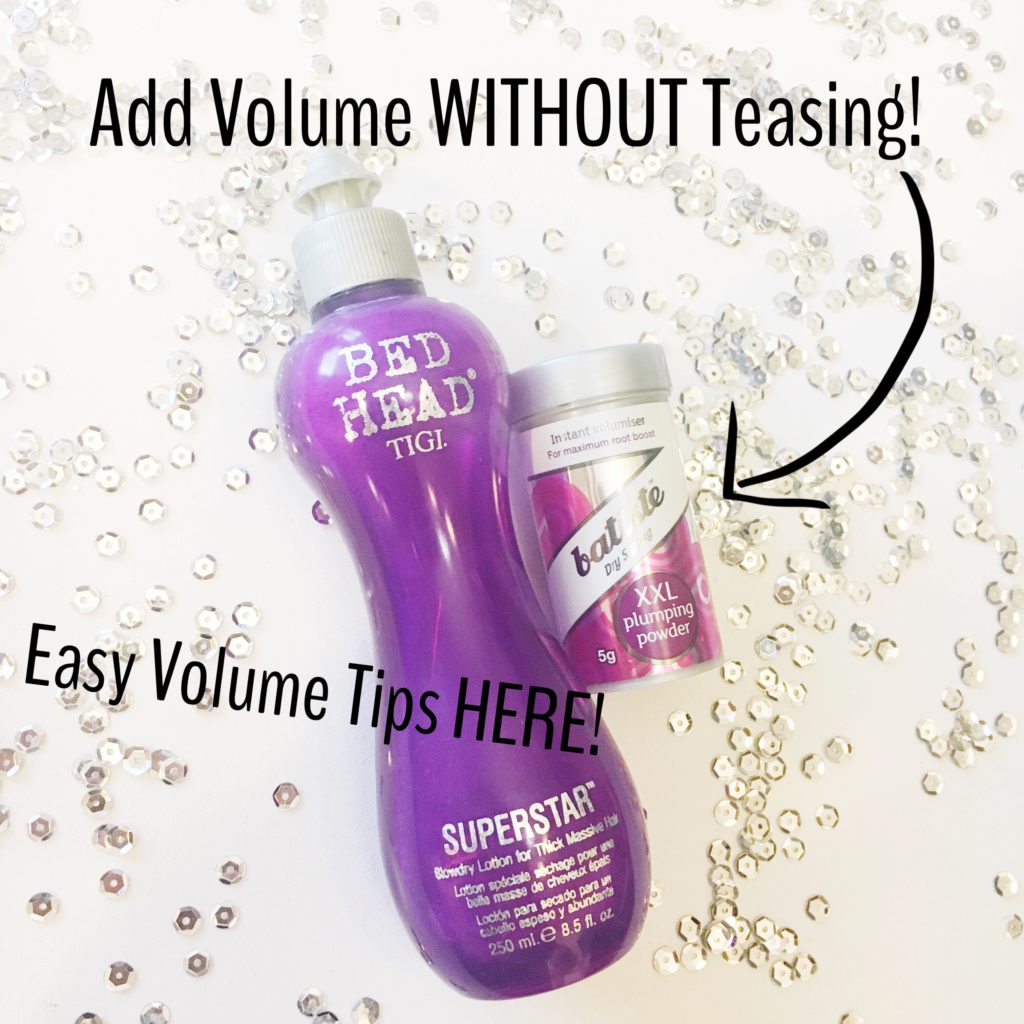 Bed Head SuperStar Blowdry Lotion for Thick Massive Hair:
I let my hair air dry as long as possible and then put a nickel to quarter sized amount of this thin watery liquid into into my palms and with my head upside down and then blow dry my hair as I normally would. I love the way this smells, and definitely notice a dramatic difference! I love that my hair looks very voluminous and full.
Batiste Dry Styling XXL Plumping Powder:
This product isn't something that I use daily, but when I really want to add lift to my roots without teasing I reach for this. This is a white powder that feels like corn starch and you can feel it grip to your hair.  It is a product that you have to be very careful with and add a little bit at a time. I part my hair and add a bit to the roots in several sections around my crown to increase the volume of my hair. It works REALLY well and once I get the volume I gentle brush it out or use my fingers to get it how I want it before *lightly* setting it with a hair spray.
Thank you for reading! I hope that you're having a wonderful start to your week! If you haven't yet, please don't forget to subscribe! xx