Hi there! Happy Wednesday!
We have been talking a lot about lipsticks and lip products lately, but that is because to me the cooler months and lipsticks go hand-in-hand! Does anyone else feel that way? But one thing I have been using lately is the Too Faced Lip Insurance Glossy, so today I wanted to share it with you!
TOO FACED LIP INSURANCE GLOSSY: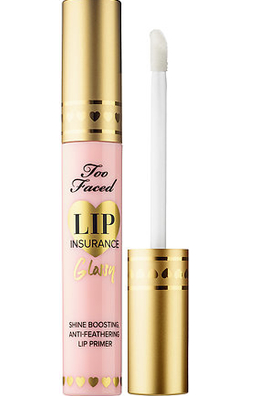 I love this because it makes my lipstick last noticeably longer without making my lips feel crazy dry like other lip primers I have tried. At first when I tried this I had to get used to the way it changed the feeling of some of the lipsticks on my lips, but the lipstick looking better and lasting longer makes it worth it. The feeling on the lips isn't bad, it's so thin that you almost feel like you haven't done anything, but it really works. I like that this also helps so that my lip color doesn't feather out. If you lips are super chapped or flaked it won't make your lipstick appear completely smooth on the lips, but it does help to make the lipstick appear smoother. This will not change your lipsticks glossy, but it will have a sheen so keep that in mind if you're applying a matte color over this primer. I love using this especially with nude lipsticks that can really look bad if they feather out. Overall? I love it!
What do you think? A lot of days I stick to my favorite Bonnie Bell Lip Smacker Tsum Tsum Balms, but this is becoming a g0-to for lipsticks. Have a wonderful weekend and please share to make my whole day : )