Hi there! Happy Monday!
I hope that all of you had a wonderful weekend! We had a ton of fun at the pumpkin patch this weekend which you can see in our Daily Vlog. I have been having fun with darker eye looks now that the weather is changing, and I thought that since a lot of you probably are as well, it would be the perfect time to share one of my favorite ways to remove my makeup.
GARNIER SKINACTIVE MICELLAR CLEANSING WATER: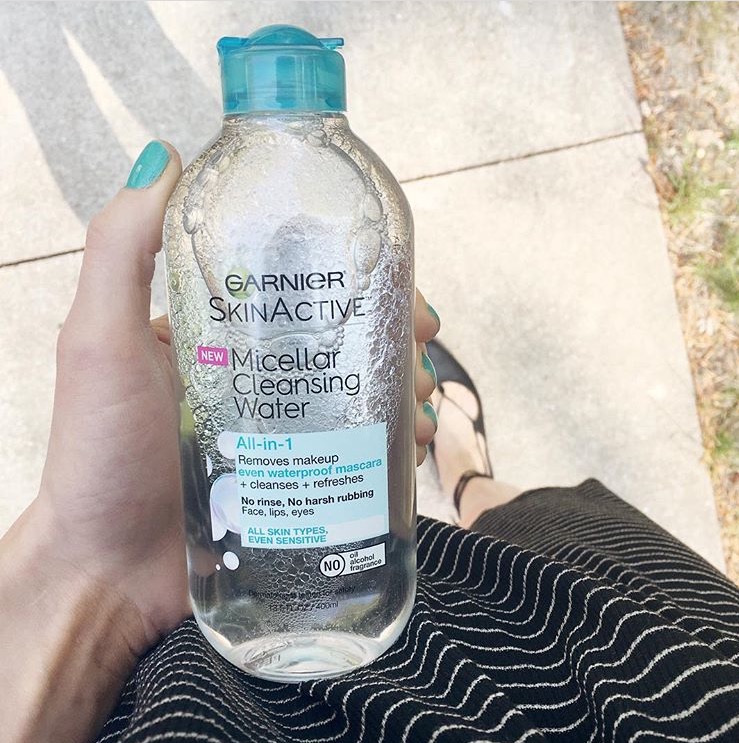 *Note: I have been using the one with the blue lid, which is meant for even waterproof eye makeup, but have heard rave reviews about the pink lid as well. If you would like me to compare the two, let me know in the comments and I would be happy to do so!
WHY I LOVE IT:
You can use this to remove face, lip, and eye makeup. It removes makeup without harsh rubbing. You do not have to rinse your face after using this, but I choose to remove my makeup and then continue with the rest of my nighttime skincare routine which includes cleansing.
HOW I USE IT:
I try to be sure to shake well before use. I saturate a cotton ball and then gently wipe off my face makeup. I put a small amount on a cotton ball if I need to remove lipstick. I saturate a cotton round and then hold it on my eye for a couple of seconds and *lightly* wipe without rubbing or tugging the delicate eye area.
COST:
This Garnier Micellar Cleansing Water is such an affordable product at about $7.00, and it is a dupe for the more expensive Bioderma, which retails for about $17.00.
I hope you enjoyed this post and found it helpful! If you'd like to know the other products I use to remove my makeup, be sure to let me know! Please don't forget to subscribe if you haven't already and have a wonderful day! xx