Hi there! Happy Monday!
I hope that all of you had a wonderful weekend! My husband, Stephan, and I took our kids to Mackinac Island and had beautiful weather for it. If you'd like to see our trip, you can watch our KwapisFamilyTackles Daily Vlog. Now that September is almost over I have switched my wardrobe and makeup to fall mode, and that includes my lipstick! I have started wearing deeper colors and someone commented to me that they "couldn't" pull off red lips, so I wanted to do a little post on how you can rock red lips and why I think you should try it!
WHAT RED LIPSTICK IS RIGHT FOR ME?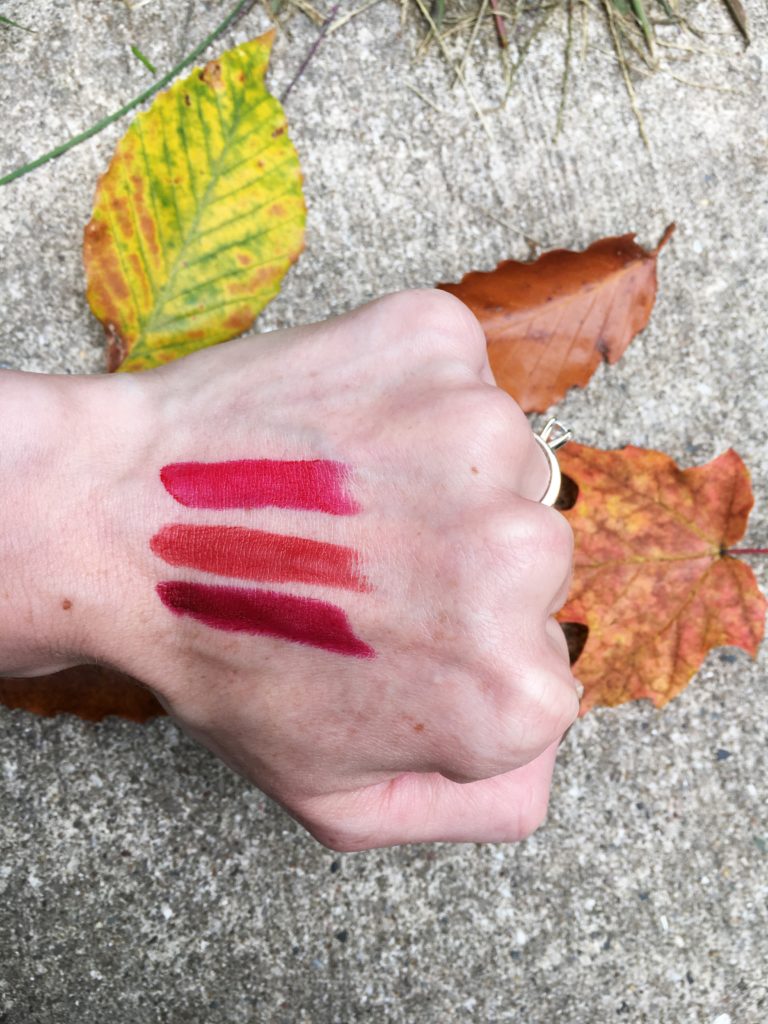 If you have fair skin and/or skin with pink undertones blue toned lipsticks tend to look the best on you, so look for red lipsticks that lean more pink than orange.
If you have medium or olive toned skin then looking for red lipsticks that are a bit more on the orange side look the best on you.
If you have a deeper skin tone red lipsticks that are more purple or wine colored will look amazing on you.
WHAT RED LIPSTICK "RULES" SHOULD I BE AWARE OF?
I think the biggest thing is toss any rule you hear out the window if it isn't what makes you feel fantastic! I usually stick to blue toned red lipsticks, but I have my fair share of vampy wine colored shades and orangey reds and even if they aren't my "perfect" color I rock them ; )
I think one rule that is very important is be very careful if you wear pink or coral with a red lip because it can often clash. Also, be very very careful if you're wearing leopard or other animal print clothing and a red lip.
As a general rule, stick with neutral makeup looks and keep your red lips the focus of your makeup.
Avoid very pink or dark blush or else you might look like a clown, I prefer a slightly more brown shade and applying with a light hand when I wear red lipstick.
WHY SHOULD I WEAR RED LIPSTICK?
Red lipstick is iconic and timeless, and wearing a red lip can make you feel that way too.
Red lipstick makes you look confident, and there is a very good chance you'll start to feel more confident too.
Red lipstick allows you to go very neutral with the rest of your makeup and hair but still look like you spent a lot of time getting ready! I love throwing on a red lip when my hair is in a top knot and the rest of my makeup is very neutral! I also love doing a super simple winged eye liner with a red lip and almost no other makeup.
TIPS FOR APPLYING RED LIPSTICK:
Always wear a lip liner! I like to start by carefully lining my lips with a red lip liner and then lightly filling them in with the same liner. I apply one layer of lipstick and if it is not a liquid lipstick I sometimes lightly blot with a tissue (*Tip:a coffee filter works even better for blotting!). Before I head out the door I make an "O" with my lips and put a clean index finger in my mouth and pull it out so that any extra lipstick comes off on my finger and not my teeth.
SOME FAVORITE RED LIP GOODIES: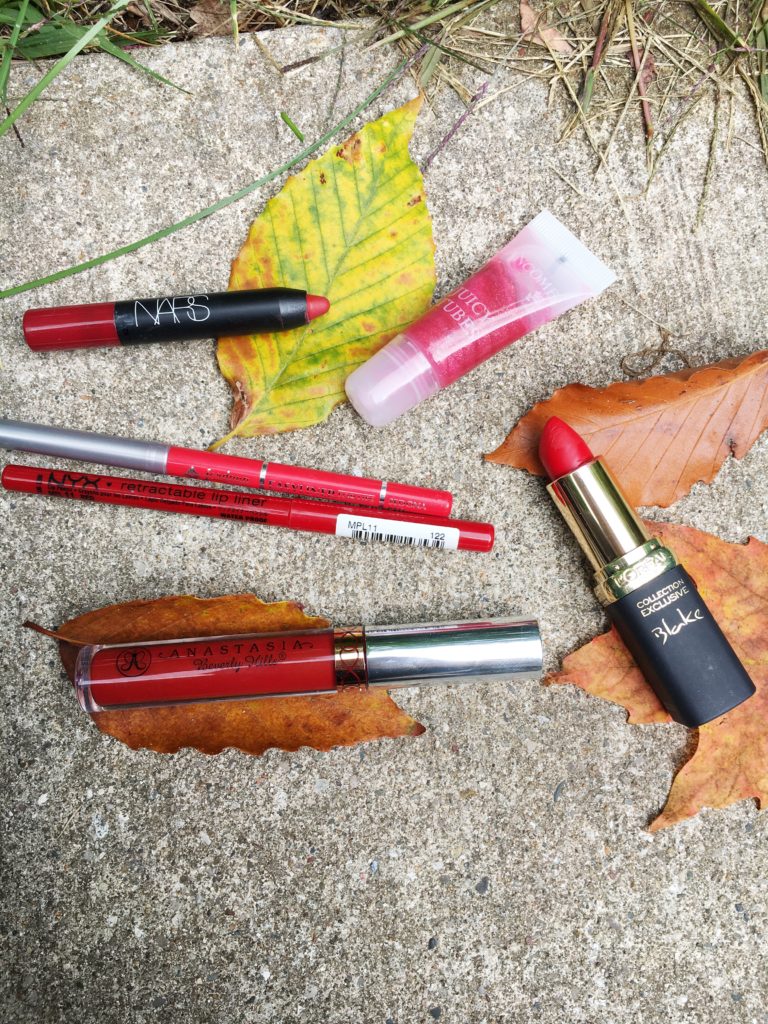 Jordana Easy Liner in Sedona Red
This is so inexpensive that it is perfect if you're just starting out! It also doesn't need to be sharpened which is a big perk.
NYX Retractable Lip Liner in Red 
I love this liner because it goes well with almost all of my red lipsticks.
L'Oreal Collection Exclusive Colour Riche Reds Collection
These are all fantastic lipsticks! I own five of them and shown in this post (the first picture in the post) are (top to bottom) Blake's (my favorite!), Eva's, and Zoe's.
Nars Velvet Matte Lip Pencil in Cruella
This is easy to apply and the wear is awesome! I think this shade looks great on everybody.
Anastasia Beverly Hills Liquid Lipstick in Sarafine
This leans a bit more orange than I typically go for, but I love this shade! And I love that I can eat and still not have to reapply! Very long wearing and comfortable to wear.
If you're really nervous about a red lip, try a pigmented red gloss first or a tinted lip balm. I also like to add a bit of this gloss to the center of my lips when I want to accentuate my red pout.
If you found this post helpful, please "Pin" it to your Pinterest account using the tabs at the bottom of each post or by hovering over any of the pictures in this post. Have a wonderful day!