Hi there! Happy Wednesday!
I, like most women I know, have A LOT of skincare products both lining my shower and on my counter and while trying the Nivea In-Shower Body Lotion to my shower rotation increased the number lining on shower (much to my sweet hubs delight I'm sure), I thought it would be worth a try to see if it could eliminate one of the bottles in my bathroom cabinet.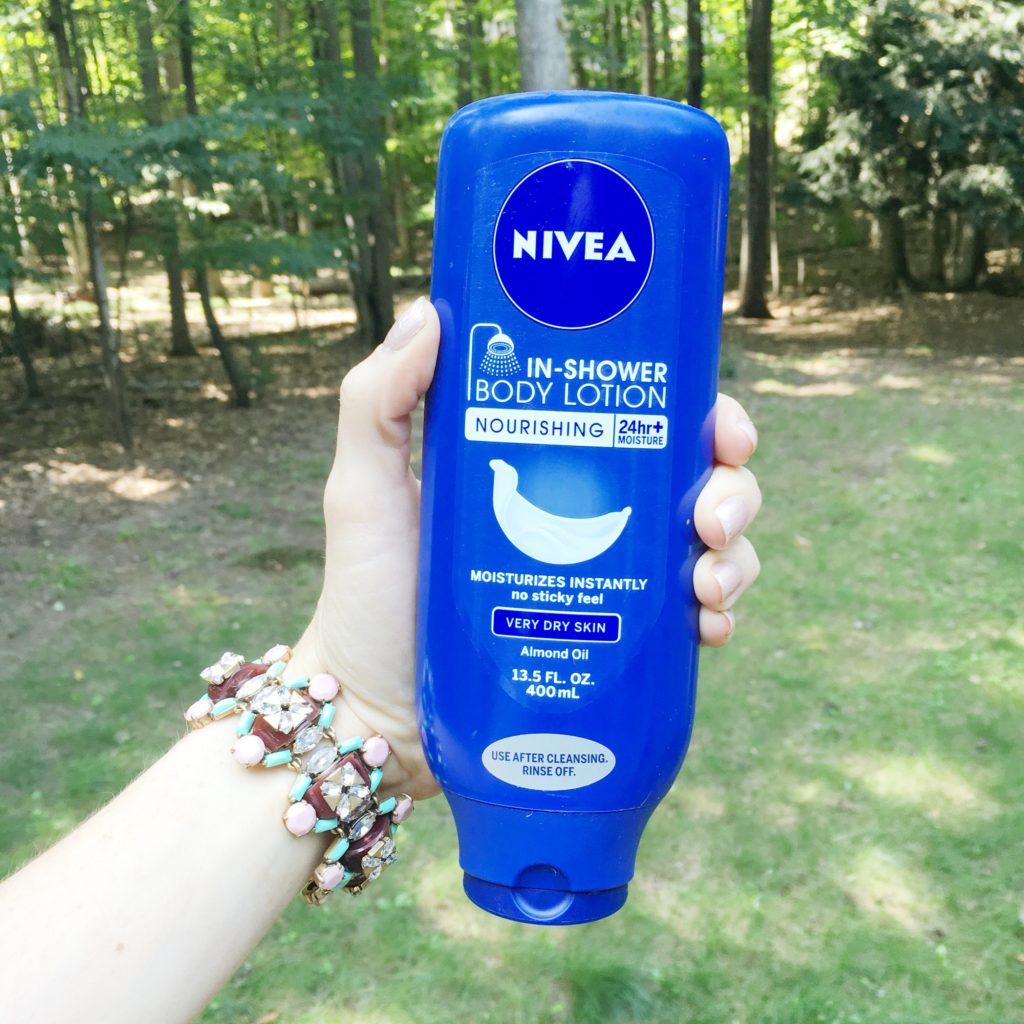 WHAT IT IS:
This is an in shower body lotion that claims to have 24 hour + moisture with no sticky feel. You apply this, like a lotion, to your skin AFTER you have already used soap or a body wash and then rinse it off before getting out of the shower. This is not a body wash, but only a body lotion, so it isn't a 2-in-1 product which I think some may think it is without a little investigating!
MY THOUGHTS:
This feels like regular lotion, and so using it in the shower was different because you couldn't tell for sure where you had applied it and the lotion itself is very thin feeling once you've got water in the mix. I wasn't sure if I had gotten it everywhere and I certainly hadn't rubbed it in or anything, but sure enough after I rinsed and then toweled off my skin felt very soft! I love the almond oil because it is a light but heavenly scent! They also have cocoa butter and shea butter options available. The fragrance is totally up my alley, and definitely gender neutral. I will say that I felt like I had to use more, because I wasn't sure where I put it and the water is starts washing it off before I felt like I've gotten it everywhere it needs to be, but I don't mind that on the days where I really don't have it in me (dramatic, but so true!) to apply lotion after showering.
BOTTOM LINE:
Will this replace my body lotion and give our cabinet some much needed space? Definitely not! What can I say? I love having options! But, I love this for the days when I want a slightly shorter routine.I think this would be a fantastic option for those who really don't like that lotion-y feel, too.  Overall I love this and I will continue to buy this, especially now that fall is on the way and winter will be following right behind!
I hope that all of you have a wonderful weekend! We are excited to spend one last weekend together as a family before school starts!! Thank you, as always, for reading! Please subscribe! xx