Hi there! Happy Wednesday!
This week I have had two friends ask me on my personal Facebook page beauty related questions that I get asked on a fairly regular basis. First of all, I want to say THANK YOU FOR ASKING! There is not much more flattering to me than people asking me questions about makeup because it is a huge passion of mine. And second, today I have decided to share the information that I was gathering for them with all of you incase any of you have similar questions. If you find this post helpful, please share it or "pin" it to your Pinterest!
Housekeeping Note and Helpful Tip!
I have had two other friends recently tell me that they aren't subscribed to KwapisFamilyTackles on YouTube or LeahTackles on YouTube because they don't have a YouTube account but you actually DO NOT NEED A YOUTUBE ACCOUNT TO SUBSCRIBE, COMMENT, OR LIKE A VIDEO! Your log-in is actually your Gmail log-in because Google owns YouTube! I hope that is helpful information! I appreciate every person who reads or watches my content, whether or not you're subscribed, but if you want to get notified whenever I upload something new please subscribe! And I love subscribers ; )  I am doing a HUGE GIVEAWAY at 1,000 subscribers so be sure to subscribe for that too!
What are good lipsticks for someone who has never worn lipstick but would like to try? Something that isn't "clown like"?
I was a lip gloss girl for years and the only time I had ever worn lipstick was for dance performances, but now I wear lipstick almost every single day. I think that the best way to start would be to try a couple of shades that I consider to be "your lips but better" which means they aren't very different from your natural lip color. You can also try a tinted lip balm that gives a sheer wash of color. I would suggest grabbing a few lipsticks at the drugstore so that you can figure out what colors you like before you commit to something more expensive. Or, go to Sephora, Ulta, or the makeup counter at a department store and ask for help so that you can wear the lipsticks! Don't be afraid to ask for help!! You can walk into a department store, try on a lipstick, and then do you shopping so you can wear it for awhile to see how you feel in it.
Lip Products I Suggest Trying: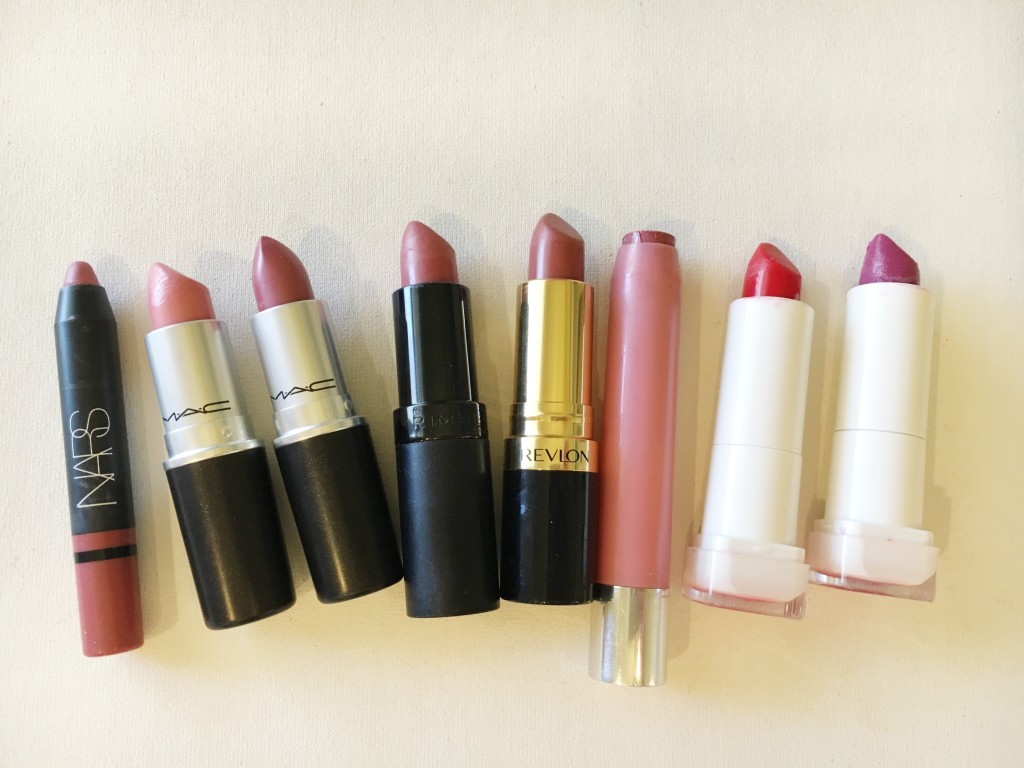 Here are some of my favorite lip products that I think are great "starter" lipsticks!
*Note: listed left to right
Nars Satin Lip Pencil in Rikugien
Rimmel Lasting Finish by Kate in 08
Revlon Super Lustrous Lipstick in 130 Rose Velvet
Revlon Just Bitten Kissable Balm Stain in 001 Honey (my top pick!)
Covergirl Oh Sugar! in 6 Punch
Covergirl Oh Sugar! in 9 Jelly
What eye shadows should I buy? I have no idea where to begin? What about eye shadow brushes?
I suggest started with a neutral eye shadow palette or even a small trio or quad to start out. There are a lot of fantastic drugstore eye shadow options, which I will link, but also don't be afraid to go play with the makeup at Sephora, Ulta, or a department store! You can also get a cream eye shadow or eye shadow base like the Maybelline Color Tattoos I will link below. I often apply these with my fingers all over my lid and then just apply mascara and eye liner! They're easy and beautiful! They also make a fantastic base to put on before applying your other eye shadows. As far as brushes go, you can start simple by grabbing two or three brushes for $1-$3 each from E.l.f cosmetics. The backs of a lot of drugstore palettes like the ones mentioned show a general "map" for how to apply the eye shadows which is a great place to start! The higher end palettes usually come with a small beauty how-to guide that gives tips for easy looks.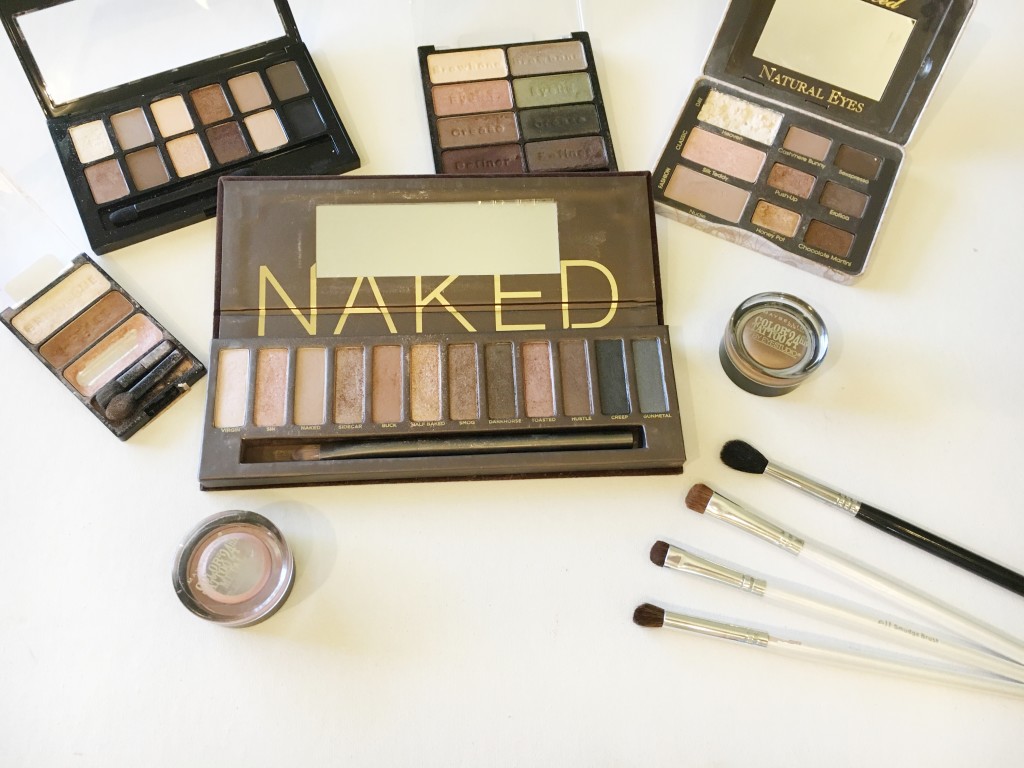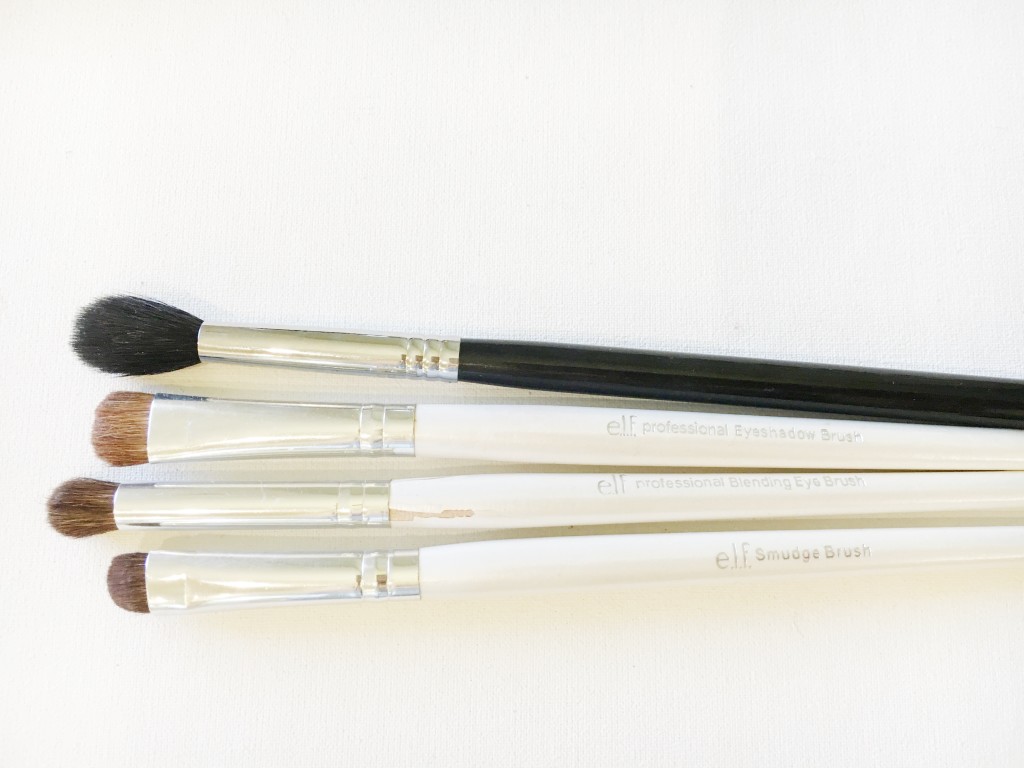 Wet n' Wild Walking On Eggshells Trio
Wet n' Wild Comfort Zone palette
Too Faced Natural Eyes palette
(I suggest Bad To The Bronze and Inked In Pink)
(Start with a basic flat eye shadow brush, a fluffy brush for your crease and for blending, and a smaller flat brush for smudging color on your lower lash line or putting a bright shimmery color near the tear ducts of your eye to brighten)
I hope that you found this helpful! I am doing a Q&A soon on my LeahTackles channel so be sure to ask your questions for that!! I hope you have a wonderful weekend : ) Thanks for reading!