Hi there! Happy Monday!
I hope that each of you had a great weekend! We *FINALLY* had some spring weather and it was so nice to enjoy being outside as family. If you are new here, welcome! Please subscribe! It's easy, just enter your email into the subscription box on the right hand side of this webpage! You will be notified whenever I post something new, and it's free : ) Don't forget to enter my $25 Visa Gift Card Giveaway from my Mom Life Perception vs Mom Life Reality Post!
As most of you know I have three little ones under age five, and that means we need quick and easy snack options. Logan, our youngest, is an easy going kid which is a good thing because as the third born you basically have to be ; ) Logan has always loved to eat, but up until recently he really didn't like the squeeze pouch purees that are so popular. One day I was trying to get dinner ready so I handed him a squeeze pouch and he actually used it! I was thrilled! It is such a great option, especially for on the go, so it was timely when the people from TripNik Food Pouches reached out to me to offer to send their reusable food pouches for consideration for review. I do not accept money in exchange for a positive review, and I tell you guys what I really think! I respect the fact that you value my reviews and opinions and I would never jeopardize that, so I always keep it real ; )
VIDEO OF PRODUCT DEMO, FIRST IMPRESSIONS, AND RECIPE:
STRAWBERRY-BANANA-TOFU SMOOTHIE:
The Best Homemade Baby Food on the Planet
*Note: This recipe has tofu which has all eight essential amino acids and lots of protein! You can also use peaches in place of strawberries : )
-1 small banana
-6 large fresh or frozen strawberries
-1/3 cup or 80 grams of silken tofu
-1 cup whole milk
Directions:
Lightly mash banana. Remove the stems of the strawberries and quarter them. Combine all of your ingredients into the blender and process until it is smooth. This recipe makes 4 servings.
PROS OF TRIPNIKS POUCH:
-Easy to clean
-You can put these in the freezer for later
-Dishwasher safe (whoop!)
-Easy to fill (*Note: I did not properly read the directions before the video and filled it too far, after reading I did not have overflow issues)
-A LOT less expensive
-Large size but still travel friendly
-Fun bright colors kids love
CONS OF TRIPNIKS POUCH:
-I find the plastic to be a bit hard on the edges, I wish it was a softer material
-I like the large size, but wish their was a smaller pouch size more comparable to the one time use ones you buy at the supermarket
PICTURES OF LOGAN (15 months) USING THE TRIPNIKS FOOD POUCH: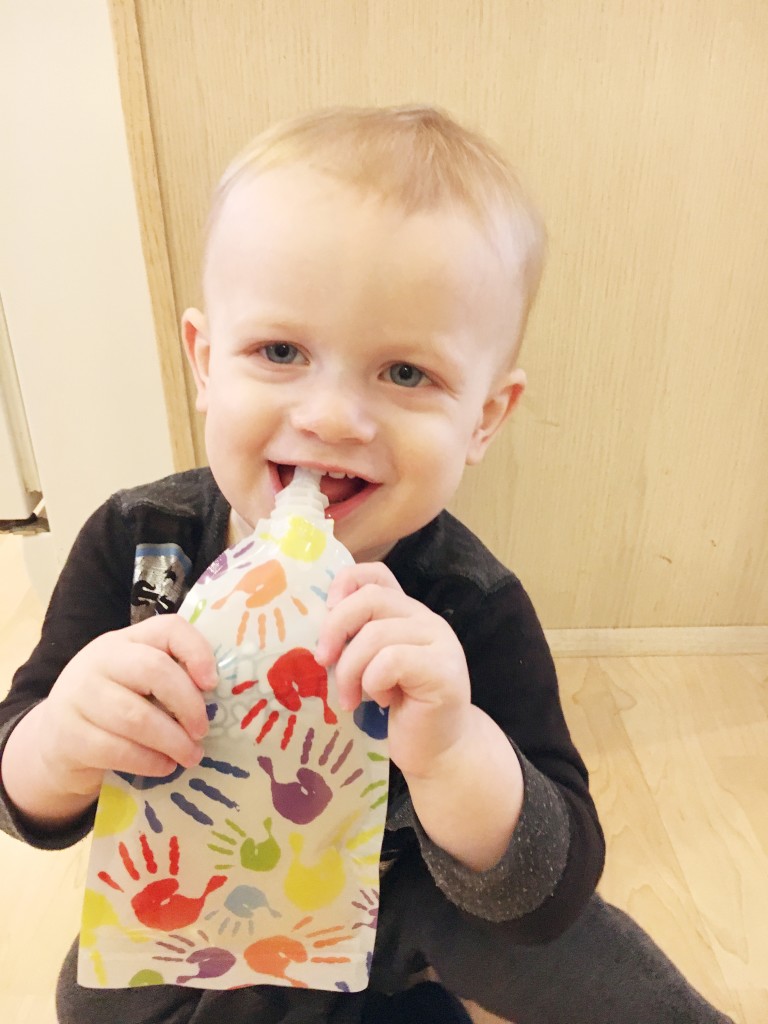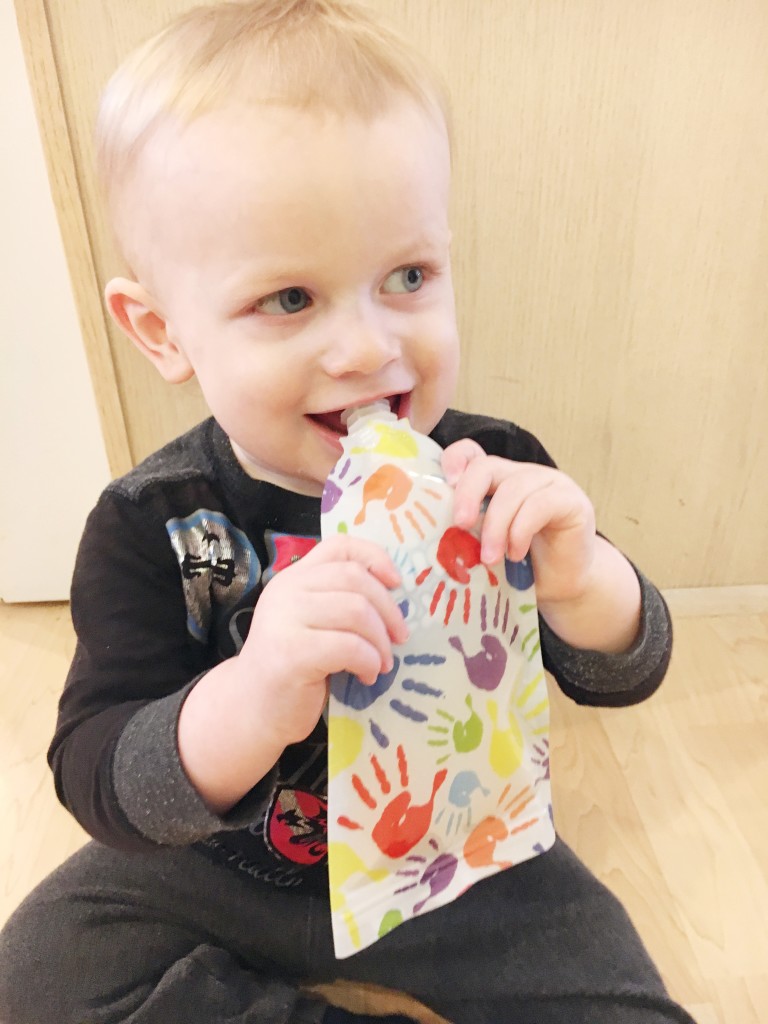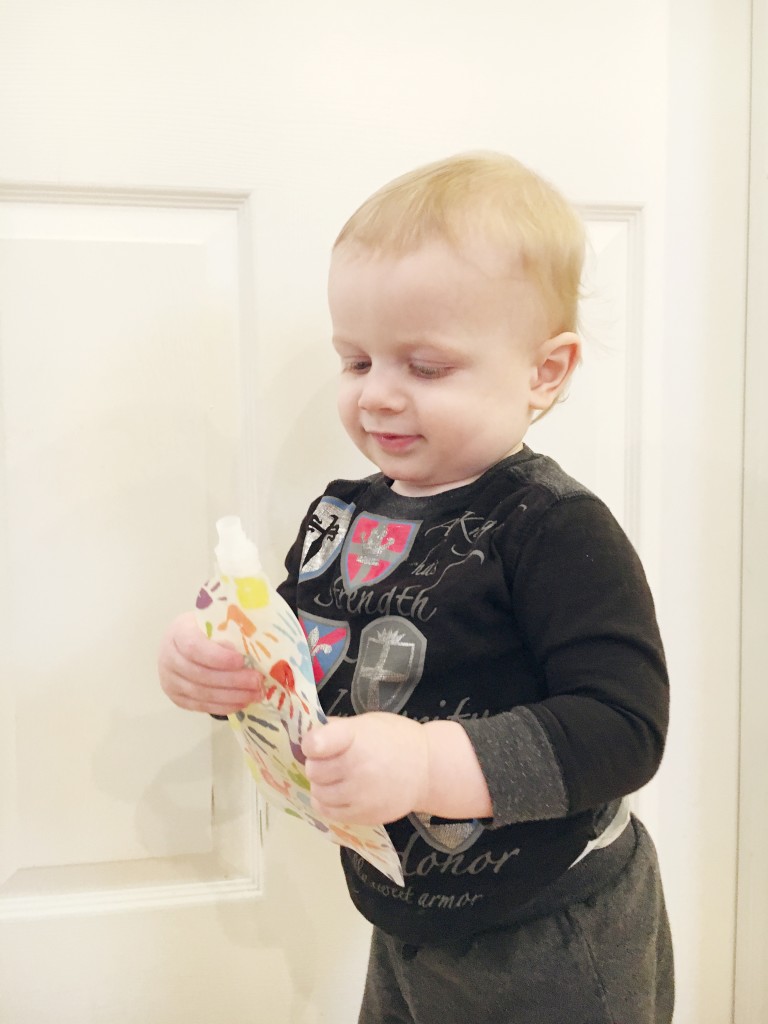 OVERALL:
I really enjoy these overall, I do think that they could make some improvements to the material and size, but I still think these will come in handy! I can already see filling a few up with applesauce before heading out to the beach or over to my in-laws house and love the concept.
If you have any questions for me, let me know in the comments! Have a wonderful start to your week and I will talk to you on Wednesday : )