Hi there! Happy Wednesday!
I just opened what just might be my last PopSugar Must Have Box ever! I have decided after three full years as a subscriber to take a break so that I am able to try other things (which of course I'll also share with you). I absolutely adore PopSugar, so it's sad but I know I'll survive ; ) The PopSugar Must Have Box is a monthly lifestyle subscription box that has food, fashion, beauty, home decor, and exercise goodies for $39 per box.
PopSugar Must Have Box December 2015: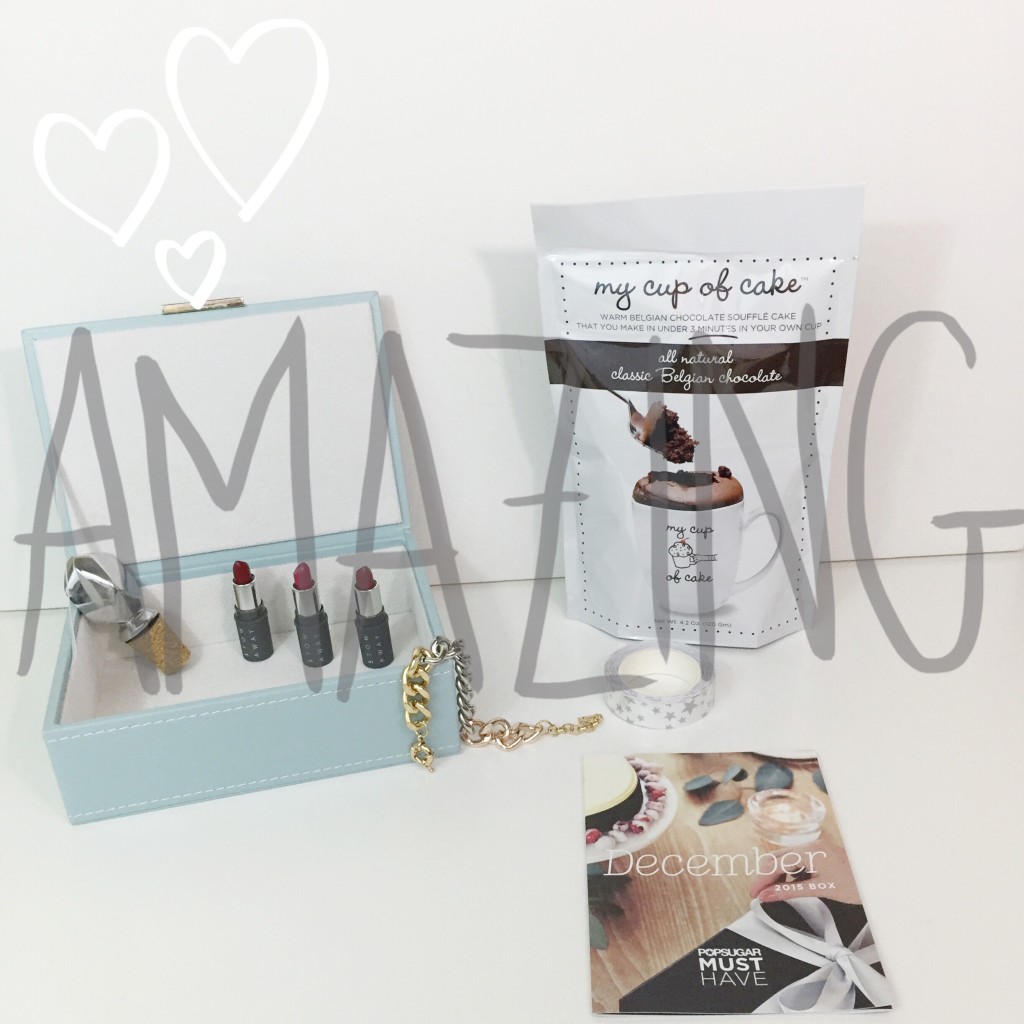 Luv Aj The Rose Gold Ombré Bracelet
$65
I love that this has silver, rose gold, and gold together! Mixing metals is so fun, but I've never done three at once before.
Stowaway Cosmetics Créme Lipstick Trio
$30
These colors are gorgeous! I can't wait to try them!
Nima Oberoi Lunares Geo Stopper
$24
How gorgeous is this?! I love that it can be used over and over without breaking or tarnishing.
Swing Design Nova Blue Mist Jewelry Box
$36
This is pretty, I love the color, and it's practical, but I'm not super excited about this. However, even though I'm not jumping for joy, I bet this will get a lot of use!
My Cup of Cake Classic Belgian Chocolate
$5,99
I have yet to have a really delicious mug dessert, so I am excited to try this! *Maybe* I'll split it with Stephan, or else enjoy it when he isn't here ; )
Meri Meri Silver Stars on White Glitter Tape
$4
I love washi tape, so this was a fun surprise! I think this will be the perfect finishing touch for pretty Christmas presents!
Special Extra:
Tiny Prints Gift Tag Stickers + $20 Promo Card
I will use the gift tags, and it's nice they offer the promo.
Overall I was really happy with this box!! I think that each thing is beautiful, and would make an amazing gift if you didn't want to keep it for yourself! Have a beautiful weekend! Can you believe it's nearly Christmas?!