Hi there! Happy Wednesday!
Thank you for being here : ) Halloween is in 10 days, and like ir or not it is time to start seriously thinking about your holiday shopping! I want to share some gift guides with you, but would like to ask what you would like to see! So if there is a certain demographic you're wanting ideas for, please comment and let me know! I love comments ; ) Today I decided to start by sharing one gift idea for each person in my immediate family, but I have a lot more ideas to share. If you enjoy this, please tell me and I will make it a weekly or bi-weekly series as we enter the holiday season.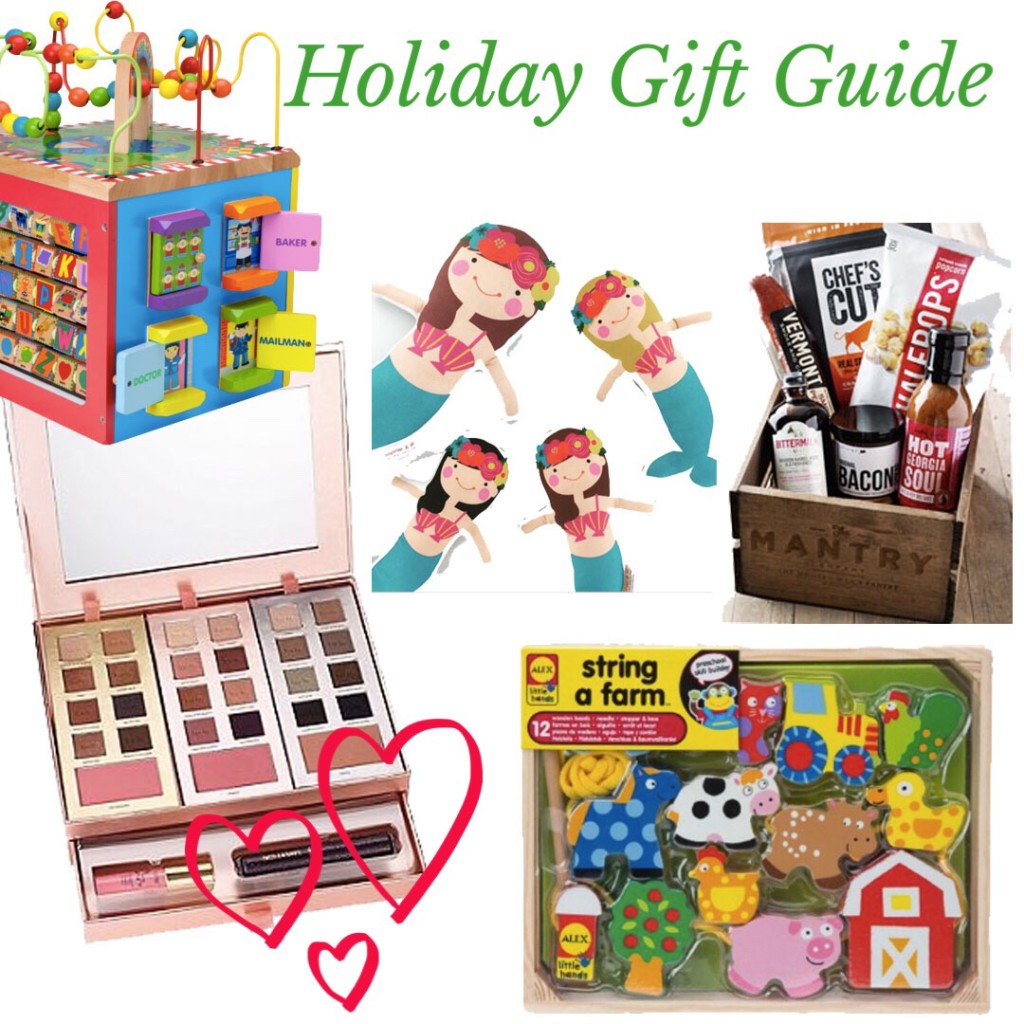 Tarte Greatest Glitz Collector's Set & Portable Palettes
$49
How gorgeous as this?! Any women in your life from teens on up would adore this! I love that you could even gift the palettes seperately as stocking stuffers or small gifts, or give the whole set for a fabulous gift for one lucky lady. This set has great pigmentation, and I love that it's seperated into palettes that have colors that you would use together instead of a giant palette, because I think it's less intimidating for those who may not be as comfortable with makeup.
$75 for one box
Stephan got a 3 month subscription of this from my parents back in 2012, and we haven't got it since because it *is* pretty pricy, but if you have a guy who is hard to shop for I think this is a fun idea! Both Steph and I loved these boxes, and we found our favorite pepperoni EVER, and some incredible fudge sauce that we have re-ordered. My only issue with this box is that the only really discount I've seen offered is they offer free shipping if you order a 3 or 6 month subscription. Still, very yummy and something different.
Sophie & Lili Handmade Mermaid Dolls
$20 for the mini
Hailey, who is almost 4 1/2, got a custom Sophie & Lili doll year and it's so special! She calls her Hailey doll, and one of Santa's elves worked very hard on her. This year I am hoping Santa will have that same elf make her a mermaid ; ) I love that they offer a mini one that's half the price of the bigger one! She has adorable custom dolls, watercolors, and super hero boys! I just wish the boys could be custom and not only custom super heros. These are so well made, and she was great to work with!
ALEX Toys Little Hands String a Farm
$15
My 2 almost 3 year old, Connor, is really working on things that need lots of hand-eye coordination and finally I found a stringing toy that has a wood piece for the "needle" to make it a bit easier than floppy string. *Tip: Pipe cleaners from the craft section are also a great way to practice this and kids love it!
ALEX Toys ALEX Jr. My Busy Town Cube
$72
No, this post is not sponsored by ALEX Toys! I just have been loving their toys lately. We have so many big toys, but our baby, Logan, has Christmas and his first birthday coming up, and this is on our list for him. It gets great reviews, and has lots of activities in one. And how cute would this look under the tree!? I think the kids would all want to play with this! Zulily has stuff like this a lot, so I need to keep checking back!
Be sure to let me know what items are on YOUR list in the comments!! Have a great weekend!