Hi there! Happy Monday!
With only a few weeks left until Halloween I wanted to share some easy, festive, and tasty treats with you today! I really like all of these because you don't have to do any baking…you're just piecing together the ingredients to make a fun fall treat. These recipes are great for little ones, and my 3 year old LOVED helping me make these!!  If you make any of these, please share pictures with me! All of my social media links are below : ) And I would love if you "pinned" them on your Pinterest as well!
#1 Spider Crackers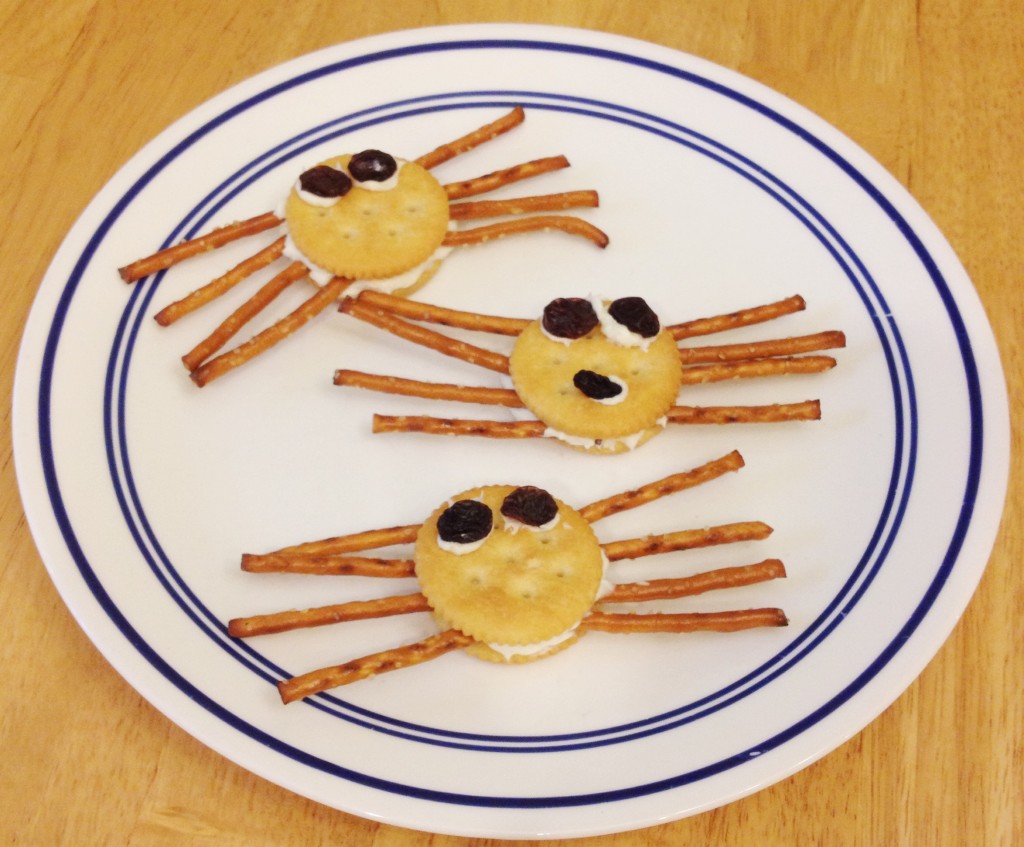 What You'll Need:
Ritz crackers or similar circle cracker
Small pretzel sticks
Rasins (chocolate chips are fine for those who don't like rasins)
Peanut butter (or cream cheese or frosting if you have nut allergies or dislike peanut butter like my 3 year old…crazy I know!!)
Directions:
Spread a small amount of the peanut butter onto a cracker and place 4 pretzels on each side to create your spiders legs. Then put a little bit more peanut butter ontop of the "legs" and cover with another cracker. Use the peanut butter to attach the spiders eyes. My 3 year old insisted that one of our spiders also needed a mouth : ) These are a yummy and fairly  healthy treat.
#2 Frankenstein Pudding Cups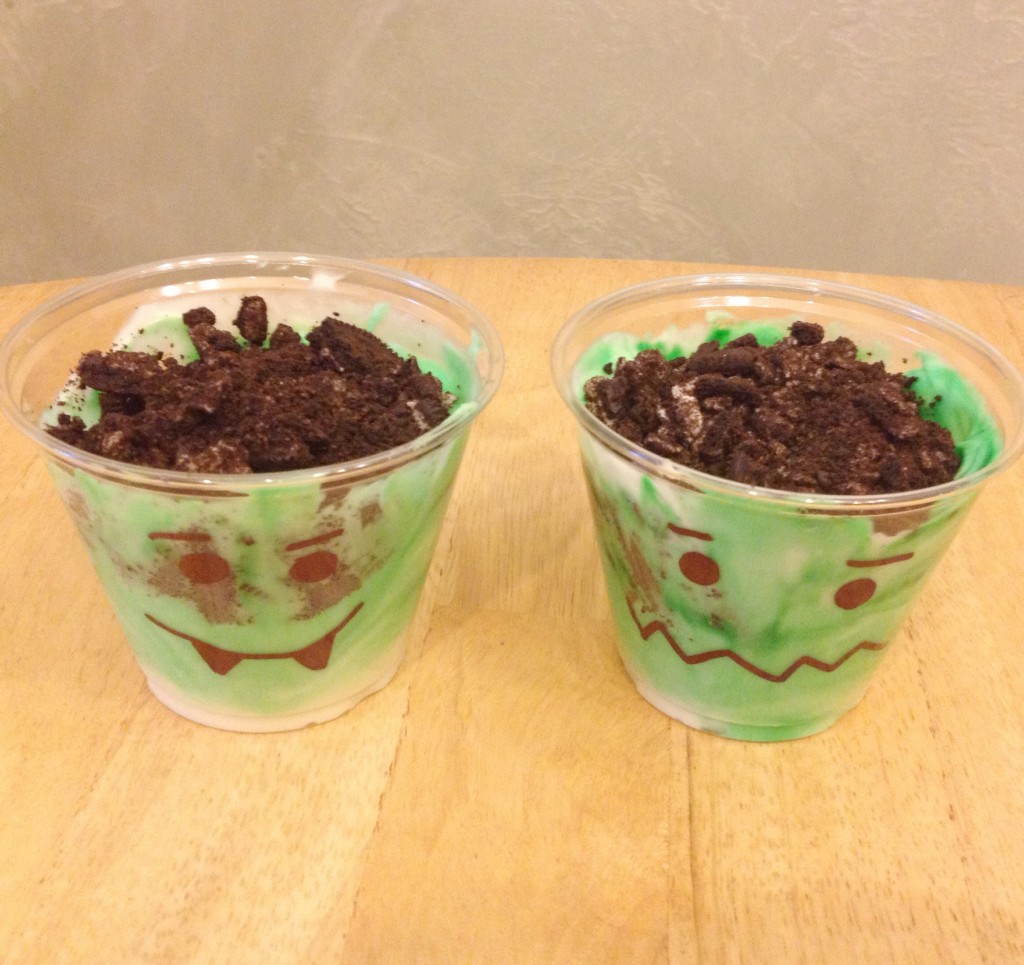 What You'll Need:
Vanilla pudding
Green food coloring
Oreo cookies
Black permanent Marker
Clear small plastic cups
Directions:
Dye your pudding until it's a green of your liking. Crush your oreos (I just place mine in a plastic baggie and smash! But a food processor also works well). Draw your best frankenstein faces onto the cups with your marker…be sure to have fun with it! Scoop the green pudding into your cup and then top with the crushed oreos. Stick these in the fridge if you don't plan to eat them right away : )
#3 Jack-O-Lantern Orange Cups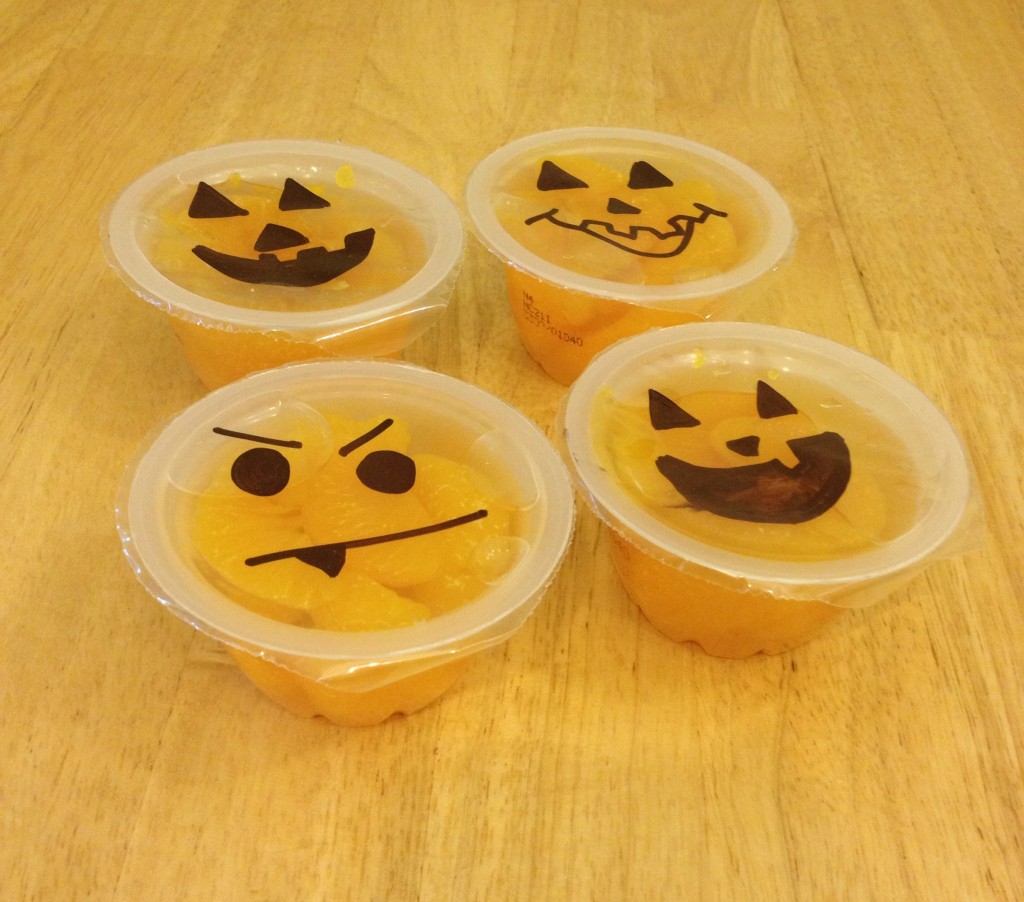 What You'll Need:
Orange fruit cups (peaches or mixed fruit cocktail will also work, but oranges are the most pumpkin-y)
Black permanent marker
Directions:
Draw a jack-o-lantern face onto the tops of the fruit cups and pack into school lunches or have as a fun surprise for lunches at home!!
That's it! Pretty easy and a lot of fun : ) Don't forget to subscribe so you don't miss next weeks post where I share more fun fall treats!! Happy Fall Ya'll!