Hi there! Happy Wednesday!!
Well, I *finally* caved! I have been a reading and watching reviews and unboxings of the Ipsy Glam Bag for a looooong time and after some heavy debating between Birchbox vs Ipsy, I decided to go with start with Ipsy. Today I will be sharing what I got in my bag as well as my thoughts/mini reviews. When you sign up for Ipsy you create a profile so you get items that are supposed to be catered to your preferences, as well as skin type and hair type. Ipsy sends deluxe samples and full-sized products for $10/month. If you are interested in signing up for the Ipsy Glam Bag you can do so here.
September Ipsy Glam Bag: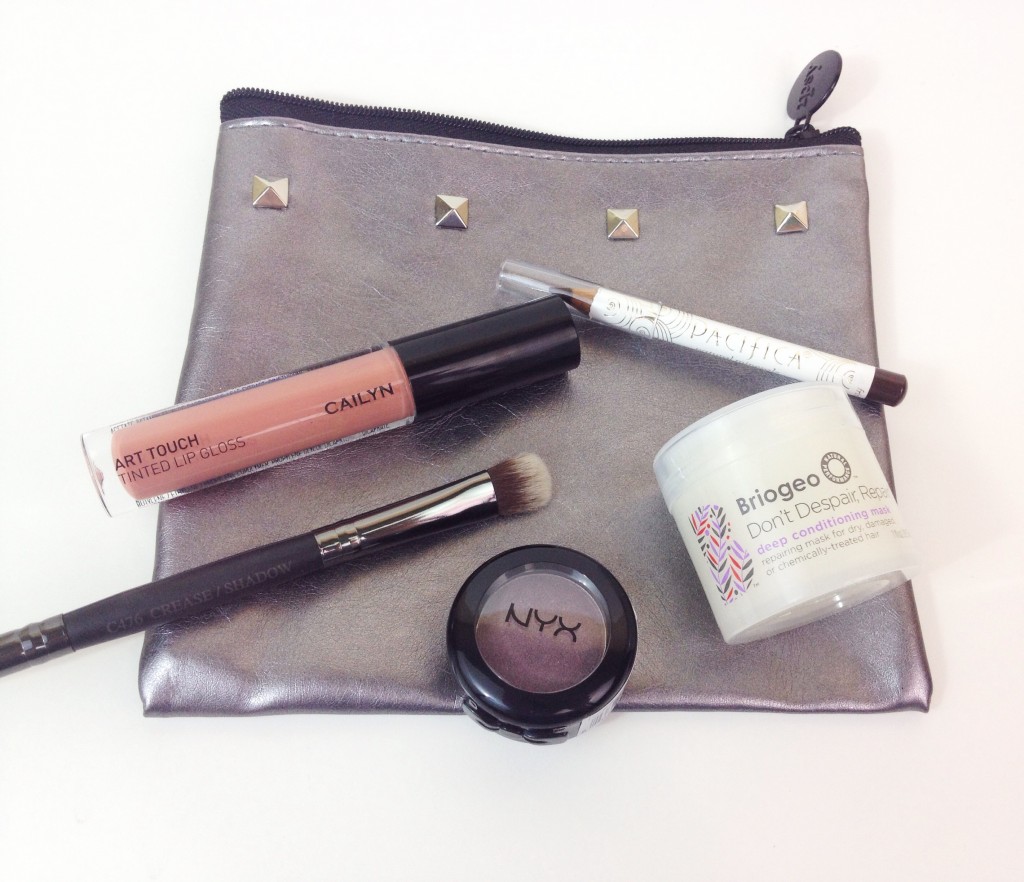 Swatches of NYX Hot Singles Eye Shadow in Burlesque, Pacifica Natural Water-Proof Eyeliner in Fringe, and Cailyn Art Touch Tinted LipGloss in Basic Instinct:
The Bag:
The bag is a cute silver/chrome faux leather with stud details. This bag is cute and a nice size to slip into a purse so that your essentials are easy to grab!
Cailyn Art Touch Tinted Lip Gloss in Basic Instinct:
At first I was really excited for this product, and I really do like the lip gloss formula…the color is just not for me! This is a really pretty nude, but the color isn't the most flattering with my skintone. I *do* like the lip gloss though, and would like to try it in another color.
NYX Hot Singles Eye Shadow in Burlesque:
This is my first NYX single shadow, and I think it's a beautiful color. The eye shadow has nice color payoff and will be beautiful for fall and winter. I would like to de-pot these into a Z-Palette, and I think they would work well stored with M.A.C single eye shadows.
Pacifica Natural Water-Proof Eyeliner in Fringe:
This is a basic brown eye pencil, and I like brown eyeliner for a more natural look. I do NOT think that this eye pencil is waterproof, but I will continue to use it and enjoy the color.
Briogeo Don't Despair, Repair! Deep Conditioning Mask:
I haven't tried this yet, but I am VERY excited to try this! I love deep conditioning treatments, and I am always looking to give my ends some love!
Crown Brush C476 Crease/Shadow Brush:
I have never tried Crown Brushes before but I am excited to try this one out! Duo ended brushes aren't my favorite, because they aren't as easy to store, but I do travel at least one or two nights a month, and this will come in handy for that!
I am very happy with my first Ipsy Glam Bag, and although I'm not in love with all of the products, I can pass them onto family and friends who may like them better, and I'll still get more than $10 worth. What subscription boxes are you loving? What boxes are you lusting over? Let me know in the comments!! : )