Hi there! Happy Wednesday!
Can you believe June is half over?! I feel like I will blink and it will be the 4th of July! Today I just want to share my favorite sunscreens for summer 2014 and 4 of the 5 are avaliable at drugstores, so no excuses!!! I think everyone should wear sunscreen! Even if you tan!! I do have an SPF built into my daily moisturizer, but it's only SPF 15 and I like to add more sunscreen when I know I will be out and about or in the sun. I am also pretty picky about sunscreens, because I HATE feeling like I have tons of build up of product on myself, especially when it's hot out…so these are all my picks for protecting myself and feeling clean : )
Note: The L'Oreal Sunscreen has changed name and packaging, but I am linking the new version of the same product : )
(Sunscreens numbered in the order they are mentioned!)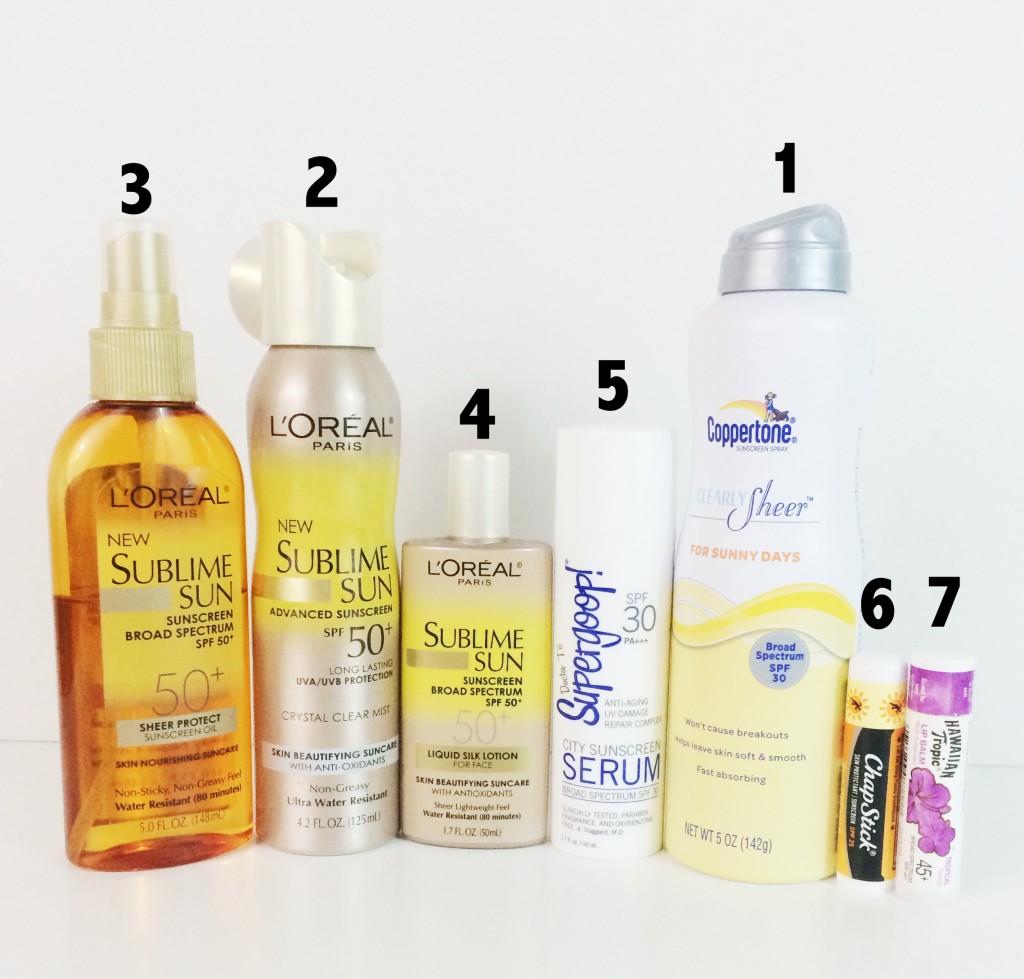 BODY SUNSCREENS PICKS:
Coppertone Clearly Sheer Spray For Sunny Days SPF 30:
I love this clear spray for when I need to ger my sunscreen on in a hurry!! It doesn't feel sticky or uncomfortable feeling on the skin. It doesn't have a strong smell, doesn't make my clothes feel gross if I get a little on them, and sprays a large area of skin at once.
L'Oreal Sublime Sun Advanced Sunscreen SPF 50+ Crystal Clear Mist:
I like this sunscreen if I'm going to be out in the sun all day!! This one does tend to run out pretty fast, but it is VERY water resistant, and that's great especially so I don't constantly reapply. Overall I like having this sunscreen on hand on days when I'm going to be in the sun for an extended period of time.
L'Oreal Sublime Sun Advanced Sunscreen SPF 50+ Sunscreen Oil:
I love this when I want to feel like I'm wearing a nice suntan oil on my legs, except I get the *huge* benefit of added sun protection. I love this for if I'm at the pool or the beach! I also like to use this just on my legs (and a different sunscreen everywhere else) if I want my legs to look extra good in a special skirt or a dress!
FACE SUNSCREENS:
L'Oreal Sublime Sun SPF 50+ Liquid Silk Lotion for Face:
This is a very very liquidy lotion that blends in very easily. You should use 1 teaspoon of sunscreen for your face and neck, and that can seem like a lot, but this sunscreen doesn't feel heavy or greasy. I have combination/oily skin and this doesn't break me out of make my t-zone oily. This has added antioxidants, and while I haven't noticed anything changing for the better with my skin, the antioxidants can hurt ; )
Doctor T's Supergoop SPF 30 PA+++ Anti-Aging UV Damage Repair Complex City Sunscreen Serum: 
The name may be a mouthful but the this product is awesome! This is a high-end product, and I know it's a pain it isn't avaliable everywhere and it more expenisve, but it is a great sunscreen for the face! This feels like a lotion or a serum, not at all greasy! I apply my regular moisturizer and then this and it doesn't feel like I have anything extra on my face.
LIP SUNSCREEN:
I really like this because it doesn't leave a thick or gummy feel on my lips. This is great to have on hand in the summer!
Hawaiin Tropic Lip Balm SPF 45+:
This feels thick on the lips, but if I know I'm going to be out in the sun for an extended period I like the protection that this offers. I also saw it advertised for sunscreen touch-ups on your face and it's so true! I  think it's great to pick up an extra one of these to use for sunscreen touch ups in a pinch on your nose, cheeks, or neck!!
I know I probably can't convince all of you to wear sunscreen, but if you just put a little on your face, neck, and chest (and the extra on your hands! those babies will age before anything else!) as part of your morning routine you can protect yourself in 1 minute against skin cancer AND aging!! What sunscreens do YOU like? Please comment (click the link by the title of this post) and let me know!! You can also now easily share my blog posts on facebook, twitter, instagram, or email by clicking the buttons at the bottom of this post : )