Hi there! Happy Monday!
I hope that you had a wonderful weekend! Now that it is summer I have been re-packing my diaper bag with some of my favorite items to have on hand. I am not going to over the basics that I think every mom has like diapers, wipes, clothes, bottles, and hand sanitizer…but I thought it might be helpful to share some of the other things I like to always have when I'm out with my kids. For reference, my daughter is 3 and my son is 17 months, so I don't have any little babies…but I still always have a full bag!
MY SUMMER DIAPER BAG MUST-HAVES: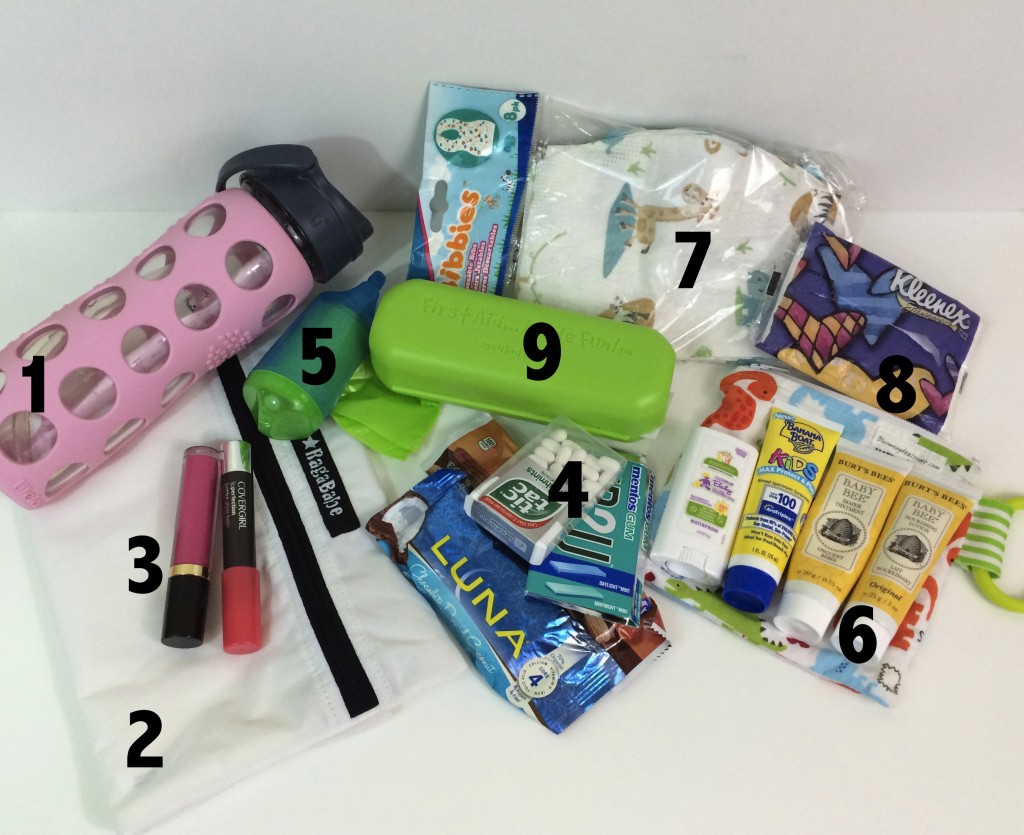 1) A water bottle! I have drinks for the kids as well, but I always have a full water bottle as well. I feel safer having this on hand so that we don't run out of water and it can also be used in a pinch for cleaning stains, messy faces, or cleaning a boo-boo. My water bottle is from Life Factory.
2) A wet bag! I like for dirty clothes, swimsuits, or any other potential mess that I don't want touching the rest of the bags contents. I like to keep my kids extra clothes in here so that it's nice and organized in the diaper bag! This wet bag is from Ragababe and I love it!! We got ours personalized with our last name, which I think will be great as the kids get older for sleepovers, camps, or swimming class.
3) I always have lip products in my bag, but in the summer I like to have a couple of easy to apply but *bright* lip products with me! I like to have the bright colors because if we are out and about somewhere and we end up wanting to take an impromptu picture or run out to eat, I can quickly look put together even without much other makeup on. The coral crayon is a Covergirl Jumbo Gloss Balm in 235 Coral Twist and the gloss is the Revlon Super Lustrous Lip Gloss in 235 Pink Pop.
4) Snacks for ME! I always have snacks for the kids, but I think it's so important to have snacks for mom (and dad!) too : ) I always have gum, mints, breath strips AND at least one gronola or protein bar. I have Mentos gum, Tic Tac mints, a Luna bar, and a Nature Valley bar.
5) Munchkin Arm & Hammer plastic disposable bags! I like these for stinky diapers, old food, or if my wet bag is already full! I don't use these that often, but when I need them I am SO glad they're there!
6) A little bag with sunscreen, diaper cream, and lotion! I like to have this in a little seperate bag so I can find it easily, it makes me (and my husband!) much more likely to actually use the products and it saves precious time. This little tiny bag is from The Club House on Etsy! I love it! It has a handy plastic ring on it as well. The sunscreens are from Banana Boat and Baby Ganics. The diaper cream and lotion are from Burt's Bees.
7) Evriholder Bibbies Disposable Bibs!! I usualy have a bib or two in the diaper bag anyways, but incase I forget this is a great thing to have with me at all times. I have had the same bag of dispoable bibs for over a year, but when I need them it is great.
8) Kleenex is another thing that I always want to have with me, and I always seem to need it when I forget!
9) A mini first aid kit! I have a large first aid kit in my car, but incase we are at the park or something I want to always have the basics! This little first aid kit is from Me4Kidz and they make great little kits that fit perfectly in the bag in a nice plastic case! I love the case because I can refill it as I use things.
I hope that this was helpful for other moms or dads out there who are prepping for summer! These things are especially helpful for all-day outings! What do YOU always have in your diaper bag? Let me know in the comments (click the link by the title of this post!) and maybe we can get some other ideas going! I would love any input : ) Have a wonderful Monday!