Hi there! Happy Friday!!
I thought that because this weekend is the big kickoff to summer that it would be the perfect time to share this recipe! It is a very simple recipe, it just needs a little prep, but the end result is so adorable! You will impress all of your family and friends with these *for sure*! I found this recipe in my Taste of Home magazine last summer.  If you enjoy this recipe, please pin it to your Pinterest account by clicking the "pin" button that will show up if you scroll over any of the pictures on this blog post : )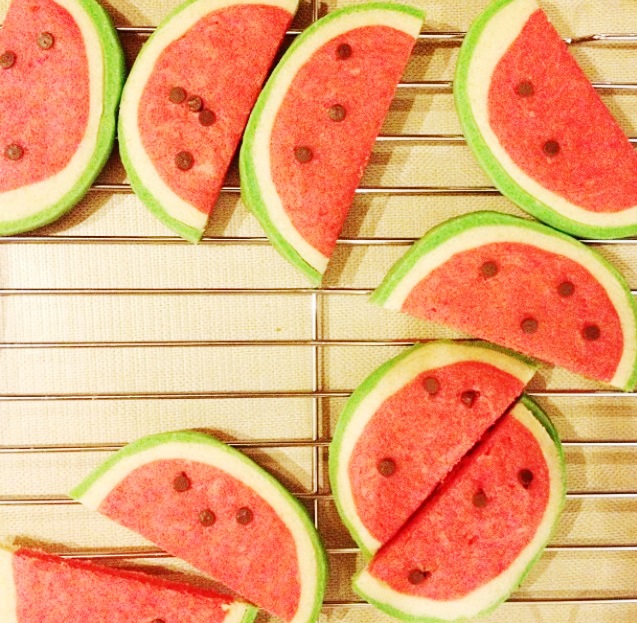 Ingredients: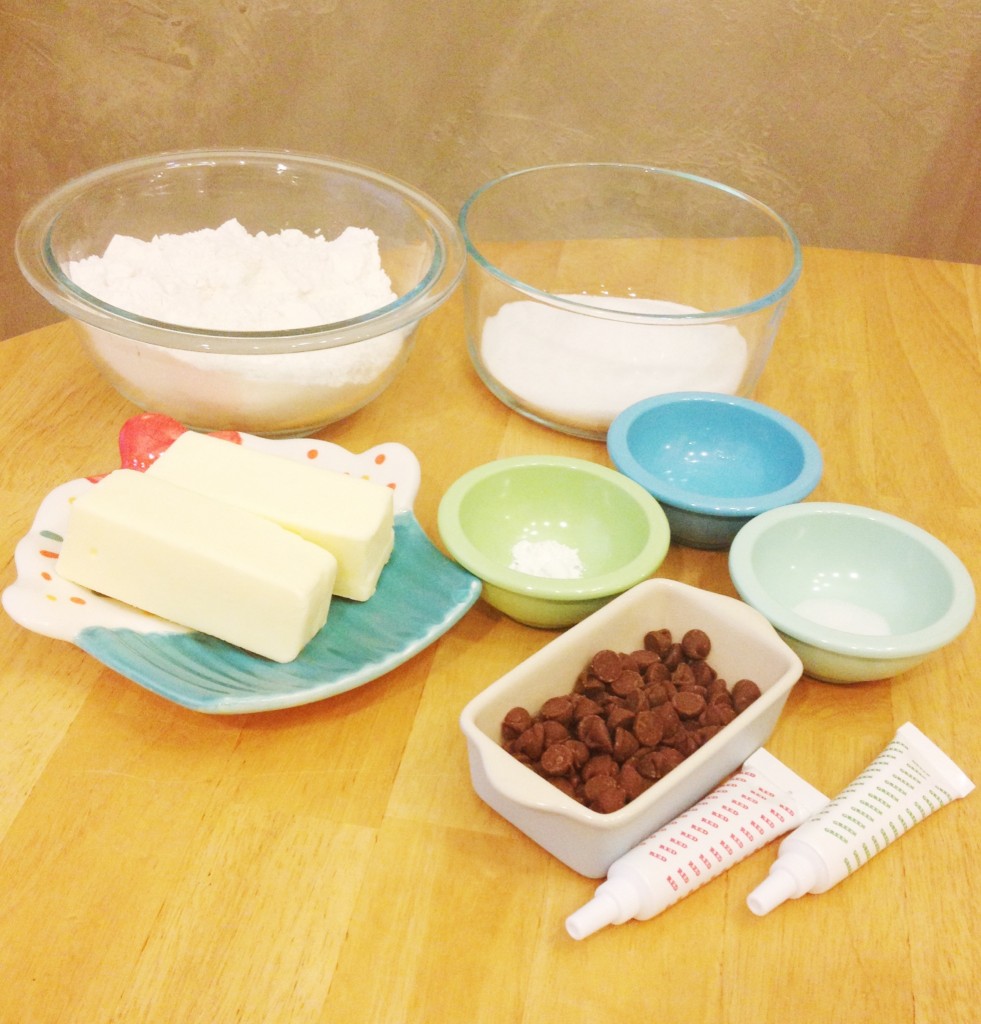 3/4 cup butter, softened
3/4 cup sugar
1 egg
1/2 teaspoon almond extract
2 cups all-purpose flour
1/4 teaspoon baking powder
1/8 teaspoon salt
Red and green food coloring
1/3 cup mini chocolate chips
Directions:
In a large bowl cream the butter and the sugar until fluffy. Beat in the almond extract and the egg. In a seperate bowl mix the flour, baking powder, and salt. Slowly add the dry mix to the creamed batter. Reserve 1 cup of the dough. Tint the rest of the dough red and shape into a 3 1/2 inch roll. Wrap in plastic wrap or press n' seal (my favorite!). Tint 1/3 of the dough green and wrap in the plastic wrap. Wrap the remaining plain dough in plastic wrap. Put all 3 colors of dough into the fridge for 2 hours. After 2 hours, on a lightly floured surface, roll the plain dough into an 8 1/2 by 3 1/2 inch rectangle. Unwrap the red dough and roll the plain dough around the red. Roll the green dough into a 10 by 3 1/2 inch rectangle and wrap it around the other roll. Put in the fridge again for 8 hours at least or overnight. Slice the cookies into 1/4 inch or slightly smaller circles. Place the cookies about 2 inches apart on an ungreased cookie sheet. Press mini chocolate chips into the cookies to create the watermelon seeds. (*NOTE: I used regular chocolate chips because that is what I had on hand, but have included a picture of ones I made with the mini chocolate chips at the top of this post. I think the mini look better, personally! But both taste great ; ) ) Bake at 350° for 8-10 minutes. Cut in half with a sharp knife immediately. Remove to wire racks to cool.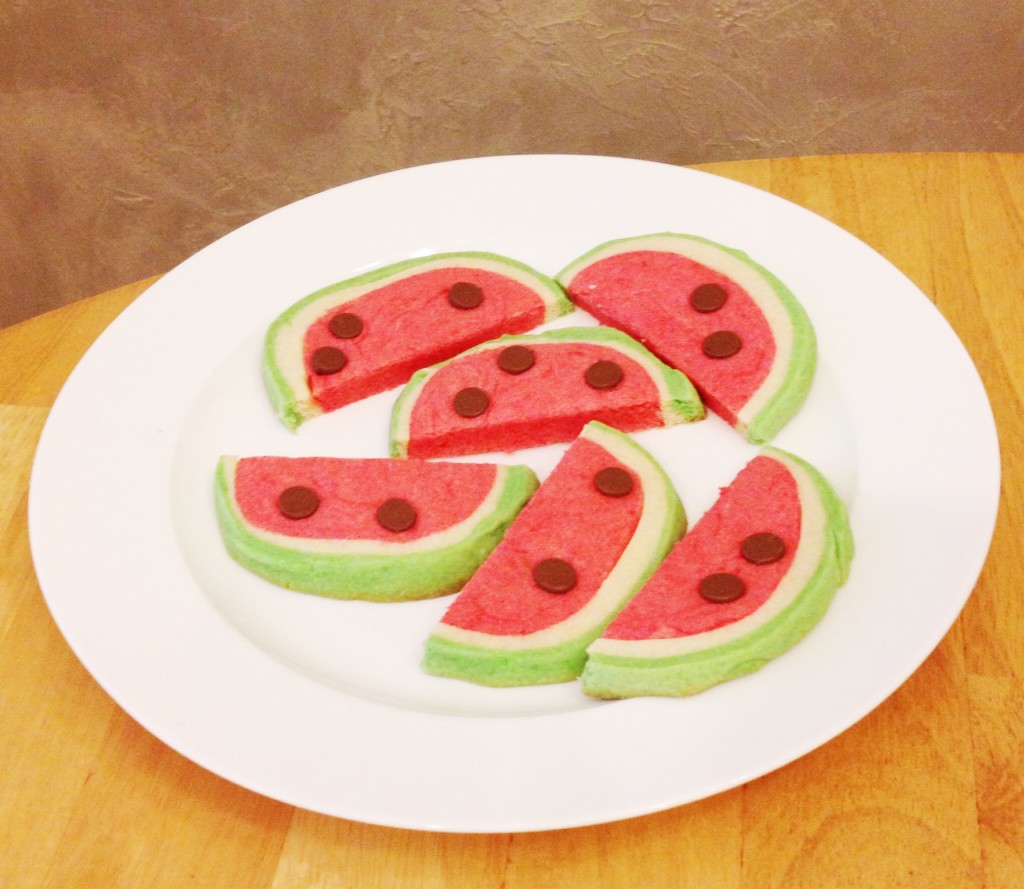 These cookies are so great for all those summer BBQs I know you're going to be heading to anyways, and they're an amazing way to impress your hostess (mother-in-laws?! Meeting the parents!?! go for it!!) or host! These also can be made in advance and kept like other slice-and-bake cookies if you want to save yourself some time the day of an event! If you enjoy this recipe, please subscribe to my blog and make my weekend!! If you have any questions or if you make these, tell me about it! Find me on Facebook, Twitter, or Instagram! Or, comment by clicking the link by the title of this post. Have a wonderful holiday weekend and stay safe!! : )